How Walpole Exterior Trim Repair Will Benefit Your Home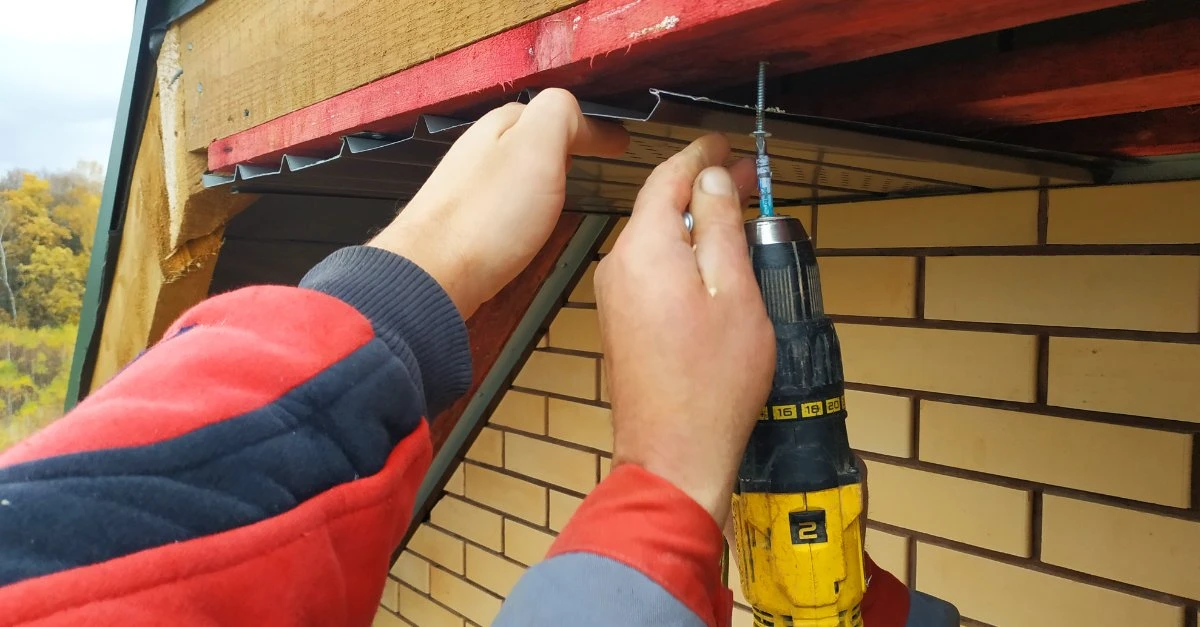 Have you been tired of looking at worn-down, decayed trim? Or are you looking for a way to spruce up the design of the exterior of your home? Walpole homeowners like to keep their homes in good shape. Why neglect something that accents and ties your exterior together? With the unpredictable weather of Massachusetts, weather conditions are able to wear down your home's exterior trim, causing cracked paint and, in worse cases, wood rot.
Walpole exterior trim repair services have many benefits for your home, like better insulation and curb appeal. Plus, sometimes repairs are as simple as adding a coat of paint; other times, they may require more advanced work. Don't deal with your current trim if it's damaged. Trust your local Walpole handyman at Mr. Handyman of Central - Eastern Norfolk County & S.Shore for an efficient Walpole exterior trim repair job.
We are a locally owned and operated business and Walpole's most trusted source for any handyman-related tasks. Our high standards of service mean you can rely on us getting the job done right and that the work will last.
What is Exterior Trim?
Trim is that material that outlines windows, doors, fascia, and gutter systems on your Walpole home. It marks the corners and edges of your home. Basically, anything that isn't the paint of your home or a fixture has some element of trim. The most common color is white, but it varies to match or accentuate the paint of your home. Trim also generally includes the moldings applied around openings, such as window and door frames.
Here are some examples of exterior trim on your Walpole property that requires periodic maintenance and occasional repair:
Gutters
Corner boards, also known as corner trim boards
Window frames (head, side casing, and sill)
Frieze board, also called the primed board
J-channel and f-channel
Which Materials are Used for Exterior Trim in Walpole?
There are lots of materials out there, and choosing the proper one that matches your budget and how much maintenance you want to do is important for having exterior trim you'll love.
Wood: The most common choice, both available in composite options and solid. Homeowners prefer wood for a more natural look and feel, but quality wood products are becoming scarcer and more expensive.
Polymer: This material is manufactured by injecting a polypropylene resin into pre-formed molds of various sizes. For positives, this trim is very easy to work with and easy to paint, which will save you time. For negatives, it might be very costly to purchase and not ideal for areas with dramatic temperature changes due to its tendency to expand and contract.
Cellular PVC: This form is manufactured from polyvinyl chloride and molded to various styles and sizes. It's an easy installation using standard woodworking tools but tends to be on the higher end of the price spectrum. It also isn't suitable for areas with dramatic temperature changes. Although the technology has improved over the years, PVC trim still has issues with heat.
Fiber Cement Trim: This is the most stable and durable trim in the industry. It is flame, rot, insect, and impact-resistant, and requires less maintenance than other materials. It comes primed and ready for a paint job or prefinishing. Depending on the manufacturer, this trim may come with up to a 15-year warranty, giving you peace of mind on your investment. Its price range is slightly more than primed wood and less than PVC trim, making it a solid option. This trim could be easily painted or left white, although painting PVC trim in dark colors is not recommended.
Composite Materials: Being made of both recycled wood fibers and plastic makes composite trim highly moisture-resistant. It won't crack, split, or rot as easily as its counterparts, but it can be at risk of sagging and buckling, which would make repairs and replacements inevitable.
Signs you Need Walpole Exterior Trim Repair
Walpole, MA property owners who are able to identify the following warning signs are one step closer to having a beautiful, structurally sound home. There are many factors to keep in mind when evaluating your exterior trim. For example, clogged gutters may not seem directly related, but having water with nowhere to go will result in damage to your siding, soffits and fascia.
Rot
Harsh weather conditions can cause the paint to come off your exterior trim. When that happens to wood trim, the underlying wood is exposed to the elements. This will cause rot over time when moisture penetrates the wood structure. Timely repairs could save your materials, if you spot the warning signs early.
Rot worsens over time as lumber begins to soften, allowing more water to enter, which will spread the rot faster. This illustrates why it's important to deal with rot issues as soon as they appear because the level of repair required grows exponentially.
Frequent Painting Required
If you find yourself constantly repainting your trim in Walpole, more frequently than you think it needs to be, it could be time for exterior trim repair. Walpole, MA homeowners with this problem often have to deal with an underlying issue that's causing it. For example, moisture could be trapped in the wood trying to escape; it will push the film of the paint out. As the wood softens, it will hold more moisture, building up the pressure behind the paint. Don't give up a weekend every month repainting your wood; instead, call for proper Walpole exterior trim repair services to save you time, energy, and money.
Poorly Installed Siding
In the process of building a house, sometimes stages are rushed to meet deadlines. It's possible the people who installed your trim originally—or those that installed the replacements if you don't have your original trim—were rushed to get the job done. This often means improper sealing and problems down the road for homeowners in Walpole.
High Utility Bills
There are many factors that can lead to a higher than normal utility bill in Walpole, MA. Heating and cooling are typically the biggest contributors to your monthly energy bill, and damaged fascia boards and exterior door trim can affect that number, as damage to your trim could result in undesired air transfer. Heated air will escape through leaks in the house during the winter and vice versa during the summer with air-conditioned air.
Not only are exterior frame repair and associated types of work like decent gutter installation essential for maintaining your energy efficiency and keeping your home dry, but they're also an opportunity to inspect and fix other nearby areas of your home, such as your siding and the insulation underneath it, to ensure that you're energy efficiency is at its peak.
Dampness in the House
In Walpole's climate, humid air outside often carries a good deal of moisture. If your trim is damaged, it's possible for that moisture to creep inside and cause problems. Fixing up your home's trim means reducing the amount of moisture that gets into the house.
How Walpole Exterior Trim Repair is Done
Unfortunately, moisture seeping into your trim and leading to problems such as moisture damage in your attic insulation isn't something you can ignore. Proper Walpole exterior trim repair is essential for removing damage and creating a durable replacement that can withstand harsh weather conditions. Otherwise, you'll risk losing large parts of your exterior to this severe damage, and it will affect your home's interior as well. In extreme cases, damaged trim can even lead to structural damage due to a weakened foundation. A skilled handyman will ensure your trim is intact, dry, and sturdy, so that you don't have to worry about those potential complications.
Replacing Rotted Sections of Trim
This is the best option if the bottom of an otherwise sound trim board has rotted away. Flat and square trim is easier to replace and match than those with custom designs. Rotted bottoms of corner boards and splash boards are much easier to cut free and replace, whereas door sills or window sills are generally easier to replace or repair using epoxy.
To replace the bottom end of a rotted board, draw a line across the face of the board, six inches or so above the bad section. Set your circular saw blade to the thickness of the board and make a 90-degree cut. This replacement piece should be the same thickness, width, and material as the original trim. Join the new section and the old one by using a biscuit joiner to cut a slot into both ends. Then dry-fit everything and prime, using epoxy primer on all surfaces and allowing time to dry well.
Glue the pieces together with epoxy and hold the boards in place. After letting the epoxy cure for a day, you're ready to sand and paint.
In-Place Epoxy for Exterior Trim Repairs
Walpole, MA property owners may find this method the most useful when the rotted area is small, as epoxy is relatively inexpensive and the larger section of trim could be difficult or costly to replace. Features like window sills or sashes are tough spots to remove. Since epoxy putty can conform to any shape and is easily carved, it makes it a much faster and easier option than replacing the entire piece of wood.
First, use a chisel to dislodge loose, crumbling wood. Then, suck up debris with a vacuum. There's no need to cut back to solid wood; instead, reinforce the softwood with liquid two-part epoxy. After it hardens, use the second part of the wood filler to fill the wood cavity. Finally, sand it down to match the remaining wood properly.
Benefits of Exterior Trim Repair in Walpole, MA
Are you still wondering if repairs are worth it? Don't forget that Walpole exterior trim repair has many benefits other than looking nice. This is important to take into consideration when evaluating your options.
Protect Against Water Damage
Your Walpole home's exterior drainage system protects the insides of your attic and roof. Damaged trim means water leaking into places where it shouldn't. The result: walls of rot and mildew or attics with rotting roof beams. Your gutters, fascia boards, soffits, and frames stop water from leaking through the window or door or entering your roof. If your trim isn't sufficiently stopping water, Walpole exterior trim repair will ensure it does in the future. When left untreated, that damaged trim will only let more moisture inside, further damaging your home and compromising your structural integrity.
Increase Home Value
Believe it or not, exterior trim has an aesthetic impact on your home's curb appeal in Walpole, MA. When prospective home buyers evaluate your home, they'll watch out for problems like rotten framing, peeling paint, and any other signs of neglect. For this reason, exterior trim repair will help recover your property's original aesthetics and functionality, and improve your overall curb appeal.
Less Money on Replacements
Maintaining your exterior trim isn't the most glamorous task. However, just a bit of investment from your time and you could save on needing major replacements down the road. Delaying upkeep and repairs could cost you a lot of money, as installing replacement trim is generally more expensive than keeping up with routine repairs and seasonal maintenance. Seeking professional Walpole exterior trim repair means you don't have to worry about costly replacements in the future.
Stop Wood Rot from Spreading
Wood rot is caused by fungi that grow in damp timber with a moisture content of 20 percent or higher. Your Walpole home's exterior is highly susceptible to wood rot, as it's frequently exposed to dampness. If you don't maintain your exterior trim and ensure it receives routine repairs, painting, and sealing, wood rot could start to grow and spread throughout your home, causing more serious, widespread damage.
Choose Mr. Handyman for Walpole Exterior Trim Repair!
Don't spend all day with exterior trim repair! Walpole, MA homeowners can trust the professionals at Mr. Handyman of Central - Eastern Norfolk County & S.Shore to get the job done right. We are experts at exterior trim repairs, no matter what the problem is. Besides Walpole, we serve many different areas, such as Norwood, Westwood, Duxbury, and more.
Call us
today to schedule an appointment for trim repair in Walpole or another nearby area.