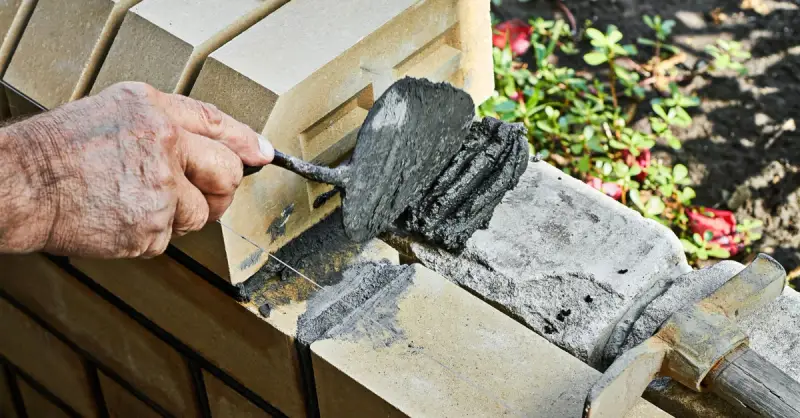 The history of masonry is one of the most fascinating attributes of construction. Historical architectural achievements that we all know (i.e., the pyramids or the Colosseum) are still standing to this day. However, it is not how contemporary construction workers build homes nowadays because time and money play a huge role in today's standards. Besides, no one would want to wait years for their homes to be ready.
Traditional methods are still common today, except that professionals no longer use mammoth ribs or stone axes but technically advanced tools and materials to promote efficiency, versatility and aesthetics. There are many reasons why ancient constructions last longer than modern homes, and one of them is patience. The Romans used to build three-layer systems and even mixed animal fat and blood with their concrete. Old-age Roman concrete is known to grow stronger over time due to the growth of interlocking minerals; those minerals are rare and difficult to cultivate.
If you'd like to stand out from the crowd in Walpole, you likely have European-style brick walls or stone walls that show a high level of craftsmanship from a skilled Walpole mason. Over time, they will suffer from external forces like weather damage, soil settlement or other foreign objects. No matter how efficiently your brick system has been laid out, it will become damaged and require a qualified Walpole mason. Your local Walpole handyman from Mr. Handyman of Central - Eastern Norfolk County & S.Shore is ready to provide your home with efficient masonry repair services.
When you choose your trusted Walpole handyman from Mr. Handyman of Central - Eastern Norfolk County & S.Shore, you can expect us to save you time and deliver enhanced safety and comfort to your property. Our uniformed service professional has passed their background check and drug screen, dedicated to honest and efficient handyman work. They will arrive on time and be ready to expertly execute any task that will exceed your expectations. As a locally-owned and operated company, you can rely on our expertise and experience, which is backed up by our done right promise.
What Is Masonry?
Walpole, MA homeowners will define it as the assembly of brick, stones or concrete blocks that are held together by mortar, which is correct. It's more common for European homes to have full-brick siding installations, whereas most North Americans prefer to add a touch of European flair to their home's exterior. Usually, it's their home's front. While vinyl and wood have been the most dominant siding types around, masonry symbolizes quality and efficiency.
A typical masonry project would start atop the foundation wall over a sheet of flashing. An expert Walpole mason would install the system neatly against the sheathing paper, allowing at least one-inch air space between the brick and the sheathing.
Types of Material and Masonry:
Walpole, MA property owners have many options that offer similar performance and efficiency.
Bricks
Brick has become an essential material in construction and manufacturing, serving different purposes for individual needs. But as part of your property, concrete brick units are the most common type. They are mainly made of burned clay, and when combined with a high-quality mortar, they serve as one of the safest and most sturdy siding types.
Stone
This is by far the most ancient type of masonry. Walpole, MA residents who love stonework, tend to install this as a non-load-bearing decorative surface for the inside or outside of their property. Non-load-bearing means that the stone carries its own weight.
Typically, when your stone wall runs parallel to your floor joists above, you will know that it is a non-load-bearing wall; unless the wall runs at a perpendicular angle to the joist, it is likely load-bearing. While this is not always the case, it's a good question to keep in mind for your local Walpole mason.
Stone is still commonly used to build foundations, floors and walls. That said, stone repair is a challenging task that requires an expert Walpole mason to thoroughly inspect the damage severity before determining whether repair or replacement is the safest option or serves as a long-lasting solution. When repairing mortar joints and cracks, we use a method called re-pointing or tuckpointing. However, there are
Manufactured Stone
Manufactured stone is made of concrete material which weighs lighter than natural stone. Although it resembles real stone and is also more flexible to cut and install, faux stone tolerates certain masonry repair solutions better, such as anchoring epoxy and caulk. Custom manufacturing will cost more money but it is an option.
Granite
Granite is popular on some buildings and is typically installed as a masonry veneer system. To reduce import costs, material is best sourced locally. Granite is ideal if you want to build functional stoops, fences and an isolated space for your fireplace.
Other Types:
Sandstone
Limestone
Marble
Slate
Solid Concrete Vs. Hollow Concrete
Solid concrete blocks are heavy and are higher in quality because they provide stability and protection to the overall structure. The larger the blocks, the less time it takes to construct concrete block masonry, unlike standard brick. A large block system is often preferred when working on load-bearing walls.
Solid Concrete - Advantages
Best option for load-bearing walls
Easier to manufacture
Offers greater stability than hollow concrete
Ideal for paving
Hollow concrete blocks are sometimes built in combination with steel reinforcement, also known as "reinforced concrete" (or RCC). Knowing how to effectively plan and install these and arrange the height requires the expertise of an expert Walpole mason; this includes masonry repair and installation services from Mr. Handyman of Central - Eastern Norfolk County & S.Shore.
Hollow Concrete - Advantages
Lightweight: works well on structure
Less use of raw materials during the making
Easier to install (no plastering required)
Less mortar required during installation
Finer acoustic and thermal insulation than solid
Helps back your HVAC system
Lower cost for public and commercial buildings, such as schools, churches, malls
Flexible, can be manufactured in all shapes and sizes to suit everyone's needs
Ideal conduit for installing electrical wiring, piping, etc.
Causes of Damage:
No one knows your home and your climate better than you. The slightest stain, crack or discoloration on your solid brick might call for immediate brick repair from your local Walpole mason. Understanding the potential causes will help you take preventative precautions and perhaps encourage you to hire your local Walpole handyman to inspect your existing system. There is a lot to learn about masonry, Walpole MA homeowners who learn about the common causes of damage in advance can be sure to keep their properties safe and minimize the need for masonry repair services.
Vegetation
Your natural environment in Walpole plays a huge role in maintaining your masonry. Walpole, MA homes surrounded by lots of trees, grass and stubborn plants like weeds are susceptible to damage if you have holes or cracks in brick. Wood plants tend to penetrate joint and cracked areas, enabling water to seep through. Once plants gain access to the interior, the strength of their roots will enable them to grow and cause structural problems.
Seasonal Cycles
When you inspect your exterior materials underneath the winter remnants, it's easy to spot potential water damage if cold weather has triggered cracks in mortar or a loose brick. Any water that seeps through will freeze during the winter and expand. Keeping water from entering any damaged area is key. Is your mortar joint crumbling or cracking? Your expert Walpole mason will get down to the root cause and offer you preventative masonry repair services.
Poor Maintenance
Everyone loves to think that their structures are indestructible if they install masonry. Walpole, MA property owners who have brick or stone masonry for fence or siding are recommended to schedule an annual inspection service with a local Walpole mason. They will be able to inspect your environment and spot areas on the system that either need minor repairs or some power washing service.
Incorrect Installation or Repair
Poor installation or masonry repair jobs could cost you as they would lead to serious problems like the collapse of a bearing wall. Some masonry contractors may not be as skilled as they seem and overlook important details. Unfortunately, this also includes DIY professionals who may lack the experience in identifying underlying problems or other aspects that need to be addressed prior to masonry repair or installation.
Signs You Need Masonry Repair
There are various areas on your property that call for Walpole masonry repairs, whether the front of your house, your fence, pavement or chimney construction. Identifying these signs early is key because this way, any preventative maintenance or minor repairs will save you from a future catastrophe. Signs that you need concrete repair may not always be noticeable unless you look closely or hire a professional Walpole mason.
Cracks:
Bricks are not indestructible. Thermal expansion can lead to small cracks, but larger brick walls may be more susceptible to bigger damages. If you spot vertical corner cracks on your siding or fence, you won't have to worry about your home collapsing. It's probably caused by home settling or soil shifting, which can also relate to the changing weather patterns and temperature fluctuations. That said, it's still important to highlight this to your local Walpole mason during your annual inspection, unless the vertical cracks are so severe that water seeps through and causes structural damage. Otherwise, using the appropriate type of repair materials, like urethane or epoxy, will easily fix the issue.
Moisture Penetration:
Water or moisture damage is known to cause structural problems and compromise your structure's integrity. Walpole masonry repairs are common when rainwater seeps through the treads due to worn cement. When moisture builds inside your walls, they can easily lead to interior damage that affects your sheathing and drywall.
Freeze and Thaw:
Once you have fallen victim to moisture damage, it will take a toll in the winter time when it freezes within your structure and begins to expand, turning into ice. Your local Walpole mason can look at any suspicious area and immediately determine the type of Walpole masonry repair it needs.
Spalling:
It's called spalling when brick pieces or blocks fall from the wall. Moisture, freezing and thawing are the leading causes of this issue because the structure is suffering from great stress from the inside. One of the easiest ways to stabilize spalling bricks is to apply masonry sealant; however, a qualified Walpole mason should inspect the structure's overall health first and determine the best repair method.
Bowing Brick:
The loss of adhesion is a common occurrence that leads to bulging, which is also known as bowed brick where the exterior walls caves in around an area that signifies an underlying foundation problem that may call for foundation repairs. Other causes include soil shifting, lateral pressure and tree root damage. Walpole masonry repair will include removing the affected area to further examine the interior damage.
Staining:
This often affects more than simply curb appeal. Stains like white sheen could be efflorescence, which is soluble salts that come from the pores of your brick system. They are caused by wet weather conditions and should be thoroughly cleaned before it turns into calcium carbonate, which is more difficult to remove.
Deteriorating Mortar
Not many Walpole property owners are aware that brickwork requires routine re-pointing at least once every fifteen years. It means that your brick wall needs mortar repacking. Your local Walpole mason has seen and done it all, but not everyone is an aficionado about Walpole masonry repair and installation, not to mention maintenance.
Need Quality Masonry Repair and Installation Services? Hire Your Local Walpole Handyman.
Is it time to give your residential property a much-needed repair? Are ugly cracks posing a danger to your home's structure? Before you look for "masonry repair near me," trust the masonry services from the pros at Mr. Handyman of Central - Eastern Norfolk County & S.Shore to get the job done right.
When you hire our team of masonry repair experts, we guarantee you'll be satisfied with the high-quality finished product—whether you want us to complete a large-scale home improvement project or touch up a few areas. We've helped multiple homeowners throughout the Walpole area, including Norwood, Quincy and Westwood. From soffit and fascia to home improvement, our team of professionals has you covered.
We invite you to give our friendly customer service reps a call to get started today! Ask us any questions that you may have or inquire about our wide range of Walpole handyman services.