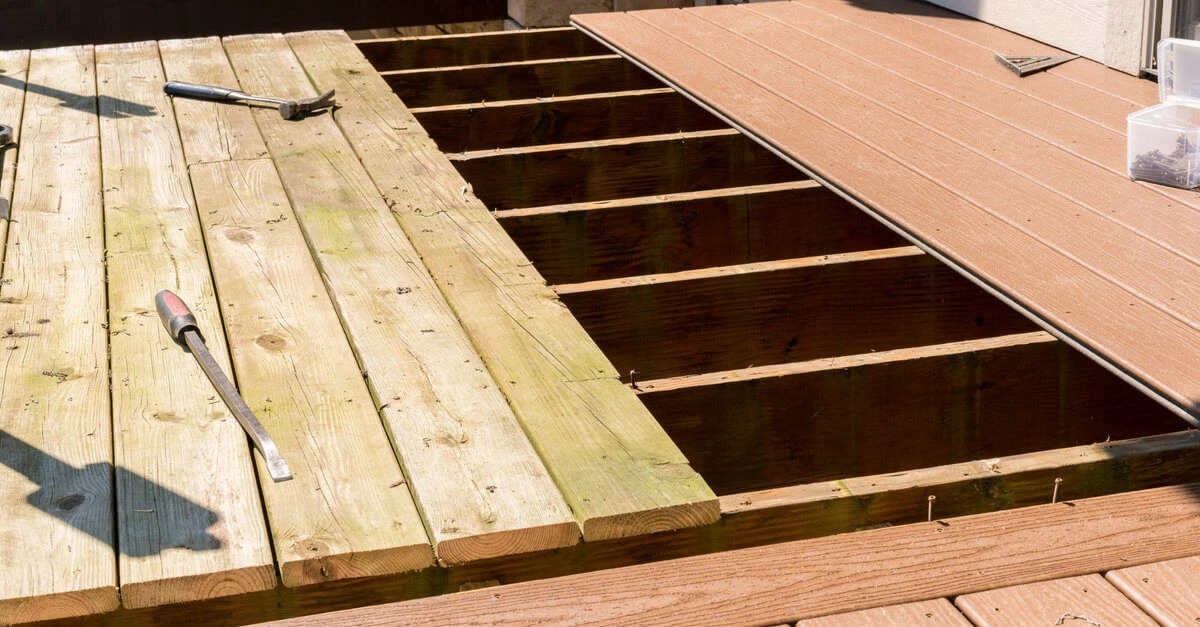 Summers in South Carolina are truly glorious, and to make the most of the warmer months your outdoor living area needs to be in tip-top shape. It should be a place of relaxation, where you can hang out with friends and family, barbecue and spend lazy Saturday afternoons enjoying the sunshine. However, when you need Charleston deck repair, your outdoor oasis of calm might feel a lot more like a make work project.
It's natural for decks to wear down over time, as wind, rain, sunshine, humidity and regular wear and tear will take a toll on both the appearance and integrity of your outdoor recreation space. Even if the entire area seems fine, there could be problems hidden in areas you can't see easily—such as wood rot growing below beams and planks—that must be fixed with Charleston deck repair service.
Promptly repairing issues and staying on-top of routine maintenance are the best ways to ensure your property looks great year round. Also, it's essential that you stay on top of deck repairs in Charleston to ensure the area is a safe place for friends, family and pets. As an added bonus, the nicer your property looks, the better curb appeal you will have. By taking care of your deck, you get to reap the benefits of enjoying your outdoor living space and also flaunting your gorgeous property to your neighbors and friends.
When your deck has seen better days and requires repairs to get it looking up to snuff, you can count on our Charleston handyman team to keep it looking and functioning at its best. Each of our service technicians are highly trained and have years of experience completing a wide range of home improvement projects. Also, many of our service professionals are experienced carpenters. They provide quality workmanship and are able to solve a range of problems relating to your Charleston deck repair.
To help keep your space looking and functioning its best, the team at Mr. Handyman of Charleston and Summerville put together this guide. Keep reading for Charleston deck repair tips, red flags to watch for, and to learn how our company can help.
How Do I Know I Need Deck Repairs in Charleston, SC?
Before you connect with the pros at Mr. Handyman for Charleston deck repair service, it's important to have a sense of what needs to be repaired. While you might have already noticed some issues, like missing boards or loose railings, other kinds of damage might be harder to spot. If you're taking the trouble to hire a professional handyman, you might as well ensure that all the issues with your outdoor space are fixed during the appointment. Of course, since our team are the pros, we'll discover problems that many homeowners don't notice.
Stains & Blemishes
Stains and blemishes develop because of regular use and wear and tear. For instance, perhaps your two-year-old spilled sweet tea and it left an unsightly stain. Or, maybe your heavy outdoor umbrella stand got knocked over and dented the structure's wooden planks. Stains and dents might seem like a mere cosmetic issue, but it could actually cause more serious problems. Specifically, stains and dents can compromise your wood stain or paint job. Since these substances act as sealants, you're opening up your deck to the risk of water damage, rot and mold. Most stains can be removed with soap and warm water, or sanded away if the damage is already done. Dents and chips will need repairing as well. Usually, sanding and re-sealing your outdoor living area is sufficient. If the damage is severe, then the affected boards or planks should be replaced.
Broken Boards
Perhaps a storm blew a tree into your deck and broke through the planks. Or maybe you didn't notice the wood was starting to rot and now a few boards have broken. Usually, wear and tear, fluctuating temperatures, weather and wood rot cause decking in Charleston to deteriorate over time. Naturally, if your deck boards are broken, then they need to be repaired promptly. Any broken boards need to be replaced right away to prevent injury. From minor injuries like slivers to something more serious like a foot going through a broken board, it's important that you stay on-top of Charleston deck repairs to keep your family and guests safe.
Pro Tip:
Boards that are split down the middle indicate they will break soon. Don't step on cracked boards, and ensure they are replaced promptly with help from the pros at Mr. Handyman.
Loose Nails & Screws
Nobody wants to step on a screw or nail—especially not small children and pets, who are more likely not to notice them. Not only can popping nails and screws cause serious injury, but they can also lead to infections like Tetanus. Also, popping nails are a sign that boards, posts and railings could be coming loose—which is also a safety hazard. Usually, rising nails can be hammered back down into the wood. But if the nails or screws look corroded and rusty, it's more worthwhile to replace them entirely.
Wobbly Railings
Loose railings are a serious safety hazard, as you or a loved one could lean against them and fall down. The easiest way to tell if your railings are loose is to grab hold and give them a shake. If they move, they're loose and need to be repaired as soon as possible. There are a couple of reasons why your deck might have wobbly railings. It could be that a screw or nail has come loose. Alternatively, wood rot may be eating away at the lumber. In this case, compromised railings will need to be replaced entirely.
Wood Rot
Moisture has a way of damaging all kinds of wood—even when it has been treated. In humid climates such as Charleston, it's just a matter of time before wood rot begins to spread. It tends to take root in areas of your deck that are not often exposed to sunlight. For instance, the bottom of boards or below stairs. A kind of microscopic fungus, wood rot is a part of nature. It's role is to decompose timber that's fallen onto forest floors. However, rot doesn't discriminate and will eat away at your wooden structures. It's important to check regularly for wood rot, so that you can make a prompt appointment for Charleston deck repair before it gets worse.
Look for signs of:
Splintering, crumbling wood
Discolored patches in yellow or white
Soft areas; if you can press a screwdriver into it, you have wood rot
Pro Tip:
Use a flashlight to look under hard-to-reach areas. Generally, patches that don't receive a lot of sunlight tend to be where rot spores grow first, so it's important to check the underside of your outdoor living areas for damage. Walk through your property at least twice a year with a flashlight and screwdriver to check for signs of rot.
Crumbling Concrete Footings
Concrete deck footings are essential for upholding your deck's entire structure. When they begin to crumble or deteriorate because of age, erosion and water damage, then they need to be replaced right away. If the problem is allowed to persist, then the entire structure could sink into the ground. Obviously, this is very unsafe and could result in injury and/or serious structural issues to the rest of your home. It's important to repair concrete footings right away.
How to Prevent the Need for Charleston Deck Repairs
The phrase: "An ounce of prevention is worth a pound of cure," rings especially true when it comes to home repair projects. By taking care of your property, you'll spend less money and time on expensive repairs and/or replacements. This is true for your indoor space, as well as the outdoor areas on your property. By catching problems quickly, you prevent damage from worsening and causing further headaches down the road.
Routine Inspection & Maintenance
At least twice a year, you should walk through your property and check for signs of damage. The best time to do this in Charleston is once in the spring and once in the fall. You could take this time to get all your seasonal maintenance done, including gutter cleaning, pressure washing and fence maintenance. Some routine Charleston deck repairs that should be completed as part of your maintenance include:
Regularly move deck furniture and planters around
Fix damaged stain and paint right away
Deck cleaning, including sweeping and power washing
Promptly replacing damaged, missing or rotted areas
Regular Sealing
You should refinish your deck every two to three years, depending on how well you've cared for it and if any weather events, like a storm, have damaged your deck. The important first step in refinishing your outdoor structure is to apply a clear, UV protecting sealant. This is key for keeping water damage, bleaching and wear to a minimum.Then, follow the sealant with either a coat of solid stain or paint.
Refinishing your outdoor structure is an important task. However, it is also a lot of work. If you don't have the time, tools or ability to take care of this integral deck maintenance step, our team is happy to take care of it for you.
Benefits of Regular Sealing
Preserves your wood's natural beauty
Adds an attractive sheen
Protects the structure from moisture damage
Prevent wood rot from growing
Avoid sun damage from bleaching wooden structures
Deck Cleaning
An important part of regular deck maintenance is to give it a thorough cleaning from time to time. This is especially important if the structure has peeling paint and chipped stain, or significant stains from moss, lichen or mildew. By far, the most efficient and effective way to clean your deck is by using a pressure washer to give it a deep clean.
Power washing can transform outdoor surfaces and make them look brand-new. It can also prime surfaces for painting or staining, and is much faster than scrubbing manually. However, it's integral you hire a professional to do this for you. Pressure washers need to be set to a specific level depending on the surface you're working with. Many amateurs wind up damaging their outdoor surfaces because of improper use. Also, these machines are very powerful, it's very easy to damage your property or injure yourself if you don't know how to safely use them. Instead, let the pros at Mr. Handyman of Charleston and Summerville handle it for you.
Benefits of Power Washing:
Improve your property's curb appeal
Prevent repairs by getting rid of debris and buildup
Clean other areas, such as fences and siding
Prevent health issues from mold and mildew
Prime surfaces for painting or staining
Make an Appointment for Charleston Deck Repairs Today!
Is your outdoor area looking a little worse for wear? Or perhaps it's been a while since you refinished your deck and now it's time? When you need Charleston deck repairs, trust the task to the experts at Mr. Handyman of Charleston and Summerville. Each of our service professionals has years of experience serving clients throughout Charleston, including in Moncks Corner and Goose Creek.
Our carpentry skills are outstanding, and so is our customer service. We're known throughout South Carolina for our dedication to quality service and customer satisfaction. It's important to us that you're able to enjoy the warmer months on your deck in comfort and safety. We also offer deck installation services, if you're looking to revamp your backyard entirely, and can assist with a wide range of other services to keep your property looking it's best all year round, including fence repair and door repair.
To book an appointment with one of our hardworking technicians today, we invite you to call our friendly office staff today. We look forward to hearing from you, and helping with your next home improvement project!