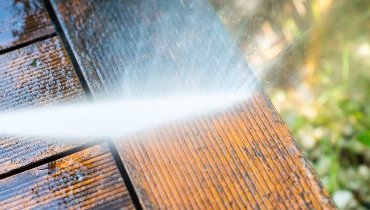 Picture this: your property isn't that old, but without routine Dallas pressure washing services, dirt, mildew, and rust have made it look like it's been neglected for years. You want your home and commercial properties to stand out among the other buildings on the street for being the cleanest, but right now, they're standing out for the opposite reason.
Was this hard for you to imagine, or does it sound all too familiar? If you fall into the latter category, would you believe that you can get your property looking new in just a matter of hours? With Dallas pressure washing service provided by a Dallas handyman, this isn't just possible—it's a promise.
Hiring a service professional from Mr. Handyman of Dallas to provide pressure washing in Dallas, TX, has numerous benefits for your home and business. By removing all traces of grime, you can attract customers and improve your property value. This service also protects your property from sustaining damage down the road and costing you an arm and a leg for repairs.
In this informative article, you'll learn the following:
The difference between pressure washing and power washing
Reasons to use residential pressure washing services
Reasons to use commercial pressure washing services
When this is the appropriate cleaning method, as well as when it is not
Info about pressure washing your property on your own
Is our Dallas pressure washing service the right solution for your property? Keep reading to find out.
What is Dallas Pressure Washing?
Pressure washing refers to the process of cleaning a surface through the use of high-pressure water. Pressure washing and power washing are sometimes used interchangeably, but the two terms refer to different things.
A Dallas pressure washing company may offer both pressure washing and power washing exterior cleaning services. Because power washing uses heated water, it can remove dirt and sediment more thoroughly than pressure washing can. The hot water also helps kill fungus and other organisms, such as moss and mold. Although it is more effective, it is not always the best choice. A Dallas pressure washing specialist can help you decide which cleaning method is most suitable for your needs.
7 Reasons to Invest in Pressure Washing in Dallas, TX
The obvious motivation for investing in Dallas pressure washing is to clean part or all of your property's exterior, but there are so many additional advantages to investing in this cleaning service. Any way you look at it, there really aren't any drawbacks to choosing to use this method to clean your home or business. We've outlined the biggest advantages below.
1. Save Time for More Important Things
Sure, you can certainly get on a ladder and painstakingly scrub at your siding, bit by bit, until all that mildew is gone. But can you imagine how long that would take? At the very least, it's your whole weekend gone.
When determining whether a service is worth using, one of the ways you can measure its value is by comparing the cost investment and time investment. To do this, place a dollar value on your own time and compare it to the cost of the service. Keep in mind that the value you place on your time will vary from person to person—there is no right or wrong answer.
The average time it takes to clean a medium-sized home is about 3 to 5 hours. You can bet that it will take a lot longer to clean your home by hand. By hiring a Dallas pressure washing company to do the job, you can spend your time doing activities you value more, like spending time with your family and friends.
2. Improve Your Curb Appeal
One of the biggest motivations people have for choosing pressure washing in Dallas, TX, is to improve its curb appeal. When talking about 'curb appeal,' most people use it when discussing property value. Your curb appeal is the attractiveness of your property from the street. If you had a for-sale sign on the edge of your home and a prospective buyer walked by, how interested would they be just by looking at the property from the outside?
We've all heard the saying, "don't judge a book by its cover." Unfortunately, it is human nature to do so. No matter how beautifully renovated and designed the interior of your home is, buyers may not bother checking it out if the exterior of your home is unappealing.
Residential pressure washing is the best solution for turning a dirty house into a sparkling property that attracts buyers. If you're a business owner, curb appeal can help attract customers too.
3. Improve Your Allergies
That grimy exterior is certainly unappealing to look at, but did you know that it could also be harming you and your family's health? It's not just dirt that's on the side of your home, porch, and driveway. Build-up also includes health hazard materials such as:
Rot
Mildew
Algae
Pollen
Bird droppings
Air pollutants
Some types of debris are fairly harmless, but many can cause allergy symptoms. Something like mildew and algae may be less likely to cause severe symptoms, but this greatly depends on the type and the health history of the person exposed to them. A Dallas pressure washing service can improve the health and well-being of your family by helping to remove and flush away these toxins.
4. Prevent Damage
The toxins and pollutants listed above aren't just harmful to your health but to the structural integrity of your exterior as well. Rot and mildews are living organisms caused by them. As living organisms, they eat, produce waste, and reproduce—much like any organism. Unlike plants that consume chlorophyll to produce energy, rot consumes organic matter around it. Therefore, if it is left on your wooden deck, porch, or home for a long period of time, it will begin to break down these surfaces, leading to permanent damage.
Additionally, when dirt and pollutants are left on an exterior surface for too long, the hot Texas sun can lead to permanent staining. While there is a cost associated with hiring a Dallas pressure washing company, this cost is significantly less than the cost of replacing a deck, siding, or the fascia boards between your gutters and roof edge.
5. Prep Surfaces for Projects
Up until this point, we've talked about how this cleaning method can quickly and effectively cleanse exterior surfaces. However, there's an additional purpose for pressure washing—stripping a surface, so you're left with a clean slate for a new project.
If you want to apply a new coat of paint or stain to the exterior of your home, deck, or porch, you'll need to ensure that the surface is nice and clean. Otherwise, you'll end up with a patchy or peeling result. Dallas pressure washing effectively removes all traces of dirt and grime so that you have a clean surface to work with.
This cleaning method can also be incredibly effective for removing peeling paint. For example, instead of sanding down an entire fence with peeling paint, spraying it first can remove a good chunk of the paint and reduce the amount of time it would take you to sand the whole thing.
6. Protect the Environment
Pressure washing and power washing are not innately environmentally-friendly, but they certainly have the potential to be. The solutions aren't always just made of water. There are three main categories of soaps and detergents:
Cleaners. These remove dirt but do not kill bacteria.
Disinfectants. These kill bacteria within 10 to 30 minutes of application.
Sanitizers. These kill bacteria almost instantaneously.
The type of solution used for your Dallas pressure washing service will depend on your needs. If bacteria is an issue, you'll want to use something that disinfects or sanitizes to stop it from coming back.
Many Dallas pressure washing companies use eco-friendly biodegradable solutions in their pressure washers, making this method a safe and effective way to clean your property's exterior surfaces.
Common Uses of Dallas Pressure Washing
As awesome as pressure washing is, it, unfortunately, cannot be performed on all surfaces. The highly pressurized water is effective at removing dirt, pollutants, and other contaminants from a surface, but in some cases, it's also effective at stripping the surface itself. As we've discussed, sometimes you may want to remove more than just dirt—paint stripping is a case in point. In addition to painting stripping, some other uses for pressure washing in Dallas, TX, include:
Cleaning concrete surfaces like driveways, sidewalks, garage floors, patios, pools, parking garages, and parking lots
Graffiti removal
Rust removal
Gutter cleaning
Cleaning brick surfaces—as long as the PSI is below 800 and there aren't any holes in the mortar
When To Avoid Using Dallas Pressure Washing
There are several situations in which high-pressure cleaning cannot be used, as convenient as it would be to do so. These include:
Window cleaning. Though triple-pane windows may be able to withstand the pressure, single-pane windows likely will not. Don't risk causing cracks in your glass. Instead, all you need to do is scrub your windows with a bit of household dish soap, warm water, and a microfiber cloth. Then, rinse with the hose and apply a white vinegar and water solution to the glass. Use a squeegee from top to bottom and dry with a lint-free towel.
Lead paint stripping. Pressure washing harmful lead-based paint causes particles to disperse throughout the air and wash into the surrounding environment.
Asphalt roofing. This type of roofing material is far too delicate to pressure wash. Unless you want to spend lots of money on a new roof, don't try this.
Interior cleaning. Pressure washing any area in the interior of your home is just a bad idea.
An alternative method to pressure and power washing for exterior cleaning is soft washing. Soft washing still uses pressurized water to clean surfaces but at a much lower PSI. It can therefore be used on windows, shingles, and screens.
Can I Pressure Wash My Home On My Own?
You can certainly pressure wash your own home. Whether you should pressure wash your home on your own is a different matter entirely.
Pressure washing is a dangerous business. If handled incorrectly, a pressure washer can severely injure the user or anyone who crosses their path. Technicians trained in pressure washing in Dallas, TX, have undergone extensive safety training to ensure that they are able to keep themselves and others around them safe.
A pressure and power washing company also has all the required pressure washing equipment. If you were to go out and buy, or even rent, pressure washing tools on your own, you'd end up spending a lot more time and money than it would cost you to simply hire a professional cleaning service in the first place. That's why we recommend you hire a skilled Dallas pressure washing technician from Mr. Handyman of Dallas.
Mr. Handyman of Dallas is a Leading Choice for Dallas Pressure Washing
For professional and reliable Dallas pressure washing services, choose Mr. Handyman of Dallas. Since 1996, Mr. Handyman franchises have proudly served nearly 1 million happy customers. As leaders in the pressure washing industry, we confidently offer a customer satisfaction guarantee. When you hire us for Dallas pressure washing, we'll inspect the area you want to be cleaned, recommend pressure or power washing, and get the job done to a standard that not only meets but exceeds your expectations. We proudly provide this outstanding service—and other outdoor maintenance services like fence repair—for many communities in and around Dallas, such as University Park, Lancaster, and Rose Hill.
If you're ready to schedule pressure washing in Dallas, TX, for your home or commercial property, give us a call by phone. Still, have questions about our Dallas pressure washing service? No problem! Our friendly team is more than happy to discuss these with you.