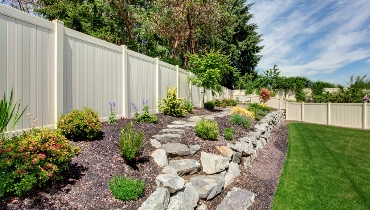 Have you been putting off getting a fence installation, or your current fence is breaking down? If so, now is the time to get professional fence installers in Boulder, CO. You need something that marks your territory and serves as a means of keeping your children or pets safe. It also serves as a deterrent for anyone that wants to walk through your property or potential thieves.
Many different fences can be seen throughout Boulder; however, not all are created equal. Some are perfectly uniform and are well maintained and clean, whereas others have peeling paint and broken boards. There are a few important considerations for making your fence installation look pristine. Your skilled Boulder handyman at Mr. Handyman of E Boulder, Broomfield, and Erie can help you make sure your fence installation is perfect or can fix your existing one up to your standard.
The Components of a Fence
Surprisingly, a fence system is more complicated than you would think. Knowing which parts go where can make your Boulder fence installation process a little easier. Different styles also have different parts.
Fence Posts: Also called columns, these are the vertical parts that hold the whole structure up. They are usually buried several feet in the ground and reinforced with concrete.
Rails: These are attached to the posts horizontally, running parallel to the ground, and are typically on the back of the structure to give the structure sturdy integrity. Different lengths may require different rail locations.
Pickets or slats: These pieces are attached to the rails and can be horizontal or vertical boards. They form the front, the most visible part of the structure, and are the main part of the overall structure.
Gate: A portal that swings open to allow entry or exit. Sometimes there isn't an actual gate, just an archway or gap in the structure. Gates are useful for dividing between front, public accessible lawns compared to backyard fenced-off parts of the lawn. The more secure the gate, the harder it is for trespassers to wander into your yard.
Certain fencing materials don't necessarily need all these parts. So depending on your chosen material, you may not have rails or fewer slats.
Signs You Need Fence Installation
You may think that if your fence is still standing, it doesn't need to be replaced. Unfortunately, once it starts to lose its structural integrity, it loses its ability to perform its job. A loose fence isn't going to keep your pets in or trespassers out very effectively. We recommend performing a walk around the entire structure and examining it carefully for the following symptoms that call for repair or replacement.
Cracked or broken timber/wood
Wood rot
Weathered, gray, splintered wood
Peeling, flaking paint, or wood stain
Rust stains and other signs of corrosion
Sagging, unstable posts that move when you touch them
Bent, warped, or loose chain link panels
Contact with the ground (posts are the only part that should be touching the soil)
Vinyl faded by sun exposure
Squeaking or broken hinges or latches
Gates that are difficult to open and close
If any of these apply to you, or you've received a notice your structure violates boulder bylaws or building permits, it's time for fence repair in Boulder, CO. Fines can be costly, and with most relating to height or encroaching on city property, it can be an easy fix for your handyman to save you the time and fines.
Time To Get Fence Installation in Boulder, CO, Or Just Repairs?
A common question we get asked is whether their fence just needs some repairs or to be completely redone. The answer comes down to the extent of the damage. Sometimes only repairs are needed to get your structure back in shape, other times, repairs won't be enough, and a new fence installation should be done.
Here are some guidelines for situations where you, as the property owner, may need to replace larger stretches of the structure or the entire fence:
More than about 25 percent of the whole structure has been damaged by factors such as harsh weather, neglect, or just normal wear and tear.
It was hit by a falling tree branch or a vehicle and has suffered extensive damage.
It is infested by termites, carpenter ants, or other destructive pests.
You want a new style that will enhance your curb appeal and add property value.
What Material Should I Choose for Fence Installation?
The type of fence you choose is crucial. Plus, there are a variety of materials to choose from for your fence Installation. Boulder CO homeowners' decisions are often based on how much they want to spend, how the style of fence impacts their house's aesthetics and durability. It's important to consider the pros and cons of each fencing material in your decision so that you don't find yourself constantly replacing your fencing or dealing with recurring maintenance/repair projects.
Wood:
A classic, timeless material that has been used for fences for ages and is a popular option among property owners to this day. This natural material is environmentally friendly if you choose domestically grown timber or reclaimed wood and is an affordable option. However, wood is susceptible to rotting and may require more maintenance than other material options. A wooden fence needs replacement every 10 to 15 years in Boulder, depending on the type of wood and how well it's maintained and cleaned.
PVC or Vinyl:
Both PVC and vinyl fences require less maintenance than wood and are offered in a wide range of styles, not limited to options that mimic the wood of wood. These options won't peel over time and only need an occasional blast from the hose to keep them clean. A few drawbacks of this material are its higher cost and that they are prone to warping or fading in extreme weather due to its plastic composition. Their plastic composition also makes them less environmentally friendly.
Wrought Iron:
A classy, elegant style of blocking off your property. Wrought iron is extremely durable and long-lasting compared to other options. A drawback is the high installation costs associated with this material. However, with proper care, wrought-iron fences can still look great a century after they're built, making sure you don't have to worry about replacement ever. The only maintenance required is the addition of rust-resistant paint every few years to stop rust build-up.
Aluminum:
While not as stylish as wrought iron, this sturdy material is relatively inexpensive but also durable. It comes in a wide variety of different colors and styles but isn't one of the best choices for privacy or security. The aluminum fences are usually made from recycled material, making them a more environmentally friendly option.
Chain-Link:
While commonly found in parks and school grounds, the classic chain-link fence is often used in residential fencing services as well. This material is the most functional and inexpensive option; however, it struggles in the appearance and privacy category. Chain-link may not be the best for keeping small animals or trespassers off your property. However, this type does last for a long time since extreme weather conditions don't have a strong effect on them.
What kinds of Gates are Available for Fence Installation in Boulder, CO?
Unless you want a backyard only reachable by your house door, a gate is important to pass through your enclosure without going inside your home. You can add a gate to your existing fence structure or preemptively add it during your fence installation.
Boulder, CO, homeowners can choose from these common styles:
Single-door or double-door options are the standards for gating off a walkway or path.
Swing gates are typically placed across a driveway to prevent vehicle access.
Cantilever gates that slide open are perfect for limited spaces such as narrow streets.
Rolling gates use a track and wheel system embedded on the base.
Choosing the proper style of the gate will save you headaches down the road, so it's an important decision.
Boulder Fence Installation Tips
Once you've chosen your preferred material, the next step is your Boulder fence installation. While it may seem simple on paper, fence installation might be more of a challenge than you would think. Running into issues with bylaw violations, improperly installed bases, and miscalculating the materials needed can all be unpleasant experiences. Luckily we've compiled some tips to help you on your fence installation project.
Do Your Research
Unless you like to live life on the risky side, we recommend making sure you've done all your research on Home Owners' Association and city bylaws and building codes to make sure you're complying with the regulations. Depending on if you live in a county or city/town, you may have different bylaws. Doing your research will ensure you're within compliance with any municipal rules and let you know the exact allowable fence height.
Inspect Your Property
Before starting your fence installation, Boulder, CO, property owners should contact a local land surveyor to survey their land for any special circumstances that might impact your structure. It's vital to keep your fence within your property boundary lines to avoid any problems or fines down the road. Property lines may get forgotten over time, and no one likes having an argument with your neighbors about anything encroaching on someone's property.
Once you've confirmed your property line, we suggest checking your land for any inclines or declines you may need to deal with when constructing the project. Small hills require special types of construction. Racking may be optional for small inclines; however, stair-stepping is required for any continuous steep slopes to maintain your fence's structural integrity.
Calling before you dig will protect you from breaking any sewer lines or utility lines under your lawn. We recommend calling utility companies directly to have them come to survey your property for any "buried treasures." Taking these precautions will help you avoid damaging any buried pipes or lines, resulting in additional costs. It will also help prevent injury to yourself or anyone else.
Mark Your Layout
Unless you like making multiple trips to your local home improvement store, it's important to mark and plan out your layout. Marking your proposed layout with stakes and lines will help you visualize your structure and identify any issues or obstacles before starting. This can also serve as a guideline for you in the future or any contractor for future construction.
Once you have your outline down, you can begin calculating how many parts you'll need to complete the project.
Do I Need Fence Repair?
Regular maintenance of your fence will keep it sturdy and prevent damage from spreading. Lack of maintenance will cause structural damage to the fence and make the exterior of your property look run-down and also prevent it from doing what it was made for.
Fence Maintenance Tips
Remove debris, such as weeds and rocks, from the perimeter on a regular basis.
If you have a wood fence, ensure that boards don't contact the ground
Have termites or ants? Use insecticide to prevent them from damaging the wood
For vinyl and aluminum, clean them once per year with a mild soap solution or a light power washing
Always remove flaking or peeling paint on wood fences and refinish the surface
Always repair broken boards, loose hinges, or posts before they injure someone or cause an accident
Hire periodic maintenance services, including power washing
Performing the above tips regularly will keep your fencing healthy and limit the number of replacements you'll need over time. Be the envy of your neighborhood with the freshest fencing on the block with a fence repair from professionals.
Call a Local Boulder Fence Installation Professional
If any of these steps are overwhelming or you don't know how to start your Boulder fence installation, Mr. Handyman of E Boulder, Broomfield, and Erie is here to help. Don't bother searching "fence installation Boulder CO" because there's no need to look further. With years of experience, Mr. Handyman is ready to turn your dream exterior into reality or at least make you love your fence again, whether you own residential or commercial spaces.
With a workmanship and parts guarantee, you can stay confident in your purchase, knowing it was installed at the highest level of quality. Otherwise, we'll fix it for you for free, unlike other service providers or fence contractors who may leave you with a non-sturdy fence that may require a replacement down the line. Whether you're in Boulder or nearby communities, such as Broomfield, Erie, or Superior, you can count on us to solve your fencing needs.
Learn more about our services by picking up the phone and giving us a call. You can also book an appointment online on our website. No matter the task, Mr. Handyman of E Boulder, Broomfield, and Erie is there to help your project in many different service areas.