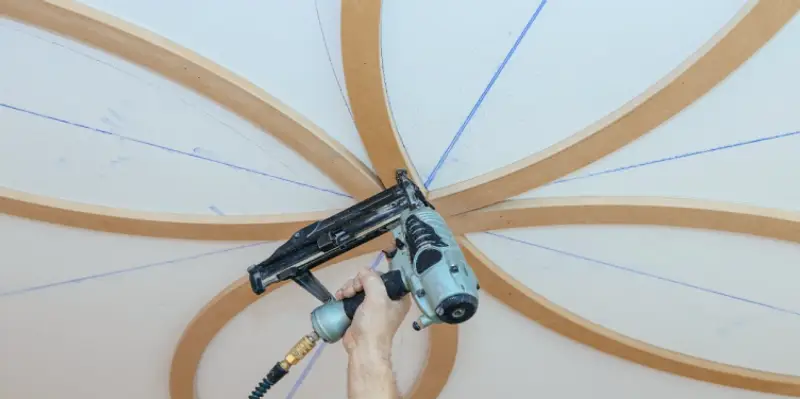 Building a new home or renovating your existing property is an exciting process. Many people have a clear vision of what they want their home to look and feel like at the end of the project, but when these expectations fall short, it can be incredibly disappointing. If you've recently made changes to the interior of your house but feel like there's something missing that's preventing it from feeling like your home, the solution could be Flower Mound finish carpentry.
During the planning phases of a project like a bathroom remodel, most people pay a lot of attention to things like the tile design and the vanity, but you should also consider what you want to be done for trim work. Unlike a large gallery wall or a statement rug, finish carpentry doesn't always draw your attention, but without it, you'll feel like something about your space is slightly off. A finish carpenter can pull together a custom bathroom project or kitchen remodel to bring your vision to life.
Our Flower Mound handyman team from Mr. Handyman of Flower Mound, Lewisville, and Denton is made up of experienced carpenters who can complete a variety of finish carpentry projects to meet your needs. In this article, we'll teach you everything you need to know about finish carpentry in Flower Mound, TX, including:
Basics of finish carpentry
Benefits of finish carpentry
Types of projects that require finish carpentry in Flower Mound, TX
And cost estimates for hiring handyman service professionals with finish carpentry experience
What Is Finish Carpentry?
Picture your morning routine. For many people, it involves getting out of bed, opening the bedroom door, and padding over to your kitchen to get the coffee brewing. Once your coffee is ready, you open your kitchen cabinet doors, grab your favorite mug, and pour yourself a hot cup of joe. With your mug in hand, you wander over to a nearby window and open it up to let in the fresh morning breeze and enjoy the sound of the birds chirping.
In this scenario, you've directly interacted with four different home components that a finish carpenter has worked on.
There are two main types of carpenters: framing, rough carpenters, and finish carpenters. Framing carpenters are responsible for doing the woodwork involved in the initial construction of a home. This includes the frame, as well as installing windows and exterior doors. Following drywall installation, the finish carpenter's role comes into play.
Finish carpenters are responsible for all the finishing touches, such as fireplace mantels, crown molding, baseboards, flooring, casing, cabinetry, built-in furniture, and more. Essentially, if the wood is involved in a decorative capacity rather than solely a functional and structural capacity, it falls under the purview of a finish carpenter.
Though many homeowners today enjoy taking on some parts of their remodeling or home construction project on their own, for any interior woodworking project, it's strongly recommended that you hire a Flower Mound finish carpentry expert. Though it may look simple, this type of carpentry requires a high level of precision to pull off correctly.
What Types of Projects Require Finish Carpentry in Flower Mound, TX?
When homeowners think about changing up their homes, they often think about the decor and furniture. Sometimes the best way to make an impact is by making alterations to the small details. For example, adding a ceiling medallion and some crown molding can make your home feel infinitely more classy.
There is a wide range of finish carpentry projects that your home may require. Below, we've broken down the most popular types of projects that homeowners hire a Flower Mound finish carpentry professional to work on.
Cabinets
Although you've probably never thought about it, cabinetry tends to look best when it is flush with the wall. That built-in look isn't as easy to achieve as it looks. The ability to blend in so well that it's not noticeable is one of the most important aspects of finish carpentry. Not only do cabinets need to be mounted invisibly, but they also need to be mounted securely, as kitchen cabinets hold fragile and heavy items like dinnerware and glassware.
Not only do finish carpenters do cabinet installation, but some also do custom cabinetry as well. If you're having trouble finding cabinets that work in your space, custom cabinetry may be worth considering.
Trim
A common misconception is that finish carpenters only do trim work, but in actuality, they do pretty much everything else that is decorative and involves woodworking. This misconception is so common that all finish carpenters are sometimes called trim carpenters. Trim carpenters are a type of finish carpenters that install interior and exterior trim but may not be as proficient in other types of finishing carpentry.
That being said, Flower Mound finish carpentry experts do a pretty great job at all times of trim installation. Some of the types of trim that you may wish to consider for your home include:
Crown molding. Whereas baseboards cover the joint where the wall and flooring meet, crown molding covers the joint where the wall and ceiling meet. The purpose of crown molding is to draw the gaze upward, giving the illusion of higher walls.
Shoe molding. Installed on the joint between the baseboard and the floor, shoe molding brings it all together and elevates your baseboards by taking them one step further.
Picture frame molding. Also known as boiseries, picture frame molding originated in France in the 1600s. Classic French design is well-known for its distinct, sometimes overly flamboyant features and picture frame molding is no exception.
Chair rails. This trim is added to the walls about a third of the way up the wall from the floor. As the name suggests, its original purpose was to protect walls from being damaged by chairs, but it's generally installed for decorative purposes today.
Wainscoting. Similar in appearance to picture frame molding, wainscoting is a combination of paneling and molding that covers the bottom third of the wall.
Doors
Interior and exterior door fitting is another skill that is best left to a Flower Mound finish carpentry professional. If you're in the process of doing large-scale renovations or are working on a new build, you might not already have a door frame installed. In this case, you can purchase a pre-hung door, which comes with the door frame and slab already attached to the hinges. Though hiring a professional for pre-hung door installation is still recommended, you may be able to do the job yourself.
In all other circumstances, such as when you're replacing a door, but you already have a frame, or you've noticed one or more signs that you need door repair, the new slab will have to be installed by a finishing carpentry expert to be properly fitted. Making sure your door is flush with the frame is especially important for exterior doors, as any gaps will result in drafts and reduce the energy efficiency of your home.
The typical layperson generally thinks of a door as having two components—a frame and a slab. During door installation, a Flower Mound finish carpentry professional will fit your doorway for the following components:
Header
Jambs, including hinge, head, and latch jambs
Trim
And casing legs
They'll also need to drill holes for the latch and doorknob, as well as install a strike plate. Getting all of these pieces to fit together requires a level of precision that is only possible by hiring an expert in finish carpentry in Flower Mound, TX.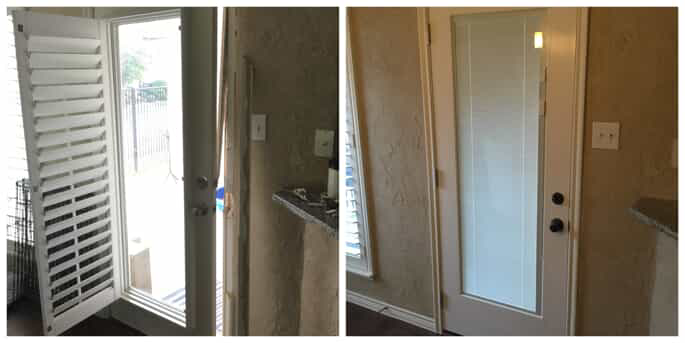 Windows
Finish carpenters don't install windows, but they do install window casing. Sometimes called interior window trim, window casing is the decorative molding that covers the space between the window frame and the wall. Exterior window trim covers this space on the outside of the home, but it's usually made of a more durable material to protect against moisture and does not require a high level of craftsmanship like interior window casing does.
On the inside of the home, the window casing provides some insulation benefits, but its main purpose is to provide decoration. Some popular types of window casing constructed using finish carpentry in Flower Mound, TX, are as follows:
Flat casing. The most simple design and little more than a rectangular piece of lumber.
Ranch-style casing. Like a flat casing, except one edge tapers downward, resulting in a more triangular shape when viewed from its profile.
Colonial-style casing. With more of an artistic flair than the first two, this style has gentle curves that give it a refined look without drawing too much attention.
Fluted casing. A type of flat casing with lines to add visual interest.
Rosettes. To make more of a statement, square pieces with a circular pattern in the center may be added to each corner of the trim.
Flooring
If you're putting in click-and-lock vinyl flooring, you may not need a professional's help. However, there are certain types of flooring installation that require finished carpentry in Flower Mound, TX.
Rooms that have odd angles and curves can be incredibly difficult to place, as can non-standard installation patterns, such as herringbone and basket-style hardwood floors. One of the reasons that homes have baseboards is to cover up any gaps left behind after flooring installation, but even the size of the gaps is important during the installation process. Wood expands and contracts, so everything must be measured out correctly to allow it enough room to expand while ensuring there isn't so much room that cracks appear when it contracts.
Why Is Professional Flower Mound Finish Carpentry Important?
There are a lot of projects you can do around the house, even if you don't have particularly advanced carpentry skills. However, if you think building flat-pack furniture is hard, you can't even imagine how difficult finishing carpentry is. Many Flower Mound finish carpentry experts begin their careers as frame carpenters and only begin tackling finish carpentry when they've gained enough experience. Experienced finish carpenters need to have very strong attention to detail, as there is really no margin of error when it comes to this skill.
In addition to being highly experienced and having close attention to detail, a Flower Mound finish carpentry professional has many specialized tools, some of which the average homeowner is unlikely to own. These include:
Specialized power tools
Speed squares
Combination squares
Hand tools like marking knives, chisels, planers, hammers, sanding blocks, and bubble levels
Specialized electronic tools, like digital angle gauges
Nail guns and air compressors
How Much Does It Cost To Hire A Flower Mound Finish Carpentry Expert?
Many homeowners are cautious with their spending, as they should be. Deciding whether to hire an expert in finish carpentry in Flower Mound, TX, or attempt the installation yourself to save some cash may not be a straightforward decision. When deciding whether to DIY or hire a professional, consider the following:
How much time do I have to do the installation?
Do I have enough experience to do a good job, or will I cause more harm than good?
Do I need to buy expensive tools I don't already have?
Am I planning to sell my home in the near future?
Depending on the scale of the job, hiring a finish carpenter can cost considerably less than the cost of tools. Though they tend to have a higher salary than a general carpenter, the difference isn't enough to make a big difference in your budget.
Mr. Handyman's Team of Experienced Carpenters Can Help With Flower Mound Finish Carpentry
If you need to finish carpentry in Flower Mound, TX, Denton, Lewisville, Argyle, or another nearby area, trust the experts at Mr. Handyman of Flower Mound, Lewisville, and Denton. Our team of talented handyman professionals and carpenters can perform a wide range of finish carpentry services, including wainscoting installation, crown molding installation, and repair, wood flooring installation and repair, cabinet installation and repair, installing custom mantels, and more!
To find out more about our Flower Mound finish carpentry services or book an appointment, give our team a call today. We're always happy to discuss our wide range of services for everything from finished carpentry to deck repair and siding replacement.