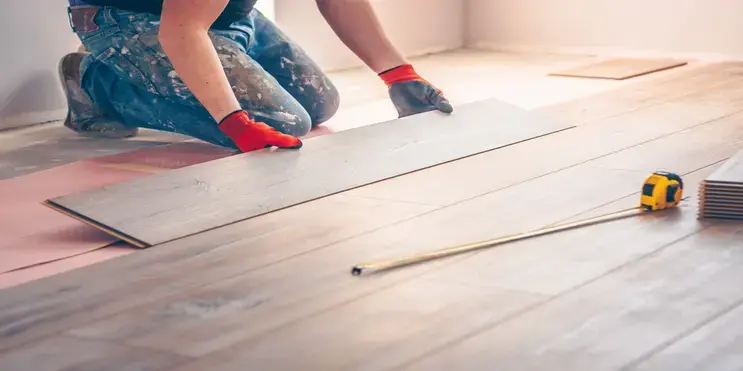 Have you been kicking around the idea of having new floors installed in your home? It's often going to require a sizable investment on your part.
On average, homeowners tend to spend somewhere between $1,000 and $3,000 to have laminate floors installed in one of the rooms in their homes. Hardwood floors, meanwhile, tend to cost anywhere from $2,500 to almost $8,000 for a single room of flooring.
In an effort to save some money, you might be tempted to try and tackle flooring installation on your own. Rather than having a professional floor installation done, many homeowners have opted to take the DIY approach to install new floors in their homes instead.
This might sound like a great idea in theory. But the truth is that you could end up costing yourself a bunch of money if you attempt to install new floors in your home without any assistance from professional floor installers.
Interested in learning about some of the ways in which you can save money by Googling "best flooring installers near me" and hiring them to help you? Here is how you'll benefit from leaving flooring installation to the pros.
They'll Help You Pick Out the Right Flooring for Your Home
There didn't use to be very many types of flooring that people could have installed in their homes. But these days, there are so many different options for you to choose from. It can make it difficult to narrow it down to just one.
Some of the most popular types of flooring these days include:
Hardwood floors
Laminate floors
Ceramic tile floors
Vinyl floors
Linoleum floors
A professional floor installation company can talk to you about some of the options that you have as far as flooring is concerned. But more importantly, they can also help you hone in on which floors will be the most cost-effective based on how hard they'll be to install.
There are some types of flooring that you'll be able to install right over the top of the floors that you already have in your home. Other types will require you to rip out your current floors to make room for new ones.
Depending on which kind of flooring you choose to go with, it could affect your budget in a big way. It's why you should speak with professional floor installers about which flooring is going to be the easiest and most affordable kind of flooring to install.
They'll Make Sure You Order the Right Amount of Flooring
Prior to installing new flooring in your home, it's very important for you to take accurate measurements of whatever room your new floors will be installed in once they arrive. This will allow you to order the right amount of flooring from the start.
If you know how to use a tape measure and do basic math, you might be up for the challenge of measuring the rooms in your house that will be getting new floors. But if you're not comfortable doing it yourself, it's best to ask the professionals to do it for you.
They'll come into your home and take all the proper measurements so that you don't cost yourself money by ordering too much flooring. You could cost yourself a small fortune if you crunch the numbers wrong and place an order for the wrong amount of flooring.
Additionally, professional floor installers will account for how much extra flooring you'll need to keep around just in case. It's always good to order a little bit of extra flooring in the event that you need it during floor installation.
They'll Bring the Right Tools and Equipment to Install Flooring in Your Home
When you're putting down new flooring in a home, there are all kinds of tools and equipment that you'll need to get the job done. Oftentimes, the average homeowner doesn't have all these tools and equipment on hand.
If, for example, you're installing ceramic tile floors in one of the rooms in your home, you're going to need to make sure you have tools and equipment like:
Wet saw
Tile saw
Level
Spacers
Grout float
Sponges
You could very well have things like a level and sponges hanging around inside your home. But not everyone has a wet saw or a grout float in their garage.
You can go out and spend a bunch of money to invest in these types of tools. But if there's a good chance you'll never have to use them again, why bother?
You can save yourself money by letting flooring professionals bring in the necessary tools and equipment to install your floors. No matter what type of flooring you're installing in your home, they'll have the tools and equipment that it takes to do it.
They'll Come Up With an Effective Plan for Installing Your Flooring
The key to a successful flooring installation is planning. Far too often, homeowners who are dead-set on taking the DIY approach to floor installation end up jumping right into it without planning ahead first—and they often pay the price for doing it.
If you try to install floors in your home on your own and don't have a great plan in place, you're going to open yourself up to making lots of mistakes. You might even make some kind of crucial mistake at some point that forces you to rip up a large portion of flooring and start over.
This won't be a problem when you have a team of professional floor installers on your side. Before they put down even a single piece of flooring, they'll concoct a plan that they'll use when doing flooring installation for you.
They'll decide on everything from which part of a room to start putting flooring down in - to how they're going to handle the transitions from one room to the next. There won't be any lingering questions with regard to how they're going to go about installing your floors.
As a result of this, they aren't going to put themselves in a position where they finish half your flooring and then realize they did something wrong and need to start over again. This will keep your floor installation project moving in the right direction and save you both time and money in the long run.
They'll Move Fast When Putting Your New Flooring Into Place
Coming up with a foolproof flooring installation plan will help professional floor installers do more than just stay on track. It'll also allow them to work fast once they start laying down your new floors.
If you choose to install floors on your own, it's going to take you a long time to get the hang of it. You're going to spend quite a bit of time second-guessing yourself and wondering whether or not you're installing floors properly. This could cause you to spend days and even weeks installing a single room of flooring.
Professional floor installers will run circles around you when it comes to putting down floors. More often than not, they'll be able to put down an entire room of flooring within a matter of just a few hours.
This is going to save you a lot of time and give you an opportunity to start walking around on your new floors a whole lot sooner. Since professionals are able to work quickly, it'll also result in you paying a lot less than you might think you would for their flooring installation services.
They'll Limit the Number of Costly Mistakes Made During Your Flooring Installation
Regardless of how much careful planning goes into a flooring installation project, mistakes are going to be made. It comes with the territory when you're putting new floors into your home.
A piece of hardwood flooring is going to get cracked on accident when you're trying to nail it into place. Or you're going to drop a piece of tile on the floor and break it while you're trying to move it into position for installation.
Both you and professional floor installers are going to make these kinds of mistakes from time to time. But the big difference is that the pros aren't going to make them anywhere near as often as you do.
The pros are also going to factor these mistakes into the final cost of your flooring installation. If they end up running through more flooring than they expected to or damaged a part of your home when installing floors, they'll reduce the amount of money that they charge you.
This won't be the case if you install floors on your own and make mistakes. You'll be forced to eat the costs associated with these mistakes as they come up.
They'll Ensure That Your Flooring Looks Great When It's Going In
When you first make the decision to install new floors in your home, you're going to have a very clear picture in your mind of what you want them to look like. Whether you go with hardwood floors, tile floors, or something else, you'll want your floors to look just like they did when you first imagined them once they're finished.
But what's going to happen when you finish installing them yourself, and they don't live up to your vision? You could very well have to go back to the drawing board in the near future to redo your floors. And it's going to cost you a nice chunk of change to do it.
Professional floor installers will ensure that this doesn't happen to you. They'll save you money by guaranteeing that your floors will look just like you pictured them at the beginning.
During the design stages, they'll give you a good indication of what they can deliver to you once you tell them what you want. And they'll make sure that you're satisfied with the way your new floors are looking throughout the installation process.
You won't have to worry about ripping your new floors up and redoing them again anytime soon when you have professionals working on them for you. You can rest assured knowing they're going to live up to your original vision.
They'll Return to Make Any Necessary Flooring Repairs Following Your Installation
In the immediate aftermath of your flooring installation, there shouldn't be anything else that flooring professional will need to do to them. You should be free to walk around on them and go about your business as usual without worrying about encountering any issues.
But if you find that something is wrong with your floors after hiring pros to install them for you, they should stand behind their work and come back to your home to make the necessary fixes. Most professional floor installers care about their customers and will want to make things right with them.
It'll be up to you to "make things right" if you were the one who installed the floors in your home, though. You'll have to make whatever repairs need to be done to your floors on your own, which could come at a huge cost in some cases.
It'll make you regret not hiring professional floor installers to take care of your installation project in the first place. You'll have to foot the bill to make flooring repairs as opposed to leaning on them to do it.
Call On the Professionals to Help You With Flooring Installation Today
Picking out new floors for your home and installing them is an exciting process. But it can be very stressful if you decide to do everything yourself.
Why take that approach to flooring installation when you could rely on professional floor installers to help you put new floors into place? They'll put your floors down properly for you and save you so much money in a variety of different ways.
We can help you install almost any kind of flooring in your home that you want. We can also provide a number of other handyman services that will help you make your home look and feel its best.
Get in touch with us today to take advantage of our superior services.