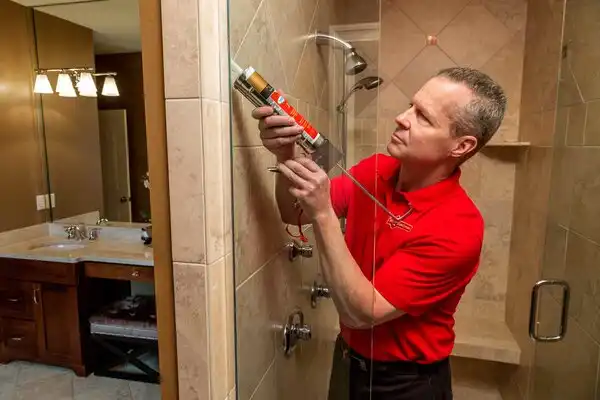 Is your bathroom unattractive, uninspiring, and full of components that don't suit your family or don't really work well at all? There's no need to suffer a malfunctioning or bland bathroom any longer when you can simply call your local Lehi handyman to deliver your dream bathroom with experienced, efficient installation and improvement services. When you're ready to wave goodbye to your old space and get started on a bathroom remodel, Lehi professionals at Mr. Handyman of Lehi, Provo and Spanish Fork are available to help.
We have decades of experience with renovation and remodeling trades, so we have the skill to get your entire project taken care of on time and to the highest standards of excellence. Reach out to us today to get started. We'll make your walk-in shower, custom cabinets, and double vanity a reality.
Our Experienced Lehi Bathroom Remodel Services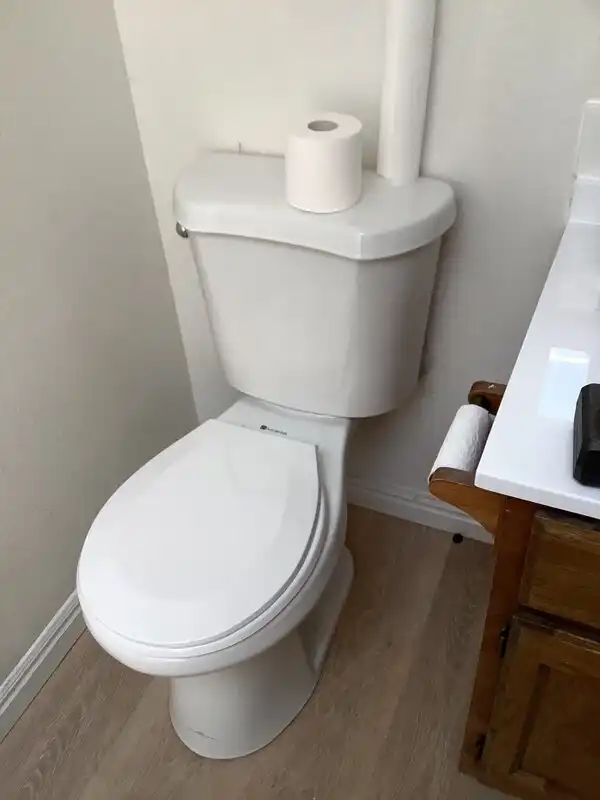 Whether you're interested in a complete overhaul that involves tearing out everything down to the wall studs and subfloor to start from scratch, or you had a more modest project scope in mind to make a few much-needed changes here and there in the room, we can help with your bathroom remodel in Lehi. You can avoid the hassle and stress of hiring various remodeling contractors with different specializations when our multi-skilled team has the ability to not only get the job done right but also communicate clearly with each other and you throughout the process. In our many years of professional experience, communication is one of the most critical factors in getting a project done smoothly, on schedule, and to the homeowner's exact specifications.
Some of the services we offer for a complete bathroom remodel near me are:
Drywall installation and repair
Tile installation for floors, walls, and shower
Flooring installation
Bath remodeling
Custom shower remodel
Shower installation
Interior painting
Trim installation and repair
Tile repair
Toilet installation
Installing sinks and other fixtures
Single or double built-in vanity installation
Mirror installation
Bathroom countertop installation
Installing cabinets and other types of storage space
Light fixture and bathroom fan installation
Bathroom window repair
Accessibility features such as walk-in tubs and grab bars
Installing finishing touches such as the towel rack and toilet paper holder
Planning the Ideal Bathroom Remodel in Lehi
You've made the decision—it's time to start searching for the right professional to carry out a bathroom remodel near me. But bathroom remodels can come in a variety of options and complexities, and you may not be completely sure which option is the best for your property and household. Here are a few types of plans you may want to consider for your bathroom remodel in Lehi:
Surface Alterations: If your bathroom fixtures are in pretty good shape and you like your bathroom overall, but surface materials such as tile, flooring materials, and countertops are in rough shape or just plain ugly and outdated, a small bathroom remodel project may be all you need to get the refreshed look you're wanting. That could include changing the tile on your walls or in the shower, changing out the countertop, putting in new flooring material, repairing damaged drywall or trim, or all of the above.
Tub to Shower Conversion: If you have a big bathtub taking up space in your bathroom but no one in your house likes taking baths, that's a lot of wasted space that could be better used for other things, like an extra large shower stall or additional in-bathroom storage space. Our Lehi handyman team can remove the tub and install a large, luxurious shower in its place or use the room for something else that will serve your family better.
Major Overhaul: Sometimes, changing out some tile or fixing a hole in the drywall is just not going to be sufficient to get you the bathroom of your dreams. If you've got fixtures that are damaged and malfunctioning, chipped tile, and ugly finishes, and you can honestly say there's nothing about your current bathroom that you actually like, it's time to go for it and have your local handyman completely overhaul the room during your bathroom remodel in Lehi. Aside from refreshing appearances and getting brand-new, perfectly-working fixtures installed, a major remodel can have some other big benefits, such as increasing property value and, if efficient fixtures are installed, reducing water bills.
Changes to Layout: In most cases, local Lehi homeowners choose to keep the layout the same when they're having a bathroom remodel done. They may want fixtures changed, but the new fixture will typically be placed in the same location as the old one. That makes plenty of sense because there are already plumbing hook-ups in place that the new fixtures can simply be connected to, and that's always going to be far less costly and invasive than moving not only the fixtures but also the water supply and drainage hook-ups. The other factor to consider is that most bathrooms are small rooms with a lot of large built-in components, so there's not a lot of space available to get creative with the layout. But in some cases, the floor plan wasn't well-designed in the first place, or there may just be a better configuration to suit your family's unique needs. In that case, a bathroom remodel in Lehi is the right time to speak with your handyman about layout changes that will correct those issues moving forward.
Choose Our Team for Your Next Bathroom Remodel, Lehi Homeowners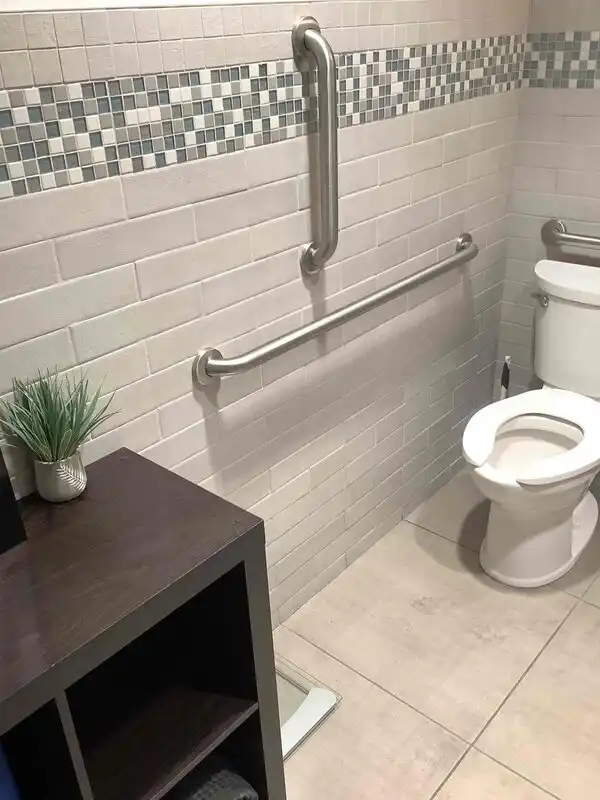 If you've been thinking and dreaming of the perfect bathroom remodel in Lehi, you can get the peace of mind that comes with knowing it'll be handled flawlessly when they turn their project over to the expert team at Mr. Handyman of Lehi, Provo and Spanish Fork. Our highly experienced professionals are dedicated to providing the best quality of service combined with skilled craftsmanship and long-lasting repair solutions. We also offer a wide range of other services, including kitchen remodeling, flooring installation, and more.
Frequently Asked Bathroom Remodel Questions
What's the Average Cost of a Bathroom Remodel in Lehi?
This is something homeowners commonly want to know. While we don't have the data specifically for Lehi, the average cost of bathroom remodel projects in the United States is just over $10,000. But in our opinion, that information isn't very helpful when trying to plan a realistic budget for a bathroom renovation. Keep in mind that the average represents a wide range from just a couple of thousand dollars to well over $30,000. But more importantly, average bathroom remodels costs don't take into account what you personally want to get out of the project in the end. It makes a lot more sense to think about what you want, be realistic about how much you can afford, and then find ways to make those two considerations meet in the middle at a cost you're happy with and a remodel plan you love.
Can a Bathroom Remodel Improve Property Value?
Absolutely. Any real estate agent will tell you that the bathroom and kitchen are key areas of concern for most prospective home buyers. When they view your property and see a newly remodeled bathroom, it reassures buyers that the house is in good condition and well-maintained and that they won't have to deal with a renovation shortly after moving in. If raising property value is your main goal with a bathroom remodel, Lehi real estate professionals generally recommend sticking with neutral colors such as white tile and simple, classic designs that won't turn buyers off.
Do I Need a Building Permit for a Bathroom Remodeling Project?
Lehi City does require permits for work that involves plumbing or electrical changes, among other things, so you will likely need a permit for your bathroom remodel in Lehi. You don't have to worry about that when you call our professional team, though—we have years of experience working in this area, so we know exactly which types of work require state or municipal permits, and we'll get them pulled on your behalf so you don't have to deal with filing the paperwork.
How Should I Choose the Right Colors for My Bathroom Remodel in Lehi?
Most people aren't expert interior designers, so picking a color scheme that is attractive and not too trendy but still reflects your personal style and design aesthetic can be a huge challenge. If you're not sure where to get started, consider choosing three colors and applying them in a ratio of 60-30-10. That means you'll have a main color, which should be light and not too overwhelming, that will be applied to roughly 60% of the room. Then, choose a secondary color that complements the first one and apply it to 30% of the room. Finally, pick a contrasting accent color and apply it to the remaining 10%. Keep in mind that the first two colors should be light and neutral, like white, beige, or light gray. The third color can be a bit more exciting. You'll also want to remember that textiles such as towels and bathmats can make a big visual impact, so it makes sense to coordinate them with your color scheme.
What's the Best Way to Prevent Water Damage From Occurring in a Bathroom?
Most of the activities that take place in a bathroom involve water, which is why they are typically designed with plenty of care and thought in order to make sure vulnerable parts are protected from splashing, spilling, or trickling water that may escape the fixtures from time to time. It goes without saying that the floor, shower, and potentially the rest of the walls should be protected by a waterproof surface material such as tile, and homeowners should be aware of the signs of trouble, like a leaking pipe under the sink, so they can get it fixed up before it causes major damage.
But if you've noticed problems in the past, such as brown water stains on drywall, rotting wood trim, and other issues that aren't being caused by a plumbing leak or splashes of water, that damage is likely related to a lack of ventilation. Hot showers produce steam, which settles and condenses into water droplets on all available surfaces if it's not properly vented out of the room by an exhaust fan or, at the very least, an open window. You probably aren't always going to want the window open every time you take a shower, which is why it's really important to have adequate ventilation installed during a bathroom remodel in Lehi so you can avoid future problems with moisture damage caused by unvented condensation.
How Do I Prepare My House for a Bathroom Remodel?
When it's nearly time to get started on a bathroom remodel in Lehi, you can take a few simple preparation steps to help everything go efficiently.
Here are a few tips on preparing your home for an expert bathroom remodel in Lehi:
Take everything out of the room, including items in drawers, shower curtains, wall hangings, and everything else that can be picked up and removed.
Check to ensure there's a clear path from the nearest exterior door to the space that will be worked on, with ample room to carry large, heavy items. It's also a good idea to remove hanging photos and decorations from the hallway so they don't get accidentally knocked down.
Keep pets safely and comfortably confined in a part of the house that is far away from the remodel so they're not bothered by construction noises.
Clear a spot just outside the room, if possible, where materials, tools, and equipment can be placed for easy access.
Ready to Start a Bathroom Remodel in Lehi, UT? Call Mr. Handyman Today!
If you live in Lehi or a nearby part of Utah such as Highland, Saratoga Springs, or Cedar Hills, trust the pros at Mr. Handyman of Lehi, Provo and Spanish Fork for expertly-done bathroom remodeling and many other repair, installation, or improvement services. Our friendly customer service team is standing by to take your call!