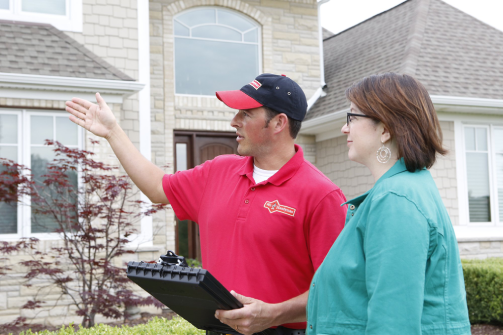 What else can you ask for if you're merely one footstep away from the mountains as your backyard? Alpine is a suburb of Salt Lake City, comfortably nestled between Mt. Timpanogos and Lone Peak. Whether you like your morning jog or afternoon hike, you won't ever run out of outdoorsy activities no matter what time of the day or what season of the year. About 90 percent of proud young professionals and families own their homes in Alpine, and everyone enjoys going at a slow pace and being in tune with nature, but you could find that equilibrium becoming interrupted by home maintenance and repairs. That's where an Alpine handyman comes in.
We don't want to stop you from running across the poppy field or hiking along Dry Creek during your free time. Your local Alpine handyman at Mr. Handyman of Lehi, Provo, and Spanish Fork is a friendly neighbor who wants to help you stay on top of your home maintenance and tackle your seasonal checklist so you won't fall behind.
Every member on our team has passed a background check program and brings many years of experience in home improvement, maintenance, and repairs. With the help of a highly-qualified handyman, Alpine, UT, homeowners will save time and no longer have to worry about wear and tear spiraling out of control. If you're working or busy planning a family vacation, rely on your local Alpine handyman to get the job done efficiently and correctly. As your one-call handyman solution, we deliver high standards of workmanship and customer service that exceeds expectations for a wide range of handyman services.