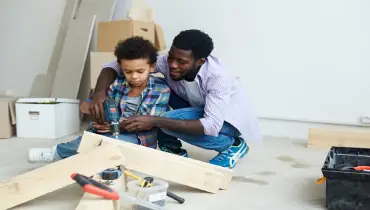 With a little less than a month away from starting a new school year in Shelby County, do you feel prepared to reinstate your kid's morning routine and get organized for a shift in schedules? If not, we completely get it. Preparing for a new school year isn't just gathering school supplies or buying new clothes. It also means making your home more functional so that everyone can transition away from summer seamlessly.
If you thought Mr. Handyman of Memphis wouldn't jump on the opportunity to help you with some back-to-school home improvement projects, you thought wrong! We're always available and happy to help you make the most of your space.
1. Refresh Bedroom Paint Color
You'd be surprised what a fresh coat of paint can do for your mood, especially when you're trying to get your family ready for a new school year. Different colors like purple and blue can spark creativity and inspiration or evoke calm. A 2018 study examined color preferences and the effects of environmental color on college students at university residence halls. Research showed differences in mood and studying activity among students when confronted by different colors. You can apply this idea to your home for a simple back-to-school home improvement project that you can complete in just a few short hours.
2. Incorporate More Storage
Everyone needs more places to keep important personal possessions, right? Of course! With school starting back in a few weeks, it's time to incorporate more (and better) storage options into your kid's bedrooms. Start by looking at what they currently have and consider upgrading it or replacing it with something more practical, like a multifunctional storage bench. You might even think about purchasing under-the-bed storage bins to store summer clothing (winter will be here before we know it!) and keep them from taking up any necessary floor space.
3. Create a Designated Study Space with a Built-In Desk
With a new school year comes more homework, exams, and projects to bring home. If you don't currently have a designated study hub (not the dining table in the kitchen), then it's time to fix that! Built-in desks are some of the most fun DIY projects because they give you the opportunity to be creative with your design and allow us to show off your skills. Make sure wherever you assign the ultimate study space, it's quiet and has plenty of natural or artificial light.
4. Add Wall-Mounted Shelving
Wall-mounted or floating shelving does more than give you vertical storage space. It also enhances a room's aesthetics and can make the space feel larger by drawing the eye up. Most home improvement and retail stores sell DIY wall shelf kits, but you don't need to spend upward of $40+ on something you can make and install for a fraction of the price. All you need for this back-to-school project is a screwdriver, screws, wall anchors, a level, floating shelf brackets, tape measure, and, of course, wood. Follow our installation instructions carefully for the wall storage you've always needed to help get and keep your kids organized before school starts again.
5. Organize Closets
The last thing you probably thought you'd see on this list was "organize the closet," but it's an important to-do to help you figure out what can go and stay and where to put it all. Our team can help you build and install a closet organizational system for both beauty and function.
As a temporary storage solution, we recommend investing in vertical hangers to maximize space for all the new school clothes, letterman jackets, sports uniforms, and more. This is also a perfect place to install custom shelving if you don't currently have any.
6. Change Out Door Hardware
Replacing old door knobs and pulls isn't a project that will help your family transition from summer vacation to back to school, but it will elevate the look of your home for your kid's new school friends when they inevitably visit. Replace dingy and scratched door knobs and handles with sleek, polished hardware to fortify your doors and bring more style to your space.
7. Use Energy-Efficient Light Bulbs
Let's face it. There will be plenty of nights when your older students will be up late cramming for the next day's exam or finishing a several-page paper at the last minute. For those moments, you'll want energy-efficient bulbs to help your kid push through that study session and wrap up that thesis paper while saving you money on your monthly utility bills. Studies have shown that cool light helps improve academic performance.
And if you're interested in completely replacing light fixtures and bulbs, our Memphis professionals have services to help you avoid costly mistakes and electrical hazards.
8. Make Your Entryway More Functional
When the kids wrap up their first day back to school, where do all their backpacks, shoes, and other school essentials end up? You guessed it—the entryway. Your foyer or entryway is typically the catch-all area for things, but not anymore! This school year, you're going to make this space more functional so that it can store school items and maintain visual appeal. Our professionals can assemble various entryway benches, shoe storage, etc.
9. Upgrade a Front Porch or Back Deck
From staining and painting to installing railing, there are so many deck improvement projects you can complete to make you are exterior safer and aesthetically pleasing. Any kind of upgrade to your porch or deck will extend its life, create more functionality, and make it an area your kids will want to bring friends to hang out on a school night (with parents' permission, of course).
10. Give Your Mudroom a Makeover
Instead of a foyer or entryway, many homeowners opt to enter a home through a mudroom where dirty shoes, soiled clothing, and dingy bookbags can stay hidden away from public view. This also means that your mudroom is probably in disarray and needs a little TLC. A mudroom remodel isn't a simple undertaking. You'll need assistance from a professional handyman to reconfigure, deconstruct, and reconstruct everything so that it flows better and provides the practical, efficient space you deserve for back to school.
Let Mr. Handyman of Memphis Help with Back to School Home Projects
It's virtually impossible to do everything when you have to simultaneously consider your schedule and your family's. If things were left up to when you had free time, you'd probably have to wait weeks or months to complete some of the home improvement projects you've meant to tackle before school starts. Don't worry! Our Memphis technicians have you covered with competitively priced professional handyman services and repairs. You can rely on us if you need custom shelving installed, your deck stained, or kitchen and bathroom hardware replaced—guaranteed.
Request service with Mr. Handyman of Memphis or call to get started!