If you're one of the lucky few who call Belleair Shore, FL home, then you already know just how great this little sliver of paradise is. Situated mere steps away from an incredible white sand beach, it's got to be one of the most beautiful locations in all of Florida. As the cherry on top, Belleair Shore residents also enjoy easy access to all the amenities they could want or need, including reliable Belleair Shore handyman services.
As Floridians know all too well, our homes can really take a beating from the corrosive effects of the salt air, and that certainly applies to the homes lining Belleair Shore. The houses here can be battered by rough weather patterns blowing in from the Gulf, so they can deteriorate at an accelerated rate without proper care and maintenance. While residents of this area are rightfully very proud of their homes and want to keep them in pristine condition year-round, that's not such an easy task when you don't have the tools, expertise or free time to putter around replacing rotten deck stairs or cleaning out rain gutters.
But neglecting those household chores and maintenance jobs isn't a valid option either—your beautiful home is an investment and it needs to be protected against deterioration by an experienced, capable Belleair Shore handyman. You're in luck—you can get the dependable home services your house needs from the dedicated team of service professionals at Mr. Handyman serving Palm Harbor, Clearwater and Largo.
We are a locally owned and operated business, and our team of service providers are very proud to serve the people of our local communities—including Belleair Shore and other nearby parts of the west Tampa Bay area such as St.Petersburg, Clearwater and Indian Shores—with popular services that are designed to make your home more comfortable, appealing and livable.
It can be nerve-wracking to have someone working on your house. It's one of your most important assets, after all, and you need to know that it's in good hands. Our experienced handyman team is committed to easing that worry by always treating you and your property with the utmost respect. Homeowners can trust us to display courteous, professional behavior at all times. We'll arrive on time for your scheduled appointment, address any concerns or questions you may have, explain our recommendations clearly and get the work done right. From minor repairs to major improvement jobs, Mr. Handyman is your convenient, one-call solution to cross everything off your home repair, maintenance and improvement list quickly and easily.
If you'd like to know more about the service you can expect from a handyman in Belleair Shore, FL, or you have questions about a major project that has been weighing on your mind, let us ease the burden—give us a call to speak with our knowledgeable customer service representatives and get all your questions answered. You can also find information on a few of our popular services in Belleair Shore below.
BELLEAIR SHORE DECK REPAIR
Sure, you can enjoy those incredible ocean vistas through the window—but there's nothing quite like sitting out on the deck, grilling dinner or socializing with friends and family, while a warm sea breeze ruffles your hair. The climate and beach lifestyle are huge parts of what attracts people to this part of Florida, for obvious reasons, so it's important to make the most of it by enjoying your outdoor living space as much as possible. But problems such as wood rot, rust and other types of decay can bring all that warm weather fun to a sudden stop.
Damage to your deck, porch or balcony is obviously an unattractive problem that lowers the appeal of your home. But it's far more than just a cosmetic issue. The damage can also create hazards for your family and guests to navigate around, and if goes unchecked, it can worsen and spread to other parts of your house.
You may be wondering if you need deck repair services from your Belleair Shore handyman right now, or if it's fine to wait another few seasons. For porches, decks and other outdoor structures such as fences, it's best to catch the damage early on and get it repaired so you can avoid more complicated repairs or a complete replacement in the near future. Here are some key signs that indicate your deck or porch needs help from a qualified Belleair Shore handyman:
Splintery surfaces
Weathered, gray wood
Wooden trim or boards are discolored, softened or showing other signs of wood rot
Planks shift or lift up at the end when they are stepped on
Railing is missing balusters or spindles
Deteriorated steps that are sagging or crumbling
Handrails are loose and wobbly
Water pooling around concrete footings
Soil has washed away from deck posts and left too much exposed
BATHROOM REMODELING IN BELLEAIR SHORE, FL
Your bathroom should be a haven of relaxation and rejuvenation—your own personal spa where you can greet the morning on the right note or relax and wash away the cares of the day in the evening. But if it's not functioning properly or just plain ugly and outdated, it falls short of that ideal and could seriously lessen your enjoyment of your own home. The bathroom is a highly utilitarian space that you have to use multiple times per day, so it should be one of your favorite parts of the house, and your dream bathroom is a lot closer than you think with bathroom remodeling services from our skilled Belleair Shore handyman team.
Whether you want a bathroom that is perfectly tailored to the needs and preferences of your household, or you're thinking of putting your Belleair Shore home on the real estate market in the next few years, a bathroom remodel from a professional handyman is a great way to add property value and appeal while also improving your family's comfort. You can count on our expert remodeling team to take care of the entire remodeling process, from tile installation to mirror hanging. Our bathroom remodeling services include:
Drywall installation and refinishing
Tile installation for floors, walls and shower
Bath remodeling
Custom shower conversions
Painting
Trim repair or installation
Toilet installation
Vanity and mirror installation
Cabinetry installation
Sink installation
Lighting and ventilation installation
Installation of accessibility features such as grab bars
Installing finishing touches such as the toilet paper holder or towel rack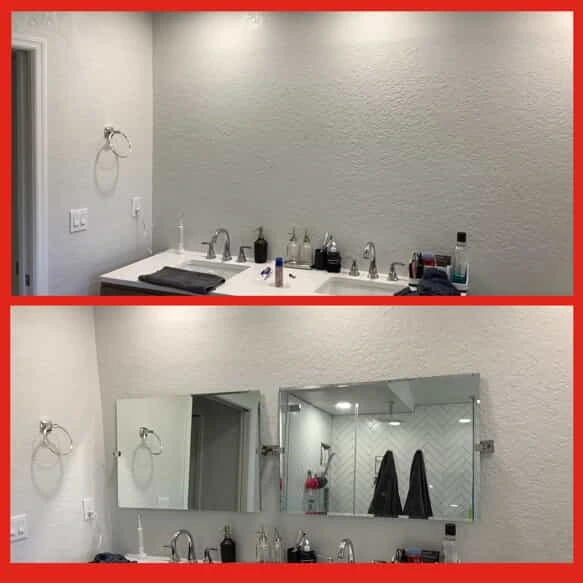 BELLEAIR SHORE DOOR INSTALLATION AND REPAIR
Whether they're inside or outside, doors are an important part of your house. Exterior doors protect against everything from heat transfer to would-be intruders, while interior entries give us some much-needed privacy and sound separation. If your doors have suffered damage over the years and are looking worse for wear, they could also be contributing to energy loss and making your home a lot less comfortable for you. When that happens, it's time for door repair or replacement services from a qualified Belleair Shore handyman.
Some of the signs that indicate you need door services from a handyman include:
Loose, creaky hinges
Holes or rips in your storm door mesh
Rotten wood on the door jamb, threshold or door itself
Cold drafts coming in around the door frame or under the door
Visible light around the edges of the door
Insect damage that looks like a maze of channels or holes in the door
Door is difficult to open and close
Lock is jammed or misaligned with the door jamb
Window in door is fogged up due to condensation trapped between the panes
Damage from vandalism or forced entry
Have a problem with a sliding patio door? Our handyman service professionals will fix it. Check out the signs you can't go without patio door repair.
BELLEAIR SHORE DRYER VENT CLEANING
Automatic clothes dryers are a modern convenience that saves a lot of time and hassle, which is why every home in Belleair Shore has at least one of them. But not all homeowners realize that their dryer needs something in order to keep functioning efficiently and safely: regular, professional dryer vent cleaning.
Your dryer has a vent hose or pipe that is used to get excess heat and humidity from your drying laundry out of the machine and release it outdoors. Lint and other debris is supposed to get caught up in the lint trap. But over time, that highly flammable lint makes its way into the vent and coats the inside of the hose or pipe, partially or completely blocking the flow of air. Since the dryer can't dispose of all that heat and moisture, it has to operate for much longer periods of time to get your clothes dry. That additional operation time increases its energy consumption, which in turn raises the energy charges on your monthly utility bills.
There is, however, a much more serious potential consequence of not having your dryer vents cleaned. Your overworked dryer could create an electrical spark that starts the dryer lint on fire, sending flames racing through the inside of your walls. Unfortunately, this happens a lot more than most people think it does. According to the U.S. Fire Administration, about 2,900 clothes dryer fires are reported every year in the United States, and more than a third of them are caused by a lack of vent cleaning. They result in an average of five deaths, 100 injuries and $35 million in property loss annually. You can help reduce the risk of fire by making sure you clean out the lint trap after every load of laundry.
You may be unsure if your dryer vent is due (or perhaps very overdue) for cleaning. Here are the warning signs that indicate you need dryer vent cleaning from your local handyman in Belleair Shore, FL:
Takes more than about 30 to 45 minutes to dry clothes
Need more than one cycle to dry a load of laundry
Fabric is very hot or has a musty smell after drying
Visible lint gathered around the vent opening outside
It has been more than a year since it was last cleaned
The general rule of thumb for a single-family home is to get professional dryer vent cleaning once per year. However, a large family that produces a lot of laundry, or a multi-family dwelling with shared laundry facilities, may need cleaning as frequently as every six months. Your Belleair Shore handyman will get your dryer vent clean and make sure it's in good condition so you can have peace of mind knowing your home is operating efficiently and is protected against the risk of fire.
GENERAL MAINTENANCE IN BELLEAIR SHORE, FL
Most homeowners have a running list of projects they'd like to see completed around their home, whether it's a lot of smaller repair and maintenance jobs or you've got big improvement dreams. But it's a big hassle to hire and manage multiple specialized contractors who can only deal with one specific problem. Our multi-skilled handyman team will save you time and money by taking several tasks off your list in a single appointment, while also taking care to deliver the highest standards of quality workmanship and exceptional customer service. The tasks we'll cross off your to-do list include:
Furniture assembly
Attic insulation
Mold prevention
Water heater insulation
Installing smoke alarms and carbon monoxide detectors
Temporary storm protection
Caulking
Cabinet installation and other storage solutions
Ceiling repair
Crown molding installation
Picture hanging
Gutter cleaning
Gutter repair
Pressure washing
Siding repair
Soffit and fascia board repair
Garage floor coating
Baby proofing
TV wall mounting
Mantel installation
Furniture painting and staining
Safety and mobility modifications for aging in place
Hanging drapes, blinds or curtains
Weatherproofing
When You Need Expert Home Services, Count On Your Local Belleair Shore Handyman!
If your home needs trustworthy, capable repair, maintenance or improvement work, you can depend on our team of Belleair Shore handyman service professionals to get the job done efficiently and effectively. Get in touch with us today by calling to speak with our friendly staff and find out more about our reliable handyman service in Belleair Shore, FL, or schedule an appointment at a convenient time.