All our clients work hard and deserve to enjoy themselves during their time off. Routine home maintenance and repairs in Treasure Island are best left to the certified pros at Mr. Handyman serving Palm Harbor, Clearwater, and Largo. Count on your Treasure Island handyman for efficient maintenance and repair work to keep your home in shape. We are here to help save you time and provide your residential and commercial property with enhanced safety and comfort.
We are a locally-owned and operated business that believes in building a strong bond with our local communities. Each of our handyman technicians brings years of industry experience, is highly skilled, and provides a wide range of Treasure Island handyman services, from pressure washing to deck repair to drywall replacement. From larger projects like kitchen remodeling to smaller tasks around the house, we've got you covered. Our positive customer reviews show how we go above and beyond with our versatile handiwork.
When you take aside the picture-perfect beach sunrise and begin looking at your property's exterior, you might notice some inconsistencies that make you raise an eyebrow. Are those salt stains on your siding? Or is your deck showing signs of corrosion? It's true that these issues will deteriorate your materials and compromise everybody's safety. But don't despair! Our team has their sleeves rolled up and will arrive on time, in uniform, ready to provide trusted Treasure Island handyman services that will exceed your expectations.
POWER WASHING
It's a shame that Florida's wet season doesn't keep your property clean. On the contrary, it can cause more damage than you are prepared for. The moment you step outside to drier weather, you might notice sticky ocean sediment at your doorstep or salt stains on your siding. Do you find yourself taking your vehicle to the car wash frequently? If so, we recommend that you take similar care of your property in Treasure Island by hiring Mr. Handyman's power washing services. Salt stains can lead to problems like corrosion and other damage.
The terms power washing and pressure washing are often used interchangeably, but there is a slight difference. Unlike pressure washers, power washers use heated water to treat stubborn oil stains and salt. You will likely find us using multi-purpose cleaners or biodegradable cleaning solutions when cleaning siding or decks. High-pressure water jets range between 750 and 3,000 psi, which is why it's important for a Treasure Island handyman to inspect surfaces first to ensure your material can withstand the high pressure. If we ever identify cracks and damages, we will make sure to fix them first.
Popular areas where we power wash include:
Hardscapes like concrete pathways and decorative rocks
Decks
Porches
Patios
Fences
Siding
Gutters
Garages
Driveways
Tile stones
And much more!
Typically, it's more than just recovering your home's curb appeal. Power washing helps protect your surfaces from corrosion and prepares them for staining or painting so that they will meet their maximum life expectancy.
DECK AND PORCH MAINTENANCE
The first outdoor addition to your home is probably your deck or porch. You want to safely step outside worry-free with your morning coffee, knowing that you can rely on that solid ground. One of our popular services involving your exterior living includes maintaining a healthy deck or porch.
Since coastal towns deal with lots of salt particles in the air, you might not have it easy as a wood lover. Wood-based decks in Florida are typically pressure-treated, but that does not necessarily mean they will last without routine maintenance and some additional TLC. In order for your deck to live up to your standards, you need a local handyman in Treasure Island, FL. In a damp climate like Florida, moisture damage or high UV exposure tends to trigger cracks and openings in wood materials. As a property owner, your priority is to prevent termite damage and early signs of wood rot.
When you add saltwater to the picture, you can imagine how the sun will dry out your deck, leading it to lose its natural shine. If you have salt settling inside any cracks, the salt will eventually crystallize and force the inner fibers to break. During an inspection, your Treasure Island handyman will check for wood rot and corrosion. Often, homeowners might not have corrosion-resistant stainless steel as screws and fasteners to hold their decks together, and this could lead to quick material deterioration.
If wood-based decks or porches are too much maintenance for you, we highly recommend upgrading to composite, which is made of a blend of wood fibers and plastic materials. It's resilient, durable, and lasts for decades with only minimum maintenance that includes pressure washing and sealing. Typical maintenance and repair services on our checklist include:
Replacing rotten boards
Repairing loose railings
Installing footings
Replacing stairs
Staining, painting or refinishing
Pressure washing
Maintaining a deck or porch can be hard work, especially if you haven't been able to use it during a long, wet season. As an important part of your home, you want it to last a long time and serve its purpose. Routine maintenance and repairs will ensure it does.
Treasure Island Handyman Repair Services
Living in coastal towns, property owners of residential or commercial buildings know very well that the slightest sign of wear and tear needs immediate attention and repairs. You need a safe and comfortable space to perform your everyday duties. Walking on a squeaky floor might indicate an underlying issue in the subfloors. Or squeaky stairs could be a tread rubbing against a riser board. It's not always easy to determine the actual severity of the issue until you get a detailed diagnosis from your local handyman in Treasure Island, FL.
If you have aging materials that require a periodic checkup or minor repairs, we can help you stay on top of any maintenance tasks and repairs as your qualified handyman. Whether you have a fire exit door that keeps slamming or think that your door frame needs caulking, we have the tools and expertise to make these problems go away.
DOOR REPAIR
Doors actually have a high chance of survival as long as you choose the right material and maintain them well. Due to Treasure Island's salty air, metal-based types are very uncommon, and wood can only resist high salinity to a certain degree—swelling and rotting are inevitable if you don't keep up with staining and painting. Whether it's patio door repair or repairs for another key entryway in your home, needing door repair is often an inevitability.
For this reason, many homeowners choose weather-resistant fiberglass doors.
Compression-molded fiberglass has three major components: skin, frame, and core.
The core consists of rigid insulation (typically polyurethane material) and glass-reinforced polymer, whereas the frame is made of either wood or composite, and the skin has a layer of artificial grains that gives the door a wood-like appearance. It resists corrosion that would otherwise be induced by salt.
In many instances, door issues are related to worn frames that cause air leaks due to gaps, cracks, and even wood rot. If you're tired of maintaining your aging front door, consider an energy-efficient upgrade. Your handyman in Treasure Island offers hassle-free installation services in addition to repairs, including automatic door closer and pet door installation.
FLOOR REPAIR
You need solid ground to walk on inside your home. While there is a plethora of floor types available, you have likely gone through a tough decision during installation already. But there are still many reasons why you may need floor repair, and it's not always easy to determine the underlying issue without expert tools and diagnosis.
A creak might be related to poor installation where an unlicensed handyman used an insufficient amount of fasteners, or worse, bad-quality ones. But if you have an older hardwood floor system, it's likely the subfloor's quality is deteriorating. Wood can be so sensitive that even a small amount of moisture on your floorboards could trigger swelling. Sagging and sponginess are clear signs of severe moisture damage in the subfloor. Rely on your local handyman in Treasure Island, FL to help you stop the spread of moisture damage and offer you cost-effective repair and replacement options.
We specialize in installing and repairing the following floor types:
Solid wood (like oak and bamboo)
Engineered wood
Vinyl (plank vinyl and luxury vinyl tile)
Laminate
Tile (such as cement or porcelain)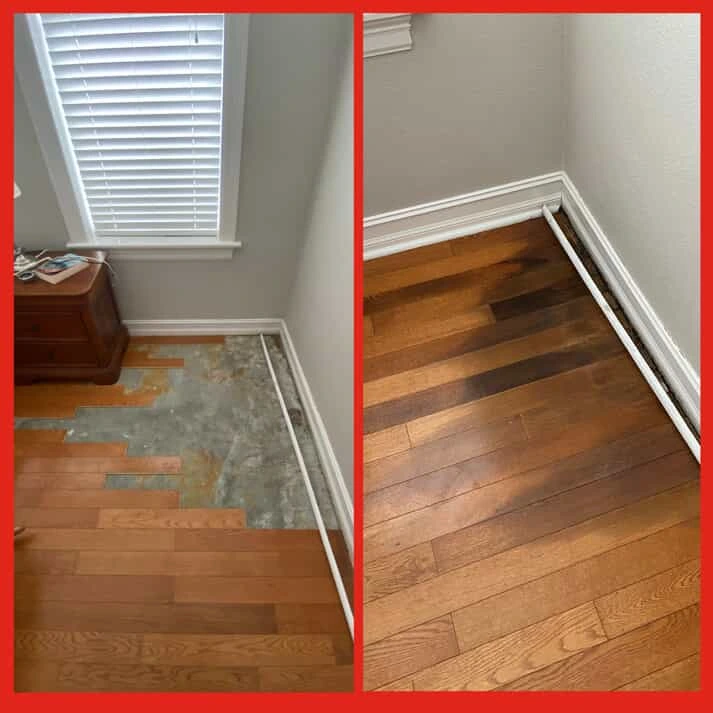 Additional Services From Your Handyman in Treasure Island, FL
We are a versatile team, which is often highly regarded in the handyman business. Not only can you get a wide range of advanced handyman services from us, but each of our team members also always approaches their job with a positive can-do attitude. We are extremely client-focused and thrive on being your one-call solution for most outdoor and indoor repairs.
Gutter cleaning: Clogged gutters after a storm? Your handyman in Treasure Island, FL will provide gutter cleaning service that ensures your gutters are free from debris and that no clogs will cause damage to your soffit and fascia.
Siding inspection: Other than routine power washing, it's important to check your siding for foundation cracks that would otherwise lead to moisture intrusion and damage.
Soffit and fascia repair: Soffit vents get clogged over time and fascia boards can suffer from moisture damage where their paint starts to peel. Your Treasure Island handyman will help you prevent moisture damage in your attic and fix your fascia boards so they don't develop worse problems.
Drywall repair: Foundation cracks can also occur on your drywall, as well as popped nails, door knob holes, and many other kinds of damage. We provide reliable patching and drywall panel replacement services, accompanied by painting and sanding. Plus, we even clean up after ourselves!
Dryer vent cleaning: Don't fall victim to dryer fires and always remember to clear the lint trap after each cycle. Clearing lint and debris from your dryer vent ducts should be done at least once a year to prevent any clogs and reduce fire risks.
Ceiling fan installation: Looking for something to back up your HVAC? A ceiling fan keeps your home cool in the summer and can prevent warm air from escaping too fast in the winter.
Grouting and caulking: Fixing grout lines requires some expertise but a professional handyman will make sure it's done right, and regularly caulking and re-caulking things like window and door casings will protect you from potential air leaks.
Remodeling: Looking to upgrade walls, floors or other areas of your home? Leave it to your handyman in Treasure Island, FL to get the job done. From installing backsplashes to new cabinets, we will get you the results you want!
Your Treasure Island Handyman for Commercial Spaces
Treasure Island business owners of commercial spaces need reliable handyman services too—to keep their properties in top-notch condition and safe for visitors and employees.
As the one in charge, you're already busy keeping your business in check. The last thing you need is peeling paint on your shop's exterior or employees worrying about broken door handles. Perhaps you own a little retail shop that needs new doors. Or maybe you need sturdy shelves and storing racks to get items off the ground. We can help with that!
Some of our most requested commercial work includes:
Furniture assembly
Door installation
Installing soap dispensers
Installing smoke detectors and carbon monoxide detectors
Flooring repair
Need an Expert Treasure Island Handyman for Home Maintenance, Repairs, and Improvements? Mr. Handyman is All Geared Up!
Look no further for reliable Treasure Island handyman services. Before you search for a "handyman near me," speak with our team—we have you covered. Not only do we serve homes in Treasure Island, but also in nearby communities, such as Indian Shores, St. Petersburg, and Clearwater.
We understand it's important to have someone you can trust to inspect your residential or commercial property. We are a locally-owned business with a dedicated team who takes care of any tasks that take up too much of your time. Our priority is your safety and comfort, which is why you can trust us to get the job done right without leaving any mess behind, whether it's regrouting, drywall repair or siding replacement.
Give us a call to chat with our outstanding customer service reps about what we can do to make your home safer and more comfortable.