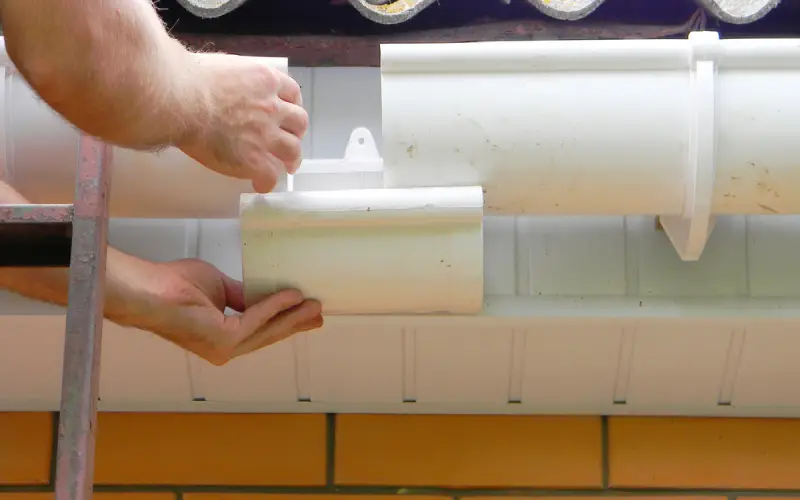 You'll often hear homeowners say that their home is their biggest investment. After all, if homes were merely dwellings, everyone would just rent property instead. Whether you paid for your home in cash or you make a mortgage payment every month, you've put a big chunk of your finances invested in your property. Why wouldn't you do everything you can to protect your investment? One of the biggest threats to your property's value is water damage. If your gutters are looking—and more importantly, performing—like they've seen better days, it's time to schedule service for gutter repair in Wichita, KS.
A new rainwater disposal system doesn't come cheap. Instead of replacing your system right away, it's worthwhile to see if you can get by on your existing system for a few more years by doing a few simple repairs. Many homeowners are surprised to learn that some repairs are simple enough to do on their own, even without a lot of DIY know-how.
Alternatively, a reputable Wichita handyman can provide you with Wichita gutter repair and cleaning services so that you don't have to do the work yourself. To help you decide whether a temporary fix or long-term repair is the right choice for you, we've provided this helpful guide on gutter repair in Wichita, KS.
The Importance of Gutter Repair in Wichita, KS
Residents will agree that Wichita is a special place. Between a reasonable cost of living, a quiet, suburban feel, and loads of green spaces, Wichita is well-loved by retirees, families, and young professionals alike. While residents love to complain about the cold and snow during winter, many agree that they enjoy being able to experience all four seasons.
The only problem with these seasonal temperatures and moist conditions? They put a lot of strain on your gutter system. When we talk about your rainwater disposal system, we're referring to three to four components of your roofing drainage. These include:
Troughs
Downspouts
Fascia boards
Gutter guards
The troughs, which run horizontally along your roof edge, are what most people are referring to when they use the term 'gutter.' They are responsible for carrying snow melt and heavy rain from the roof to the downspout, where water flow is then expelled away from your home. Without gutters, water would sink into the ground near your home's foundation, causing basement leaks at best and basement flooding at worst. Fixing water damage is one of the most costly repairs that American homeowners will ever make. When drainage systems aren't working as they should, water damage becomes a heightened risk.
Signs of Damage
The simplest way to determine whether your system is working properly is to throw on your rain jacket and head outside while it's raining to observe how your system is performing or fill your troughs with hose water on a sunny day. You'll need to look out for the following signs of damage:
Overflowing Water: The most common cause of gutter issues is clogs. Clogs form when organic debris like leaves or twigs gets stuck. If regular cleaning does not take place, clogs will grow until water is unable to reach the downspout, causing it to spill over the sides instead.
Drips: A leaky gutter is a common problem with vinyl and aluminum systems. These inexpensive systems are usually installed in sections, resulting in lots of joined areas where water can slip through. If an aluminum trough or downspout is damaged and its finish is removed, it can also develop rust and small holes.
Wet Fascia Boards: Gutters are typically attached to fascia boards—wooden boards that cover the end of a roof's edge. If they pull away from the fascia, water from the roof will drip down the side of your fascia instead of entering the troughs, causing boards to rot and warp.
Short-Term Wichita Gutter Repair Fixes
If you're not yet ready to get your system replaced, is there anything you can do to fix it? As long as the issues are related to cracks, holes, or gaps between the fascia and troughs, there are some methods of gutter repair that can act as a temporary fix.
Repair Holes and Cracks
The easiest way to repair holes and cracks is to apply a waterproof sealant. There are several sealants that are made specifically for rain disposal systems, but you can use any sealant as long as the product states that it is waterproof, weatherproof, and able to adhere to the material that your system is made out of.
Once you've thoroughly cleaned the area where you plan to apply sealant, all you need to do is apply caulk along the dripping seam or hole. For added protection, you can also add caulk to the point at which the trough and fascia are in contact. This will prevent the fascia from developing wood rot. An optional step for this repair involves adding tape on top of the caulk, but don't just reach for the duct tape in your junk drawer—a specific waterproofing repair tape is needed for this type of gutter repair to last.
Install a Drip Edge
Drip edges and gutter aprons are pieces of metal that can be used to extend the edge of your roof and allow water to drain directly into troughs, rather than giving water the opportunity to drip in between loose gutters and fascia boards.
Before installing either of these devices, assess why your troughs are pulling away from the fascia in the first place. Perhaps there is so much debris in your troughs that they're being weighed down, or maybe the fasteners are rusted and loose. Another possibility is that your fascia boards are rotted through, making it impossible to get a nail, screw, or fastener to stay in. Rotting fascia boards are a bigger problem that will require removal and replacement, but clogs and rusted screws can be replaced fairly easily.
Long Term Wichita Gutter Repair Solutions
Short-term fixes obviously won't last forever. With each subsequent season, your gutter system ages further. Eventually, you'll need to do so many small repairs that it will make more sense to do a partial or full replacement to save your valuable time and money. When you've repaired the same area of your system season after season, it may be time to start thinking about replacing some parts during your next gutter repair in Wichita, KS.
Replace Gutter Parts
In Wichita, most homeowners have vinyl and aluminum rain gutters. Sectional vinyl troughs have been a popular choice for DIY installation for years, as they're lightweight and pop right into place. Sectional systems are not as popular today due to the high number of joints that they create. The point of connection between each section is a point at which a leak is likely to occur in the future. The only upside of this type of system is that it makes it easy to remove a single section and replace it with a new one.
Replace Fascia Boards
If your fascia boards have peeling paint, a musty smell, and crumble under your touch, you can almost guarantee that you have wood rot. Once wood rot begins to spread, it is difficult to get rid of. Rotted boards are weakened, and if not replaced, they could be putting your basement and attic at risk of flooding.
The most inconvenient aspect of fascia replacement is that you'll also have to remove your gutters. The good news is that, as long as you remove them carefully, you will be able to reinstall them over your new fascia. On the other hand, if your system is also looking a little worse for wear, this could be a great opportunity to replace it too.
Install a Reliable Gutter System
Gutter repair in Wichita, KS, sometimes means replacement. Although expensive copper systems can last upwards of 100 years, many other systems last between 20 and 40 years. If you have complaints about your last system, installing new, more reliable troughs and downspouts can be an opportunity to reduce or even eliminate those complaints.
With so many different types on the market today, your options for material and design are virtually endless. Choosing high-durability, seamless options in a color that matches your home's exterior will help them last longer while also boosting your curb appeal.
Avoiding Gutter Repair in Wichita, KS
One of the most practical ways to avoid needing gutter repair in Wichita, KS, is to carry out regular preventative maintenance. The two most effective preventative maintenance methods are regular cleaning and installing leaf guards.
Cleaning
To keep water flowing through your troughs and downspout, hire a handyman company that offers professional house gutter cleaning services. Cleaning should be performed at least twice per year, ideally in the spring and fall. How often you need to clean your troughs will partially depend on your property. If you and your neighbors have lots of big trees in the surrounding area, you're more likely to end up with lots of leaves and pine needles in your troughs than someone who lives in an open field without a tree for miles.
Gutter Guards
If you find yourself removing a large amount of debris from your gutters semi-annually, it may be worth considering installing gutter guards. As the name suggests, these guards protect your troughs from falling debris by allowing water to pass through while blocking debris. Guards may either be installed on top of or within troughs.
There are several different types of guards, and some are more effective than others:
Reverse Curve Guards: This type of guard uses principles of water surface tension to encourage debris to slide off while allowing water to flow over the curve and into the trough.
Screen Guards: Flat, perforated strips of plastic or metal prevent large leaves from entering troughs.
Micro Mesh Guards: Similar to screens, except the holes are much finer. This prevents even very small debris from entering the system.
Brush Guards: These guards are composed of a long wire with bristles, similar to a toilet brush. They sit directly inside the trough.
Foam Guards: Like the brush style, foam guards also sit in the trough. Leaves land on top while water permeates the foam and flows to the downspout.
Unless a manufacturer states that they offer a guarantee or warranty for clog-proof guards, expect that you, or your local handyman, will still have to get up on a ladder and clear those clogs every now and then. The benefit of guards is that you shouldn't have to clean your troughs quite as often as you did before.
Cost Estimates for Gutter Repair in Wichita, KS
Many homeowners are reluctant to conduct gutter repair due to concerns about the cost. It's important to keep in mind that the cost of repairs due to water damage will often be considerably higher than the cost of Wichita gutter repair services. The total cost will depend on the extent of the repair, the number of feet of gutter you need to be repaired or replaced, and the amount of time it will take your service providers to do the repair. Supply chain disruptions and shortages can also affect the price of the material itself.
That being said, our professional Wichita gutter repair team strives to provide repair services at a fair and affordable price. Between our transparency and integrity with our customers, workmanship satisfaction guarantee, and employee average of 10 years' experience, we're the leading choice for gutter repair in Wichita, KS.
Choose Mr. Handyman for Gutter Repair in Wichita, KS
As a locally owned and operated franchise, Mr. Handyman of Wichita Metro Area is passionate about providing high-quality Wichita gutter repair and great customer service not just to residents of Wichita but also to Derby, Newton, Bel Aire, and beyond.
Our gutter installation professionals will conduct a thorough inspection of your current system and make recommendations for service based on your goals and budget. If you're ready to arrange a consultation for a quote or book your gutter repair appointment, simply give us a call and one of our friendly and professional customer service representatives will be happy to help you out. We can meet all your needs for gutter repair, gutter cleaning, and many other outdoor projects, from fence installation to roof repair.