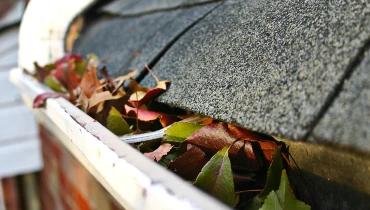 When you're done with your interior spring-cleaning tasks, you might also want to get the exterior part of your property ready for the summer and ensure all the materials are in a decent condition to withstand heavy rain or strong winds. Once past the snowmelt, certain areas on your properties may look wet and rundown. But how often do you look up at your rain gutters? If you experienced an ice dam or icicles during the winter, you would likely find it to be dripping. Of course, that is a warning sign of either damaged or clogged gutters. This frequently happens when leaves gather in the fall, littering your exterior drainage system, and start to decompose. That's when it turns into a grimy mess, which is why spring and fall are the seasons for Wichita gutter cleaning service.
Wichita, KS, is blessed with a variety of native trees that grow faster than anywhere else in the country. From green ash to oak and American elm to maple, being surrounded by trees is supposed to increase one's energy levels, improve focus and reduce stress—unless you own a home and roll your eyes at trees shedding leaves. We'd like to help you enjoy the four seasons better with our expert Wichita gutter cleaning.
Count on your Wichita handyman from Mr. Handyman of the Wichita Metro Area to get the job done for you. As a locally-owned and operated business, our licensed and insured team brings many years of experience and delivers high-quality workmanship that exceeds your expectations. When you hire our services, trust your uniformed handyman to arrive on time in a clearly-marked company van, equipped with the right tools to get the job done.
The perks of our services include a thorough inspection, during which we will be transparent about any findings. Any suggestions we make are personalized to meet your specific needs. Our team has put together a list of the most frequently asked questions by our customers.
Gutters and Downspouts—What Are They?
Gutter systems are often referred to as "eavestroughs" and are the U-shaped metal traps built at the edge of your roof—where they're attached to your fascia boards. As part of your roofline, gutters are designed to direct water away from your home to protect your roof system and foundation. They connect to a vertical drain pipe—known as the downspout, which is typically three to four inches in diameter. Most downspouts are rectangular and round or square. While built vertically, you would attach elbow fittings just before they touch the ground. These specific fittings are made to drain rainwater further away from your home and your foundation.
Clean gutters protect your house from potential roof and water damage that would otherwise lead to mold growth and infestation in your attic. Soffits and fascia boards are designed to reduce moisture and condensation to protect your attic and heavily rely on gutter cleaning to remain in working order. Your exterior drainage system protects your structural integrity. The last thing you want is water lines forming on your siding. If water ever seeped through any foundation cracks, it would compromise your house's structural integrity.
This season, we recommend that you call for expert gutter cleaning; Wichita, KS, homes deserve protection from the next rainy period, as you can never predict how severe rainfall can be. One added benefit that you will get is a thorough inspection to determine the type of cleaning or maintenance you need. It often depends on your gutter material.
What Type of Gutters Do I Have?
Aluminum is the most common for gutter installation and is even DIY-friendly due to being lightweight. It's rust-proof and easy to cut and install. Although corrosion-resistant, aluminum types require routine maintenance like electrostatic powder coating, which may be a downside for some homeowners who prefer less hassle. Other common material types include:
Pro Tip: Whether you have aluminum or steel, there are a few things to watch out for before gutter cleaning. Wichita, KS homeowners who prefer doing it themselves using a gutter scoop have to be careful because aluminum is not scratch-resistant, and steel is prone to erosion if you don't recoat it annually. For this reason, we always recommend a thorough inspection of your materials before deciding on the best cleaning method. Often, minor repairs are required when you have loose or damaged sections.
What's The Difference Between Sectional and Seamless Gutters? And What Should I Get?
Sectional means that gutters are cut into different lengths or sections to fit your roofing system. These sections are fastened together accordingly, forming U-shaped traps that are visible to you. However, they are becoming less and less frequent, especially in newer homes. Some drawbacks include that joined sections become weak points and are prone to cracks and leaks. It's crucial that your installers use durable materials that will efficiently hold the sections together and in place. When you call your local handyman for Wichita gutter cleaning or repair, they will examine the initial installation service for you. This way, you can check if your building company or contractor covers any losses for poor gutter installation services.
Sectional Gutters Pros:
Cons:
Prone to leaks and cracks
Require frequent maintenance and repairs
Seamless, on the other hand, is cut from one single coil and typically made of heavy-duty metal material like aluminum. What you get is one long strip that is usually measured and cut on your property. It's called seamless because they have fewer seams and, therefore, fewer weak points. However, they can still clog and cause flooding by overflowing your roofline, and you might not notice until it's too late.
Seamless Gutters Pros:
Cons:
Expensive to purchase and install
Not suitable for all roof types
Whether you have sectional or seamless, certain warning signs of trouble are similar, such as clogs and leaks. It's important to keep in mind that seamless types are not entirely leak-proof. To restore your peace of mind, you will always benefit from routine gutter cleaning. Wichita, KS pros use expert tools for inspections and will let you know in detail if gutter repair is required before the initial cleaning process.
What Are The Signs I Need Wichita Gutter Cleaning or Repair?
As a Wichita property owner, you not only know your home but your surroundings, climate, and potential external forces that could affect your home. While already doing your best to maintain a healthy roof, you know that keeping clean gutters contributes a lot to having a flawless exterior drainage system. But even when following your routine cleaning schedule, you can't predict how certain weather conditions could affect your home despite taking necessary preventative measures. Here are some warning signs to watch out for and how Wichita gutter cleaning services can help.
Leaks
If you have a sectional system, it's worth checking the fasteners as they could be loose or damaged. Other types of leaks from underneath the trap either indicate a crack or a hole. But leaky gutters can also indicate a clog in the system if it leaks from the edge. Loose gutters, rusty hanger brackets, or unsecured joints are the main culprits of leaks. In these situations, parts will likely need replacement or adjustment.
Peeling Paint
When ignored, paint suffering from moisture damage will become flaky and cause further damage underneath the material. Sometimes, paint adhesion or other types of coating aren't applied properly and will require cleaning and repair. Although it may seem like a paint issue, you may need professional gutter cleaning. Wichita, KS homeowners can rely on our inspection and diagnosis to help them determine the best next step.
Clogged Downspout
As a crucial part of your overall outdoor drain system, your downspout is the ultimate gateway for excess rainwater to be disposed of. Over time, it collects a lot of debris that gets stuck on the inside. When it's clogged, it will halt the entire system. Our professional services include pressure washing and routine cleaning to clear and prevent any stubborn clogs.
Attic Moisture Buildup
If you experience an exceptionally high moisture content in your attic, you could have damaged soffits and clogged soffit vents, which are designed to keep your attic dry and circulate fresh air throughout your home. In the event of clogged gutters, stormwater will spill over your roof and damage your soffit and fascia boards. The roof itself will also be compromised by excess moisture. You could prevent this by scheduling your routine gutter cleaning service. Wichita, KS, homeowners will learn about all the benefits that come with it! When experiencing moisture problems in the attic, we recommend learning more about our attic insulation too.
Other Signs that call for Wichita Gutter Cleaning:
What Are The Benefits of Gutter Cleaning?
Wichita, KS, homeowners are aware of their spring and fall weather, during which it's crucial to take the right measures to protect their homes. Our customers who request annual gutter cleaning know that this service will help save them costly repairs in the future. As a seasonal preventative maintenance task, Wichita gutter cleaning is designed to:
Protect your home's foundation and structural integrity
Protect your roof system from moisture damage
Minimize risks of basement flooding
Support your insulation system by protecting your windows and doors
Keep pests away from your property
Keep you safe and comfortable
Boost curb appeal by keeping your property's exterior clean
Extend your system's lifespan
What Other Preventative Measures Can I Take?
If you love your trees the way they are, which includes the shedding throughout fall, there are ways to stop their leaves from accumulating in your roof system. This way, you won't have to worry about clogs caused by decomposing leaves and other debris.
Gutter Guard Installation
There are different types of guards that you can install, each serving similar purposes but with different characteristics. Feel free to ask your Wichita handyman any questions that you may have.
Screen guards: This is the most cost-effective and easy-to-install option. They're made of wire or plastic grids that stop leaves from entering your eavestroughs.
Mesh guards: Also known as micro-mesh, this is similar to the screen version but is able to block even the smallest type of debris, including sand. It may require some periodic cleaning to perform efficiently.
Reverse curve guards: They are either made of light metal or plastic and are installed in a way that allows water to move along the guard's top before slipping into your eavestroughs. This leads debris to simply bounce off the edge and fall to the ground.
Pro Tip: When choosing your suitable guard type, it's important that you pay attention to the material used. Ideally, it corresponds to the overall system. For example, you are not supposed to combine aluminum with stainless steel.
Is It Time For Seasonal Maintenance like Gutter Cleaning? Count On Mr. Handyman!
The rainy season is nearing, and before you look up "gutter cleaning near me," we can guarantee that you're already in the right place. We're highly experienced in offering exterior home maintenance services. As your local experts, we offer a wide range of popular services, from siding repairs to bathroom remodels. In fact, we've helped numerous homeowners in the Wichita area with their repair, installation, and replacement needs—including in Park City and Bel Aire.
Call our courteous customer service staff today us to get started! We look forward to speaking with you and helping you with your Wichita gutter cleaning or repair needs!