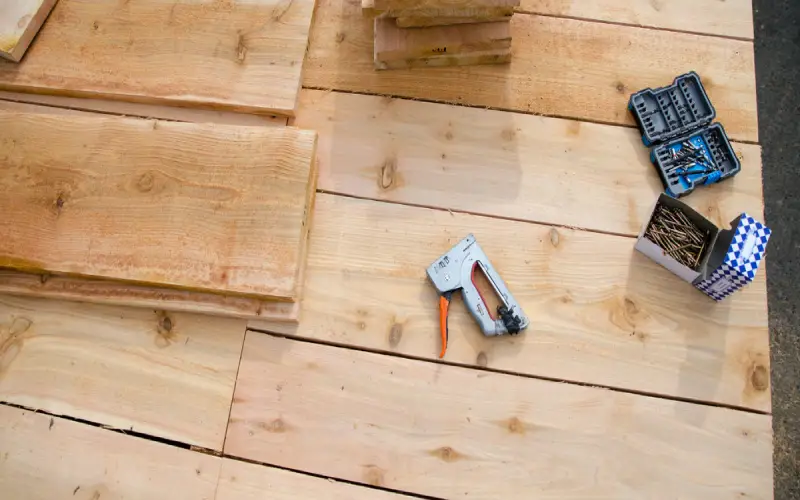 Residents of Wichita, KS, are fortunate to experience all four seasons each year. While many homeowners will complain about having to shovel their driveways and navigate the slippery roads to work, the cold weather only makes them appreciate those green, sunny summers that much more until they find themselves needing Wichita porch repair services.
Because summers can be so fleeting, people here strive to make the most of their time spent outdoors. If your porch is in a state of disrepair, you're unlikely to want to sit out on it by yourself, let alone invite friends and family over for after-dinner drinks. Porch replacements can be costly. If you're not ready to cough up all that money just yet, porch repair is your best option.
Before you arrange total demolition and replacement, consider calling your local Wichita handyman for porch repair. The restoration process can revitalize your home's curb appeal, enhance your ability to enjoy your outdoor living spaces and provide you with an opportunity to soak up sweet-smelling fresh summer air. The team of service professionals at Mr. Handyman of the Wichita Metro Area can offer both advice and services to get your structure looking its best again.
Why Choose Porch Repair in Wichita, KS Over Replacement?
It goes without saying that a repair is almost always more affordable than a replacement, no matter what the damaged object or structure is. Repair becomes more than the cost of replacement when so many repairs are needed that replacements become more economical. Some factors to consider when determining whether you should choose Wichita porch repair or replacement include:
Age of Structure: Traditionally, porches were built out of wood. As beautiful as natural wood looks, keeping it in great condition outdoors is a battle. Wood and water do not mix. When kept moist for long periods of time, it can develop wood rot, which causes it to deteriorate and crumble. Repair for a very old rotted structure will likely cost you close to the same amount as a new installation or even more.
Type and Extent of Damage: Does your entire structure, including the boards, joists, steps, railings, and pillars, all need to be repaired? If so, porch repair may not be in your best interest. It's often easier to start from scratch if your repair needs are this extensive.
Decking Cost: New materials, such as composite decking, vinyl decking, and even steel, are popular, durable options for materials today. Replacing your structure with these newer materials can save you from having to spend money on repairs every few years.
Top Wichita Porch Repair Tips
The following tips for porch repair are based on the most common problems that arise over time. We've tried to cover everything, but if your problem isn't listed below, contact our professional handyman team for their expert opinion.
Add Flashing to Ledgers
There's a lot of shoddy workmanship out there, and unless a homeowner is well-versed in home service repairs and installations, they're unlikely to catch it. Something that sometimes gets skipped is adding flashing to ledgers.
The ledger board is a piece of wood that attaches the overhanging structure to the side of your home. Without it, your structure would not be stable. Joist boards are connected perpendicularly to this ledger board, and altogether, they make up the structural integrity of your outdoor living space.
While the ledger board is important for stabilizing, it can also transfer moisture damage to the side of your house. Being made of wood, ledger boards are susceptible to rot. By being in constant contact with the side of your house, a moist, rotting ledger board can create moisture problems in the wall of your property.
To solve this problem, flashing is placed over the top of ledger boards to stop them from getting wet. Flashing is made from either vinyl or metal and should be installed on top of the ledger board to prevent it from getting wet. If you can't find any signs of flashing on your porch, temporarily remove the boards closest to the side of your house to free up space for this Wichita porch repair.
Reinforce Railing Connections
Are the posts of your original railing becoming wobbly and rickety? Are you nervous that your elderly neighbor will pop by to deliver a fresh loaf of bread and lean against an unstable railing, resulting in a fall? If there was ever a reason for porch repair in Wichita, KS, this is it. Damaged railings aren't just unsightly—they can be health and safety hazards, too.
Railings can be installed in a few different ways and, as such, have different repair solutions:
Beam Mounted Posts: Thin posts are often mounted directly to the beam to help reinforce the deck or porch. If your posts only have a few measly nails holding them in place, it's no wonder that your railing feels unstable! As long as the wood is still in good condition, you can reinforce these with larger nails and screws. Not a fan of seeing those screws? Simply cover them with filler and add a coat of paint.
Surface Mounted Posts: If your railing posts are mounted directly on the surface of the deck and are feeling wobbly, chances are you currently have plastic post anchors. Swap these out for thick steel post anchors, which will provide your deck railing with substantially more stability.
Halt Wood Rot
When homeowners first spot wood rot, they immediately assume that porch repair in Wichita, KS is off the table. If you think you may have rot, take a deep breath and approach the situation calmly.
First, make sure you know how to identify rot. Wood rot occurs when moisture causes cellulose or lignin within the wood to break down, thereby compromising its structural integrity. One of the easiest ways to test for rot is to take a screwdriver and push it against the affected area. If rot is present, it will puncture the wood with barely any force at all and cause fragments to crumble to the ground. Wood rot is generally an issue with hardwood decks, but it can affect composite material as well.
A wood deck that has been a victim of water damage is, in some cases, salvageable. If the rotted area is small enough, you can use a combination of two impressive products to halt rot in its tracks: sealant and epoxy wood filler. To use this dual-product system, first, scrape out the affected wood and apply a sealant to the surrounding surfaces. Once it has cured, fill in any gaps with epoxy. Finish by sanding its surface.
Replace Rotted Boards and Posts
If the damage is more extensive, you can also replace rotted deck boards and posts piecemeal rather than replacing the entire porch. While this method of porch repair in Wichita, KS, is a little more time intensive, it'll save you lots of money in the long run.
It's also worth considering why your boards and posts have rotted. Is it simply a case of forgetting to reapply sealant every few years? Or are parts of your deck in contact with the moist ground? A wooden structure should never be in direct contact with the earth. If it is, slip some concrete slabs underneath the posts to prolong the lifespan of your structure. Depending on the design, you may not be able to do this without tearing the whole thing apart. In this case, make sure you add concrete slabs when the time for porch replacement finally comes.
Check Joist Hangers for Missing Nails
Do the floorboards of your porch feel secure, but do you notice a faint rattling sound when you walk around? Your joists may not be properly secured to the ledger board and opposite beam. Joists are the boards that run perpendicular to the floorboards of your porch. Their purpose is to provide stability and extra support for the floorboards. To attach the joists to the beams, a metal connection called a joist hanger might be used. These keep the boards from moving over time and provide added strength.
To work properly, a specific type of joist nail must be secured inside every hole. Experts in porch repair in Wichita, KS, sometimes find many missing nails that either rusted and fell out or were never even there in the first place. Adding all the required nails can help restore your porch to the stability it had when it was first built.
Pressure Wash, Restain, and Reseal
Some homeowners find that their porch has lots of structural integrity—it just doesn't look as great as it used to. If you've fallen out of love with your porch, this tip for porch repair is especially for you.
Many homeowners don't realize how easy it is to give their porches a whole new look with a bit of painting and deck staining. If the thought of sanding down your entire deck makes you balk, don't worry. With a few simple tools, this job is easier than ever.
Pressure washing isn't usually recommended for use on decks—it can strip the previous stain and paint off unless the absolute lowest setting is used. If you want to restain your structure, this actually works in your favor. Give your porch a new lease on life by giving it a thorough power washer cleaning and starting with a blank slate.
Once the wood has dried, go over it with an oscillating or random-orbit sander to create a smooth finish. Complete the project by picking out a new exterior paint or stain from a wide variety of options. If you opt for a stain, you'll also need to add a sealant to protect the wood from rain. Make sure you reapply this sealant every three years at a minimum.
Build an Enclosed Porch
As mentioned, the biggest threat to the longevity of your porch is the elements. Harsh UV rays, rainwater, freezing, and melting snow can increase how often you find yourself needing porch repair in Wichita, KS. The simplest solution to this problem is to prevent your deck from being subjected to the elements altogether. To do this, consider enclosing the space.
An enclosed porch has more benefits than just weather protection. Some of these include:
Enjoy Your Space Year Round: In the winter months, an enclosed structure with large windows can make you feel like you're enjoying the outdoors, minus the cold.
Enhanced Privacy: If you prefer to enjoy your porch in privacy and avoid endless conversations with passing-by neighbors, enclosed options can offer seclusion.
More Living Space: Although the structure was there all along, enclosing it can make your entire home feel much more spacious than it was before simply by extending your indoor living space.
Call In the Professionals
Although we've provided basic instructions for how to complete these Wichita porch repairs, not everyone will feel comfortable doing them on their own. If you're a business owner or stay-at-home parent, you may have the skills but simply lack the time. Experienced Wichita deck builders can help you build and repair your dream deck in no time.
When looking for service professionals, be careful that you hire only fully trained and licensed porch contractors. Independent contractors should have a comprehensive understanding of building codes to make sure that your repair complies with local and state laws and ensure your own personal safety.
Ready for Porch Repair in Wichita, KS? Call Mr. Handyman Today!
If you're looking for professional porch repair in Wichita, KS, or in the surrounding areas of Derby, Newton, Eastborough, and beyond, look no further than Mr. Handyman of the Wichita Metro Area. Our locally owned and operated franchise has built a reputation for reliability, quality workmanship, and customer focus within our tight-knit community of homeowners. We provide reliable services with great results for porch repair and many other outdoor projects, such as fence installation, gutter cleaning, and roof repair.
Our porch repair professionals have undergone extensive background checks to afford you total peace of mind. If you're ready to book an appointment for Wichita porch repair or would like to arrange a consultation for a cost estimate, feel free to give our office a call today. We look forward to receiving your call!