Professional Repair Services for Your Home or Business Serving North West Arkansas!
Whether you need a new light fixture installed, that creaky spot on your floor fixed, or even major repairs to some of the most important parts of your home, a professional Rogers handyman from Mr. Handyman of Bentonville, Rogers and Springdale can get the job done reliably and correctly the first time. Our team boasts an average of 10 years of experience across their various trades, which means you can trust that any job you need done is going to be up to the latest safety standards and the highest levels of quality. If your to-do list is starting to pile up and you have no idea how you're going to get it all done, stop stressing—we can handle it all!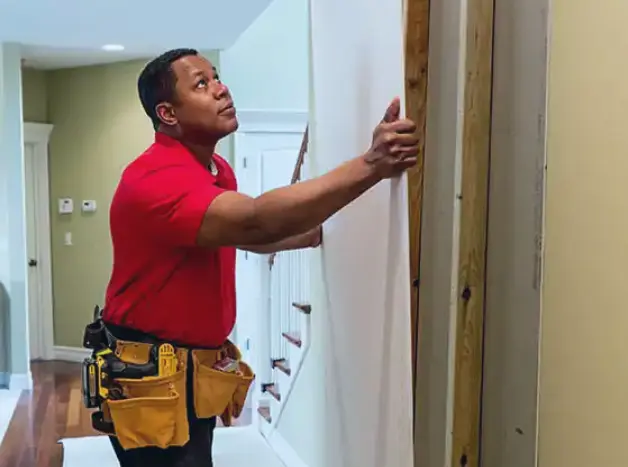 Why Choose Mr. Handyman?
Convenient one-call solution.

Safe, worry-free experience.

Fully insured with general liability and workers' compensation.

We'll clean up when we're done.

Our workmanship is guaranteed.
Our Mission
Mr. Handyman is your one-stop shop for a wide range of home maintenance and repair solutions. Mr. Handyman's service technicians are highly skilled craftsmen, so you know they will get the job done right the first time.
Partnerships & Achievements
Professional Handyman Services For Homes & Businesses
When you need something done, Mr. Handyman of Bentonville, Rogers and Springdale is the name you can trust. From plumbing to electrical to roofing and more, our team abides by our Neighborly Done Right Promise. We're so confident that we can help you take care of your home repair and maintenance issues and provide the best possible service that if you're ever unhappy with how something has turned out, give us a call and we'll come to you and make things right.
We can even help you improve your business too! Whether it's a bathroom repair or an electrical installation, we can help you improve your business and not only make it beautiful and function well again, but keep you operating smoothly. We know how important your time is, and that's why we respond quickly to service calls so you can get back to normal.
Stop staring at your to-do list and start getting it done! Call Mr. Handyman of Bentonville, Rogers and Springdale now to request an estimate.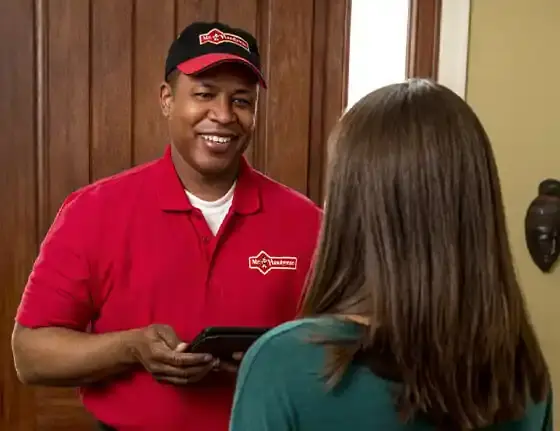 Mr. Handyman of Bentonville Rogers Springdale
Choose the right handyman services team in your area. When it comes to selecting the right team for your home improvement needs, Mr. Handyman is the right choice.
Areas We Serve:
Avoca, BellaVista, Bentonville, CaveSprings, Centerton, ElmSprings, Garfield, Gateway, Hiwasse, Lowell, PeaRidge, Rogers, Springdale, Tontitown
Best Home Repair Services in Rogers, AR
Do you need dependable handyman services in the Rogers, AR, area? Look no further than Mr. Handyman® of Bentonville, Rogers, and Springdale. We offer prompt, professional home maintenance and repair solutions. Mr. Handyman serves Rogers and the surrounding area, including Tontitown, Cave Springs, Lowell, Hiwasse, Avoca, and Pea Ridge.
Mr. Handyman Home Repair Services
Mr. Handyman is your source for quality home repair services. Our highly skilled professionals have years of experience and employ cutting-edge tools and premium materials to get the job done quickly and efficiently. What's more, our Neighborly Done Right Promise™ ensures you'll be satisfied with our work. If, for any reason, you're not pleased, simply notify us within a year, and we'll return to make it right.
Handyman Maintenance Services
At Mr. Handyman, we offer a wide range of home maintenance services, including:
Carpentry
Plumbing
Electrical
Furniture assembly
Ceiling repair
Flooring installation
And more!
Mr. Handyman of Bentonville, Rogers, and Springdale FAQs
Do you have questions about our home repair services? Just give us a call! Our friendly staff will be happy to answer any questions you might have.
Below are a few of the ones people ask us most frequently:
What is a handyman?
A handyman specializes in maintaining and repairing residential and commercial buildings. Typically, handymen have a construction background, giving them expertise in a diverse range of repair and maintenance tasks. While general contractors often tackle large projects such as remodeling, handymen typically work on smaller jobs like ceiling or floor repairs.
What does a handyman do?
Handymen can work on jobs around the house that may be too difficult to handle on your own. Handyman services can include things like fixing and replacing doors and repairing drywall, re-grouting tile, applying caulk, or assembling furniture.
Does a handyman in Rogers need a license?
Handymen in the Rogers area aren't required to have a general contractor's license, although certain handyman services may require one. All our team members have the necessary licensing for their respective services and are also fully insured and bonded.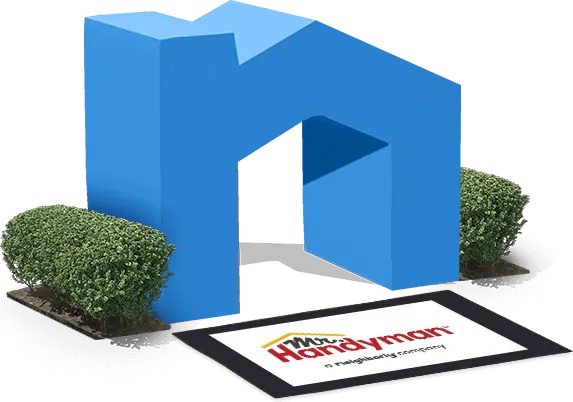 Neighborly®
Mr. Handyman s is a Neighborly Company. Handyman repair services are one of the many home maintenance solutions available to you through Neighborly. At Neighborly, we are committed to being there for all your home service needs.
Learn More About Neighborly