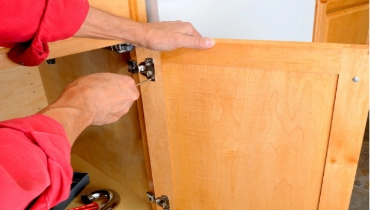 Your kitchen cabinets take up a lot of real estate in your kitchen. Not only do they provide ample storage for hiding all manner of crockery, dish towels, and food items, but they also draw the eye around your space and contribute to the overall look and feel of your kitchen.
When your cupboards are outdated, worn out, or no longer suit your tastes, it's time for a change. Granted, there are so many options when it comes to switching up your cabinets. Should you replace them entirely? Is a quick paint job sufficient to revamp your kitchen? Or maybe you can get away with only changing your doors?
There are many considerations you need to think about before starting a kitchen cabinet restoration project. That's why our pro team at Mr. Handyman of Dallas put together this guide. Here are questions you need to ask before working on your kitchen cupboards.
1. Are My Cupboards Still in Decent Working Condition?
Your first consideration is to take a serious look at what state your current cabinets are in. This will dictate what you decide to do with them moving forward. Ask yourself:
Are the doors in good condition? Could I keep them?
Is the interior in good condition? If I swap out the doors, are the shelves and materials within still suitable?
What about knobs and hinges? Do these need replacing?
If your cupboards are basically falling apart, there's no point in trying to salvage them. Although it's a greater expense, you'd be better off replacing them entirely. If it's just the doors that are looking worse for wear, you might as well consider refacing them instead of a replacement. Lastly, if the entire cupboard is in good shape, you might be able to get away with a quick paint job or stain.
2. Do I Need a New Layout?
Also, consider if your current layout is working for you. Maybe you moved into an older home and the kitchen isn't very suitable for your needs. If the cupboards are not laid out logically, you might want to consider installing a new layout for your kitchen remodel.
3. Is My Kitchen Dated?
We've all seen those 1970s vinyl cabinets that are most certainly no longer in style. If your home has these, you might be looking for a change. Replacing the doors might be sufficient if the interior is still in good condition. Keep in mind materials and color palettes that will still look good down the road. You don't want to look back in 5 years and think your kitchen looks out of date, again! Wood and neutral tones are usually a safe, timeless, bet.
4. Should I keep the Original Design, or Create Something New?
At the root of your decision to replace or repair your cabinets, ask yourself whether you like the current style and it just needs a bit of elbow grease, or if you want a different look entirely. This will influence how much work you'll do on your cupboards. For instance, if you like the look of your wood cabinets but want a slightly different color, you could stain the cabinet doors. This is an easy way to maintain the overall style of your kitchen. To completely change it, say from a traditional look to a minimalist one, you may have to replace your cupboards entirely.
5. Should I Reface?
Refacing your cabinets means maintaining the interior structure while replacing the doors. This is an excellent idea if you don't like the look of your cupboards, want to update your kitchen, and if the interior is still in good condition.
6. Should I Refinish?
Refinishing is essentially staining your cabinets. This is a great way to bring out the natural grain in your cupboard doors or alter the tone of the wood to better suit your style. Keep in mind that only real wood or composite wood can be stained. It's common for cupboard doors in older homes to be plywood with a vinyl overlay that emulates real wood.
7. Should I Paint?
You can successfully paint nearly any type of cabinet, and it's one of the easiest ways to completely change the look and feel of your kitchen, while truly putting your own stamp on the space. If you have upper and lower cupboards, consider painting the top row a different color from the bottom. This adds an elevated look to your kitchen.
8. How Long Does it Take?
Whether you decide to paint, stain, or reface your cabinets, it should only take a professional technician a few days to properly complete the job. Of course, this will depend on how many cabinets you need to be done.
If you want new cabinets installed, this also usually takes two to three days. But that said, it's best to talk to your local service professional at Mr. Handyman to get a better sense of how long your unique job will take.
9. How Long Will the Changes Last?
After you've invested in making over your cabinets, you'll naturally want them to last a long time. Usually, the lifespan of the different update options is as follows:
Painted cabinets should last between 8 and 15 years
Stained doors last longer, anywhere between 20 and 30 years
And, the refaced option lasts the longest, averaging at 20 years. But if you take good care of your cabinets, they could last a lifetime.
10. Who Should I Hire?
You should hire the pros at Mr. Handyman of Dallas, of course! Our technicians have years of home improvement and woodworking experience. Not only do we offer high-quality craftsmanship, but we're also recognized throughout the Dallas area—including Balch Springs, Carrollton, Las Colinas, Rose Hill, and Sachse—for our customer service. We always put our clients first, which is why you can count on us to have your best interests at heart.
To book an appointment with one of our service professionals today, we invite you to phone us. You can also reach us online by filling out a
service request form
.