10 Bathroom Remodeling Tips for the Dallas Homeowner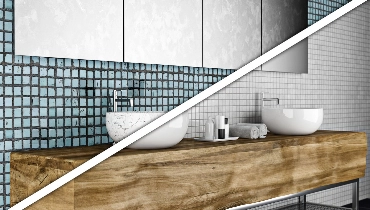 When you think of your bathroom, what comes to mind?
It should be a place where you go to unwind at the end of the day—an oasis of calm in the midst of your busy life. Not only should it meet all your needs, whether you need to adjust it for accessibility requirements or want a spa-like master bath, but it should also bring you joy. That's a goal that you can accomplish with an outstanding Dallas bathroom remodel.
From getting ready to go to work and applying makeup to unwinding from the day with a bubble bath or shower, the bathroom should be a place of calm. Perhaps you were very involved with the building of your home and already have a wonderful space built-in. For everyone else though, that dream bathroom will come by way of a Dallas bathroom remodel project with an experienced, qualified Dallas handyman.
Bathroom renovations can take a toll on your time and budget. Yet, once the renovation is finished, the delight you'll gain from enjoying your newly remodeled space is more than worth it. That said, it's still important to stay on track with your Dallas bathroom remodel goals and ensure the project does not get out of hand. To help you create the ideal remodel without feeling overwhelmed, we've put together nine tips that help make the planning phase of home remodeling services go a lot more smoothly.
Continue reading to learn our insights about sticking to a budget, what fixtures you need, what to consider when laying out the room and how the bathroom remodeling team at Mr. Handyman of Dallas can help bring your vision to life.
1. Stick to Your Budget
It's easy for the renovation to get out of hand and end up costing more than you anticipated if you don't have a solid budget for bathroom remodeling in Dallas, TX. Keep in mind that it's important not just to set a budget, but a realistic budget that you're going to be able to stick with through the project. Thorough research is an excellent way to get a sense of what your ideal budget should be. Here are some factors to consider:
The Cost of Contractors and Labor
The majority of costs that you will invest into your Dallas bathroom remodel project are labor costs—especially depending on the skill, efficiency and rates of the handyman company you go with. The best way to address this part of your budget is to call up a couple handyman companies and get a rough estimate from them. This research also gives you a sense of scale and cost for the bathroom remodel. However, it's important to remember that it is only an estimate. We can't give you a firm, upfront cost until we've been able to investigate the project in person, because there might be factors that complicate the project or make it take longer. Knowing how long a bathroom remodeling project might take also gives you an idea how long that part of your home is going to be out of commission.
Pro Tip: It's important to choose a company like Mr. Handyman that offers upfront pricing, so you know how much you'll be expected to pay before the work starts. The last thing you want is to be worrying about what the final bill will be, or whether they're dragging their heels to add to the labor costs. Additionally, when you choose a handyman company, look for technicians that wear uniforms and use company vehicles and tools—like Mr. Handyman of Dallas. These are indications of professionalism.
The Cost of Features and Materials
Naturally, the cost of materials you choose also impacts your overall budget. Research whether glass or ceramic tiles are a better fit for your budget and how much your dream marble vanity costs. Additionally, if you want to upgrade your bathtub, shower or toilet this will factor into your renovation costs. The features you choose could not only cost more depending on the materials, but they could also impact the installation costs.
For example, if you hide your toilet's tank in the wall, this installation will cost more and take longer than simply installing a new toilet. Likewise, installing a bathtub where you previously only had a shower will cost more in parts and labor than swapping out a shower head. Also, moving a fixture to a new location is going to be more costly than installing a new fixture in the old location, so keep that in mind when you're planning the layout.
Additional Budgeting Factors
Labor and material costs will be the greatest impact on your budget, but there are a few other questions to ask yourself that will affect how much you invest into your bathroom remodel in Dallas, TX:
Do you want to sell your home in a few years?
Do you want to install any luxury features?
What areas of your bathroom are absolutely essential?
What can you reasonably afford to invest?
Do you need to change the location of plumbed-in items?
How much can you afford to go over budget? (Always have a cushion for emergency or unforeseen expenses).
2. What Kind of Bathroom Are You Remodeling?
There are many styles of bathrooms. It's helpful to know your options and what you'll be working with during your Dallas bathroom remodel project.
Standard
Also known as a full bath, a standard bathroom includes at least one sink, toilet, and bath, shower, or hybrid of the two. Whether or not you have more than one full bath depends on how old your home is. Older homes in Dallas often only have one full bath that was meant to be shared by all family members, while many newer homes generally have a separate master bathroom, one for your children and one for guests too. Standard bathrooms can be on any floor of your home, but are most commonly situated near sleeping areas.
Half Bath or Powder Room
A half bath or powder room is smaller than a full bath and does not include a shower or a bathtub. Adding a powder room to your Dallas home is a fantastic investment, and it ensures you have a guest bathroom. A powder room will also increase the resale value of your home.
Wet Bath
A wet bath has no separation between the shower and the rest of the room. Typically, a shower will be tucked away in a separate cubicle or have doors or a curtain that close it off from the rest of the room. In a wet bath, everything is waterproofed. These bathrooms have a sleek and modern design and are also easier to keep clean since you don't have to scrub annoying soap scum from sliding glass doors. Additionally, wet baths make the entire room feel more spacious.
Ensuite Bathroom
An ensuite bathroom is also considered a full bath. However, the primary difference is that the ensuite connects to another room in your home. Generally, this is the master bedroom. Ensuites are often larger than a full bath and may also include separate bath and shower features.
3. Choose Your Bathroom Layout
Your layout might already work well for you and your family the way it is. If so, there will be no need to change it. This will save you time and money, as rearranging walls and plumbing fixtures will drive up the cost of a Dallas bathroom remodel.
However, if you want your bathroom remodeler to move your tub and toilet around to help make the space more accessible or you're converting a half-bath to a full-bath, then you'll need to think about your layout. Start by considering the fixtures you need and what areas you use most. Here are a few questions to ask yourself:
Is the toilet positioned somewhere where you can easily and comfortably access it?
Where will your shower, bath, or hybrid of the two fit into the floor plan? Will they be near the toilet, or separated from it?
Would you like a wet bath?
How many sinks do you want or need?
Will your sinks be set into a countertop?
Will you have cupboards and drawers?
If you don't have cupboards, where will you store toiletries and linens?
4. Make a List of Everything You'll Need
It can really pay to take the time during the planning process to sit down and make a big list of every last thing you're going to need for your Dallas bathroom remodel. What is on your list will, of course, vary according to your bathroom design and what your household needs, but it may include items, materials and fixtures such as:
Drywall
Windows
Paint
Floor tile and wall tile
Ventilation fan
Lighting fixtures
Vanity
Mirror
Sinks
Toilet
Showerhead
Shower door or divider
Storage cabinets
Countertop
Medicine cabinet
Towel racks
Toilet paper holder
Waste container
Towels, bathmat and other textiles
Artwork and plants
5. Choose the Right Materials
Your bathroom is a busy area of your home. It receives the most traffic and use, so it's important to choose materials carefully. That said, aesthetic is also a consideration as you'll likely want the space to look attractive, clean and bright.
A Dallas bathroom remodel is the time to invest in quality materials. Avoid inexpensive materials that will not wear well and will need replacement within a few years, such as:
Particle board cabinets
Fiberglass or acrylic tubs and sinks
Plastic fixtures
MDF trim
Instead, invest in materials that may cost more initially, but will wear significantly better. Some of these materials include:
Porcelain sinks
Ceramic tile
Quality MDF or solid wood cabinets
Brass fixtures
Porcelain tubs
6. To Bathtub or Not to Bathtub?
Do you need, or want, a bathtub in your newly remodeled space? This has become a key question that homeowners should consider during a bathroom remodel in Dallas, TX. For some Dallas residents a bathtub is key for enjoying a long soak after a hard day. However, many people prefer speed and ease and would like a shower conversion instead of a bathtub.
Consider your needs. Are you a senior who may not be able to easily get in and out of a tub? In that case perhaps a shower remodel with a seated bench might be a better option. Do you enjoy bubble-baths? Perhaps you'd like a deeper bath for soaking. Or, maybe you have small children and need to bathe them, a bathtub—or bathtub-shower combo—might be a better choice than just a shower.
7. Prioritize Ventilation
Making sure you have proper ventilation installed during your Dallas bathroom remodel is key to preventing water damage from humidity and dampness. Generally, there are two kinds of ventilation:
Exhaust Fans
Exhaust fans are the most efficient means of reducing humidity in your bathroom. These fixtures should be a key consideration for any bathroom remodel in Dallas, TX. There are a range of different exhaust fans that might suit your bathroom best:
Ceiling-Mounted: The fan is designed to be used in bathrooms that are located on a second or third floor. Warm air rises, so it makes the most sense for the fan to be located on the ceiling. The stale air is pushed outside through the attic.

Wall-Mounted: Installed on the wall of the outside of your home, this ventilation fan is simpler to install and typically more useful if you're pressed for time during your bathroom remodel.

Exterior: Like a wall-mounted fan, these fans push stale air outside. However, since the noise they emit is heard outside, they tend to be quieter.

Inline: These exhaust fans are mounted in your home's ducts and blow out stale air through the duct system. They are a good option for bathrooms that are tricky to install a fan in.

Fan and Light Combo: These fixtures expel stale air while also acting as a lighting fixture.
Windows and Window Vents
Does your Dallas bathroom remodel include a window that opens? Opening up your window while taking a shower can help reduce humidity. Without ventilation, steam from your shower can condense and cause moisture damage problems like wood rot. Some windows also have window vents, which always stay open to release humidity outdoors.
8. Consider Lighting
Your light fixtures are an important part of your room's overall aesthetic and ease of use. There are two different kinds of lighting options for most indoor spaces: natural and artificial.
Try to make the most of natural lighting from a window or skylight by installing your mirror opposite of the natural light source. This will bounce more light into your bathroom and create a flattering effect when you look at your reflection.
There are many different types of artificial lighting that you can use in your bathroom. A few options include:
Overhead lighting
Dimmer switch lighting
Lights on either side of your vanity
Chandeliers
Another consideration for your lighting is how warm you want the light to be. Would you prefer a cool tone or warm tone? Also, how bright do you want your lights to be? If you use your bathroom to apply makeup or get ready in the morning, you may need brighter lighting. Alternatively, perhaps you want to create a luxurious ambience in your powder room with soft lights.
9. Indulge in a Luxury Feature
This is your place to indulge in self-care and relax at the end of the day. To help with that, there are a few luxurious features you may want to consider installing during your Dallas bathroom remodel.
Wall-Mounted Features
Many features in your bathroom can be wall-mounted. This creates a sleek, modern look while opening up the space. You can mount your toilets, cabinets and washbasins on the wall. This not only creates a more open floor plan, but it also enables you to use the extra space for storage.
Heated Floor
Imagine stepping out of a warm shower onto a wonderfully heated shower floor. This small touch can be so satisfying and incredibly luxurious—especially on those chilly Texan nights. Additionally, heated floors are energy efficient as they help keep your home warm without having to turn your thermostat up.
Heated Towel Rack
Similar to how a heated floor can add a sense of luxury and comfort, so can a heated towel rack. Picture drying off wrapped in a cozy, warm towel—as if it had just come out of the dryer.
10. Plan for the Future
As you plan your bath remodel, keep in mind that the bathroom renovation will also add value to your home. A beautiful, functional, and modern room is a selling point for any property. It's worthwhile to consider how a future homeowner in Dallas may make the most of the room while you are renovating. The pay-off is absolutely worth it when you sell your home.
Get Started on Your Dallas Bathroom Remodel Project Today With Help From Your Local Handyman!
Are you ready to start your bathroom remodel in Dallas, TX? Once you've used our helpful tips to map out your renovation, be sure to give our expert Dallas bathroom contractors a call.
Our experienced team of professional, qualified technicians will be more than happy to help with all your Dallas bathroom remodel needs including basic repairs like repairing cracked tiles or caulking services, or a completely different home improvement project like a kitchen remodel. We proudly serve all Dallas property owners and provide services in many nearby areas, such as University Park, Rose Hill and Lancaster.