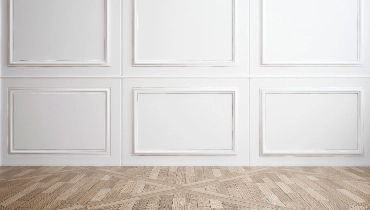 Wainscoting is essentially wall paneling. It elevates a room by adding visual appeal, much in the way that other architectural elements like crown molding do. Wainscoting panels are a great way to add visual interest and switch-up boring walls in favor of something with a little more personality. However, when your wainscoting has seen better days, it can look tired and worn. The good news is that with professional Dallas wainscoting repair, you can have your walls looking good-as-new in no time.
And who can help you with wainscoting repair in Dallas? The experts at Mr. Handyman of Dallas, of course! Our team of highly experienced technicians and carpenters know everything there is to know about wainscoting, from completing repairs efficiently to wainscoting installation. Whether you need custom wainscoting created or have another decorative wall accent that has seen better days, our hardworking pros will get the job done right the first time.
And, we'll do it while maintaining our dedication to excellent workmanship and outstanding customer service. We are your local Dallas handyman service provider, and it's important to us that you have a positive experience with our handyman company from start to finish. That's why we go above and beyond daily for our clients—no matter what home improvement project you have in mind!
If you've noticed damage to your wainscoting and are curious about wainscoting repairs in Dallas, then keep reading. Our experts have compiled a blog dedicated to everything you need to know about this stunning architectural feature.
What is the Purpose of Wainscoting?
Wainscoting isn't just a decorative element—although it undoubtedly can transform a blank wall into a stunning addition to your home. As a combination of decorative boards, panels and moldings that reach half-way up your wall, wainscoting also helps to protect the wall. Initially, it was invented in the 1300s to shield the bottom half of plaster walls from a range of hazards that could otherwise easily damage the wall. These days, having wainscoting in Dallas is still a great way to protect walls from issues like dirt, oily fingerprints and scuffs from furniture.
What Materials Are Used for Dallas Wainscoting Repair?
There are numerous materials that can be used for wainscoting in Dallas. If you moved into a home that already has wainscoting, you may be wondering what it's made of—especially as the repair you'll need completed depends largely on the material. Likewise, if you're considering adding this decorative element to your home, you may want to explore your options before settling on a certain material. From narrow wood planks to plastic materials, there are a wide variety of options to choose from:
Solid Wood
The traditional material used in homes throughout Dallas, wood is a highly versatile material that can be painted and stained to get your desired look. Many different kinds of lumber can be used, such as pine, walnut and cherry. It's important that the wood is installed very carefully. Since it expands and contracts as temperatures fluctuate, this can leave room for cracking. Water damage is also concerning for wood materials, as it could warp and lead to wood rot, which needs to be repaired right away.
Plastic
Vinyl and PVC are common types of plastic wainscoting in Dallas, TX. Often, these are ideal materials to use in moist areas such as the bathroom or laundry room as plastic won't rot—unlike wood. Another benefit of vinyl and PVC is that these materials retain their color well as the years go by. However, damage is much more difficult to fix. Thus, entire panels may need to be replaced in the event of a crack, dent or hole.
MDF
Medium-density fiberboard shares some similarities with wood. However, because of its synthetic nature MDF does not expand, contract, warp, crack or rot. It comes either primed for painting or veneered, emulating the appearance of real wood. Although MDF is not at risk of rotting, it still should not be exposed to moist environments. Water will make it swell and deteriorate. While treated, moisture-resistant options are available, it's still unwise to put this material in areas such as your bathroom.
Plywood
One of the most versatile construction materials, plywood is an inexpensive option compared to real wood. It's also very quick and easy to install. Plywood is not impervious to damage, however, and can still crack and get dented like any other material. Since it's made out of wood, plywood will rot if exposed to too much moisture.
Tile
Ceramic tile may not be what comes to mind when you think of wainscoting in Dallas, TX, but there is no reason why ceramic tile wainscoting can't be used as a decorative element in your home. Since wainscoting only goes part way up the wall, it can make a stunning feature piece in any room. Tiles are water resistant, which make this a great option for the bathroom. Perhaps you could introduce classic subway tiles or get creative with a mosaic. Either way, it's refreshing compared to flat panel wainscoting. A drawback of tile is that if it gets broken, there is a risk that moisture could leak into your supporting drywall and cause problems. For this reason, it's essential to hire Dallas tile repair services as soon as you see an issue. Our qualified professionals will fix the problem right away.
What Can Damage Wainscoting in Dallas, TX?
There are many ways that your walls can become damaged, requiring repair. Some of the most common culprits in Dallas include:
Water Damage: The bane of many Dallas homeowners' existence, water damage is a serious problem no matter where it shows up in your Dallas home. Whether from flooding, a burst pipe within your walls, a leaky sink or an improperly ventilated bathroom, water damage leads to staining, mold, wood rot and more. Prevent water damage to the best of your abilities by properly ventilating rooms, running your AC unit to dehumidify your home and staying alert for signs of plumbing problems such as a water stain.
Wear-and-Tear: As time goes on, your once-vibrant wainscoting may begin to look a little faded. Perhaps it has a few furniture scuffs, or is looking lackluster. Painting paneling is a great way to boost its aesthetic appeal, and hide an array of sins. Proper maintenance is also important to keep your walls looking their best.
Accidents: Were your kids rough housing indoors? Or perhaps you were moving furniture around and put a hole in your wainscoting? It's a fact of life that accidents happen, and when they do, often your home can bear the brunt of the damage. That's why it's essential to have a reliable handyman service on-call, so when the worst happens you can quickly reach out to a trusted technician to fix it.
Improper Installation: Whether you decided to DIY installation or had the misfortune of hiring a less-than reputable handyman, improper installation can cause a range of problems that require professional Dallas wainscoting repair, including warping, buckling and even entire panels falling off of the wall.
What Are Common Causes of Wainscoting Repairs in Dallas?
Even if you take great care of your wainscoting, there is still a chance that you may need repairs at some point—as we explored above. When you notice signs of damage, it's important to call in the expert Dallas handyman team at Mr. Handyman right away. From fixing small scuffs to replacing entire sections of paneling, our team of service professionals has it covered.
Warping and Buckling
Warped paneling can be caused by a few different reasons. Humidity will warp certain materials, such as wood and plywood. Likewise, expansion and contraction can also cause warping and buckling if the material was not installed properly. Materials like wood and vinyl need room to expand and contract. Even tiles need a small amount of space around their edges to allow for normal expansion and contraction as temperatures change. If the wainscoting was not installed with this in mind, then warping and buckling may occur, requiring urgent repair.
If your paneling is warped, then there are a couple of different Dallas wainscoting repair options available to you. The warped paneling will either have to be reset or replaced. Resetting paneling is a time-consuming process that isn't always worth it. Replacing may be a more viable option, especially if the paneling was not installed correctly to begin with.
Cracking
Like warping wainscoting in Dallas, cracked panels are caused by a few different issues. It could be that a heavy object hit your wall and caused a crack. If it's a primarily cosmetic issue, you may be able to fill the crack with wood putty (for wood materials) or caulk (for other materials). In wood panels, very small cracks can be sanded and then covered in a layer of stain or paint to hide the imperfection. This is a relatively easy Dallas wainscoting repair.
However, large cracks spanning multiple boards are usually a sign of a greater structural issue that needs more serious repairs. It could be that the panels were not installed correctly, and have cracked, or that your home's foundation has shifted, causing the panels to separate or crack as your home shifts. Serious damage can't be fixed by painting or adding a quick coat of stain. Rather, the problematic areas will need to be replaced.
Dents and Holes
Usually caused by wear and tear, dents and holes can be repaired depending on the severity of the problem. Similarly to cracks, small holes can be filled in with wood putty or caulk and then carefully painted or stained to hide the damage. Wood can likewise be sanded, and then painted or stained to hide signs of damage. However, for serious dents and holes Dallas wainscoting repairs won't cut it. The damaged sections will need to be professionally replaced.
Missing Panels
There are a couple of reasons why panels may fall off your wall. It could be that serious water damage behind the paneling has loosened the adhesive holding it in place, causing it to fall down. Or, if the wainscoting was not installed correctly, it likely has loosened of its own accord. If the paneling is still in good condition, it could be re-hung by an experienced technician. If it's damaged, the section will need to be replaced rather than repaired.
Improper Installation
As we've discussed, improper installation could cause a wide range of problems resulting in the need for Dallas wainscoting repairs or replacement services. More often than not, if your wall paneling has not been installed correctly, you will have to re-do it. A repair is often a BandAid solution in this instance, and you'll be dealing with problems throughout the wall paneling's lifespan. By replacing it, you can make sure that the new paneling is properly installed and prevent future damage.
Do You Need Dallas Wainscoting Repairs?
Does your wall look like it's seen better days? Perhaps you've noticed a few cracks and are worried it was not installed correctly to begin with. Or, maybe you've noticed a few scuffs and dents and want to see if anything can be done to get your panels looking ship shape once more. Whatever the problem might be, our hardworking handyman experts can help with repairs.
Our team of highly experienced service technicians are recognized throughout the Dallas area for our dedication to outstanding craftsmanship and excellent customer service. We behave professionally at all times, and are transparent with you throughout the entire repair process. From answering all your questions to offering upfront, hourly pricing, you can count on us to always act with integrity.
In fact, we've brought our highly sought-after repair services to many homeowners throughout Dallas and the surrounding areas, including Rose Hill and Lancaster. It's our privilege to serve our local community, and we always take care to treat our clients and their homes with the utmost respect.
If you're ready to get started with wainscoting repair, or you need a similar service like
baseboard repair
, give our hardworking team a call!