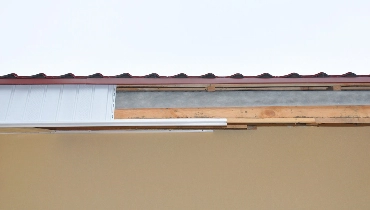 When evaluating your home's exterior, you may look at your siding, shingles, and gutters. But how often do you look at your fascia boards? They house your rain gutters and are often overlooked despite their contribution to your property's appearance. It's not until an unmatched paint choice, or a cracked wood becomes visible that you notice the importance of your fascia.
We recommend contacting our expert Boulder handyman professionals from Mr. Handyman of E Boulder, Broomfield & Erie, for your next exterior home repair project before the rainy season arrives. Don't spend all weekend trying to measure and plan a Boulder fascia repair project just to end up with leaks that require reinstallation.
What is Fascia, and Why is it Important?
The fascia is a long wooden board that runs horizontally on your roof edge, typically 2x8 or 2x6. It connects your gutters to the roof truss. If the wood part isn't visible, your fascias are probably covered with a vinyl or aluminum cap to match your gutter system.
Boulder homes without these boards are rare as a lack of fascia boards is typically against building codes. Not only is it a stable mount for your gutters, but it creates a wall between your attic and the outside, sealing it from weather and pests.
What Types of Materials can be Used?
Many types of wood, from spruce to cedar, are often used. You may also use composite wood products, which resist water and moisture better than solid wood products. Spruce, pine, and fir are all popular, inexpensive types of wood used. More expensive types like cedar, cypress, or redwood can be used as they better resist moisture even when left unsealed. Other types of wood may require sealing or having a cap or trim added to protect it from moisture. Sealed and painted wood requires repainting every few years, while cedar and PVC may require less maintenance.
Signs You Need Boulder Fascia Repair
Boulder CO property owners may notice that their fascia board may have started to look unaesthetic. Severe weather conditions and the lack of maintenance will lead to materials degrading over time. However, there are types of damage that Boulder fascia repair can fix:
Moisture damage: If your board was left unsealed or without trim, it might get damaged by any exposure to moisture. A roof leak, clogged gutters, or wind damage will expose your fascia to moisture. If it's constantly exposed to moisture, it may develop wood rot over time and become unstable, risking total give out and affecting your overall roof system. Evidence of condensation should always be promptly dealt with before mold becomes a risk in your attic.
Fungus and algae: These growths can infect any wood material that is routinely wet. Severe fungus growth on the top of the roof may spread down to the fascia board, as well as with black stains from algae.
Cracks: Cracks may develop due to exposure to changing temperatures, water damage, or simply age. A cracking board requires complete replacement.
Animal damage: Animals can be incredibly determined to get into your attic space for shelter. They can chew through your fascia board and make tiny gaps between it and the roof much worse. Your fascia is also very vulnerable to insects, such as termites.
Bowing: A bent or bowed fascia board may indicate structural issues with the home, so it's important to have an expert investigate this issue.
Holes: Any holes, even as small as a nail hole, may be large enough to allow water to pass into your attic. Small holes can be filled and sealed, but large holes may require a full replacement.
Asbestos: This is sometimes used in older fascias and should be removed and replaced safely as soon as possible. Having a professional handyman evaluate the situation is the safest way to deal with asbestos.
Boulder Fascia Repair – DIY
Boulder fascia repair can be a challenge for even experienced homeowners. Knowing how to properly install and seal the wood is critical for your gutter's functionality and for protecting your attic and roof. Our technicians are available at any time for replacement services and to take the guesswork out of Boulder fascia repair.
Inspect existing fascia
This step involves looking at the damage and seeing how much of it needs to be replaced. You can also look at the old board's size to correctly choose a replacement.
Remove gutters and drip edge.
As your gutters are mounted to your fascia boards, they must be removed during a fascia replacement. A well-kept gutter can usually be reattached without a problem. The same goes for your roof's drip edge.
Remove the existing fascia board.
Using the back of a hammer, a pry bar, or another tool, you can remove the nails from the fascia board and pound the boards off of the rafters from behind with a hammer before you can pull the board off. If you notice any nails going into your roof that may block the way of your fascia, you can saw them off with a blade meant for metal cutting. We don't recommend pounding them back into the roof since it may damage the shingles above it.
Measure and cut
The next step requires measuring and cutting new boards to fit. The ends will be nailed into place. Cutting a 45-degree angle will properly form a joint to connect the corners and hide seams.
Cover the seams
The seams between each piece of wood need to be sealed against water. Using body filler such as silicone caulking or another type of sealant will work to prevent water from getting into seams and damaging the wood.
Seal the wood
Next, the exterior painting comes in handy to seal your wooden material. Any exterior wood sealant will work, and you can follow it up with a coat of paint to match your gutters. If you use fascia trim, you don't need to paint the wood as it won't be visible. If you don't have any trim to install, this is the step where you can paint your wood to match the rest of your house.
Install drip edges and gutters
This final step of the repair is where you will install your drip edges and reattach your gutters. Next, take a step back and admire the beauty of your fascia repair. Boulder, CO, homes have never looked better!
Benefits of Boulder Fascia Repair
Believe it or not, Boulder fascia repair has its benefits besides turning an eyesore into a uniform trimming. As fascia protects your attic and roof from the outside elements, making sure it's secure will benefit your home. Don't wait until you have rotted wood before dealing with repairs. What may be a quick fix now could be more expensive down the road if left untreated.
Protect Your Boulder Home From Harsh Weather Conditions
Fascia acts as a barrier protecting your home in Boulder from exterior elements. When unable to do so, wind, rain, and snow could cause roof damage. Fascia ensures your roofline is doing its job and keeping snow and other materials out of your attic.
Prevent Animals From Nesting Inside Your Roof
It isn't uncommon for little critters and birds to get inside your roof to make their home. This can cause problems and isn't an ideal situation. Boulder fascia repair will make sure no pests get into your roof or attic.
Improve the Overall Look of Your Home
Finishing touches to your property can make a big difference in your home's overall appearance. Almost as important as trimming, fascia repair will make your gutters and roofing look aesthetically pleasing. During repairs, swapping worn timber products for modern materials could complement the design of your home.
Reduce the Maintenance of Your Roofline
Older roofline products often bring with them lots of maintenance work. If this maintenance isn't taken care of, you will need early fascia repair. Boulder, CO homes with newer materials require less maintenance and are more efficient at keeping water out of your roof void. Any unnoticed water can quickly cause damage to your roof if left unnoticed from rot, mold, or both.
Help your Home's Energy Efficiency
Many Boulder homeowners are looking for ways to reduce their bills. Having well-sealed fascias means less heated hot air will escape in the winter, improving your HVAC system's efficiency. It backs your attic's ventilation system. If you notice bad air quality within your home, it could indicate your fascia is damaged, or soffit vents are blocked and need immediate repair.
Frequently Asked Questions About Boulder Fascia Repair
Boulder, CO property owners, have spoken! To help guide your renovation repair projects or home improvements, we've compiled a list of a few of the questions we commonly receive and our expert's answers to them. If you have any questions that aren't on this list, please contact us directly to have one of our qualified technicians answer them for you.
Are Fascia Boards Necessary?
The answer is yes. They cap the edges of the rafters and hold gutters in place to ensure proper water drainage. They protect your attic from the outside elements, and without a well-installed fascia, your home will be prone to leaks and critters making their home within.
What are the Most Popular Materials Used?
Wood is the most popular choice, where proper staining and minor repairs will promote longevity. This means that it's a periodic maintenance task that you must keep on your annual list. However, certain types of wood last longer than others before needing replacement.
Aluminum and vinyl fascia covers are a very popular choices. As aluminum and vinyl siding is becoming more popular, many people are using these covers to match the rest of their trimmings. These boards don't need to be painted and are simply nailed into the wood.
Composite materials are also a popular choice. Recycled wood chips and sawdust are bonded with epoxy resin to form composite boards. That said, it's expensive and not entirely rot-resistant. Composite is not meant to be painted.
Fiber-cement boards are warp and rot-resistant. They come with a smooth finish or simulated wood grain and texture for a natural appeal.
PVC is often used on new buildings or ones where wood boards need replacement. Since it is a direct replacement for timber, you don't need backing boards because they can be fixed to the rafter ends. PVC is extremely durable and rot-resistant, as well as paintable.
How Much Do Fascia Replacements Cost?
Replacement in Boulder, CO, typically costs around US$15 to US$25 a linear foot installed. Depending on the size of your house and the materials chosen, it can vary greatly. We recommend booking a free estimate with your Boulder handyman to give you an accurate quote based on your house size and preferred material.
How Often Does Fascia Need Replacement?
The average material should last for many years, but neglect will speed up its shelf life and call for frequent repairs. Some wood materials last longer than others, while materials such as PVC can last for decades with minimum maintenance and repair needs. This is something worth keeping in mind when choosing materials as a bigger upfront investment. It could save you money down the road.
We Are Your Trusted Source for Fascia Repair! Boulder, CO Homeowners, are in Safe Hands!
Don't bother with roofing contractors and risk improper installation or repairs. Our expert handyman installation services in Boulder County will raise your curb appeal and help protect your home. Our wide range of experience means you'll be getting the best quality service for any home repair needs, whether you're in Boulder or nearby communities like Superior, Louisville, or Westminster. We can also take care of the gutter repair and other projects while we're there fixing your fasciae—such as deck installation or power washing.
Mr. Handyman of E Boulder, Broomfield & Erie is here for any Boulder fascia repair projects with our expert handyman professionals. If you're interested in scheduling an appointment or have any additional questions, give us a call or book online via our website.