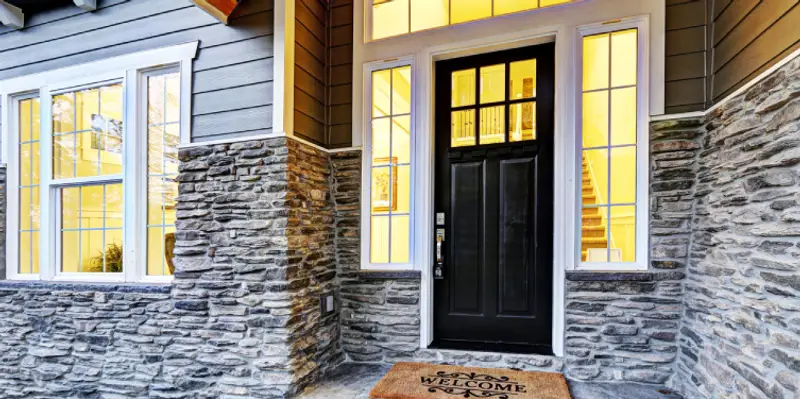 Winters in Denton are short but cold and windy enough to make your home's exterior look rundown and even cause moisture damage to your exterior trim. Repairs are needed from time to time unless you take the necessary measures to maintain them annually. When you walk around your property, you may notice that certain areas have unsightly wet spots or your gutters are leaking. Areas that face north will likely need more time to dry, but those are also hot spots for potential wood rot.
When you're busy with your interior spring-cleaning duties, you will perhaps notice minor inefficiencies on your baseboards, like nail holes or air leaks from around your door casing because the caulk is worn out. While interior trim might be easier to repair, you may require a licensed Denton handyman for exterior trim repair. Denton, TX homeowners, would only put themselves at risk by climbing ladders that might not be up-to-date with inspections or missing early signs of wood rot on their house corner boards.
Mr. Handyman of Flower Mound, Lewisville, and Denton is a locally-owned and operated business that only hires certified service technicians who have passed their background checks, bringing an average of 10 years of experience in home maintenance and repair services. Let your local experts help you detect damage and other early signs of wear and offer preventative solutions and repairs to meet your needs. We will cross out every item on your maintenance list—including exterior trim repair. Denton, TX homes that receive our services will recover their original looks and be safe from structural damage. Our wide range of handiwork includes thorough inspections to ensure we diagnose underlying issues correctly and take care of your property efficiently.
What Is Exterior Trim?
Imagine the exterior of your house without gutters, corner boards, fascia boards, or window and door frames. Not only would it look strange and unfinished, but your house would be unprotected from all kinds of weather conditions. Besides providing your house with a clean aesthetic and finished look, these horizontal and vertical lines support your exterior drainage system. They prevent moisture or water damage that would otherwise compromise your roof, foundation, or structural integrity. Denton exterior trim repair and inspection will enable proper drainage to protect and support your foundation. Your property won't last for its full life expectancy without exterior trim repair. Denton, TX property owners are recommended to add trim work to their seasonal maintenance tasks and keep an eye out for signs that call for repair.
Trim is supposed to have a calming effect on our eyes, showing us that everything is in order and safe. You should see this as a feature that adds to your home's curb appeal, not something that takes away because of unaddressed damage. Here are the examples of exterior trim on your property that requires repair over time:
Soffit and Fascia
These are the fancy names for the parts of your roof's structure closest to your gutter system. Your soffit is situated beneath the roof eave and connects the far edge of your roof to the siding of your house. It is an essential part of your roof eave, designed to reduce moisture and condensation from entering your attic. It ventilates your attic and helps your home stay dry. The main materials used for soffits are wood or aluminum.
Fascia is the horizontal board that connects to your roof rafter's end and supports your overall gutter system. It also creates a barrier between the outside elements and the inside of your roof.
In order to perform well, your soffit and fascia rely on healthy gutters to divert rainwater away from your roof system.
Gutters
Your gutters are the horizontal traps built on the edge of your roof system—typically on the face of your fascia boards. Gutters are designed to divert rainwater away from your roof via a vertical drainage pipe called the downspout. It is usually three to four inches in diameter and bends into an elbow just before it touches the ground. With fully functional gutters, stormwater will be safely redirected to the corresponding storm sewer.
Corner Boards
Also known as corner trim or corner molding, these are primarily installed for aesthetic purposes and, in some cases, to hide imperfections caused during siding installation. Wood is the most common material used.
Window And Door Frames
When we refer to the exterior window trim, we include the head, side casing, and sill. If you have an A-shaped roof with an efficient gutter system and healthy soffit and fascia, parts of your frames should be protected from heavy rains. Most exterior door trims are well-protected, especially when doors are situated on a partly-covered porch. Still, other exterior forces can have a negative effect on them that lead to repair and maintenance needs.
Windows and doors have tight-fitting joints to prevent water and air leaks, but they can compromise your insulation system and increase your utility bills when there are gaps or cracks.
Frieze Board
In hardware stores, they might be referred to as "primed boards." Although not all houses have frieze boards, they are usually installed between the soffit and siding panel. Technically, they support your soffits by keeping moisture at bay and reducing the risks of wood rot underneath your siding.
J-channel And F-channel
J-channels are typically installed around your windows and doors, and f-channels on the inside corners where your siding touches your soffit or roof. Originally, these channels were used as siding trim molding to provide houses with a finished look, but they also contribute as a type of seal and hold materials together.
Exterior Trim Material Types:
Choosing the right material type for your home's exterior can be a difficult decision to make. You want it to be durable, weatherproof, and, preferably, cost-effective. But if you want to keep the need for maintenance to a minimum and avoid early Denton exterior trim repairs, it's important to understand your material's characteristics and pros and cons.
Wood: This is the oldest and most common trim material people use for construction. Natural wood trim commonly uses cedar and redwood because they have high moisture resistance. Although demands are high, they're not as easy to come by anymore unless you're willing to pay a higher price.
Engineered Wood: Similarly to pressure-treated wood, this type consists of wood, glue, and resins and is injected with preservatives and additives to resist moisture and pests. Unlike natural wood, it requires less regular staining and general maintenance.
Fiber Cement: If you want to minimize your need for Denton exterior trim repairs, fiber cement is a good choice. Made of Portland cement, sand, water, and cellulose fibers, it's non-combustible and resistant to rot and impact damage. However, due to its heavy weight, it often comes with higher costs for installation.
Vinyl: Vinyl is cost-effective, durable, easy to install, and easy to maintain with only a minimum amount of maintenance required. But its upfront cost could be just as much as when you install wood-based trim.
Composite: Composite materials are typically made of recycled wood fibers and plastic that make them highly moisture-resistant. They won't crack, split or rot, unlike their wood counterparts. They also don't warp but may sag and buckle, making Denton exterior trim repair or replacement inevitable.
Top Signs You Need Denton Exterior Trim Repair:
Denton, TX homeowners like clean, neat trim, but like all materials around your home, it requires maintenance to stay in shape and small repairs when it suffers from severe weather conditions. Some materials may be more durable than others, but they can all show warning signs of wear and tear that require a qualified service professional to fix. Periodic maintenance is key to keeping your home value. Exterior warning signs are not always easy to spot unless you call your local handyman for exterior trim repair. Denton, TX homeowners who hire our services for outdoor maintenance, can count on our eagle eyes to detect signs of damage.
Despite Denton's hot, muggy summers, it's important to prepare your home for the rainy season. A lot of our customers seek our assistance in gutter cleaning and exterior trim repair. Denton, TX property owners who have slightly older homes or aren't up-to-date with maintenance should look out for the following signs:
Wood Rot on Window Frame
Wood rot is the most common issue that requires Denton exterior trim repair from a wood rot service professional. Any wood-based materials that suffer from a high level of moisture content will eventually start to rot. Wooden frames need routine sanding, staining, and sealing to stay intact. A crack on the head casing could lead to water leaking into your home, which also applies to the side casing and sill. If the moisture sits on the wood, it will rot faster and lure pests like flies and termites.
In most wood rot cases, you will need replacement unless you detect it soon enough, bring it to the attention of your local handyman to repair and replace rotted sections by using an epoxy solution to treat a recovered area. Exterior window trim repair is more common than people think because small maintenance jobs like periodic exterior painting and caulking are required. Door frames in Denton are also susceptible to this problem, which means you'll eventually need exterior door trim repair services too.
Peeling Paint on Fascia Boards
Unfortunately, not many homeowners take this problem seriously. Although newer properties have aluminum fascia boards, many older homes have wooden types. If you see peeling paint on your fascia, you're at risk of wood rot by allowing moisture to seep into your material. We recommend that you call for immediate exterior trim repair. Denton, TX homes are most susceptible to water damage after heavy rains unless you have had your routine gutter cleaning and inspection service done by your local Denton handyman.
Moisture Damage on Soffits
Does your attic feel humid? Do your soffit vents appear to be clogged? Damage to the gutter system or fascia will also impact your soffit. If you have rodents and bugs in your attic or notice musty smells, you likely have damaged or clogged soffit vents.
Frieze Board Damage
Not all homes are equipped with frieze boards, but if you do have them, they should be in good shape, as they serve as a critical component of your house's exterior. Similar to your interior baseboards protecting your floors, the primary purpose of frieze boards is to help your soffit keep moisture out and give your home's seams and corners an aesthetic look. Damage to frieze boards can include cracks or splintering wood that requires siding or exterior trim repair. Denton, TX's climate can take a toll on your outdoor living space! Unlike other types of exterior trim, frieze boards are primarily made of wood materials, but using aluminum could minimize repair needs.
Call Mr. Handyman for Trim Repair in Denton, TX!
Whether you're in Denton, TX, or another community in North Texas such as Lewisville, Lantana, or Justin, you can trust the team of exterior trim repair professionals at Mr. Handyman of Flower Mound, Lewisville, and Denton to provide the best quality workmanship and customer care that exceeds your expectations. You can count on our team for any improvement project or exterior painting services that revolve around healthy trim!
We invite you to give us a call to speak with our friendly customer service reps and book a convenient appointment for professional drywall repairs, door installation, or simply to learn more about our dependable handyman services in Denton, TX.