Do you know the room in your home you're almost guaranteed to visit at least once each day? Your bathroom, of course—it's one of the most utilitarian spaces in any Keller home and gets used dozens of times per day, depending on the size of your household, so it needs to be functioning perfectly and well-suited to the unique needs of your family. But, it should also be inviting and appealing—somewhere that you can also relax and wash the stress of the day away. With a professional bathroom remodel, Keller homeowners can get the appealing, functioning bathroom of their dreams.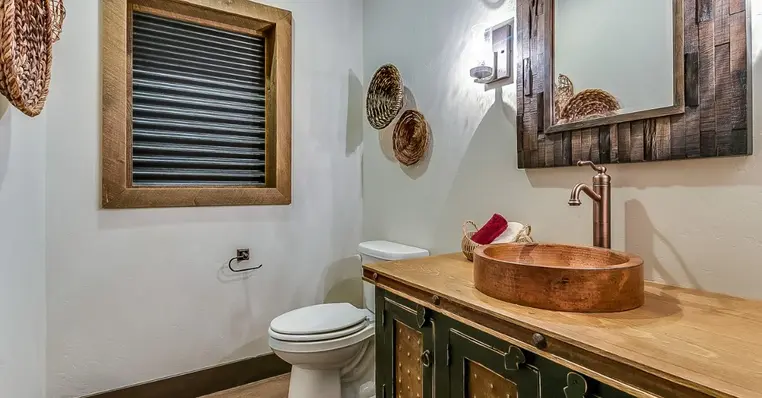 If your bathroom currently falls short of that ideal, you're certainly not alone. Our Keller bathroom remodel service is one of the most highly requested renovations in this area and for good reason. You don't have to keep living with an ugly, outdated bathroom that doesn't function properly when our team of experienced professionals is ready to get started on making your bathroom remodel vision a reality.
When you're ready to get started on a bathroom renovation, count on your local
Keller handyman
for top-quality craftsmanship and exceptional customer service. The team of repair and improvement professionals at Mr. Handyman of Keller, Roanoke and Alliance are experienced with a wide range of services, and our team takes pride in delivering the highest standards of workmanship to every one of our customers.
Our Experienced Keller Bathroom Remodeling Services


There's a lot that goes into bathroom remodeling in Keller, from finishing walls and floors to plumbing and lighting installation. However hiring and managing multiple independent contractors is a big hassle and expense that can make it a lot more difficult to get the project completed on time and on budget. Homeowners need a convenient, one-call solution to reach a team of handyman service professionals who can take care of your entire bathroom remodel from floor to ceiling effectively and efficiently—and that's exactly what you get when you call our team of experts.
Because every bathroom remodel service looks different depending on our customer's needs and goals for their space, our service professionals prefer to provide project cost estimates in person rather than over the phone. We'll send out one of our professionals to your home at a time that works for you to conduct an assessment. Seeing your property firsthand will allow them to provide you with an accurate estimate, at which point you can decide if you'd like to go ahead with the service or hold off.
Here are some of the wide variety of services that may be required as part of your Keller bathroom remodeling project, depending on your individual plan for your home:
Drywall installation and refinishing
Tile installation for floors, walls, or your shower
Bath Remodeling
Custom shower conversions
Painting
Trim repair or installation
Toilet installation
Vanity and mirror installation
Cabinetry installation for extra storage space
Sink installation
Ceiling fan installation
Installation of accessibility features such as grab bars
Installing finishing touches such as the toilet paper holder and towel rack
To fully finish off a bathroom remodel, Keller homeowners should consider adding assembly service or hanging service as well!
Our Team is the Best Choice for a Bathroom Remodel in Keller, TX


When you call the pros at Mr. Handyman of Keller, Roanoke and Alliance for Keller bathroom remodel services, you get complete peace of mind knowing your project will be handled with the utmost care and skill. We are passionate about our work and truly enjoy making a difference in the homes and businesses of Keller and nearby communities.
You can depend on our team to show up promptly for your scheduled appointment in uniform and take the time to answer any questions you may have before we get started. We are capable and experienced and will always display professional courtesy while on your property. Customer satisfaction is our top priority!
Tips for Planning a Keller Bathroom Remodeling Project
Before you can get a bathroom remodel done, you need to make a plan and choose all the various items and materials that will go into the room. If you've started looking around for inspiration, you've probably noticed that there's a lot to choose from and many decisions that need to be made. That can make the process feel really overwhelming at first. Planning out a bathroom remodel in Keller is a big challenge, but it can also be a lot of fun—and it'll all be worth it when you're relaxing in your beautiful, perfectly appointed room that is tailored to your needs and wants.
Focus On The Big Picture
It's easy to get romantic about all those glossy bathroom remodeling inspiration photos and forget to focus on what your family really wants and needs right now and in a few years' time. Don't get caught up on expensive trends that will fade away in a few years and leave your room looking dated and out of style. Also, think about features that may not be so important right now but that you may need in a few years' time. Suppose you're approaching your golden years, or you may be welcoming a family member with reduced mobility into your home. In that case, it pays to consider features such as a walk-in tub or barrier-free shower that could improve the overall accessibility of your bathroom as well.
Leave Room For Unexpected Expenses
You may think you've got absolutely everything included in your budget and have planned it out to the last dollar, but surprise costs have a way of rearing their ugly heads during any type of renovation. Your remodeling expert may remove your old tile flooring, for example, and discover water damage underneath that is affecting the subfloor or joists and needs to be corrected for safety reasons. The best way to deal with that problem is to include a "buffer" in your budget of about 20 or 30% more than you think you'll need. That way, you can deal with unexpected expenses stress-free—and if there's any leftover, you've got the start of a kitchen remodeling fund.
Add A Little Luxury
Lastly, make sure you add in a bit of luxury or an amenity that you've always wanted in your bathroom. It could be something big like a clawfoot tub or marble countertops, but it doesn't necessarily have to be expensive to add a sense of luxury. Smaller touches like a one-touch faucet, a heated towel rack or a seated vanity for applying makeup could be the perfect way to give your new space a relaxing, spa-like atmosphere.
Frequently Asked Questions About Bathroom Remodelling
Want to know more about our services for a bathroom remodel in Keller, or have questions about our other reliable handyman services? Call us today to speak with our friendly customer service representatives and get all your questions answered, or check out our answers to some commonly asked questions below.
Should I Change the Layout During Keller Bathroom Remodeling?
That depends on a few factors. Chances are good that your current floor plan follows one of a few tried-and-true layouts that are designed to maximize space in what is usually a pretty small room. Moving things around and coming up with a new plan that you're satisfied with may be really difficult. The other issue is that it's a lot more expensive to relocate a fixture such as a toilet than it is to just install a new toilet in the same spot where the old one was. If you're looking for ways to keep your budget under control, it makes sense to stick with the same layout you currently have.
That being said, sometimes there are situations where the floor plan is just not working for you and really does need to be changed. Maybe there were errors when the room was first constructed, and you have problems such as the door not being able to open all the way because it bumps into the sink. If your current layout just isn't right and doesn't work for your household, it's time for a change.
It's a good idea to sketch out a top-down view of what you're thinking. It doesn't have to be an artistic masterpiece, but just seeing your thoughts on paper in front of you will help you identify potential trouble spots and make sure you've got enough space to move around properly. It'll also go a long way toward helping your bathroom remodelers understand exactly what kind of bathroom remodeling services you need.
Do I Need a Permit for a Bathroom Remodel in Keller?
According to the City of Keller, "A permit is required to construct, enlarge, alter, repair, move, demolish or change the occupancy of a building or structure; or to erect, install, enlarge, alter, repair, remove, convert or replace any electrical, gas, mechanical or plumbing system." That means permits will likely be necessary for some parts of your bathroom remodel unless it's a light renovation that only involves changing out tiles, countertops or other surface finishes.
However, that's not something you have to worry about too much—our expert team has completed dozens of handyman projects in Keller, and we know which permits are needed for which projects. Our handymen will take care of pulling all necessary permits so you don't have to wade through the paperwork. The City of Keller also requires contractors to register with them before performing remodeling work, and our team members are all fully registered. You can rest assured that our team always meets or exceeds municipal and state requirements, and our team takes care to maintain a safe workplace so we can deliver services with attractive, long-lasting results.
Is It a Good Idea To Convert My Bathtub to a Large Shower?
Our technicians are sometimes asked if it's okay to just get rid of the bath altogether. If you don't enjoy taking baths and never use the tub, converting a tub-shower combo (or just a solo bathtub) to a large, luxurious shower may make perfect sense for you. By getting rid of the tub in favor of a new shower remodel, you get extra space for amenities like a tiled bench seat, additional water jets and storage options for all the bottles and items you want to keep on hand in the shower. That being said, there are two situations in which you may want to rethink ditching your bathtub:
If you're likely to have toddlers in your household within the next few years, you're going to want to hang on to the tub. It is not easy to wash a toddler in a shower—they're slippery!
If you are thinking of selling your home in the near future and you don't have another bathtub elsewhere in your house, it's a good idea to leave it in place. Most prospective home buyers want at least one bathtub, so it could make the sale more difficult if you have removed it.
How Do I Choose a Color Scheme for My Bathroom Remodel?
Most of us aren't professional designers, so when it's time to pick out the colors for a bathroom remodel, Keller homeowners aren't always sure where to start. If you want to sell your property in the near future, it's a good idea to stick with a neutral color palette. But if you're not selling, this is the perfect chance to bring your sense of interior design style into your home.
Try the 60-30-10 trick to help you find the right balance between your color choices. That means the primary color you choose will apply to roughly 60% of the room, 30% of the room will be a complementary secondary color, and the remaining 10% will be dedicated to a contrasting accent color.
How Much Does a Bathroom Remodel in Keller Cost?
The average amount that people in the U.S. spend on bathroom remodeling costs is $10,000. However, knowing the average cost is probably not going to be very helpful because there's such a wide range of possible expenses depending on what you want and need, from a couple of thousand dollars to well over $30,000.
When it comes to creating a budget bathroom remodel, there are lots of options available for keeping costs low while ensuring you get great results. Even by completing a few small changes, such as replacing your flooring or adding trim, you can refresh the feeling that you get from your bathroom and make it more inviting.
Who Will Clean Up The Mess After a Bathroom Remodel?
Renovation can be a messy process, and someone is going to need to clean up once the project is complete. Ideally, that person will not be you. When you call Mr. Handyman of Keller, Roanoke and Alliance, you can rest assured that our team will clean up after ourselves, so all you have to do is relax and enjoy your new bathroom remodel.
Can a Bathroom Remodel Increase Property Value?
Are you planning on putting your house up for sale on the real estate market? If so, a bathroom remodel in Keller should be at the top of your list of projects that can increase property value and ensure a quick sale. A Keller bathroom remodeling project can potentially increase the value of the home, and property owners are often able to recoup a large percentage of remodel costs in the sale price.
But it's not just about the actual selling price. Alongside kitchens, bathrooms are the most important part of a house for many prospective home buyers. That's because those are the rooms that are full of fixtures and built-in features like cabinets, so if those rooms are in rough shape, the potential new homeowners will be faced with a remodel before they can move in. Most would prefer a turn-key home that already has the appropriate renovations taken care of. As a result, the right bathroom remodel can go a long way toward impressing prospective buyers and real estate professionals, which means the sale is likely to happen faster, and you can avoid a long, drawn-out selling period so you can move on new horizons.
Got a Plan For Your Bathroom Remodel in Keller? Trust Your Local Handyman To Make It Happen!
Whether you're in Keller or another nearby area such as Lantana, Westlake or Haslet, you can rely on the professional team at Mr. Handyman of Keller, Roanoke and Alliance to provide outstanding workmanship and customer care for your home improvement project.
Get in touch with us today to book a convenient appointment or chat with our knowledgeable staff about the many residential services and commercial services we offer.