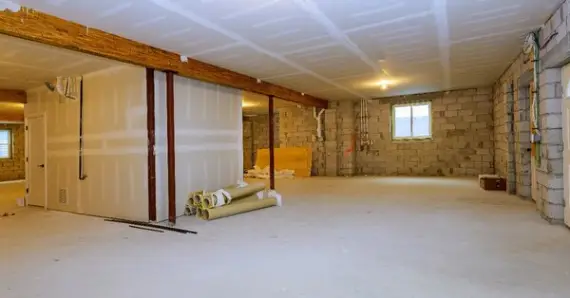 As a homeowner, you take pride in your property and wouldn't shy away from making it more functional, energy efficient, and aesthetically pleasing. That's where renovation services come in! But besides focusing on the main areas like your kitchen and bathroom, there is also your unfinished basement to consider. Perhaps it's unfinished, a partial basement, or it has missing insulation. When hiring Mr. Handyman as your Lehi basement finishing contractor, you can enjoy a maximized living space with added comfort and safety.
Your local Lehi handyman team at Mr. Handyman of Lehi, Provo and Spanish Fork is a pro at completing home remodeling projects with high professional standards and efficiency. If you are ready for that extra usable space, call our friendly office team to find out how the process goes. Or keep reading to learn more about our efficient Lehi basement finishing services!
About Our Professional Lehi Basement Finishing Service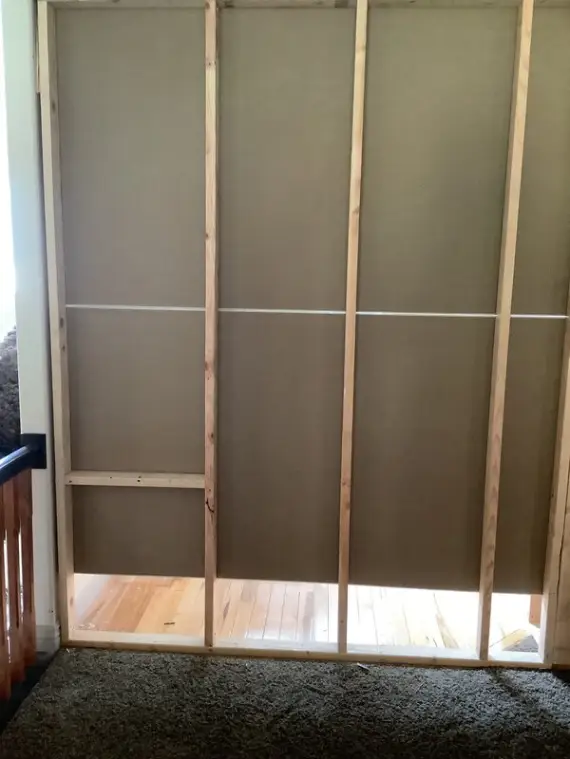 You might come across many legitimate services when you search for "basement finishing near me." However, when you hire our basement contractors at Mr. Handyman of Lehi, Provo and Spanish Fork, you can expect us to do a thorough job from the moment we answer your phone call. As your most experienced basement finishing contractors, we care about important details that ensure safety and efficiency, which is why we'll answer any questions you may have during a formal in-home consultation. Whether you want additional space, a wine cellar, or extra bedrooms, we'll ensure that our expert Lehi basement finishing service will reach your home's fullest potential.
Before a basement finishing, our handyman team will carefully inspect your space for dampness, especially if it's below grade. That's where humidity, mold, and a lack of ventilation are the most common issues. Therefore, it's crucial that you first hire a certified plumber to run the necessary diagnostics and complete a waterproofing service. Depending on the level of dampness your home experiences, your plumber may even suggest installing a sump pump for additional protection from high moisture, but full waterproofing is imperative.
When it comes to older homes constructed using poured concrete for their foundations, it's important to note that these structures may have experienced various forms of wear and tear over the years. As a result, it is not uncommon for them to require foundation repairs before any basement finishing can be undertaken.
Over time, a wide range of factors can contribute to structural damage in concrete foundations. One of the primary culprits is the natural settling of the soil beneath the home. As the soil compacts or shifts due to changes in moisture levels or other environmental factors, it can exert pressure on the foundation walls. This continuous pressure can lead to cracks, shifts, or even bowing of the concrete walls, compromising their integrity. Foundation repair is crucial because it addresses the underlying structural issues and ensures the stability and durability of the home. Professional contractors in Lehi specializing in foundation repair can assess the foundation's condition, identify problems, and recommend appropriate solutions.
Homeowners can ensure a solid and stable foundation for their renovations by addressing foundation issues before embarking on basement finishing. It's crucial to prioritize the home's structural integrity to prevent further damage and create a safe and comfortable living environment for years to come.
Once the necessary foundation repairs and waterproofing have been completed, you can proceed with basement finishing. Lehi basement finishing contractors gather all the materials needed for the finishing project. This involves transforming the basement space into a more livable and functional area, such as a recreational room, office, or additional living space. Basement finishing includes insulation, drywall installation, electrical wiring, plumbing, flooring, and overall aesthetic enhancements, such as finishing walls and ceilings, floor material installation, painting, and trimming.
One of the first steps of your Lehi basement finishing project is insulation installation, which is an important topic we'll discuss during the consultation. From fiberglass to polystyrene foam to spray foam, installing the right type of insulation for your new livable space matters before installing drywall. Floor joists and ceiling joists may be the trickiest depending on their style, but our expert Lehi basement finishing team will find the right way to get it done.
Once all the essentials on the to-do list are done, our team will move on to the renovation process which includes drywall installation, flooring installation, and more.
Why Hire Mr. Handyman for Your Lehi Basement Finishing Project?
Welcome to Mr. Handyman of Lehi, Provo, and Spanish Fork—a trusted and professional one-stop solution for all your home maintenance, repair, and improvement services. We have become North America's leading home service franchise with our exceptional track record and commitment to delivering high-quality workmanship and outstanding customer service. Our company's Done Right Promise ensures your satisfaction is our top priority.
At Mr. Handyman of Lehi, Provo, and Spanish Fork, we take pride in our dedicated team of highly skilled specialists in handling a wide range of renovation issues. While some homeowners or business owners may be tempted to take on their own residential or commercial building renovations, we firmly believe that Lehi basement finishing is a job best left to the service professionals. This process requires a great deal of precision and attention to detail, including insulation and waterproofing, which, if not done correctly, can lead to potential damage to your property in the long run. Additionally, DIY enthusiasts would need to acquire the right tools and supplies, and you want to avoid any mistakes or mishaps when it comes to your basement.
You can trust our Lehi basement finishing contractors—a team of qualified experts that boasts an average of ten years of experience. We handle basement remodeling with experience and skill, ensuring your project is in capable hands. We hold ourselves to exceptionally high standards and take great pride in our workmanship and our commitment to providing excellent customer service. From the moment our team walks through your door, you will experience the difference in our professionalism and dedication.
We stand behind our workmanship with a guarantee and offer affordable project costs for a wide range of handyman services, including drywall repair, stucco repair, door replacement and installation, fence repair, gutter cleaning, siding repair, and much more. While we're discussing your basement project, it's worth mentioning that Mr. Handyman of Lehi, Provo, and Spanish Fork also offers a popular bathroom remodeling service. If you're considering upgrading your bathroom to enhance functionality and aesthetics, our skilled team can provide comprehensive remodeling solutions tailored to your needs. Whether it's updating fixtures, replacing tiles, or completely transforming the space, we have the expertise to bring your bathroom vision to life. Whatever your home improvement project entails, our courteous team of professionals is ready and eager to bring it to life.
When you choose Mr. Handyman of Lehi, Provo, and Spanish Fork for professional basement finishing in Lehi, you can have complete peace of mind knowing that our team is committed to delivering a successful construction experience for your extra living space. Your safety and comfort are our top priorities, and we will ensure that your basement is transformed into a functional and aesthetically pleasing space. Don't hesitate to reach out to us for your next home improvement project. Let Mr. Handyman take care of all your renovation needs with our expertise, reliability, and commitment to excellence.
FAQs About Basement Finishing in Lehi, UT
What Are the Typical Inspections and Repairs Needed Before a Basement Finishing?
Property owners in the Lehi area should hire a licensed plumber to inspect their basements for cracks and leaks, as they are the culprits of high humidity levels. It's often recommended to have a reliable sump pump in place to handle moisture levels and control potential floods. Your service provider will check the foundation walls and utilities and complete the waterproofing. You may also need foundation repairs from foundation specialists to restore your home's structural integrity.
How Do You Finish A Basement Floor and Ceiling?
To finish a basement floor and ceiling, several key steps are involved by basement remodeling contractors. While your basement flooring is most likely concrete floors, we highly recommend a subfloor installation to keep the area warm and dry. So we'll probably install plywood on top of your floor insulation before moving on to your flooring installation. Finishing the basement floor requires the following:
Evaluate the condition of the existing square footage and basement size and address any issues, such as cracks or dampness, during basement remodeling.
Take measures to prevent moisture by waterproofing and sealing any cracks or gaps.
Consider installing a subfloor to provide insulation, moisture protection, and a level surface for the finished floor space.
Select a suitable flooring material for the basement layout, such as laminate, engineered hardwood, vinyl plank, or ceramic tiles.
Follow the manufacturer's instructions to install the chosen flooring material, ensuring proper adhesion or interlocking mechanisms.
The easiest way to handle the basement ceiling is to add drywall or create a drop ceiling. Finishing the basement walls and ceiling requires the following:
Assess the ceiling height and consider necessary clearances for utilities like ductwork or pipes.
Install insulation between the ceiling joists to improve energy efficiency and soundproofing.
Choose a suitable ceiling material based on aesthetics, functionality, and budget, such as drywall, drop ceilings, wood panels, or suspended ceiling systems.
Install and secure the chosen ceiling material, whether it's drywall panels, a drop ceiling grid, or other options.
Apply finishing touches like paint, texture, or decorative elements to enhance the appearance of the ceiling.
It's worth noting that the specific details and techniques involved in finishing a basement floor and ceiling can vary based on factors such as the condition of the space, local building codes, and personal preferences. If you're unsure or uncomfortable with any aspect of the process, consult our professional contractors, who can provide guidance and ensure a successful outcome.
Do I Need A Building Permit For Lehi Basement Finishing?
Absolutely. It's one of the first things you need to obtain before hiring any professional to renovate or remodel your home. It's crucial to remember that getting a building permit helps ensure that your basement remodeling project meets safety standards, electrical and plumbing codes, and other regulations. Failure to obtain the required permit can result in penalties, fines, or complications when selling or insuring your property.
To determine the specific permit requirements for basement finishing in Lehi, contact the Lehi City Planning and Zoning Department or the Building Department. They will provide the most accurate information regarding permits, regulations, and any necessary inspections for your project. Additionally, consulting with a professional contractor experienced in Lehi basement finishing projects can be beneficial. Mr. Handyman of Lehi, Provo and Spanish Fork are knowledgeable about local building codes and can assist you in navigating the permit process.
What Adds the Most Value To A Finished Basement?
During the basement finishing process, homeowners share their goals with us; honestly, every type of renovation will increase your return on investment. If your home is newer and the size permits, an additional bedroom will increase your home's resale value. Or turning the extra space into a functional space, such as a hobby room, gym, workshop, or kids' playroom, will also add the most value.
Ultimately, it doesn't matter what the finished space looks like or is used for as long as the most challenging part has been completed: waterproofing and basement finishing. Your dream basement will come to life with Mr. Handyman of Lehi, Provo and Spanish Fork.
Looking for Expert Lehi Basement Finishing Contractors? Contact Mr. Handyman Today!
Undertaking any type of home refinishing or renovation project can be a significant undertaking, requiring a considerable investment of time and effort. This is especially true in areas like your basement, where specific challenges can arise. To ensure a successful outcome and avoid potential pitfalls, it's crucial to entrust your basement renovation to licensed and experienced contractors. Luckily, the expert team at Mr. Handyman of Lehi, Provo, and Spanish Fork specializes in all aspects of home improvement projects, catering to homeowners in various locations, including Alpine, Highland, and beyond.
When you choose Mr. Handyman, you gain access to a well-versed team of professionals in basement refinishing and renovations. We understand the unique considerations and potential complications during basement projects, such as moisture issues, insulation requirements, and proper ventilation. Our licensed contractors have the expertise to handle these challenges effectively, ensuring that your basement transformation exceeds your expectations.
Contact our friendly customer service staff to get started on your dream basement. Give us a call today, and we'll schedule an in-home consultation and inspection. Let our professional team guide you through the process, ensuring a successful and satisfying home improvement experience.