Top 13 Things to Ask Before Hiring an Arlington Handyman Company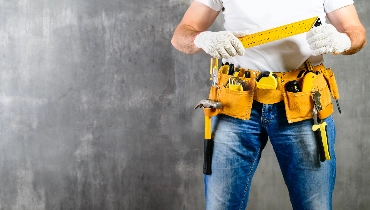 Who can update the style of your kitchen? Make old structures feel like new? Perform regular maintenance checks all of the way through? A handyman can!
Handyman companies provide numerous services and repairs. The technicians have trade skills, conduct maintenance work, and can perform interior and exterior renovations.
In America, the need for handyman companies has been steadily rising. Handyman services increased by 6.2% between 2014 and 2018.
With higher demand, there are more handyman businesses to choose from than ever. So, how can you be sure to pick the right Arlington handyman company?
Knowledge is power, especially for consumers. Interview your prospective repair service to learn as much about the company as possible. Once you have your answers, you can determine if it's the most suitable team for you.
Keep reading to discover the types of questions you should ask your prospective Arlington handyman company.
1. What Services Do You Offer?
First things first, inquire about the types of services the business provides. You need a handyman company that can solve your particular problems and caters to your specific type of property.
Are you looking for a handyman that works with residential or commercial properties? Do you need a company that will install or remove large appliances? Are you looking for routine maintenance, or do you need to repair a specific problem?
If you have multiple issues on your property, you will want to work with an Arlington handyman company that provides a variety of services.
Look for a handyman company with experience in:
Carpentry
Structure installation and assembly
Regular residential or commercial maintenance
Painting
HVAC installations, removals, and repairs
Choosing a reliable company that offers numerous repair services means you can continue working with the same people over the years. Instead of finding a new company for every problem your property faces, you can call your go-to technicians.
2. Do You Have Experience Working With My Specific Problem?
If you're hiring a team to take care of a large project on your property, make sure they can handle the job.
Ask the handyman repair company if they have experience performing the work you're looking for.
Find out how the project went in the past and how long it took to complete, and ask about any obstacles the team faced. Inquire if the handyman has photos of the finished product.
3. What Are Your Rates?
Before you agree to work with a handyman company, learn about how the establishment charges its customers.
Some questions to ask regarding handyman rates include:
Does the company charge per hour or based on projects?
Are there outside factors that could add to the final price?
How does the business handle travel time?
Does the written quote include the cost of labor and materials?
Request a written quote or estimate. An estimate allows customers to budget for their project and eliminates surprises that may come with the bill.
Receiving an estimate also gives customers power. You can reach out to a few different handyman companies and get quotes on your proposed repairs. Once you know the different price options, pick a company that will provide solid service, workmanship, and fits your budget.
4. What Payment Options Do You Accept?
Make sure your prospective handyman company can accommodate your intended payment method.
Does the company accept all major credit cards? It might seem like a weird question to ask in 2020, but 55% of American small businesses do not accept credit cards.
Inquire about payment plans and deposits. Some handyman companies may require customers to put down a portion of the total cost at the start of the project.
While you're on the subject of payment, ask about discounts for certain payment methods.
Some companies encourage cash or check sales, and may offer a small discount for those who pay with those methods. On the contrary, some businesses may add extra fees to cover credit card processing rates.
5. When Would Your Team Be Available to Begin?
Timing plays a key role in deciding on an Arlington handyman company. Some repairs simply can't wait, so neither can you. Before you agree to anything, find out about your prospective company's availability.
If you're embarking on a major project, how soon will the technicians be able to start and complete the job? Ask about the company's regular hours and if they provide emergency repair services. Can the project be completed within one day, or will it take a week?
Don't forget to inquire about the hours in which the handyman will be working on your property. Will they be starting early in the morning? If so, you might want to give your neighbors a courtesy call.
Discussing timelines early-on with your handyman helps you determine a schedule. Once you have an accurate timeline, your handyman should agree to stick to it.
6. Do You Have Any References or Reviews?
A reputable handyman services company should be happy to provide new customers with client testimonials and references.
You want to work with a trustworthy business, especially if you're giving the company access to your home. Speaking with past customers about their experiences can give you a head's up on how the business operates and the quality of work they provide.
If you have the opportunity to speak with a reference, have a few questions prepared, including:
Were the workers punctual?
Did the technicians respect your property?
Did you feel comfortable leaving the workers unsupervised in your home?
Was your quote accurate, or were there surprise charges included in the final bill?
Were you satisfied with the work?
Would you recommend this business for others?
In addition to connecting with references, you can also learn more about the company from online reviews. In fact, 91% of people regularly check out a business's online reviews, and 84% trust online feedback as much as a personal recommendation.
Check websites like Google, Facebook, Yelp, Angie's List, and Trustpilot for honest feedback from a broad range of clientele.
7. What Are Your Qualifications?
Understand the full range of capabilities your handyman company has to offer. Ensure the business you work with is responsible, qualified, and well-equipped to handle your repairs.
Find out about the technicians' certifications and training. Have the repairmen gone through college or vocational training programs? Inquire how the business handles safety and the type of equipment the workers utilize.
Ask about how long the company has been in business? Years of experience speak volumes. Not only will the leaders be well-equipped to handle repairs, but it also means the company has loyal customers.
8. Is Your Handyman Company Insured and Licensed?
Do not work with a business that is not up-to-date on its licenses or does not have insurance. Insurance is intended to protect workers and customers. Employing an uninsured or unlicensed handyman can lead to serious problems.
If accidents occur on your property, you could be held responsible. If you're unhappy with the work, or the company didn't finish the project, you may have trouble getting in contact with the business and getting a refund.
Ask your prospective handyman company for licensing, bonding, and insurance information to verify you are working with a legitimate business.
In Texas, you do not need a license to become a handyman. However, you do need a license to perform specialized services, such as plumbing, electrical, AC, heating, ventilating, and fire system work.
While licenses are not a requirement in Arlington, many handyman companies still possess them or have certifications that guarantee reliable services.
You should also inquire if the company is accredited by the Better Business Bureau. The BBB certifies trustworthy and honest businesses. A BBB accreditation means you're working with a reputable company.
Talk to your Arlington handyman company about the business's credentials. If you don't feel like the company is legitimate, then don't sign a contract.
9. Who Will File for the Permit?
Certain property repairs and construction require permits. The owner or the handyman can file for the necessary permits.
Will your handyman company take care of the permits, or will that fall on you? If it's up to you, what is the process for obtaining the correct permit? If the handyman company takes care of the permit, will the costs be added to your final bill?
Discussing permits with the handyman company can give you insights into what needs to be done before the work can begin. Some permits take a few weeks for approval, especially during busy home remodeling seasons.
10. Does Your Company Provide a Guarantee?
Some handyman services establish a written guarantee in their contracts. The guarantee provides complete customer satisfaction. The company will often supply complimentary repairs if their work fails after the project has been completed.
Some companies may also offer one-year warranties on their services. Standard warranties ensure quick repairs, as long as the handymen are notified within 10 days of the defect, and the work has not been modified, altered, or defaced.
Guarantees and warranties protect consumers from insufficient work. They ensure clients receive the work they paid for and hold contractors accountable.
Don't wait until something fails to ask your handyman about repairs. Find out before you start the project. Handymen who provide guarantees prove they stand by their work and care about customer satisfaction.
11. What Is Your Preferred Form of Communication?
If you're starting a large project, communication is key. Ask your prospective company how often they will communicate with you and what their preferred method will be.
For example, will the business send out daily emails with updates? Do the technicians prefer to text or call customers? Should you expect invoices to arrive via mail or over email?
If there is a problem, will the company call you to discuss options? If added costs come up throughout the work, will the technicians contact you before moving ahead with the job?
All of this information is important. You want to make sure you're on the same page as your contractors. Communicating throughout the process keeps the project on track.
12. Will You Be Performing the Work or Will There Be a Team?
When you meet with your prospective handyman, find out what the team for your project will look like. Will it be one technician, or should you be expecting a few different people on your property?
Your handyman should also let you know if the company plans to team up with outside contractors to assist with the project. It's good for owners to know exactly who is on their land and why. The costs of the subcontractors should already be included in your quote.
13. Can You Tell Me About Your Business?
Finally, get to know the people you're going to be working with.
Ask the handyman company about its history and what made them decide to get involved in the industry. Example questions include:
How many years has the company been serving the Arlington area?
Are most of the employees local?
What are the business's most notable accomplishments?
Learning more about the faces behind a business gives you valuable insights into how the company operates. Handymen who are passionate about their work are more likely to go the extra mile for their customers.
Finding the Right Arlington Handyman Company
Ask all of these questions and any others that come to mind to ensure you're working with a reputable and trustworthy repair team.
If you're looking for the best Arlington handyman company, you've come to the right place. Our reliable team of experts will take care of all of your repairs, so your property can stay in tip-top shape.
Do you have any questions for us? We've got the answers you're looking for. Get in touch with our Arlington team now.