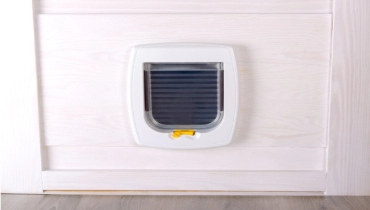 If you have a pet, naturally you want to give little Spot, Cooper, Mr. Whiskers or Tabitha the very best quality of life possible. You likely have an array of the latest toys and treats, have researched what ingredients to avoid in pet food, take your four-legged friends for walks and look forward to cuddles every day.
Obviously, you can't be home all the time. Between work, running errands and spending time with friends and family, you're not always around—even if your pets wish you could be. So, wouldn't it be nice if there was a way Spike could let himself out when he needed to?
There is! At Mr. Handyman of Dallas, we're pros at putting together all types of doors, including doggie door installation. For both cats and dogs, access to the outdoors is a huge quality of life booster. When you're not home, your furry friend can let themselves out to do their business, prowl through your property or simply have a bit of freedom.
We can add the paw-fectly sized entrance to your porch so Cupcake can lounge about in the grass to her heart's content. But, before you decide to invest in dog door installation services, there are a few considerations to keep in mind:
1. Spoiled for Choice
When you think of a pet door, what comes to mind? Likely, you thought of the traditional rectangle hole cut-out with a plastic flap. However, these days there are many more options. Not only are they available in a wide range of sizes and colors, but different models also offer different benefits. For instance, you could invest in:
Energy efficient models that reduce drafts and are insulating
Pet doors that can be installed in sliding glass doors
Wall-entry pet doors that can be installed in an exterior wall, rather than an exterior door
Interior models that connect to different rooms
Lightweight, inexpensive doggie entryways that install in screen doors
Units that fit into an open window (perfect for your feline friends!)
Secure models that only open if your four-legged friend is wearing a microchipped collar
2. Consider Size
All too often, we encounter homeowners who bought the wrong-sized frame. If you're browsing online, it's hard to judge the size of model cats and dogs, and easy to assume they're the same size as your little critter. If your pet can't use it, you'll have added a hole in your door and spent money all for nothing. Avoid buyers regret by following these pro-tips:
If your pet is still a puppy or kitten, research the maximum size he or she will grow to. Yes, you might only need a small entryway now, but your Australian Shepherd will likely need a medium-size doggy door once he's full-grown. This logic also follows for kittens compared to full-grown cats.
Take measurements of your furry friends to know how much space they really need. It's important to measure both width and height. If you have multiple pets, the frame needs to accommodate them both.
Pro Tip:
If your pets are strikingly different in size, for example you have a Yorkshire Terrier and a Golden Retriever, you might need two different sized frames. The little terrier will not likely be able to push open a very heavy model made for a larger animal.
3. Adjustment Period
Your canine or feline friend will not necessarily know how to make the most of their new-found freedom right away. Naturally this depends on your pet's personality, but he or she may need a little encouragement before they start using the door regularly. If you've noticed Fluffy isn't using it as much as you thought she would, try these tips:
If your cat or dog is small enough, gently pass them to a friend or family member through the door, so they know its purpose
Have a loved one stand outside and call your pet; once they get through, reward them with a little treat
Be patient, as it might take a while for your pet to get used to the entrance
4. Know the Disadvantages
Although dog door installation has many benefits—giving you peace of mind while you're away because your furry friend can get out on their own, reducing the risk of accidents and increasing his or her freedom—you should know the possible drawbacks before investing in this project.
Your front or porch entryway's warranty will be voided if you install a pet door
Large holes can cause problems; your house's exterior will be vulnerable to intruders and other animals—like raccoons
Toddlers and small children might crawl through medium to large cut-outs
If it's mucky out, your feline or canine friend might track in dirt, mud and other debris before you have a chance to clean him or her off
Hire the Experts at Mr. Handyman Today!
Are you ready to hire the pros at Mr. Handyman of Dallas for your next pet door installation project? Help your four-legged friend have the freedom they desire, and make your own life a little easier in the process, with the help of our expert team. Not only do each of our service technicians possess years of industry experience, but we're animal lovers too. The same excellent customer service we provide to clients throughout Addison, Mesquite, Balch Springs and Garland, we'll also show to you.
To book one of our contractors for your door repair and installation needs today, we invite you to give our friendly office staff a call.