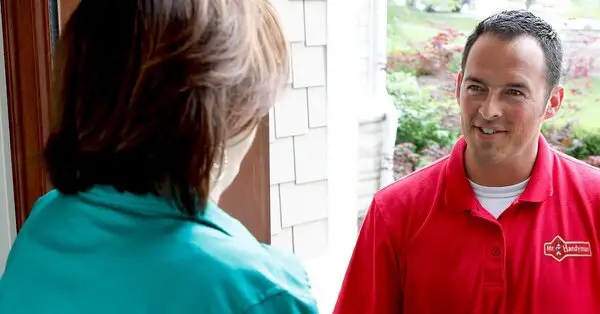 Are you looking for a dependable handyman in Garland, TX? Whether you need a reliable handyman contractor for renovation, home repair services, or home maintenance services, look no further than the courteous and qualified team at Mr. Handyman of Dallas.
If you need help repairing damaged tile in your bathroom, putting up a new vanity, repairing a broken front door screen, or fixing a dented sheet of drywall, our Garland handyman professionals have it covered. There is no task too big or too small for our expert team.
Our team of trained service technicians are honored to serve Garland and its surrounding communities. Not only will we ensure that your home improvement tasks are completed efficiently and correctly the first time, but we will also treat you and your home with courtesy and respect. Integrity, trust, and honesty are the core values of everything we do.
Serving Communities in and Around Garland, TX
The team at Mr. Handyman is honored to serve the greater Dallas Area, including Garland and many nearby areas, such as Rowlett, Sachse, and Richardson.
Are you curious to learn more about our local list of services? If so, we invite you to give our friendly staff a call today. to find out how our professional handyman services in Garland, TX can improve your living space. We'll be more than happy to answer any of your questions and to learn more about your next home remodeling project.
Expert Services From Mr. Handyman | Garland, TX
At Mr. Handyman, each of our Garland handyman professionals possess an average of ten years' experience in the trades. Whether you need help with a house remodeling project or property maintenance services—such as door installations, furniture assembly, and drywall repair—we've got it covered! Our excellent service providers have the skills, equipment, industry knowledge, and professionalism to get the job done right the first time.
Continue reading to learn more about a few of our most requested services:
DRYWALL REPAIR
Cracked, dented, scratched, or damaged drywall is unsightly and can impact the overall structural integrity of your home. Our Garland handyman professionals can quickly repair your damaged drywall without compromising our outstanding work quality. We will also look for underlying causes of the damage. For example, water damage on the drywall in your bathroom could mean that you have a leak in your home or a faulty bathroom fan. Likewise, hairline cracks in your drywall could mean that your home's foundation is shifting. After completing our job, we will clean up our job site and paint over the replaced drywall so that it matches the rest of your walls.
Our experts can assist with a variety of drywall-related tasks, including:
Taping
Mudding
New drywall installation
Painting over repaired drywall or texturing
Ceiling repair, refinishing
FRONT DOOR INSTALLATION AND REPAIR
Your front door is the entryway to your home. It adds to your home's character, welcomes friends and family, and increases your property's curb appeal. Additionally, your front door helps keep you and your loved ones safe.
If your front door has recently been damaged or needs a little TLC to get it looking good-as-new, trust the professionals at Mr. Handyman. Garland, TX homeowners will get the peace of mind knowing that our skillful handyman professionals can complete a wide range of front door repairs so that the entryway to your home is returned to its former glory.
Otherwise, if it's simply time for a door replacement, we can handle the installation requirements for you. We will show up on time, bring all the required tools, and do our best to disturb your family as little as possible while we complete your front door repair or installation job.
When in need of professional door repair, hire our experienced handyman. Garland, TX homeowners can expect us to fix the following issues:
Sticking doors
Squeaking doors
Air leaks
Damaged door jambs
Rotting / soft wood
Broken door locks
Screen door repairs
And more!
CEILING FAN INSTALLATION
You may think that a ceiling fan is outdated, but we beg to differ. These are great units to have when you want to better manage your indoor comfort, improve your home's energy efficiency, and save on your monthly energy bill. Ceiling fan installations are a common Garland handyman service we provide to our customers who want to improve indoor air distribution during summer and winter. Use it in the summer, and it will prevent cooled AC air from dropping too fast, whereas in the winter, it will stop heated furnace air from rising rapidly. Some customers have reported to us that they were able to save between ten to 15% on their monthly bills.
For expert ceiling fan installation and replacement jobs, you'll get the best results from our skilled handyman. Garland, TX homeowners can choose between three-blade, four-blade, and 5-blade units. During a formal consultation, we'll inspect your living space before determining which unit will benefit you the most.
FENCE REPAIR
A fence doesn't just mark your territory, but it also protects your kids and pets. Wood fences, particularly cedar and pine, are the most popular types of fencing systems out there. While they're naturally moisture resistant, it's important to keep up with regular maintenance, such as sanding and resealing the surface or their unique colors may fade. There is also an art to proper fence installation and may involve pouring concrete for your fence posts for increased stability. The actual pickets are not supposed to come in contact with the soil. Since Texas has very unreliable clay-like soil, it's easy to encounter problems like soil erosion. Common fence repairs include fixing leaning posts, wood rot, and other types of weather damage. But with a trusted handyman, Garland, TX homeowners can expect a healthy fence system that will last for years.
HOME ACCESSIBILITY FOR AGING IN PLACE MODIFICATIONS
Whether you have a family member with reduced mobility or are a senior who lives alone and wants to maintain independence, Mr. Handyman of Dallas is certified to complete aging in place modifications.
Some of the most common home accessibility projects we do include:
Guard rail or grab bar installation
Tub-to-shower conversion
Walk-in bathtub installation with seat
Raised toilet seats
Doorway widening
Wheelchair ramp installation
Improving light systems
Slip-resistant floor installation
And more!
We care about your safety, comfort, and well-being in your own home and want to offer all we can to help you maintain your independence. Some may be worried about decreasing their home value, which is absolutely not the case. When hiring a qualified handyman, Garland, TX homeowners are, in fact, benefiting from a valuable home improvement service which will actually boost your home's resale value, depending on who your target buyer is.
BATHROOM REMODELING
Are you looking for a licensed contractor in Garland for bathroom remodeling? Look no further than Mr. Handyman! Garland, TX property owners will be surprised about how versatile we are! Our Garland handyman professionals can efficiently and professionally handle your bathroom remodel, so you can avoid the stress and hassle of such a big job. Each of our technicians possess an average of ten years' experience in the trades and are well-versed in completing a variety of bathroom renovation to-dos. With the team of experts at Mr. Handyman, Garland, TX bathrooms will shine once again!
Our bathroom remodeling services include:
New shower door installation
Bathroom tile installation
Drywall installation
Flooring installation
Vanity or mirror installation
And more!
Commercial Handyman Services | Garland, TX
As a busy business owner or commercial property manager you have work to do around the clock to ensure the safety and well-being of employees, customers, and the general public. It can be a very overwhelming job, if you're in charge of completing most of the work, but this will change when you have a dependable, commercial handyman. Garland, TX businesses in commercial buildings require more upkeep than the standard residential home. So you likely keep a calendar with maintenance and repair schedules that need to occur on an annual basis. But a lot of the regular maintenance services require certified professionals according to local building codes. Besides staying on top of your property maintenance, you can also hire our professional services for indoor repairs and other larger projects. Common handyman services in Garland, TX include:
Commercial door installation and repair
Floor installation and repair
Ceiling panel repair
Countertop and backsplash installation
Restroom repairs
Graffiti removal
Whether you own a small retail shop or are in charge of a shopping mall, financial institution, or a municipal building, our commercial handymen in Garland, TX are ready for any maintenance or improvement projects that you may have.
Photos from Our Customers in and Around Garland, TX
Our handyman company understands the importance of feeling secure when hiring a local handyman in Garland, TX to come to your home. That's why we ask all of our clients to document the work we complete, so that you can see the Mr. Handyman difference for yourself.
DRYWALL REPAIR IN GARLAND, TX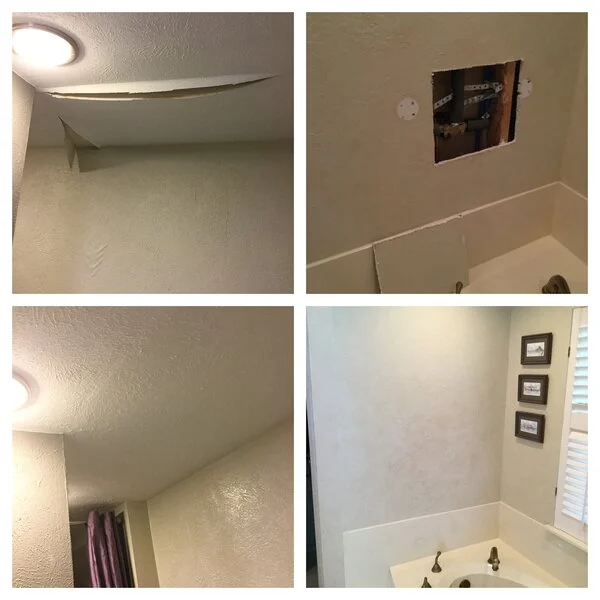 Is your drywall cracked, chipped, dented, or stained? Don't leave damaged drywall alone, or it will only get worse. Instead, call our qualified handyman services in Garland, TX, and we'll get your damaged drywall repaired as soon as possible.
FRONT DOOR REPAIR IN GARLAND, TX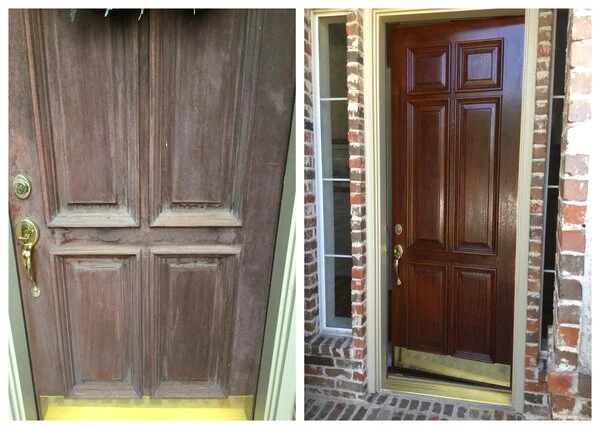 Is your front door looking worse for wear? Whether you need a screen repaired, a door handle replaced, or your squeaky hinges fixed, the professionals at Mr. Handyman can help!
BATHROOM REMODEL IN GARLAND, TX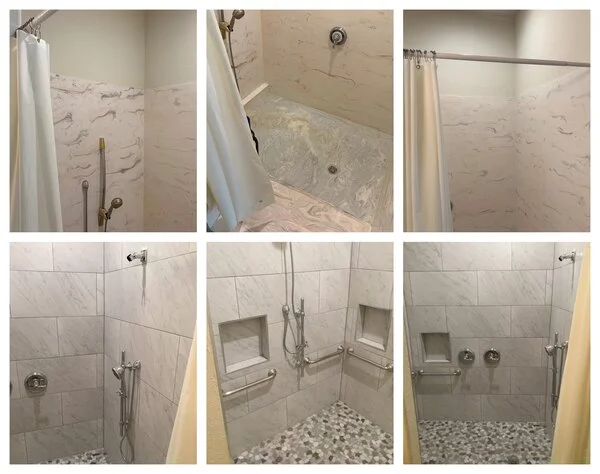 Seeking reliable handyman services for a bathroom remodel? You are at the right place! When you want to spruce up your bathroom, count on our expert handyman services in Garland, TX to get it done!
Need a Garland Handyman?
Our team of courteous and qualified Garland handyman technicians always put the needs of our customers first. Not only will we complete your home maintenance services right the first time, but we will also treat you and your home with respect. As part of the Garland community, we are diligent in bringing the values of trust, integrity, and honesty into every job.
If you need help checking off your list of minor home repair services and improvement to-dos, give our excellent customer service staff a call today! We look forward to learning more about your next project.