What Homeowners Should Know About Dallas Exterior Trim Installation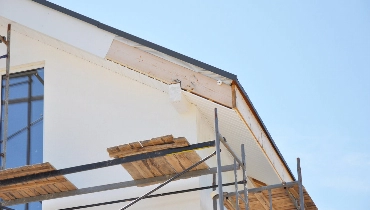 Most exterior trim in Dallas is made up of two main components: soffits and fascia boards. Sometimes, this area of your home might be referred to as decking or roof rafters. It's a part of your home that serves both practical and decorative functions. Exterior trim can also be found on other areas of your home in smaller features, such as around windows and doors. Those features look nice, but they also help to keep your Dallas home comfortable and safe. When damaged, it's important to get rapid Dallas exterior trim installation services to replace any broken areas.
A roof without exterior trim is like a photo without a frame—it looks unfinished. Not to mention, missing or damaged soffits and fascia can enable the elements, pests and water damage to infiltrate your home. While proper maintenance is integral for preventing damage, when you notice signs of trouble, that usually means you need Dallas exterior trim installation service from your trusted local handyman experts.
Exterior trim installation can be a big undertaking, and you may not always know when it's time to replace your old soffits and fascia boards. To help you know when it's time for installation services, the pros at Mr. Handyman of Dallas put together the following guide. It's important for Dallas homeowners to be able to recognize the signs that it's time to start thinking about exterior trim installation, and also how such a big project can be prevented through proactive maintenance.
Your home is one of your most important assets. Thus, our Dallas handyman team will always strive to help you take the best care of it as possible. We provide quality workmanship, excellent customer service and years of experience. Our highly trained technicians can install a wide range of exterior trim materials, and are experts at repairing a variety of damage.
What is Exterior Trim?
Let's start with the basics. Soffits and fascia boards are two of the biggest elements that make up exterior trim. They work together to keep your home's exterior looking attractive, while preventing a range of problems. There is also trim that sits around exterior windows, doors and other similar features. These areas contribute to your curb appeal, so if they're broken and you're thinking of selling your home, investing in installation services is a wise choice. You may also want to install new exterior trim to refresh the look of your home, or to opt for materials that will wear better over time. If your soffits and fascia are still in good shape, an easy way to refresh their appearance is by painting them.
The difference between these two structural elements is that the soffits run beneath your roof. If you stand directly beneath your roof and look up, you'll be looking at soffits. Meanwhile, fascia boards run perpendicular to these beams. When looking directly at your house, you're looking at fascia. This is usually what most people think of when envisioning exterior trim.
What Different Materials are Used for Dallas Exterior Trim Installation?
If you're planning to go out with the old and in with the new, so to speak, then it's important to do your research before installation and decide what kind of exterior trim design is best for your needs. Soffits and fascia are available in many different materials. From the choice of color to making sure your trim matches all exterior doors, the options for installation in Dallas are endless.
Wood: This material is very traditional, and is usually found on older, historic homes in Dallas. Standard wood trim is beautiful and evokes a very classic look. However, it does require frequent maintenance to prevent wood rot from spreading when exposed to moisture. Wood can be painted or stained to refresh your home's appearance.
Vinyl/PVC (polyvinyl chloride): The biggest advantage of this vinyl is that it is relatively affordable. Plastic trim is also low maintenance compared to other materials, especially wood. It doesn't need to be repainted, will retain its color over the years, and can be easily cleaned with a pressure washer. It also won't suffer from rot as a result of moisture absorption.
Fiber cement: There are many advantages to choosing fiber cement. It lasts more than 50 years, is available in many different colors and styles, and is even fire and heat-resistant. One reason why Dallas homeowners love fiber cement is that it can even look like wood, but will not rot.
Aluminum: This material has many benefits. It's fireproof, incredibly durable, inexpensive to install, and helps deter pests—preventing rodents and insects from getting into your home through your gutters.
Steel: Offering similar benefits to aluminum, what sets this material apart is that it is even more durable than other metals—including aluminum. This is also reflected in the price point.
Why Do These Parts of Your Exterior Wall Matter?
Soffits and fascia boards don't take up that much space, unlike other aspects of your home's exterior such as siding. However, exterior trim installation is still very important for a variety of reasons. Along with boosting curb appeal, these architectural features work hard to protect Dallas homes by:
Venting excess heat and moisture out of the attic space by ensuring proper airflow
Keeping utility bills normal via proper ventilation and air circulation
Stopping pests from infiltrating your home
Securing gutters against the outside of your house
Preventing moisture from entering your attic and damaging wood rafters or drywall
What Causes Damage to Dallas Exterior Trim?
Now, let's get down to why you're likely reading this blog. Chances are, if you're interested in exterior trim installation services, you've noticed a problem with your soffits, fascia or both. Even though these architectural features are built to last, they can still get damaged over time—like anything else in your home. You may be wondering how this damage happens. There are two main culprits:
Exposure to Elements
Exterior trim is one of the architectural features that protects your home's interior from wind, rain, hail and even damage from the sun. It prevents rain and moisture from infiltrating your home, which in turn helps prevent wood rot and mold growth. But doing so means that your trim will wear down over time—since it's weathering the storm for you, so to speak.
Clogged Gutters
Gutters are attached to your exterior trim. When you hire Dallas exterior trim installation services, part of that will involve re-hanging your gutters. Since your gutters are connected to soffit and fascia boards, when there is a problem with your gutters it often impacts these architectural features. In fact, poor gutter maintenance is one of the leading causes of fascia and soffit damage.
Gutters should be cleaned out at least twice a year in Dallas. Clogged gutters mean that water can't flow properly through the system. Instead, it spills over the edge of your house. This causes a range of issues and can affect your siding, foundation, yard, and basement—and of course, your roofline. When your gutters are damaged, it's essential to hire gutter repair services right away.
Signs You Need Dallas Exterior Trim Installation:
Perhaps you've already noticed some issues on your roofline, or maybe you're not sure if what you're seeing is serious enough to warrant an appointment for Dallas exterior trim installation. We get it. It's a big project, and you want to be sure it's necessary. Below are a list of red flags to watch for. If you notice any of these, then call your local handyman experts to inquire about whether you need Dallas exterior trim installation services.
Cracks or Holes
Different roofline materials crack, chip and/or dent. Fluctuating temperatures cause most materials to expand and contract, which leads to cracks. Vinyl is especially prone to cracking as it ages, as it becomes more and more brittle as time goes on. Wood can also crack, and it may loosen due to constant exposure to the elements. Serious storm or hail damage might also cause major problems that require new exterior trim installation.
Discoloration
Usually a sign of mold, wood rot, mildew or algae damage, discoloration is not a good sign when it comes to your exterior trim. It can take a while to see the effects of rot and mold on your home. The spores start out very small, impossible to see with the naked eye. It's only once the spores have taken hold that you might notice this issue. While repairs can sometimes solve the problem, often basic trim repair isn't enough. You may need to replace entire sections with professional exterior trim installation.
Gutter Damage
While clogged gutters are a common cause of soffit and fascia damage, sometimes the opposite can happen too. When your roofline starts to soften and rot, the nails or fasteners that hold your gutter system up will begin to pull away from your roof. You may not notice this right away, but as your gutter fills up with debris and becomes heavier, the structure will sag. If this issue does not get fixed, then eventually the entire structure will crash to the ground.
Flaking Paint
Paint not only looks nice, but also helps prevent water damage. If the paint is flaking, this means water has infiltrated your roofline and is starting to damage it. If you have wood trim, then peeling paint could also lead to wood rot, even in premium lumber.
Water Damage Inside Your Dallas Home
Water damage inside your home near your roofline could mean there is a leak somewhere. Usually, it's a sign your trim is damaged and water is seeping into your home through the weakened area.
How Can I Maintain My Dallas Exterior Trim After Installation?
If you've noticed any of the issues above, then you likely need an installation service from the experts at Mr. Handyman of Dallas. Each of our service technicians has years of experience providing a wide range of home improvement services—including exterior trim repair and installation. We'll be able to diagnose the problem and make any necessary repairs as soon as possible. We always act with the utmost professionalism too, and aim to provide outstanding customer service to all our clients. Our team will make sure the job gets done right the first time.
While our Dallas handyman experts can easily install new soffits and fascia boards, there are a number of steps Dallas homeowners can take to make sure your roof line stays in tip-top shape. This will help prevent the need for repairs and/or replacement services.
Walk through your property at least twice a year and look for signs of damage. You should do this once in the spring and once in the fall. The changing seasons are the best time to complete outdoor repairs and maintenance.
Sand and paint any damaged areas. Paint helps prevent water damage, which may cause wood rot, mold, and mildew. It's also important to remove flaking or cracked paint, as this could be a sign of water damage.
Keep your gutters clean. The best way to prevent exterior trim damage is by maintaining your gutters. Clogged gutters can also cause an extensive range of other issues, including flooding your attic and/or basement.
Hire power washing services to give your roofline, fence, deck and other outdoor living spaces throughout your property a deep clean. This will get rid of problematic buildup, and boost your curb appeal. Power washing is also a great job to complete before listing your home for sale for that reason.
Need Dallas Exterior Trim Installation Services? Book an Appointment Today!
At Mr. Handyman of Dallas, we're known for our dedication to excellent workmanship and customer service. Our team is proud to bring our outstanding installation services to a wide range of clients in and near Dallas, including in communities like Highland Park and Las Colinas.
We work hard to ensure you have a positive experience with our company from start to finish. From our hardworking office staff who keep operations running smoothly to our skillful and friendly technicians, your happiness is always our top priority.
To get started with exterior trim installation service today, we invite you to call our team . We look forward to keeping your Dallas home looking and functioning its best!