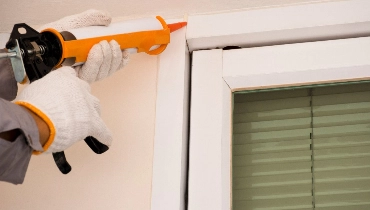 Whether you recently installed new flooring or added some crown molding to your home in Dallas, trim caulking is an improvement project that shouldn't be overlooked. Not only does sealing these gaps look professional, but it also adds protection. A Dallas handyman can do this job professionally, or you can do this project on your own. In addition to benefits, some important considerations to make while doing trim caulking in Dallas, TX are discussed in this article.
Benefits Of Trim Caulking in Dallas
Caulking can be used to seal gaps around window trim, baseboards, paneling, molding and more. Window trim and baseboards are standard trim types in most Dallas homes, but no matter which type of trim you have, sealing it can add more protection and improve its appearance.
Protection
In Dallas, trim sealing protects your walls, flooring and subfloor from water damage by creating a waterproof seal. If you spill water on your flooring near your baseboards without sealing the gaps, the water will quickly seap beneath your baseboards and potentially damage your subfloor. Wood rot and warping may occur otherwise. Likewise, condensation can easily form on your windows. Sealing your window trim can protect your walls from water damage sealing while also sealing off any drafts.
Sealing can also protect your molding from dirt and dust buildup. Insects may also find their way into your home through these cracks, so by sealing them, you can keep them outside where they belong.
Appearance
In addition to adding protection to your home in Dallas, trim caulking also makes your molding look great. Though it does come down to personal preference, spreading a bead of caulk along the top of your baseboards, along the joints on your board and batten paneled wall or along the bottom of your crown molding will make your molding look finished and seamless.
If you have natural wood trim in your home in Dallas, trim caulking may not be the right choice. Though there are clear products, they can still stand out against the natural wood rather than blend in with the board seamlessly. It's still a good idea to seal any joints between your baseboards and flooring, but filling in gaps along the top of your boards may not help you achieve the appearance you're after.
Considerations For Dallas Trim Caulking Projects
To find out the answers to your trim caulking questions, a browse through common caulking service FAQs should do the trick. Whether you're doing trim caulking in Dallas, TX on your own or you're hiring a professional, there are several important considerations you should make.
Picking The Right Product For The Job
Did you know that caulk doesn't refer to a single product, but that there is actually a wide variety of types? Some are meant for exterior surfaces and come in different colors for matching to your exterior wall color, while others are intended for your home's interior. There are two types of products recommended for interior use:
Silicone caulk: Also known as sealant, this clear sealant is a great option for areas that require a considerable amount of moisture protection. This makes sealant ideal for using on porcelain tile or ceramic tile floors in your bathroom, where water may pool on the floor on a regular basis.
Acrylic latex: Also known as 'paintable caulk,' this type of product resists water absorption but isn't 100% waterproof like silicone. If you want to be able to paint your boards and are sealing joints in rooms with less expected moisture, such as your living room in Dallas, trim caulking with acrylic latex is the way to go.
Don't Skip The Preparation Step
Though a trim caulking project doesn't take long, it requires several important tools and materials, as well as adequate surface preparation. Without taking the time to collect all tools needed and creating a clean surface, your application may look unprofessional and won't last long.
Some tools that should be used include:
Caulk gun for applying the product: A caulking gun isn't necessary, but it'll help create an even bead of caulk.
Sharp utility knife: To remove any old sealant that needs to be replaced.
Putty knife: To spread the bead of sealant. Many professional installers also use the tip of their finger dipped in warm water to create a smooth surface.
Mineral spirits: Used to thoroughly clean the joint before applying a sealing product.
Slow And Steady Wins The Race
Proper technique is essential when it comes to doing trim caulking in Dallas, TX. While holding the caulk tube at a 45-degree angle, apply an even pressure to apply a bead of product across the joint. Different bead sizes can be made by cutting the tip of the tube at different points.
If you decide to attempt this on your own, make sure that you're being slow and methodical with your application. Don't worry about it looking perfect, as you'll smooth out the caulk bead with your finger before finishing by applying one of two coats of paint.
Do You Need Trim Caulking Service In Dallas, TX?
Though trim caulking may look like a simple process, it generally takes an expert to do it right. At Mr. Handyman of Dallas, trim caulking is one of our specialties. Whether you live in Carrollton, Farmers Branch or Richardson, or any of the other communities surrounding Dallas, our professional Dallas trim caulking service is just what you need to protect your flooring from water damage and make your trim and molding look seamless.
We can also provide caulking around sinks, stoves, bathtubs and any other place in your home where you might need it. When you choose our Dallas trim caulking service, you'll also get free, no obligation estimates and a workmanship guarantee, as well as access to a wide range of additional services for all kinds of repairs and improvements, such as window repairs for other types of wear or damage on your window trim.
Book your Dallas trim caulking service today by giving our office team a call. You can also get in touch by filling out our online contact form, and one of our customer representatives will get back to you as soon as possible.