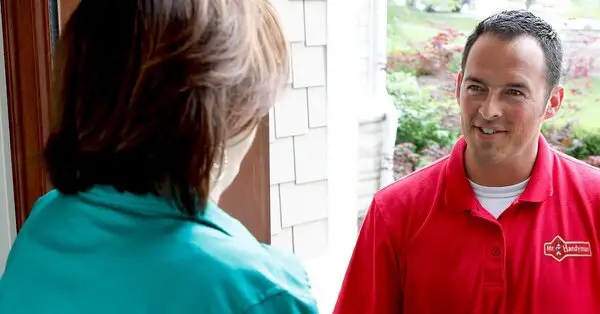 When you need help around the house in Richardson, TX, Mr. Handyman of Dallas is there for you. We understand how busy life can get and that often those little odd-jobs around your home that need completing never seem to get done. Whatever the task may be—from furniture assembly and drywall repair to kitchen remodeling and fence installation—our reliable handyman service is here to help.
Each of our technicians possess more than ten years' experience in the trades. Not only do we bring years of experience to every task we complete, but we also take time to build your trust. Ensuring our customers feel respected in their home is very important to us. Our Richardson handyman team goes the distance to give you and your family a positive experience.
We believe it's the details that make a professional. From the thoroughness with which our Richardson handyman service providers approach each job, to always bringing the right tools and showing up in a uniform and company van, when you hire Mr. Handyman of Dallas, you can expect careful and diligent service.
Serving Communities in and Near Richardson, TX
Our Mr. Handyman location is proud to serve the city of Dallas and its surrounding suburbs, including Richardson and nearby areas like Garland, Rose Hill, and University Park.
If you are curious about learning more about Mr. Handyman's home improvement services, our expert Richardson handyman pros will show you what they have up their sleeve! Give our professional and friendly team a call for more information.
Learn About Our Home Maintenance and Handyman Services | Richardson, TX
What task do you need help with around the house? There is no home maintenance job too big or too small for the professional and skillful team at Mr. Handyman. Richardson, TX homeowners whose fence or deck looks worn need expert help to reseal and refinish it. Or perhaps you need help with gutter cleaning, caulking, and furniture assembly. Just give us a call today, and we'd be more than happy to help.
Continue reading to discover more information about our common handyman services in Richardson, TX.
FRONT DOOR INSTALLATION
Your front door is the gateway to your home. Not only does it offer safety to you and your loved ones, but it also adds to your home's overall look and feel. Perhaps your front door was damaged, has lost efficiency, or you simply feel it is time for a new one—either way, our team of experts provide professional door repairs and door installations.
In addition to installing new front doors, our team can also install:
Interior doors
Exterior doors
Sliding glass doors
Screen doors
Storm doors
French doors
Pocket doors
Sliding barn doors
Closet doors
And more!
DRYWALL REPAIR AND INSTALLATION
Damaged drywall is quite a serious home repair need and should be dealt with immediately in the event of a large hole in the wall. Not only can damaged drywall indicate a more serious underlying problem—such as water damage or structural problems in your home—but it also impacts the stability of your home's interior walls.
Our Richardson handyman technician can patch up drywall and make it look like new. Our drywall repair services include:
Mudding
Painting or texturing
Drywall seam/joint taping
New drywall panel installation
Ceiling repair
Green board repair and finishing
Stucco repair and finishing
FENCE REPAIR AND INSTALLATION
Fencing is an important part of your Richardson home's safety and aesthetic appeal. Not only does your fencing clearly mark property lines and keep pets and playing children safe, but a good fence also boosts your home's value. Should you want to install a new fence or your current fence needs a little TLC, hire the local pros at Mr. Handyman. Richardson, TX homeowners who need fence repair or installation can count on our knowledge to handle the following fence types:
Wood
Vinyl
PVC
Wrought iron
Aluminum
And more!
Whether you need us to replace rotted wood pickets, fix a leaning fence post or remove rust from your wrought iron fence, your local Richardson handyman has you covered.
NEED WINDOW REPAIR OR REPLACEMENT?
That is always the question when you encounter issues with your windows. Although double-glazed windows are designed to last for at least two decades, they rarely meet their lifespans due to severe weather conditions or poor installation services. You don't always identify repair needs until it's too late because many signs of window damage aren't necessarily visible.
Often, damages occur around the frame and window sill when they have absorbed too much humidity. If they appear swollen and even make it hard to open and close your window, it may already be going through stages of deterioration. Or when you notice condensation or fog buildup in between the two glass units, it indicates that the insulation has been compromised. While window repairs may solve the problem temporarily, you would get more out of a replacement unit. To ensure you make the right decision, our local Richardson handyman team is happy to provide a second opinion and help you weigh out the pros and cons. Though, it helps to know your windows age. If they're older than ten years and your home's energy efficiency has decreased, it's worth taking a replacement into account.
GUTTER CLEANING
Your rain gutters in Richardson are the most essential part of your exterior drainage. Not only do they protect your roof and attic, but they also protect your foundation by effectively directing rainwater away from your property. Richardson, TX gets about 40 inches of rain every year, and we know that the worst ones are torrential rains. Given your standard roofline measures up to 1000 square feet, did you know that a one-inch rainfall requires your gutters to remove over 600 gallons of water? The last thing you want is your surrounding structures to be affected by a gutter clog, which can lead to serious consequences, such as:
Blocked soffit vents
Gutter sections pulling away from fascia board
Rotting fascia board
Roofline damage
Water infiltration through foundation cracks
Moisture damage in attic
Mold growth in attic
Decreased indoor air quality due to blocked ventilation
Water stains on exterior wall/siding
Overwhelmed French drains
Basement flood
Our local Richardson handyman team recommends annual gutter cleaning services at least twice a year, once in the spring before April weather kicks off and once in the late fall when leaves and debris are more likely to find their way into your gutter system. Feel free to ask our experts about gutter guard installations to help minimize the risk of clogged gutters.
Hire A Richardson Handyman For A Bathroom Remodel!
Your bathroom is a space designed to provide you with comfort, but it also needs to be functional and safe. Homeowners who hire our Richardson handyman services for a bathroom remodel often seek to increase the space, upgrade their exhaust fans and lighting, as well as transform a bathtub into a trendy walk-in shower with large glass doors. Our shower remodeling services are popular among young professionals, whereas families love an upgraded bathtub to bathe their little ones. There is a wide range of possibilities to increase comfort and functionality.
When hiring an experienced handyman, Richardson, TX homeowners will benefit from a formal no-obligation, in-house consultation and inspection service, during which we'll answer any questions you may have. While we do encourage our clients to set a budget and timeframe beforehand, we'll be able to help you with a list of other important things, such as finding a trusted supplier for new items and getting ready for other preparatory steps.
Get A Commercial Handyman in Richardson, TX!
Managers of commercial properties typically have a lot on their plate, from scheduling periodic maintenance services to arranging various house repairs. Besides providing businesses and their employees with a safe workspace environment, it's important to be ahead of the curve in terms of detecting and handling signs of wear and tear throughout the building to avoid any unexpected breakdowns or accidents. Following local building codes is mandatory for commercial property owners, but luckily, your local Richardson handyman is familiar with commercial environments, whether you're in charge of a restaurant, healthcare facility, hotel, or a corporate office.
Rely on our dependable handyman skills to complete the following tasks for your business:
Commercial door services
Interior and exterior painting
Drywall and stucco repair
Ceiling panel installation
Furniture assembly (such as corporate desk cubicles)
Commercial carpentry
Tile services (backsplash or countertop installation)
Graffiti removal
And more!
Whether you're a business owner or the manager at the maintenance department in your company, our professional handyman services in Richardson, TX will take care of every single detail.
Photos from Our Customers Near and in Richardson
When you welcome a handyman into your Richardson home, it's integral you feel you can trust the stranger performing your home maintenance services. At Mr. Handyman, we take the time to not only earn your business—but also your trust. That's why we ask our clients to document the work completed by our team. This way, you can see for yourself the Mr. Handyman difference:
FRONT DOOR INSTALLATION IN RICHARDSON, TX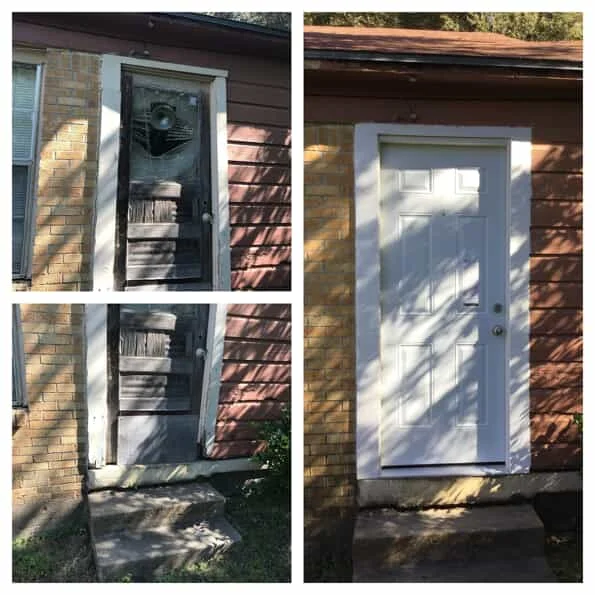 Your front door not only completes the overall aesthetic of your Richardson home, but it also helps keep you and your loved ones safe. Trust the technicians at Mr. Handyman to install your front door correctly the first time.
DRYWALL REPAIR IN RICHARDSON, TX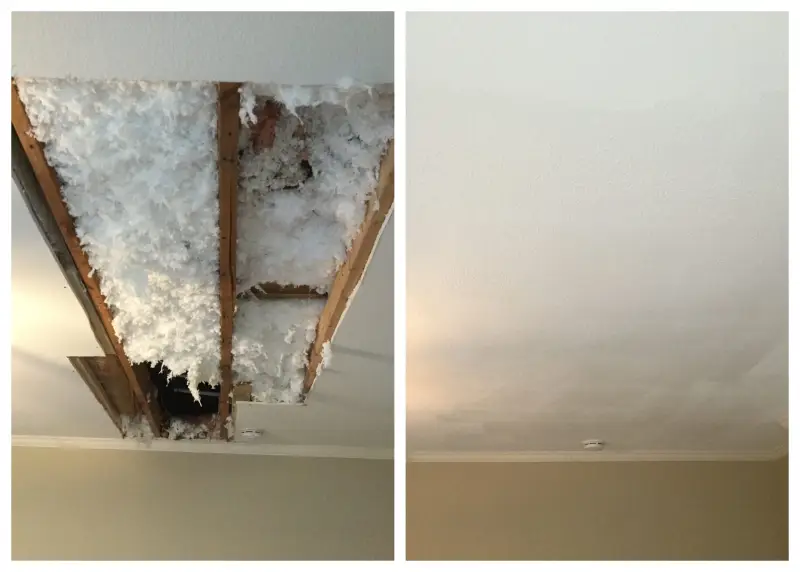 Damaged drywall is not only unsightly, but it also negatively impacts the structural integrity of your home. Our Richardson handyman service providers can quickly and efficiently repair your damaged drywall so that your home looks like new.
FENCE REPAIR IN RICHARDSON, TX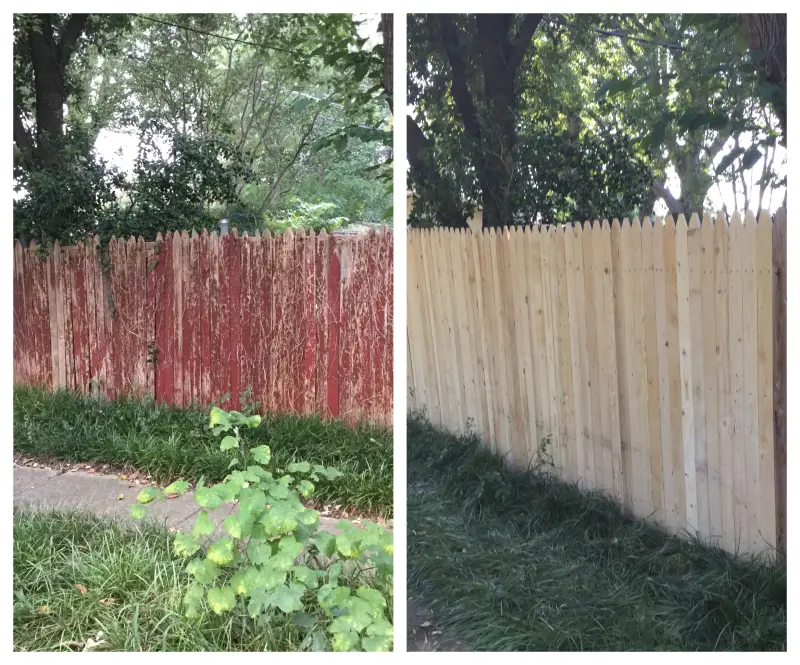 Your fence serves many functions, including marking your property lines, boosting your Richardson home's curb appeal, and keeping loved ones and pets safe. Ensure your fence is in peak condition with the help of the team at Mr. Handyman.
Need A Reliable Richardson Handyman Near Me?
Whether you need help with basic home repairs like door repairs or have an improvement project lined up like a shower remodel, our friendly and skillful Richardson handyman team is committed to quality craftsmanship. With our strong customer focus, we are dedicated to delivering quality repairs and exceptional service.
We invite you to give our friendly customer service representatives a call to get started today or learn more about how our range of services can improve your home!