The pitter-patter of rain on your roof can be almost musical at times—but it strikes a discordant note when your house is in serious need of gutter repair services from an experienced Keller handyman. When your rain gutters are in great shape and clear of debris, they perform a critical function to protect your home from severe water damage that can include everything from a leaking roof to a cracked foundation and affect almost every part of your building exterior. But when you've got broken, sagging, clogged gutters, they aren't going to be able to do their job until you get professional service for your Keller gutter repairs.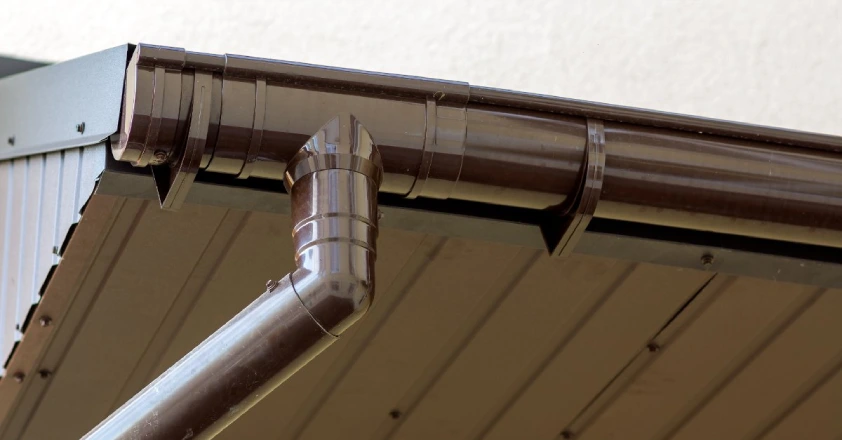 If your channels and downspouts are currently in rough shape and aren't keeping excessive moisture away from your home's exterior, rely on the team of professionals at Mr. Handyman of Keller, Roanoke, and Alliance for experienced workmanship and excellent customer service. Whether you're in Keller or another nearby area in our little corner of North Texas, your Keller handyman is here for you with expert, long-lasting gutter repair solutions.
Call Your Local Handyman for Gutter Repair Service in Keller, TX
Rainwater disposal systems hang right on roof edges, which means they need to be able to withstand quite a bit of abuse from rough weather, infestations, falling tree branches, and other potential causes of damage. But by far, the number one problem that calls for gutter repair from a skilled handyman is neglect.
Most people don't want to spend their free time on a shaky ladder, cleaning and maintaining their systems and frankly, that's understandable. It can be a difficult and unpleasant chore, especially if you don't have the right tools and equipment. But when you realize how important your rain gutters are for the protection of your house, you're more inclined to get it taken care of. All that rainwater can have a major impact on your home, and the fascia boards are typically the first to suffer because they're supporting the weight of the system plus all the debris clogging it, as shown in the image below.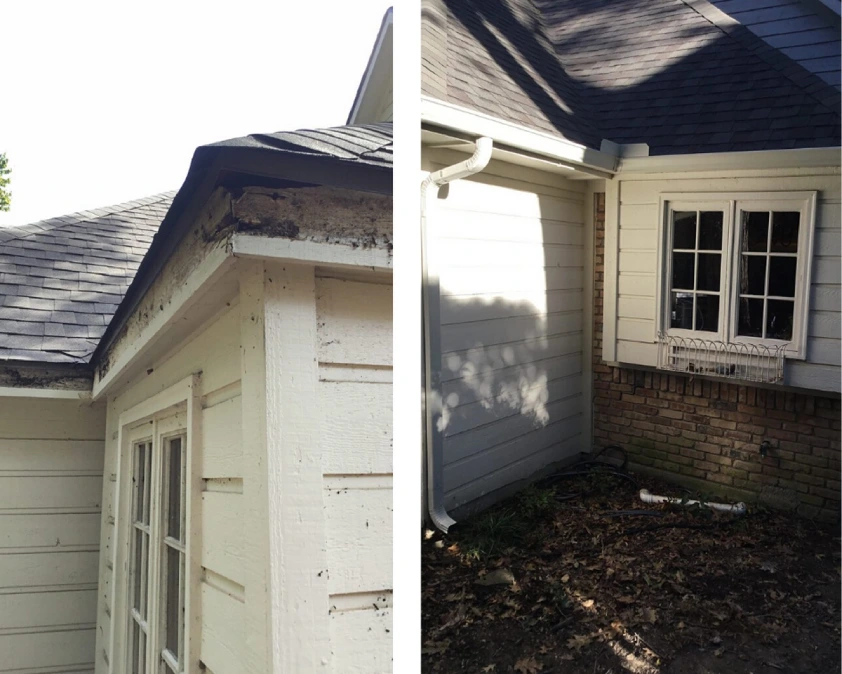 Here's how our team handles Keller gutter repair and other related services:
GUTTER REPAIR
When rainwater channels are packed full of debris such as pine needles, dead leaves, bird or insect nests, dirt and other stuff, rainwater from your roof can't reach your downspouts and spills over the edge instead. But all that weight can also cause channels to sag, crack, rip away from their hangers and separate from your fascia board, or come crashing down to the ground. All that rotting muck also contains harmful bacteria that eat away at the system, causing small holes in the bottom of the channels.
Our Keller gutter repair tactics may involve refastening loose or sagging sections, or even replacing sections with widespread or severe damage such as crushing. We can seal up a few small holes and cracks with epoxy as well. In the image below, you can see just how badly the fascia and soffit boards were damaged by excessive moisture, which is why fascia and soffit repair often goes hand-in-hand with gutter repair.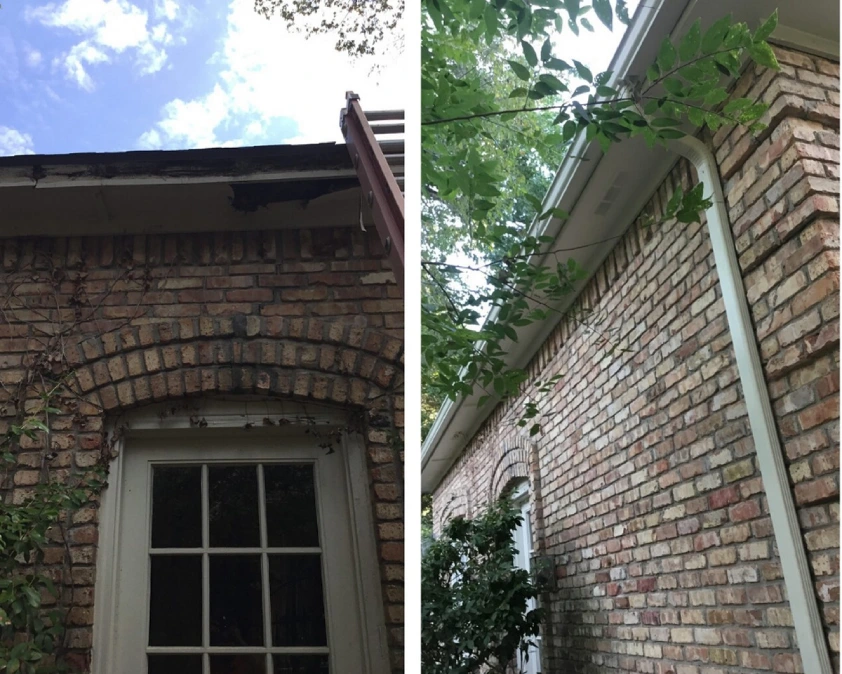 GUTTER CLEANING
As we mentioned above, the biggest problem with the condition of any roof edge system is a lack of cleaning and maintenance. When our team is called out to residential or commercial property for gutter repair, it's almost always necessary for us to take care of gutter cleaning services at the same time since the lack of cleaning is what caused damage in the first place. Not up to cleaning out your system on a regular basis? Just count on the expert team at Mr. Handyman for routine gutter cleaning and the occasional gutter repair.
Why It Makes Sense to Choose Mr. Handyman for Keller Gutter Repair
Trust the professionals at Mr. Handyman of Keller, Roanoke, and Alliance for expert gutter repair, cleaning, and maintenance along with dozens of other services designed to protect and enhance your residential or commercial property. Our trustworthy team undergoes a background check program and has decades of combined experience with tasks such as gutter repair.
Give us a call today to find out more or schedule a service.
Frequently Asked Questions About Gutter Repair in Keller, TX
WHAT ARE THE SIGNS THAT INDICATE I NEED GUTTER REPAIR?
If you suspect that your system needs repair, keep an eye out for the following signs of trouble:
Water spilling out of the channel when it rains
There are water stains on your soffits, fascia boards, or siding
Hangers are loose, broken, or missing
You notice birds flying to and from your roofline, or signs of rodents and insects nearby
Troughs are separating from fascia or sagging noticeably
You can see visible plant growth in rainwater channels
DO I NEED REPAIRS OR A TOTAL GUTTER REPLACEMENT?
The answer to this really depends on a few factors such as the nature of the damage and how widespread it is. Serious problems across the whole system call for replacement because the repair isn't going to be sufficient to get it back in reasonably good shape. But if only one section has been damaged or the damage is more on the minor side such as a few holes or a channel that is separating from your fascia, it's a case for gutter repair.
IS IT WORTHWHILE TO HAVE GUTTER GUARDS INSTALLED?
Guards cover the top of the rainwater channel to keep debris like dead leaves and pine needles out. They can cut down on the need for gutter maintenance and cleaning, which does make them a worthwhile investment. Speak to your Keller handyman about including gutter guard installation with your gutter repair service.
Mr. Handyman Is Your Local Keller Gutter Repair Professional
If you're in Keller, TX, or a nearby part of the Dallas-Fort Worth area such as Trophy Club, Alliance, or Watauga, rely on the experts at Mr. Handyman of Keller, Roanoke, and Alliance for outstanding customer service and capable, efficient workmanship.
Contact us and let us know the most convenient time to schedule an appointment for you.