What Types of Tile Does Mr. Handyman Work With for Tile Installation in Keller, TX?
The different types of tile may have you scratching your head for a while because there is more than just ceramic and porcelain. In fact, there are additional surface treatment methods that can transform your tile system, depending on what kind of function you want them to have.
Some of the most common tile materials we work with include:
Ceramic Tile
As one of the most popular and versatile types, ceramic can be used in any application within a home or commercial building. Made of clay, sand, and water, ceramic is cost-effective and durable as long as you use good-quality grout and install them properly.
Both ceramic tile and grout are highly porous materials and should be sealed upon installation unless you choose to have a glazed surface for which liquid glass will be applied to provide a sleek look. Glazing is very common for backsplash installations as well as shower walls.
Porcelain Tile
There is a misconception that porcelain is delicate, but structurally, it's a lot denser and more durable than ceramic because porcelain goes through a different heating process. When standard ceramic is fired into a kiln to a temperature of up to 1400 °C, the material strength becomes enhanced, hard, and impermeable. For this reason, porcelain is mostly preferred for flooring installations because they're ideal for high-traffic areas.
Glass Tile
The modern Subway style is often made of glass tiles to help substitute the old-fashioned ceramic. Glass also helps revive old styles' aesthetics and facilitates maintenance. It's virtually resistant to anything and won't chip. Your Keller tile installation technician recommends glass tile for accent walls, shower walls, and backsplashes.
Marble Tile
Marble materials are highly desired these days and are probably one of the most expensive too in terms of material cost and tile installation. Keller, TX services technicians at Mr. Handyman have installed various marble tiles, but they always make homeowners aware of the high-maintenance requirements that include regular cleaning and resealing. Thanks to its sleek shiny surface, marble might not look like other porous materials, but if you notice etching or staining, you will need to address it right away.
Where Can Mr. Handyman Complete Tile Installation Service?
You may think of the kitchen walls, bathroom floors, or utility room, which sure are ideal spots to have Keller tile installation. But if you wanted, you could have your entire home, stairs included, equipped with ceramic tile flooring. This is how versatile it is. They also work very well with floor heating, so that you're not just walking on cold hard floors all year round.
Kitchen Floors, Backsplashes and Countertops
The greatest cooks are sometimes messy cooks that drop things to the ground. When doing dishes and washing large saucepans and frying pans, you can't help but splash water against the walls or spill water over the countertop. This already indicates that a lot of cleaning is involved, which also means that the use of water and cleaning solutions is inevitable. Not to mention the high humidity levels that also arise from all the steam.
Along with adequate ventilation through the range hood, efficient Keller tile installation protects your kitchen from potential moisture damage. Wiping down your backsplash and countertop will keep them clean and dry, and the same applies to your floors, except that you should be careful with the type of floor cleaner you use. Sealed tile surfaces should be resistant to chemicals, but if it receives a lot of high foot traffic and is regularly exposed to chemical cleaners, the sealant may wear off faster.
Bathroom Floors and Shower Walls
Your bathroom is another area that is exposed to excess humidity, depending on how hot you take your shower! If your mirror fogs up and takes longer to clear despite the bathroom vent, you may need to upgrade your extractor fan. When you see how steamed up your mirrors are, you'll have to imagine the same for your tile installation.
Keller, TX homeowners may have a natural habit of wiping down their shower doors and walls with a squeegee or using a microfiber towel to dry their bathtub. While this helps reduce moisture sitting on the surface, you may not always think of doing the same for your flooring system, such as using a dry mop to dry your tile floors after a hot steamy shower. You may need to check your floor tiles more often to ensure your grout lines are intact. Grout lines in your shower walls can also deteriorate over time if you don't dry or clean them. Crumbly, cracking grout lines could allow water to seep through and eventually cause damage to the cement backer board.
Also, Keller has moderately hard water, which means that you will notice limescale buildup on your shower tiles, even more so if you pick glass tile. It's not only unsightly, but it will also deteriorate your materials. Regular maintenance and cleaning are key in keeping your shower tile installation in top shape.
What Are The Benefits of Professional Tile Installation?
Keller, TX property owners may think that tile installation requires lots of maintenance, which is not the case. It's still one of the most water-resistant and functional materials that you can choose. It is highly durable and cost-effective if you take into account that it can last anywhere from 50 to 75 years.
Easy to Maintain Surfaces: Whether you choose ceramic or porcelain flooring, it is one of the few types that can actually handle a wet mop better than others. If you use a vacuum cleaner, simply set the beater brush to low or dry the microfiber mop to keep the floors clean. If your grout lines need to be resealed or repaired, your Keller tile installation specialist can always stop by for an inspection and resealing service.
Cost-Effective and Durable Materials: Though laying tiles requires a certain level of experience and expertise, obtaining the material and paying a contractor for labor is still more cost-effective than installing solid hardwood floors, and you will pay a lot less on maintenance than you would for hardwood. Besides, they're highly durable and ideal for Keller homes.
Hypoallergenic Surfaces: Unlike carpet, tile does not harbor mold, dust, or bacteria because it's so natural for us to simply clean it regularly. Allergy sufferers will notice an instant change after our professional Keller tile installation services are complete.
Versatile Installation Services: We have mentioned that you can virtually get Keller tile installation anywhere in your house, and they don't even have to look the same. You are free to choose any shapes, colors, and sizes or even customize your own if you have room in your budget. Chances are that what you seek is already available and all ready to go!
Glazing: Most unglazed porcelain and ceramics require a penetrating sealant that serves as a protective coating. It's a process that needs to be repeated every three to five years. However, if you ask your Keller tile installation professional to glaze the surface, you will practically have liquid glass coating on the surface. This way, it's entirely waterproof, scratch- and chemical-resistant.
Why Choose Mr. Handyman's Services for Tile Installation in Keller, TX?
As your local, expert handyman team, Mr. Handyman of Keller, Roanoke, and Alliance has the knowledge and skill required to provide perfect results for your tile installation project. Our team has completed many tile installations in the past, providing results like what you see below.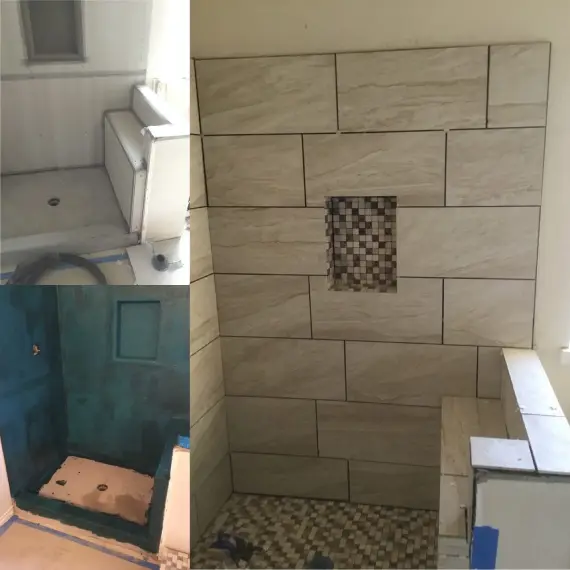 In addition to those exceptional results, you also get several benefits that come with all of Mr. Handyman's services, including:
Convenient appointment times
Reliable, upfront estimates
Friendly, uniformed experts
Courteous customer service
Guaranteed workmanship
Full clean-up for all work areas
No matter what kind of tile installation services you need, you can always depend on Mr. Handyman to get the job done right. Our team is available to answer any questions you may have at, and we've even provided some answers to common questions about tile installation service below.
Keller Tile Installation Service—FAQs
What Works Best for Outdoor Tile Installation?
Keller, TX technicians recommend using porcelain combined with high-quality epoxy grout. This way, you won't need to worry about ever resealing the grout lines because they are naturally water-repellent and resistant to weather damage. You should also use a specific type of porcelain for outdoors, such as one with a textured surface. Feel free to ask our Keller handyman team for more information.
What Are the Different Types of Grout? Which Should I Use?
There is sanded, unsanded, finely sanded, and epoxy. Often, determining the best grout depends on the required grout width during installation. For example, unsanded works best if the spacing between tiles is 1/8 or if you're working with vertical surfaces. On the other hand, epoxy is ideal for surfaces that are consistently exposed to high humidity levels. That said, epoxy grout is commonly used for grout repair as it works best as a long-term solution.
When using epoxy grout for tile installation, in Keller, TX professionals have to work fast because it dries more quickly than regular grout. And we bring that level of expertise! Feel free to ask more about how grout works and which type will work best for you.
Does Vinyl Tile Have to Be Laid Traditionally with Grout?
No. This is a type of vinyl floor that goes through a click-and-lock process during installation. Luxury vinyl tile is installed in a way where the individual tiles float above the subfloor, so no grout is used for installation.
How Much Does a Keller Tile Installation Project Cost?
In terms of pricing, it's one of our top priorities to be as transparent and upfront with our customers as possible. In order to achieve that and create an estimate with no additional or overtime fees, we need to collect more data that includes knowing the square footage of installation you need, the material you choose, and labor. On top of that, we need to do what we do best, which is an initial inspection. It has happened before that during flooring installation, our team noticed subfloor damage that needed to be addressed or water damage behind old shower walls. We do encourage you to give our office team a call in case you have a specific question about pricing, and we'll do our best to answer it!
What Are The Pros And Cons of Natural Stone Tile?
It's surely one of the most aesthetically pleasing! Despite being sturdy, durable, and safe, it's highly porous and, therefore, stains and scratches easily and can absorb bacteria. Periodic staining services are required to keep them in good condition. Due to the heavyweight, it's also more difficult to install or remove.
Need Keller Tile Installation Service?
If you are passionate about Keller tile installation, please share it with our team, and don't shy away from telling us about your proposed project, because chances are, we can help!
Whether you are in Keller or a nearby community such as Roanoke, Alliance, and Haslet, we are here to help as your experienced home service providers that excel in tiling projects and other handyman services, including drywall repair, door repair, bathroom remodeling, and more. Give us a call to get started today!