Floors are obviously a crucial part of your house, and not just because they give you something to stand on. Floors take up a huge amount of physical and visual space, so they have an outsized impact on the style, appearance and overall personality of your home. If your current flooring material is in rough shape or it's not well-suited to the unique needs of your household, it's time to think about McKinney floor installation services.
If you've begun shopping around for the perfect option for your home in McKinney, TX, you've probably come across luxury vinyl planks. This is not your grandma's vinyl flooring installation from back in the 1970s—it's highly durable, very reasonably priced and surprisingly attractive. In fact, luxury vinyl planks are often nearly indistinguishable from real hardwood or stone while at the same time being much more affordable, long-lasting and easier to maintain than natural materials.
Considering McKinney vinyl plank flooring installation services? You likely have some questions, and we have the answers. The McKinney handyman service professionals at Mr. Handyman of Midwest Collin County are ready to provide outstanding results for flooring installation with the information, materials and services you need.
Our team has years of experience with flooring installation, remodeling, and dozens of other reliable handyman services. We are your "one call does it all" solution to get everything crossed off your to-do list quickly and efficiently.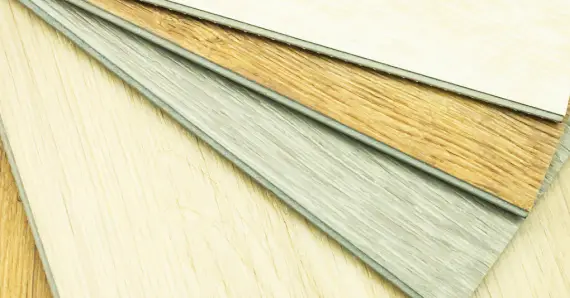 About McKinney Floor Installation Services
The technicians at Mr. Handyman are your local experts for flooring installation in McKinney and nearby areas, with expertise in installing, repairing and replacing:
Tile flooring, from ceramic tile to porcelain and stone
Hardwood flooring (natural or engineered wood)
Laminate flooring
Luxury vinyl plank flooring (and luxury vinyl tile)
No matter what flooring type you choose, our expert McKinney floor installation technicians will ensure you have a worry-free experience. Our team of experts will always go the extra mile to complete any necessary inspections and consultations, including ensuring you have a healthy subfloor as well as a level surface for the installation to take place.
Why Choose Mr. Handyman For McKinney Floor Installation?
As your leading handyman company in Collin County, our team has completed hundreds of successful handyman projects throughout McKinney. Floor installation services are one of them! Our guaranteed workmanship is defined by our Done Right Promise and commitment to excellence and customer satisfaction. Furthermore, the top perks of choosing Mr. Handyman include:
Certified service professionals with an average of 10 years of experience
Easy scheduling with just one call!
Worry-free experiences with an upfront consultation and in-house inspections
Neighborly Done Right Promise coverage for one year
Wide range of versatile handyman service, from maintenance to improvement and repair projects
McKinney Floor Installation FAQs
CAN YOU DO YOUR OWN FLOORING INSTALLATION IN MCKINNEY?
If you are asking the question, the answer is probably no. We have all seen floors in McKinney that were not installed correctly, from uneven surfaces to vinyl planks that don't reach all the way to the edge of a room. If you don't have all the professional knowledge, tools and equipment you need for efficient floor installation, McKinney TX technicians at Mr. Handyman highly suggest against doing it yourself. You will have to soak up the cost of buying or renting equipment, and there's a good chance that you will destroy some of your materials during your learning process—by the time you are finished, you might need an experienced professional to help fix the installation because it's not level or you forgot to acclimatize your hardwood.
It makes more sense to have it professionally done from the start, so you have peace of mind knowing the job will get done right the first time, especially if you want results like those visible in the image below.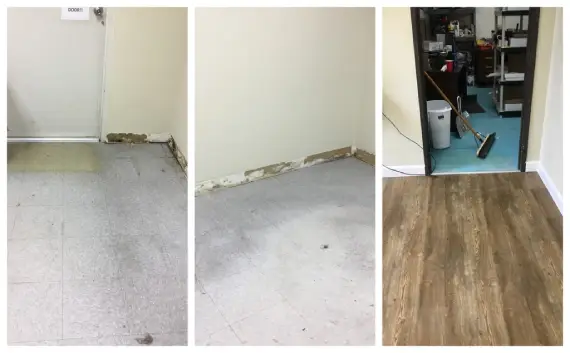 WHAT ARE LUXURY VINYL PLANKS?
Vinyl plank flooring is a synthetic flooring material that consists of four basic layers. The bottom layer is the backing, which increases the materials' resistance to moisture and mildew. Next is a thin layer of foam, topped with a decorative layer that gives the flooring its appearance and design. The uppermost layer is a transparent wear layer that absorbs wear and tear to keep your surface looking good for a long time.
Vinyl became very popular in the 1950s, especially for kitchen remodeling, bathroom remodeling, and improvements in other areas with continual foot traffic that are prone to moisture exposure. It is also an excellent choice for lower levels in McKinney properties because it is so moisture-resistant and can be installed over a concrete subfloor.
Luxury vinyl planks or tiles typically have more layers than standard PVC material. They are also made from polyvinyl chloride (PVC) but are considerably thicker than typical surface material—their wear layer alone can vary from around 2 mm to 8 mm in thickness. They contain both fiberglass and PVC backing layers that increase their rigidity and their ability to absorb wear and tear damage. They also usually have a clear top coat over the wear layer to add shine or luster. They are often installed by locking them together at the edges to form a floating installation.
The Difference Between LVP and LVT:
They are made from the same materials and are essentially the same thing, but they tend to vary in appearance. LVP stands for luxury vinyl planks, and as their name suggests, they are typically made to mimic the look of traditional hardwood planks. LVT, on the other hand, stands for luxury vinyl tile, and they are usually meant to mimic the look of natural stone tile (or sometimes porcelain tile). The differences lie in the shape and appearance of the pieces, but other than those distinctions, they are the same. While the vast majority of luxury vinyl flooring does imitate the look of wood or stone, there are other variations available for residents of McKinney who are looking for a more unique and noticeable style.
Is Vinyl Flooring the Same as Laminate and Linoleum?
No, it's not. Vinyl, linoleum and laminate flooring are all synthesized products, but they are made with different materials and different fabrication processes. As a result, each type has its own pros and cons that may make them more or less suited to your personal preference.
WHAT ARE THE BENEFITS OF MCKINNEY VINYL PLANK FLOORING INSTALLATION?
If you're considering professional installation for a new flooring surface, LVP or LVT should be at the top of your list of possibilities. Luxury vinyl plank flooring installation comes with a wide range of advantages that make it an ideal choice for any room in your house.
Resistant to Moisture
While you may love the look of solid hardwood flooring installation, all that natural charm comes with some big drawbacks—particularly its vulnerability to excess moisture. Since vinyl planks and tiles are made from PVC, a type of plastic, they are waterproof flooring materials that make an ideal alternative to hardwood installation. That's especially true in rooms such as your kitchen, bathrooms, mudroom or basement family room, which may be exposed to water that can warp and rot solid or engineered hardwood flooring.
Attractive Aesthetic
While appearance isn't everything, it's still important. You want materials in your McKinney home to be beautiful and enhance your overall design aesthetic instead of detracting from it. That's the beauty of LVP and LVT—you can have all the durability and longevity of vinyl combined with the appearance of natural hardwood or stone. That's why luxury vinyl plank flooring installation is one of the home improvement services that will help you love your house again.
Highly Durable
Speaking of durability, our McKinney vinyl plank flooring installations have it in spades. When you choose LVP or LVT, you can rest assured that you are getting a quality product that will stand the test of time and serve your household well for many years to come. With just basic cleaning and care, your new installation should easily last a decade—maybe even two—looking great and performing just as well as the day it was installed.
Easy to Maintain
Unlike actual hardwood or natural stone, LVP and LVT are very easy to care for and maintain over the years. They don't need to be sealed regularly or sanded down and refinished—just basic sweeping and the occasional pass over with a damp mop to remove stuck-on dirt is all they need to remain in excellent condition.
Wide Variety Available
Your house should be a reflection of your own personal style and sense of taste. Because vinyl planks and tiles come in such a wide assortment of styles and looks, you're sure to find the perfect one to match your existing wall decor. From planks that mimic the appearance of exotic hardwoods like zebra wood or acacia to tiles that mimic the look of luxury natural stone like slate, marble or travertine, the sky's the limit—and of course, LVT and LVP come without the high price tag that is associated with those materials.
Whether your home design is rustic and casual, sophisticated and modern or anything in between, there's an ideal option out there that will add the perfect finishing touches to the aesthetic of your McKinney house.
HOW LONG DOES VINYL PLANK FLOORING LAST?
While appearance may be right at the top of your list when you start shopping around for material options, it's not long before homeowners in McKinney start thinking about how long their new installation is likely to last before it needs replacing. Exactly how long you can expect to get out of a luxury vinyl plank flooring installation depends a lot on factors such as:
Thickness of wear layer
How many backing layers it has
Whether it's in a low- or high-traffic area
Exposure to moisture
How well it is cared for and maintained over time
LVP and LVT are highly durable, and you can expect solid performance for many years to come. Some manufacturers offer 25-year warranties for the thickest types of LVP in residential applications, but 10- or 15-year warranties are more common. Commercial applications usually have shorter warranty periods since it's assumed there will be greatly increased foot traffic in public spaces.
Can Luxury Vinyl Plank Flooring Be Used Outdoors?
If you're looking for a perfect material to install in an outdoor living space such as a deck or porch, vinyl plank flooring installation is not your best choice. As strong and durable as it is, it does have a weakness—colors on its decorative layer can fade with a lot of exposure to direct sunlight, so it's not recommended for outdoor use. That being said, you don't have to worry too much about sunlight coming through windows and affecting an indoor installation because sunlight will move across the surface throughout the day and limit exposure, rather than beating down on it all day long like it would outside.
DOES MCKINNEY VINYL PLANK FLOORING INSTALLATION AFFECT ACOUSTICS AT HOME?
Because LVP and LVT contain a foam layer that makes the material more comfortable underfoot, it is a great option for reducing impact noise (the level of sound a foot makes when it hits a surface) and can help a bit with ambient noise muffling as well. You can increase its sound absorption qualities with an underlayment. Unlike laminate material, LVT and LVP will not creak, crack or squeak when they are stepped on. If you do hear noises like that after vinyl plank flooring installation, it may be related to deteriorating joists or a creaky, uneven subfloor.
Does Vinyl Plank Flooring Installation Require an Underlayment?
No, not necessarily. You may choose to have an underlayment installed if you want to boost noise absorption, add extra softness and increase comfort—or if you are concerned about moisture and want to increase water resistance.
HOW MUCH DOES MCKINNEY VINYL PLANK FLOORING INSTALLATION COST?
When you need a new surface in your McKinney home but you're working with a limited budget, you naturally want to know about the affordable flooring options available to you. The best way to keep costs manageable is to cut back on average material costs. This isn't about choosing an inferior product because you surely want to use excellent quality materials in your home. But if you have your eye on a costly, luxury material like exotic hardwood or natural stone, also take the time to investigate less expensive alternatives that are still highly rated and attractive. You may stumble upon well-priced vinyl plank flooring installations. It is usually possible to get the look you want with a luxury vinyl choice that won't break the bank.
It can really pay off to look around for a sale or discount because you never know what you might be able to find at a reduced cost, but generally speaking, vinyl sheet flooring is going to be the cheapest option available. That being said, the small increase in price for vinyl planks or vinyl tiles is worth it. They tend to look a lot better, can easily mimic many natural materials, and don't have the industrial vibes of sheet vinyl.
When You Need McKinney Floor Installation Services, Count on Mr. Handyman!
If you are a homeowner or commercial property owner in McKinney, Allen, Melissa, Blue Ridge and the surrounding areas, you can rely on the team of professionals at Mr. Handyman of Midwest Collin to take your flooring projects to the next level.
Pick up the phone and get in touch with our friendly customer service team today at to schedule an appointment or find out more about McKinney floor installation and other trustworthy local handyman services