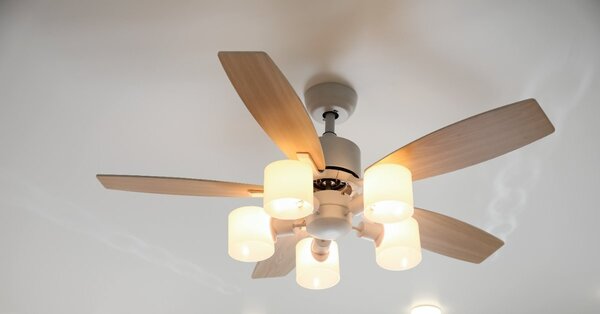 Electrical ceiling fans date back to the 1890s when they were introduced by a German-American inventor who was inspired by the electric motor used in the sewing machine. It originally started as a two-blade unit which eventually developed into a four-blade. Ceiling fan installations primarily occurred in commercial environments to keep workers in factories or customers in restaurants and hotels cool.
Almost a century later, technological advancements made it possible to improve its energy efficiency (using 70-80 watts), so it has become a very popular unit to have in residential properties. Not many people are aware of ceiling fans' energy-saving qualities because they either associate it with being old-fashioned or designed only for summer use. Your local Norfolk handyman will prove you otherwise. Our expert team at Mr. Handyman of Central - Eastern Norfolk County & S. Shore has completed multiple ceiling fan installations in Norfolk MA. Local customers have stated that they were able to reduce their monthly bills by 10 to 15 percent! Please keep reading to learn more!
About Norfolk Ceiling Fan Installation Service
When you hire Mr. Handyman for your ceiling fan installation in Norfolk MA, they will first inspect the areas you wish to install these units as well as your breaker panel. If you have an existing ceiling lamp in place that you'd like to upgrade to a ceiling fan with lights, it'll be an easy process because no additional wiring is needed.
However, before installing a brand-new unit, your Norfolk handyman will first need to install a ceiling fan wiring cable and a fan-rated ceiling fan box to house your future unit. This process may take a bit longer, as they will also need to test the strength of your ceiling joists.
There are other small details that your technician needs to watch out for, such as measuring your ceiling height. It's an important step that many homeowners overlook. For safety reasons and maximum efficiency, your ceiling height shouldn't be more than nine feet. Otherwise, you may need a downrod. You can count on our team to take the necessary measurements and cut the downrod wires accordingly before fitting them securely into the electrical box.
Our expert team is also here to help you choose a type of ceiling fan that works best for you, whether it's a three-blade or five-blade unit. Expect us to answer any questions that you may have during a consultation service!
Why Hire Mr. Handyman for Ceiling Fan Installation in Norfolk MA
Mr. Handyman has been around for over 25 years with more than 200 locally owned and operated businesses spread across North America. We are a proud member of Neighborly's home service providers, representing top brands and franchises with one goal in mind—improving our local communities' homes by increasing safety and comfort, as well as helping them maintain their properties with routine maintenance, repairs, and improvement projects. As your leading handyman company, we are committed to providing our customers with high-quality workmanship and exceptional customer service.
Professional Technicians
Each member of our team is fully background-checked, trained, experienced, bonded, and insured, bringing an average of ten years of experience in helping our local community lead a safer and more comfortable lifestyle. They know our team of expert handymen is familiar with common property issues and that they bring the necessary knowledge and expertise to tackle them effectively and efficiently. When you hire our handyman services, expect us to arrive on time in a marked company van. Our service technicians always bring a positive attitude to each job assigned and are highly respectful when entering your home.
Done Right Promise™
The Mr. Handyman Done Right Promise means that we are committed to doing our job properly, from installation to repair services. If anything does not meet your expectations, we will make it right. Taking care of your home is not a walk in the park, which is why you hire trained service professionals to get the job done—to save you time and money.
As a client-focused company, Mr. Handyman cares about going above and beyond to meet our customers' needs. If you experience any issues within a year after one of our services, it will be covered by our done-right guarantee! That's our promise to our customers!
Easy Scheduling and Upfront Pricing
Scheduling an appointment with our local professionals has never been easier. Our friendly office team is only one phone call away, ready to arrange a convenient appointment date and time that works for you.
Depending on what you need done, we might be able to give you a price range over the phone, unless you need comprehensive repairs and improvement services, which will require an in-house inspection to check for any undetected issues that need to be addressed. This way, we can create a straightforward cost estimate without any hidden surprises.
Frequently Asked Questions – Norfolk Ceiling Fan Installation
There are many small details to consider before you choose a Norfolk ceiling fan installation that works best for you. Everyone has different preferences, or they request an installation for different purposes. No matter what your reasons are, we'll prove to you the benefits of a ceiling fan installation.
Norfolk MA service technicians have gathered a list of questions from previous customers who were contemplating a ceiling fan installation and are now happy with what they've got. Wondering how it can benefit you in the summer as well as winter? We have the answers!
What Norfolk Ceiling Fan Installation Types are Available? Which Is Best?
Choosing the right type of ceiling depends on various factors. These units vary in size and number of blades; some are noisier than others or better for air circulation than creating wind gusts. Our team receives requests of all types, and here is how they differentiate from one another:
3-Blade: A three-blade unit is simple and plain, making your ceiling look less cluttered. Due to its lightweight, its motor capabilities create a lot less drag and distribute air faster than other units. It's also more energy-efficient, causing less strain on the motors, even if you set it at high to create a wind chill effect. Is there a disadvantage? If you're sensitive to noise, a three-blade might be too loud for you.
4-Blade: A four-blade unit is slightly slower at air circulation and can be more costly than a three-blade unit. On the bright side, four-blades work best with your air conditioner. Setting it counterclockwise will bring down cooled AC air. Not only will you have a cooler indoor living space, but you can also adjust the temperature on your AC by a few degrees on the thermostat and start saving on your monthly energy bill during peak season.
5-Blade: The five-blade unit is probably the bulkiest one, but you'll be surprised to know that it's also the quietest of all. A higher number of blades also means more drag on the fan motor. But still, four- or five-blade units work best in family homes, where your goal is to maintain air circulation and keep the noise level down. They're also energy-efficient and back up your heating and cooling system.
When you ask for our expert's opinion, we have found that homeowners either opt for four-blade or five-blade units because they work great in combination with their cooling and heating systems. Homeowners were able to raise their AC by 4°F and still receive the same desired temperature. They also prefer effective air circulation at a slower and more comfortable pace. Many people also find that five-blades are aesthetically more pleasing, especially when they have built-in light fixtures.
On the other hand, the comfort level required in commercial settings is different than at home, which is why many businesses opt for an energy-efficient three-blade system. Increased noise levels are also not an issue for busy office dynamics.
It helps to measure your overall energy consumption before you decide on a unit that works best for you. To make sure your Norfolk ceiling fan installation goes smoothly, consult your experienced handyman who can inspect your living space and make helpful suggestions.
How Much Does a Ceiling Fan Installation In Norfolk, MA Cost?
Feel free to contact our office team to learn about our trusted suppliers. The costs will depend on the brand you choose, the type of materials used for the blades and type of built-in fan motor. Labor costs will also depend on the type of work that needs to be done, such as replacing an existing unit or installing a brand-new one.
How Does a Ceiling Fan Installation Benefit Me in the Winter?
When spinning counterclockwise in the summer, your ceiling fan creates a comfortable downdraft, but not many people are aware of how a ceiling fan installation in Norfolk MA can reduce their energy costs in the winter! You simply have to set the spin clockwise and at the lowest level to create an "updraft." This way, any heated furnace air will be prevented from rising up too fast and is better circulated throughout the room! Efficient attic insulation is designed to reduce heat transfer and so is a Norfolk ceiling fan installation!
Do I Need a Licensed Electrician, Or Can I Complete an Installation Myself?
You do not need a licensed electrician to complete a ceiling fan installation in Norfolk MA. But you do need basic electrical knowledge to complete a safe installation service by yourself. Besides shutting down your circuit, you'll need to know how to connect the color-coated wires, such as connecting:
Green wires to the copper ground wires
White wires to the white wires
Black wires to home's black wires
Blue wires to the light kit
All that is done by using wire nuts to secure the connections. User manuals may not always be as clear or you might be missing certain electrical wires that yet need to be installed. For increased safety, hire your local handyman for the best and fastest results!
How Long Do Ceiling Fans Last?
Ceiling fans typically last between 10 and 15 years, depending on how often you use and maintain it. Besides dusting and tightening loose screws, it's also important to keep the fan motor clean and periodically lubricate the fan bearing. Sometimes, fan blades may need replacing, and you may want to check the electrical connections.
Ultimately, the higher the number of fan blades, the more drag it has on the fan motor, and if not maintained properly, it could lead to early wear and repair needs which means it may lose efficiency and not meet its initial lifespan.
Need Expert Ceiling Fan Installation Services?
Ready to keep your house cool in the summer and decently warm in the winter? Mr. Handyman provides expert Norfolk ceiling fan installation services to increase your comfort level and help you save on your energy bills!
We are committed to serving our local community of Norfolk and surrounding areas including Norwood, Westwood and Milton. Our reliable handyman services are designed to improve your indoor and outdoor living space and include seasonal maintenance services and repairs, such as floor installations, tile repairs, or home improvement services.
We invite you to call our friendly customer service team for more information! And when you're ready for your Norfolk ceiling fan installation, remember, our experienced handyman is only one call away!