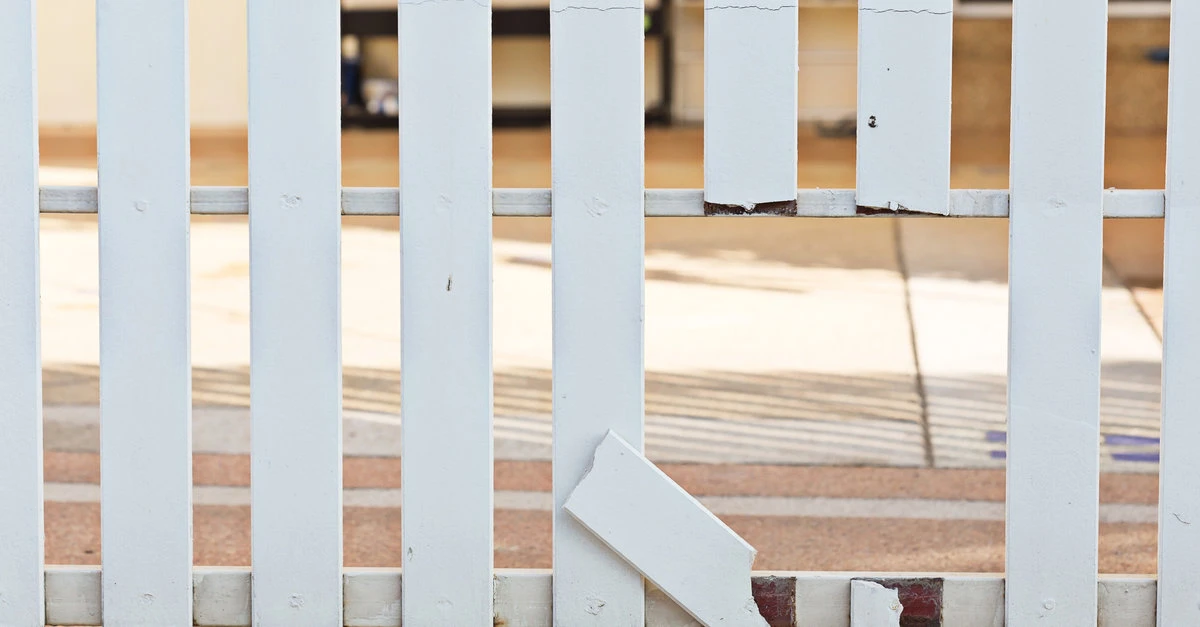 A white picket fence is a classic symbol of Americana that boosts curb appeal and property value, but they're not just there to look pretty—whether it's white pickets or not, a solid fence is an absolute necessity for those with dogs or small children. It's the only thing standing between them and a busy street when you turn your back for a split second. Even if you don't have dogs and kids, though, that barrier is a sound investment to delineate the border of your land, provide some privacy in your backyard and discourage casual trespassers from wandering onto your property, as long as you keep it maintained with Charleston fence repair services.
When your structure falls into disrepair, it can't do any of those jobs properly and it becomes more of a liability than an asset. Charleston fence repair can be a big job, especially if you don't have the right tools or handiwork expertise—not to mention the free time—to handle it on a seasonal basis. Neglecting that chore isn't a good idea either, because a structure that is in dire need of fence repair in Charleston, SC can cause some major problems for homeowners, from injury or bylaw violations to escaped pets and a property that looks run-down and decrepit.
If you need Charleston fence repair help to get your barrier structure looking and functioning at its best again, count on your local Charleston handyman to deliver on that promise. The team of service professionals at Mr. Handyman of Charleston and Summerville are highly experienced with fence repair and many other reliable handyman services, so we know how to get the job done efficiently and effectively. Customer satisfaction is our first priority!
1. Broken, Cracked or Missing Boards
This is one of the most common signs of trouble that requires Charleston fence repair, whether you've got wooden, vinyl or composite material installed on your property. Over time, the places where pieces are nailed or screwed together loosen up and boards fall off, or the structure deteriorates and suffers issues such as impacts or pest infestations that weaken slats and rails, causing them to crack or break apart altogether. That certainly takes the "privacy" out of your privacy fence, but it also weakens the overall structure, which is all interconnected—and anyone with a determined dog knows they'll find a way to wriggle through those little gaps and take themselves for a stroll around the block. Luckily, this is a relatively straightforward problem for an experienced handyman. We'll remove the damaged material and replace it, or replace missing pieces, to make sure your fence is whole, sturdy and secure again.
2. Rotting Timber
Wood is a very popular choice when it comes to building material for a fence or pretty much anything else, for that matter. It's easy to work with, widely available, attractive, durable and strong, so it's no surprise that it's so loved by builders and homeowners alike. It only has one downside, but it's a big one: wood rot. Wood fences are highly susceptible to wood rot, which is a type of decay that only occurs in timber with a moisture content of about 20% or higher. Since your fence is out there on its own and is frequently dampened by rain and humidity, it can soak up a lot of water and may not get much of a chance to dry out before the next soaking.
Charleston has a subtropical climate with high levels of humidity that range from about 50% to 65% on average throughout the year. The average rainfall is about 48 inches per year, significantly higher than the national annual average of 38 inches. Those factors combined mean that wood rot is one of the most common Charleston fence repair issues that we deal with on a regular basis. There's no way to restore rotted timber to its previous condition, and wood rot is capable of worsening and traveling to new timber (sometimes it can even travel over non-wood surfaces like masonry). That's why the most effective method of repair is to remove affected pieces of wood altogether and replace them with new, green-treated or pressure treated wood, then refinish and seal the whole structure to make it more water-repellent in the future. If you found the problem early on and patches of decay are minor, your handyman may be able to take care of it by scraping or scrubbing the rotted parts off and filling cavities with epoxy wood filler, then painting over it so your repair is invisible.
How Long Will a Wood Structure Last Without Fence Repair in Charleston, SC?
Because of the subtropical climate here in Charleston, wood doesn't necessarily last as long here as it would in an arid climate. However, it is possible for a wooden structure to have a life expectancy that is as long as 20 years—if it gets adequate, regular fence maintenance throughout the years and the occasional Charleston fence repair service to remove and replace rotted wood before it has a chance to spread to other parts of the structure.
3. Rust and Corrosion on Metal Fences
From aluminum or chain link fencing to a classic wrought iron fence, there are a lot of advantages to a structure made from metal. It's durable, low maintenance and some varieties are incredibly long-lived. With basic care and maintenance, a wrought iron structure can last for well over a century—upfront installation costs are high, but you can leave the replacement costs for your great-grandchildren to deal with! Metal does, of course, have a weakness: it's prone to rusting and other types of corrosion if it's not cared for properly. But all it really takes to keep wrought iron in excellent condition is a coat of anti-rust paint every few years, so maintenance isn't much trouble in exchange for the pay-off. Your Charleston fence repair professional can clean off spots of rust and seal your structure with anti-rusting sealant to prevent that from happening again.
4. Paint is Peeling Off
When you notice that paint is peeling off your structure in strips, or solid stain is chipping away in big flakes, that's a cause for concern. On a wood barrier, it means water is seeping into the timber, and as we know, damp timber is the first sign that wood rot is on its way. The excess moisture causes the timber to swell up so that it pushes on the paint from underneath and causes it to lift, then crack and peel off. If you address the problem right away, you can prevent decay from setting in. An experienced Charleston fence repair professional will strip off the old, damaged paint or stain and refinish your structure, then apply sealant to lock out the moisture. You may also have this problem on other types of material such as composite or metal, and it's still a sign that the material is unprotected from water damage and needs refinishing to restore its protective qualities.
How Do You Remove Peeling Paint or Wood Stain Before Charleston Fence Repair?
The most effective way to remove peeling paint quickly and thoroughly is with professional pressure washing services. Pressure washing machines are capable of producing pressures that range between 750 and 3,000 psi (pound-force per square inch). That's powerful enough to blast away peeling paint, algae growth, oil stains, grime build-up and other stubborn substances most cleaning methods can't budge. It can be used on fences, decks, porches, patios, driveways, walkways, sports and play equipment and pretty much any other outdoor surface or item that needs a good cleaning. Learn more about why you need Charleston pressure washing services for your home or business.
5. Contact With Ground
The only part of your structure that should be touching the ground is the posts. Rails, slats, pickets, gates and even chain link panels should be at least a couple of inches away from the soil at the bottom to avoid undue wear and tear or decay damage. But over time, heavy rain, landscaping changes and just the natural shifting of earth can cause soil to build up underneath your structure until it's touching. If that's the case, the best Charleston fence repair solution may be as simple as sweeping the excess soil out from underneath. But if parts of your structure are touching soil because the structure is sinking into the ground, posts are sagging or sections have been seriously damaged by rot, the repair work will, of course, be more extensive and some sections will probably need replacement.
6. Suffered an Impact
If a segment of your structure has been crushed, seriously dented, or completely knocked down from a sudden impact such as a falling tree branch or a car that accidentally jumped the curb, you don't need us to tell you that it could use skilled Charleston fence repair service from a qualified local handyman. If just one section is damaged, then that section alone can be replaced and everything should be back to normal. But if the structure is on its last legs and has other damage that's not related to the impact, a total replacement will likely be the most cost-effective option to get it back in fighting form.
7. Posts are Leaning
The posts are what hold the entire thing upright, so if they're leaning, or wobble loosely when you touch them, there's definitely an issue that requires Charleston fence repair. The majority of the time, a leaning fence post is broken off underneath the ground and is not being supported by its concrete footing. When it gets to that point, a strong wind could bring the whole structure crashing down. That's not safe, and it also makes repair or replacement more time-consuming and difficult in the long-run. It's better to have the post replaced sooner rather than later to restore stability to the overall structure and make sure it's firmly supported.
8. Gate is Hard to Open and Close
A broken or malfunctioning fence gate has to be one of the most irritating Charleston fence repair issues that homeowners encounter on a regular basis. If you have to push and pull just to drag it an inch, you'll probably stop bothering and just leave it permanently propped open. This often happens because the hinges are broken, or the wood they're attached to has rotted, and the gate is now dragging on the ground. But, the same effect can occur when the post your gate is attached to is leaning over. Our handyman team will replace busted hinges and rehang your gate, replace a leaning post, or take care of any other issues that are making it difficult to use your gate as intended.
9. Want to Boost Curb Appeal
It could be that you're not so concerned about damaged fence repair, but you do need a change to freshen up your property. If you're thinking of putting your home on the real estate market or just want your property looking its best, we can help with services such as Charleston fence repair, refinishing and replacement that can make a drastic impact on the appearance of your structure and your overall outdoor property. Fence installation services can have a much bigger impact on selling price and get you a good return on investment if you don't currently have a fenced yard.
When It's Time for Charleston Fence Repair, Trust Your Local Handyman to Get the Job Done!
Whether you're in Charleston, SC or a nearby part of South Carolina such as Mount Pleasant, Goose Creek or Moncks Corner, you can rely on the team of fence professionals at Mr. Handyman of Charleston and Summerville to provide quality services, including commercial fencing services.
Get in contact with us today by picking up the phone and dialling us to speak with our friendly customer service staff and get repairs at a time that's convenient to you, or to find out more about our other popular services similar to fence repair in Charleston, SC, such as deck repair.