Learn How Dallas Ceiling Fan Installation Can Save You Money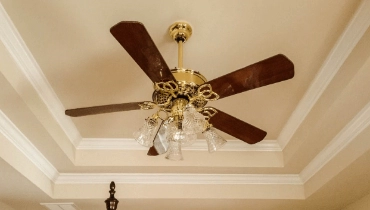 Dallas homeowners know a lot about beating the heat. With temperatures that reach over 100°F during summer, it's a matter of survival. But if you don't have a ceiling fan in your Dallas home—or you need Dallas ceiling fan installation services to replace an old, faulty unit—then you aren't maximizing the comfort of your home, and you're paying more than necessary on your utility bills.
Some people think of ceiling fans as merely a cooling method that is less effective than air conditioning, but that's a misconception. Rather than cooling, they improve air circulation in your home and work in tandem with your heating and cooling system to keep your home at the right temperature all year round.
Want to know more about the advantages of Dallas ceiling fan installation by the skilled service professionals at Mr. Handyman of Dallas? We've got answers to all your questions—and expert advice—about Dallas ceiling fan installation. We're here to help you make an informed decision about what's best for your home.
Will a Dallas Handyman Install a Ceiling Fan?
Absolutely! Many people think you need to hire a licensed electrician for this task, but that's not necessary. Your local Dallas handyman will take care of installation or repair quickly and efficiently, along with dozens of other repair, maintenance, and improvement tasks around your home or commercial business.
Mr. Handyman's service technicians have experience with all kinds of installation, including challenging locations such as a sloped ceiling. We handle all parts of the installation process, including blade assembly, motor assembly, and everything else needed to get your new unit out of its box and up onto your ceiling. We'll even offer some expert ceiling fan repair advice while we're at it!
Is Installation Dangerous?
Anything that involves electrical connections is hazardous if due care and caution are not used. Our team of handyman professionals have the ongoing training needed to adhere to all building codes and safety rules when working with electrical fixtures. We'll make sure your circuit breaker box is turned off before we start tinkering, and we'll ensure the unit is safely and securely attached so there's no risk that it will come crashing down. Want to know more about hiring a handyman? Here are 11 questions to ask before hiring a home repair service in Dallas.
What Are Ceiling Fan Benefits & Uses?
As we mentioned above, ceiling fans are not just for cooling. They can help to lower the ambient temperature in a room by four or five degrees, but they can actually help to warm up a room when it's chilly outside too.
Both tasks are accomplished by increasing air circulation. When it is hot inside and you're trying to cool down with the air conditioner or via an opened window, the fan keeps cool air moving instead of allowing it to settle near the floor. The reverse effect also applies; when cold weather hits and you crank up the heat to stay warm, the fan recirculates warm air that rises to the ceiling during winter months and directs it back downward to help keep you toasty warm.
Another benefit of installation is that most units include lighting fixtures, so they help to provide air circulation without eliminating an important source of light in the center of a room. If you're thinking of selling your home in the near future, replacing a standard light fixture with a ceiling fan installation can increase your property value by adding more functionality than a basic fixture.
How Does Ceiling Fan Installation Save Money on Energy Costs?
Simply put, good air circulation increases the energy efficiency of your Dallas home by making your HVAC system operate more efficiently. Because the unit can increase heating and cooling power and change the temperature by as much as five degrees, you don't need to set your thermostat as low for air conditioning, or as high for heating, as you normally would. Since heating and cooling are the biggest expenses on your monthly bills, reducing the amount of energy your HVAC system has to use will significantly lower your energy bills.
You may be wondering if that's really going to work—after all, isn't the fan using energy too? It is, but the energy cost to run it is a lot lower than the cost to run your air conditioner or furnace. Your air conditioner, for example, is probably the biggest energy consumer in your house. According to the U.S. Department of Energy, it costs about 36 cents per hour to operate, which accounts for about a quarter of all home energy consumption. A ceiling fan, on the other hand, uses far less—it only costs about one cent per hour to operate. With the unit doing its part, you can set the temperature on the thermostat four degrees higher than you normally would and save a lot of money while still enjoying a cool, comfortable home and reducing the strain on the environment.
Is It Okay to Leave Ceiling Fans On All the Time?
Because they don't actually cool your home, they merely circulate the air, there's no real reason to leave it on when no one is there. Running it continuously will accelerate wear and tear on the unit, and needlessly waste energy. It makes more sense to turn it off when you're not home or not using the room the fan is located in. That being said, it is safe to leave it on all night in your bedroom while you're sleeping, or keep it running continuously while you're in the room and need air circulation.
Does a Ceiling Fan Use More Electricity Than a Floor Version?
A typical floor or pedestal unit will actually use a bit more electricity than a ceiling unit, but their energy consumption is more or less comparable. Ceiling units are better at circulating air throughout the entire room, but a pedestal version is useful when you want a concentrated blast of air up close.
What Components Are Needed for Installation?
There are a lot of parts that go into an installation. Most of the elements your Dallas handyman will need are packaged together when you purchase your new unit. Those include components such as:
Ceiling fan blade arms
Motor
Wall switch or remote control
Light kit
Light fixture box
Light bulb
Switch housings
Fan wires
Pancake box or ceiling fan box
Screws and additional hardware
Basic tools
Safety glasses
Where Should My Ceiling Fan Be Installed in My Dallas Home?
It can be installed in any room that can benefit from improved air circulation—as long as there is adequate space for it to operate without creating a hazard. In particular, the following conditions need to be met for the unit to operate safely:
Blades must be a minimum of seven feet away from the floor; eight feet for metal blades
The unit must be out of reach of a bunk bed or any other high furniture that can be climbed on
It needs full clearance away from cabinets or anything else it could bump up against
Blades cannot pass underneath a light fixture
Need Ceiling Fan Installation? Mr. Handyman of Dallas Will Get the Job Done Right!
Whether you're in Dallas or a nearby area such as Mesquite, Sachse, or Addison, you can trust the experts at Mr. Handyman of Dallas for ceiling fan installation services. We always provide quality workmanship and excellent customer service for any kind of home remodeling project, from a basic installation to a full shower remodel.
Give us a call today to request a service appointment or to find out more about how we can enhance your home and make your life easier!