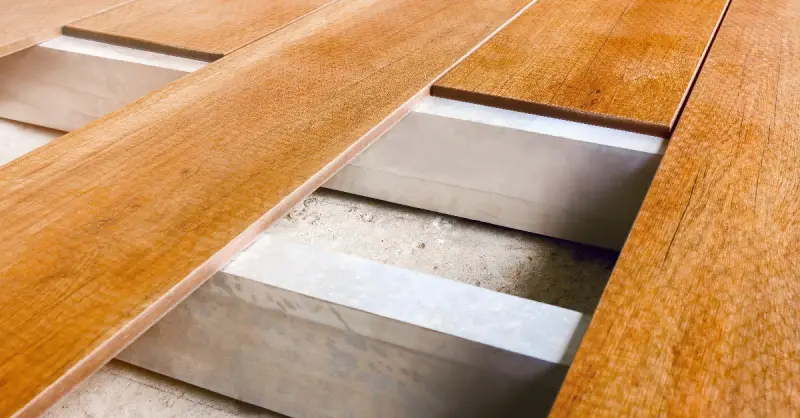 If you need someone handy and trusted to complete a professional Dallas flooring installation, you're in the right place! Mr. Handyman of Dallas has expert flooring installers on the team who are familiar with solid hardwood, vinyl, laminate, tile, and many other beautiful flooring types.
Schedule an in-home consultation and inspection with your local Dallas handyman team today by calling our friendly customer service representatives. Or keep reading to find out what type of flooring projects we can complete and how we'll make sure we meet your needs for flooring installation in Dallas, TX.
What to Expect During Flooring Installation in Dallas
Whether you already have an idea of what you want or need expert advice on what works best for your home, your Dallas flooring installation technicians will help you make the right choice. They will also properly inspect your existing floor, including the subfloor's condition. If you have an existing system in place, we may discuss the removal process as well.
You may order your material yourself or ask Mr. Handyman to acquaint you with trusted suppliers. Between the ordering, delivering, and acclimatization process, it may take a few weeks before the start of your initial flooring installation. Dallas homeowners can have our team deal with the removal process in the meantime, during which we'll also prepare your subfloor.
Generally, the amount of time your installation will take depends on the size of the room in need of new flooring. Many projects are completed in as little as one to three days. When opting for laminate or vinyl, the entire process could easily be done within a day, whereas wood floors, with their more comprehensive installation options, may require longer. But once we have gathered all the details during the consultation and inspection, we'll be able to give you an exact timeframe.
Popular Types of Flooring Used for Dallas Flooring Installation
To prove to you that we're your local flooring professionals, we'll go into more detail about the common Dallas flooring installation services we complete for our local clients. Popular types our professional installers handle regularly include:
Tile: Whether it's in a bathroom or somewhere else, it's hard to imagine homes without at least one ceramic tile or porcelain tile flooring installation. Dallas homeowners with tile systems likely have high foot traffic or want to better manage their indoor humidity levels. While extremely versatile with many design options, some tile systems come with higher maintenance requirements. Still, tile installation remains one of the most desired options.
Solid Hardwood Flooring: Red oak, ash, or birch are common types of hardwood materials available in Dallas that are highly desired for the making of furniture and even flooring installations. Our Dallas service technicians are happy to make some recommendations for where you can sustainably source these materials.
Engineered wood is also an option. While it's not as thick as natural hardwood floors, it can handle high moisture levels better than natural wood.
Luxury Vinyl Plank: LVP is not only popular among young professionals, but also families with homes that have high-traffic areas. Made of high-quality PVC layers, LVP is easy to install (with the click and lock mechanism), cost-effective, durable, and comes in a wide range of styles and designs.
Laminate: Thanks to modern technology, laminate flooring installations have regained popularity. As a multi-layer synthetic product, new technology has enabled laminate to mimic a vast list of design trends, from hardwood to stone. The protective surface cover has non-scratch qualities and gives your entire room a glossy look. Laminate is not only moisture-resistant and durable, but it's also eco-friendly because it's made of recycled materials.
Why Mr. Handyman is Your Local Pro for Dallas Flooring Installation
Local homeowners choose Mr. Handyman of Dallas because we are a locally owned and operated handyman business that specializes in expert property maintenance, home repairs, and highly-rated property improvement services. As one of North America's top home service franchises, we are committed to high-quality workmanship that always brings high levels of customer satisfaction.
Every service professional on our team has passed their background checks and is highly qualified, experienced, bonded, and insured. They bring an average of ten years of experience completing various handyman jobs in Dallas and surrounding areas, such as Balch Springs, Addison, and Garland. Count on our expert handyman professionals to arrive promptly on the day of your scheduled service, in uniform and driving a company vehicle so you know who you're dealing with!
Frequently Asked Questions About Dallas Flooring Installation Services
How Much Does Dallas Flooring Installation Cost?
This depends on various factors, such as: Are you acquiring your materials and products yourself or through Mr. Handyman? Or are you opting for a solid hardwood installation or luxury vinyl plank?
Besides the difference in material cost, labor costs can vary from product to product. For example, when installing solid hardwood, there may be extra work required to make sure your subfloor is flat before installation begins. The service technicians at Mr. Handyman of Dallas are very transparent about their upfront pricing system. Feel free to schedule a no-obligation, in-home consultation to get more information on pricing for floor installation in Dallas.
Which Type of Flooring is the Most Cost-Effective and Durable?
This depends on where you purchase your flooring material from. Some Dallas handyman technicians have said that luxury vinyl flooring may be the more cost-effective option; however, one should keep in mind that there are different levels of quality. But generally, it's easier to install LVP because the click-and-lock mechanism allows the system to float rather than needing it to be glued to the underlayment.
Laminate shares similar costs as vinyl and also delivers similar qualities, except that vinyl is more moisture-resistant and, thus, works better in laundry rooms or bathrooms. Besides being cost-effective, both are highly durable and versatile. Feel free to read more about vinyl versus laminate if you're still on the fence, or give our friendly team a call.
Should I Get a New Dallas Flooring Installation or Repair the Existing Floor?
In our professional experience, a comparison between floor repair and a complete replacement really comes down to the type of damage and the size of the damaged area. If you've noticed some minor issues like a few stains, scratches, or scuffs, our experienced repair professionals can restore your flooring and your home to attractive condition with skilled floor repair services.
But, if the damage is pretty extensive and it's affecting a large percentage of the overall surface space, or there is a serious problem like water damage in a very obvious location, replacement might actually be longer-lasting and more cost-effective than repair. Not sure which option is the best choice for your property? Give us a call! We would be happy to assess the damage and offer our recommendation on the best way to get you the solid, appealing, perfectly-conditioned floor you've been wanting, whether it's with repair or replacement services.
What's the Best Type of Flooring Installation for Pets?
Here in Dallas, we absolutely love our furry, scaly, and feathered pet companions and often give them free rein to wander our homes, so it makes perfect sense to consider their needs before Dallas flooring installation. It's also a good idea to choose an option that they won't immediately destroy.
Here are a few pointers to keep in mind when selecting the perfect material for a pet-friendly floor installation:
Hardwood flooring installation is not necessarily the best flooring for dogs or other animals with non-retractable claws, as the surfaces quickly get scratched up with a million little claw marks.
While cats do have retractable claws, they often use them with impunity on everything except their scratching posts, so carpet may not be the right option for a household with cats.
The other problem with both carpets and hardwood is that they readily soak up potty "accidents," which damage the floor and leave an unpleasant odor but can also cause issues for the underlay or subfloor beneath.
Big dogs with long, gangly legs are sometimes unwilling to walk on a smooth, shiny surface because it's easy for them to slip and have all four legs go in opposite directions. A tile flooring installation with a rough texture will give them something they can get a grip on.
In most cases, tile, luxury vinyl planks or laminate floors are good options for pets because they are durable, easy to clean, and not likely to attract cats that are looking for something to hone their claws on.
What Should I Do to Prepare for Dallas Flooring Installation?
If the decisions have been made and the flooring installation has been booked, there are a few preparatory steps that homeowners can take to ensure the installation goes as smoothly as possible on the day of service.
Keep in mind that even though your installation project is likely for one or several specific rooms, our technicians may need to pass through other parts of the house carrying awkward bundles of flooring material and toolboxes. One of the most important things you can do in preparation for that is to make sure there's a clear path from the nearest exterior door to the room that is going to be worked on. If possible, it's also best to make sure there's room on the floor just outside the room where we can place the flooring materials so it's easy to grab more as we progress through the installation. Since we must wear workbooks, it also makes sense to throw down some drop cloths or old pieces of carpeting on the route to and from the room so the floors out there don't get messed up.
There are also some things that need to be done to prepare the room where the installation is going to go.
Here are a few things to work on in the weeks leading up to your appointment for Dallas flooring installation:
Remove everything from the room, including furniture, wall hangings and items that are stored in closets
Remove long drapes or tie them up well out of reach
Clean the existing floor surface or subfloor
On the day of installation, set the thermostat to the recommended installation temperature for the type of flooring you've chosen
In most cases, it's best to complete other remodeling projects, such as cabinet installation, prior to flooring installation
How Do I Maintain My New Flooring Installation in Dallas?
Be sure to regularly clean each area of your flooring, including the steps on any stairs you may have. Each type of flooring will have its own unique maintenance requirements, but generally, your handyman recommends using less water when cleaning them, and if possible, refrain from using chemical cleaners. Not only can they be harmful to you and your family, but they can also deteriorate the surface of your existing system, such as your tile sheets and grout lines.
Regular vacuuming with gentle beater brushes or sweeping with damp or dry microfiber cloths are the best way to maintain your flooring and ensure you won't need floor repair or stair repair services in the near future.
For a Solid Ground to Walk On—Hire Mr. Handyman For Experienced Dallas Flooring Installation!
Whether you're considering a home remodeling project or need help from an expert handyman to match your drywall finishing with your flooring, get in touch with our outstanding customer service representatives today to schedule an appointment or ask any questions that you may have. Make your beautiful, long-lasting floors a reality with Mr. Handyman of Dallas!