Homeowners and business owners who rely on our team of repair, improvement, and installation experts for Dallas interior door repair don't just get capable, experienced service and quality workmanship. They also get outstanding customer service that goes the extra mile every time. We'll arrive promptly, in uniform and driving a branded company vehicle so you know who you're letting into your house. We'll then evaluate your project thoroughly and explain our recommendations for the best way to get it fixed up.
Because the type of trouble that requires Dallas interior door repair often starts out unnoticeably small and gradually gets worse over time, it often gets ignored until the entryway is in really poor condition. It helps to know what the most common types of trouble are, and how our team can get them repaired.
Here are some of the typical problems our DFW door repair experts are frequently called to solve:
Squeaking or Loose Hinges: If your interior entries make unpleasant noises when they're opened, we may be able to get them moving silently again by simply applying some lubricant to their hinges. But if its hinges are seriously rusted or corroded, or have broken parts, it will likely be necessary to remove your slab, replace its hinges with new ones and rehang. For hinges that are coming loose but still, in good condition, your handyman can simply tighten up the screws to get it back in good shape so you don't alert your whole household every time you use that entryway.
Broken or Sticking Latch: If you've got a jammed latch that won't move in or out, we may be able to unstick it, but if not, a latch replacement will take care of the problem. The issue may not be with the latch itself, but rather a misaligned strike plate. If that's the case, we can get it back to proper working condition with a few adjustments to your jamb and/or slab.
Difficult to Open and Close: One of the most common problems our Dallas interior door repair professionals are asked to deal with is an entry slab rubbing against or catching on the latch-side jamb near the floor. This typically happens because a lower jamb has fallen out of the plumb. In order to get it back where it belongs, we'll remove the casing, re-affix your jamb, then get your casing trim back in place.
Pet or Impact Damage: Cats and dogs are not always kind to indoor components, and accidents can happen to cause impact damage. Chew marks or scratches on the surface can sometimes be handled with Dallas interior door repair methods such as sanding and refinishing, but if you have a hole or crack in a hollow core entryway, it is ready for replacement.
Pick Mr. Handyman of Dallas for Expert Dallas Interior Door Repair
There's no need to scour the internet and interrogate all your friends and neighbors to find the best possible option for Dallas interior door repair when the skilled technicians at Mr. Handyman of Dallas are right here! We provide thorough, capable, high-quality home repair services to the homeowners and business owners of the Dallas-Fort Worth area, including DFW door repair. We also offer a wide variety of other services, including door installation, drywall installation, and window repair.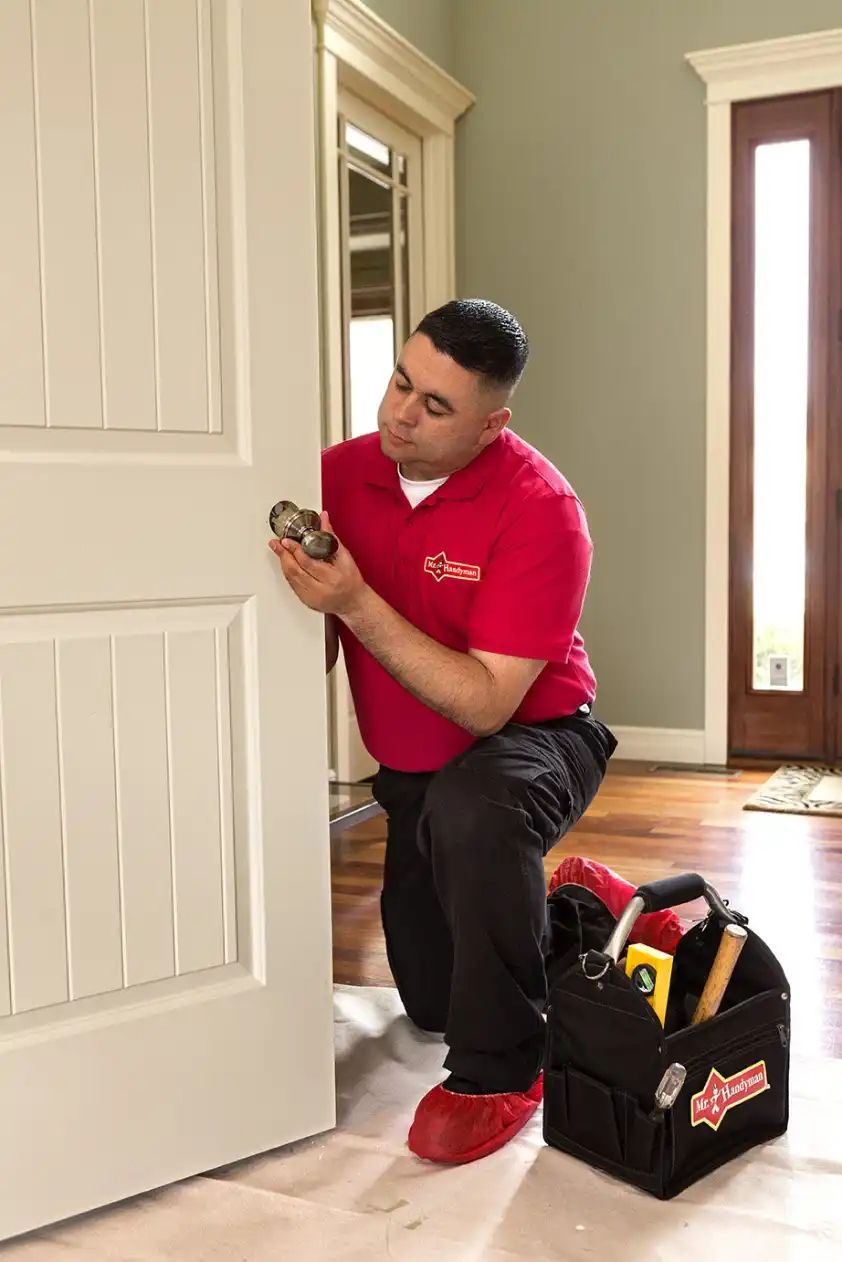 Frequently Asked Questions About Dallas Interior Door Repair
HOW LONG DO INTERIOR ENTRIES LAST BEFORE THEY NEED TO BE REPLACED?
Indoor entries don't have to withstand the harsh effects of bad weather and wildlife attacks the way exterior ones do, but they still take wear and tear damage over time from normal use. If they're treated gently and get regular maintenance, they can last many, many years. That's particularly true for solid wood entries that can be sanded and refinished to eliminate surface damage. Hollow-core doors, however, are probably only going to last about 10 to 20 years before they need to be replaced.
WHY DON'T MY FRENCH DOORS MEET IN THE MIDDLE ANYMORE?
Many local houses in Dallas feature a beautiful set of French or double doors that are supposed to meet in the middle and latch together. But if the two sides have become misaligned over time, the latching mechanisms on the two slabs can no longer connect with each other and it's very difficult or impossible to get the entryway latched properly. Misalignment may be caused by your house settling over time—this is actually normal, especially in older houses, but all buildings do some shifting. It could also be that there's a problem with the hinges they were not installed correctly. Whatever the problem, our Dallas handyman professionals can get your entryways realigned, so they meet in the middle and the latch can be closed.
Call Mr. Handyman for Reliable Dallas Interior Door Repair
Wherever you are in the Dallas area, including communities such as University Park, Lancaster, and Rowlett, you can rely on exceptional customer service and professional workmanship from the experts at Mr. Handyman of Dallas.
Get in contact with our friendly customer service representatives to schedule a convenient appointment time or find out more about our trusted handyman services in the Dallas area.