Telltale Signs That Your Home Is in Need of Frisco Siding Repair Service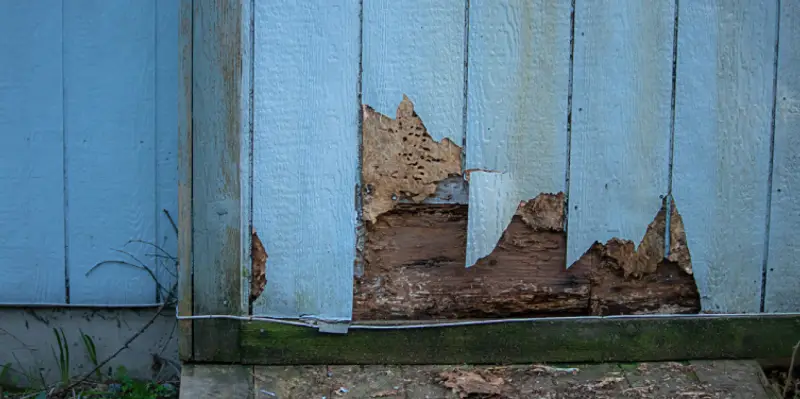 Residents of Frisco, TX like to keep their properties looking great, and siding is one of the biggest enemies of that task. It takes up a huge amount of visual space, so it has a striking impact on your curb appeal, but it's also crucially important to keep your house safe, secure and energy efficient. Without prompt Frisco siding repair to fix any damage, your exterior walls could cause some serious problems.
Siding protects your property against weather and pests. It insulates your home and protects you from the harsh temperatures and humidity in Frisco, Texas. Over time, your siding will need to be repaired. It can become loose, cracked, warped, or even start to sag. Damaged siding is not only an eyesore but it can also be a home for pests and it can damage your home's exterior. This helpful guide will list the signs that your property needs Frisco siding repair.
If you notice some of the signs listed below on your house exterior, trust your local Frisco handyman to take care of it. The team of service professionals at Mr. Handyman of Frisco is experienced with a wide range of siding repair and replacement materials and techniques, so we know what to do to get your property looking it's best again and protect your house from moisture incursion.
Wood Rot
If you spot patches of wood rot in your siding it is time for Frisco siding repair or replacement. Siding protects your home from the elements. If you notice your siding is rotted or crumbling, then it cannot do its job. The deteriorated material allows even more water to penetrate the wood boards. The water will seep through the boards and into the paper underlayment. Wood siding is susceptible to wood rot because it is outside and exposed to the elements. Wood rot is a form of decay that will only affect timber with a moisture content that is higher than 20%, but the timber can be protected by paint or wood stain and sealant.
In some cases, your handyman may be able to use a Frisco siding repair strategy on the affected area. Since it's not possible to restore rotten timber to its previous condition, wood rot repair usually involves replacing the affected board or shingle altogether with new siding pieces. It's best to attack wood rot before it spreads across the exterior of your home. If the rot spreads too far you may have to replace all of the wood siding, which is why regular maintenance is so important. Some types of siding hold up better against rot. Vinyl siding or engineered wood siding lasts a long time and is not as vulnerable to wood rot.
Holes and Cracks
Cracks and holes are not just unsightly, they can also damage the structural integrity of your building. Gaps allow water to get into the interior of the walls. This is a common problem for wood in Frisco, but it can also happen to stucco, stone or brick veneer, vinyl, and engineered wood.
Aluminum and vinyl may need to be repaired as well. Aluminum and even steel siding are prone to denting from stones, hail damage, and other types of storm damage in Frisco—or just normal wear and tear. Vinyl can get small holes and cracks from lawn equipment or bad storms too. The good news is that a vinyl repair job is usually a smaller repair you can get to keep your home looking nice.
Fiber cement has the fewest problems in the deterioration and damage categories. This siding product is made of cement and cellulose fibers and carries a guarantee of up to 50 years. No material is perfect. With enough force, fiber cement can split or become chipped as well. Check your home's exterior regularly for any signs of holes, cracks, or gaps. Repairing or replacing material that has suffered from gaps or cracks is most effective when it's taken care of sooner rather than later.
Pest Infestations
In addition to moisture getting in, rodent and insect pests in Frisco will sometimes take the opportunity to make your home into their home by creating or enlarging holes and other types of damage. Pests like termites can have devastating effects on your home. It's best to catch them as soon as possible. Wood is a favorite choice for woodpeckers. They will bore holes into your wood exterior in search of bugs. These holes are generally small and easy to repair, but it is important to spot them before moisture gets into the holes.
Energy Costs Have Increased
In some cases, there will be no obvious damage to your exterior cladding. You may have to spot the more subtle signs indicating the need for Frisco siding repair service. If you feel drafts near doors or windows it may be a sign that your energy efficiency has been compromised by damaged or deteriorated cladding. That allows for heat transfer, which causes your HVAC system to operate for longer in order to compensate for the temperature change. The additional operation time will make a noticeable difference to the amount you have to pay for electricity or natural gas. Siding repair could prevent drafts and help save you money on your heating and cooling bills in Frisco.
One of the many benefits of siding repair is better insulation. The better your house is insulated, the less you spend on energy to heat and cool your home. Your Frisco siding repair contractor will be able to notice areas of wear and tear in the trim or around doors and windows that you may not be able to spot. They can also recommend new modern products with Energy Star ratings that could improve your property's energy efficiency and increase your energy savings.
Exterior or Interior Moisture Damage
If you have to frequently repaint or stain your wood cladding because of blisters or bubbles in the paint this could be a sign of water penetration in the boards. Or, you may notice signs you need exterior trim repairs. In severe cases, you may experience water damage on the interior of your home. If you have wallpaper, you may notice the paper peeling. If your exterior is full of moisture, that issue may begin to affect your home's interior walls as the problem progresses. Check your walls for sagging areas. The signs of moisture penetration can be subtle. Moisture usually gathers around windows. You may notice signs of interior moisture damage such as brown water stains on walls and ceilings or rotting interior trim.
Many homeowners in Frisco believe falsely that vinyl siding options are waterproof. Vinyl does a great job of keeping water out but it is not completely waterproof. To protect your house, a waterproof barrier is installed between the exterior shell and your home. Today, this barrier is standard practice but it wasn't commonly used before the year 2000. If your cladding was installed before the year 2000 it may be time to replace it and install a waterproof protective barrier. Water damage to siding often occurs when rain gutters are broken and overflowing. They're meant to redirect the rain that falls on your roof safely away from the house, which is why gutter repair and cleaning is so important. Not ready to get up on a ladder and scoop out handfuls of muck? No problem—the team at Mr. Handyman of Frisco provides expert gutter services to help you avoid moisture damage.
Warped Panels
If your exterior panels are warped, they could damage the structural integrity of your home. There are several different reasons why panels may warp.
Vinyl often warps when exposed to heat. If your home has an outdoor fire pit or a barbeque grill, make sure it isn't too close to your home. This can cause warping. When the temperature in Frisco rises, warping usually gets worse as well.
Built-up moisture will cause some materials to warp. Many homeowners in Frisco with wood exteriors have issues with water exposure. Wood can only withstand so much of a beating from the elements before it starts to deteriorate and warp.
Improper installation can also cause exterior surfaces to warp. If the installer nails the panels on too tightly, that may cause them to bulge. Vinyl is designed to be installed loosely so that it can move as the material expands and contracts. Nailing too securely is one of the main causes of warping.
Warped panels may go unnoticed for a while. It's hard to spot unless you know what you are looking for. However, as the problem becomes worse, the warping becomes more noticeable. Periodically check along the edges of your home's exterior for panels that bulge out or are oddly shaped in any way. Warped panels are often common in the middle of the walls but also appear at the ends.
You Want to Improve Property Value
If you are planning on selling your home, consider Frisco siding repair and replacement services that could boost the resale value of your property. Our handyman service can give your property instant curb appeal and help it to sell faster. Vinyl siding offers one of the best returns on investment for home improvement projects in Frisco. If you already have vinyl siding, then keeping it in shape and looking good helps increase value. For extra value, choose siding that has a warranty that you can pass on to the next owner.
A prospective homeowner who is in the market to purchase property in Frisco will know that siding protects houses against pests, water, fires, and other natural occurrences. If your siding is badly damaged it may require a total replacement before you list your home for sale. However, if your siding has a few issues here and there, you may be able to get Frisco siding repair for the places that need fixing and leave the rest alone.
Schedule a repair or replacement well in advance of when you list your home. This type of work can take some time to complete depending on the time of year. You'll want the work to be finished before people come to look at the property.
Severe Fading
If your exterior is badly faded it might still be protecting your home but it may not be providing much curb appeal. Sometimes you may want to get Frisco siding repair or replacement for purely aesthetic reasons and that's okay. Take aluminum as an example—it is rot-resistant, durable, and corrosion-proof. This is one of the most steadfast materials for cladding. However, over time it will become fade and less attractive.
Vinyl can also become faded, especially when it is exposed to intense sunlight. Your siding may have a warranty that includes protection to guard against some level of fading, but the level of protection varies from company to company. Sometimes your house simply needs some TLC. Vinyl can become strained and in need of a little freshening up. Scrubbing your exterior and cleaning the panels can go a long way to help your house appear brighter.
There are also industrial-grade cleaning services available to help get your house looking like new. If your exterior won't let go of stubborn grit and grime, consider bringing in a professional for serious cleaning. Our pressure washing services can help you get rid of heavy stains and dirt. Sometimes vinyl, wood, or aluminum can be freshened up with a new coat of paint or a stain. Cleaning won't do you much good if your siding is faded. In that case, painting may be your best option.
Frisco Siding Repair By Your Local Handyman Keeps Your Home Looking Its Best
Our Frisco siding repair service keeps your property protected from the elements. It also helps keep your home insulated to maintain desired warm or cool air indoors. The quicker you notice one of these signs and have it repaired the better—before these small problems become major headaches.
Mr. Handyman of Frisco is your one-stop solution to all your home repair needs. We can take care of Frisco siding repair and dozens of other reliable handyman services in Frisco, TX, and nearby areas such as Corinth, Gainesville, or Prosper. Our professionals are licensed, trained, and have the experience to do the job. Give us a call today to book a convenient appointment time or find out more.