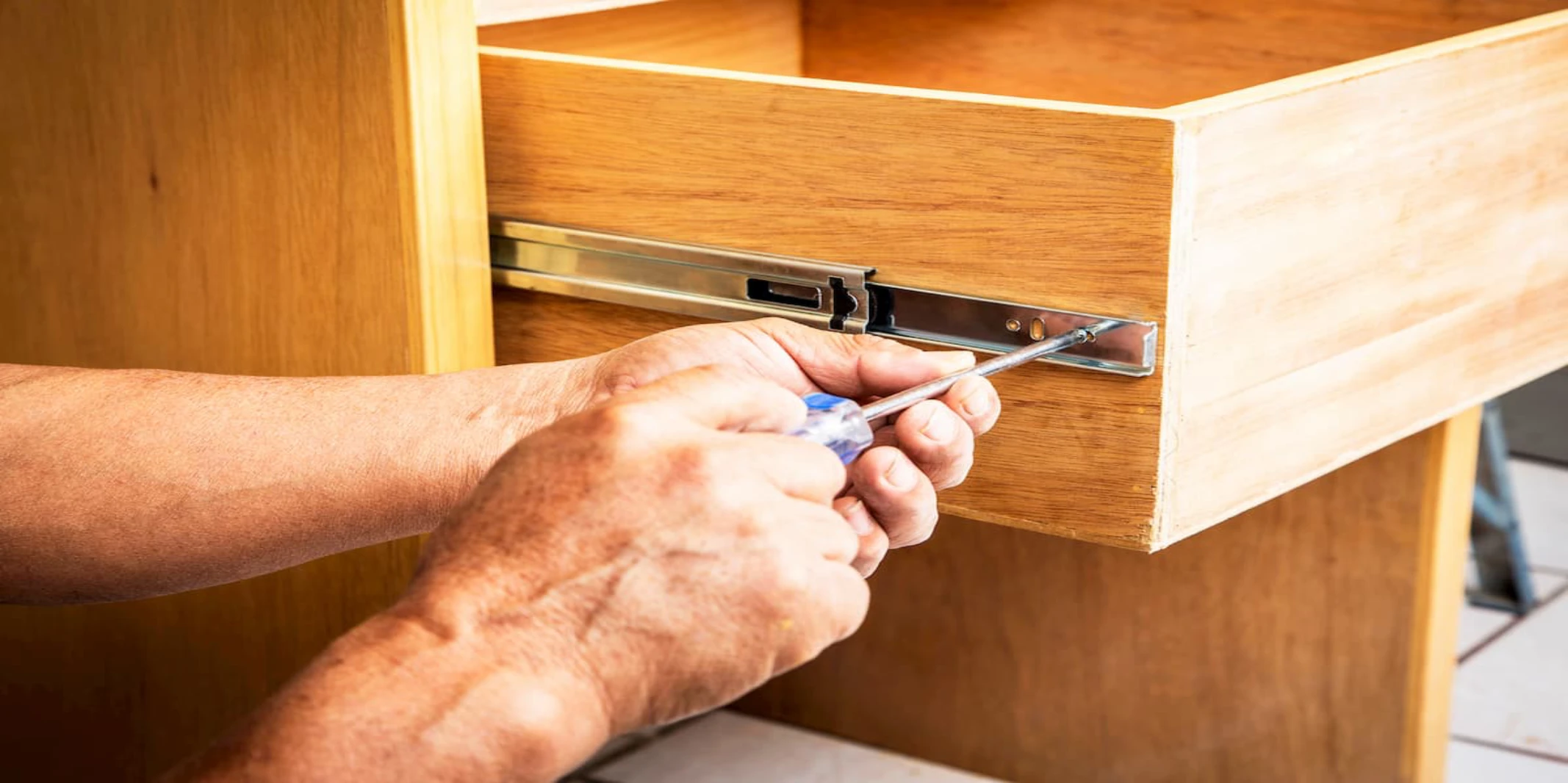 The state and design of your cabinets can really impact the overall functionality of your kitchen, especially because your kitchen cabinets take up the most real estate in the room.
Maybe your kitchen cupboards have been recently damaged, or perhaps you've been putting off a few cabinet maintenance tasks. Either way, if you need help with your Frisco cabinet repair to-dos, the team at Mr. Handyman of Frisco can help.
There are a number of important factors that will help you decide if you should replace or repair your cabinets—and what kinds of repairs are best suited for your existing cupboards.
There is a lot to learn about repairing your cabinets. To help guide you through a cupboard or cabinet fix-up project, our expert team has created this blog post. Continue reading to discover when it's worth repairing your cabinets rather than replacing them, the DIY steps to some basic cabinet repairs, and when to call the pros at Mr. Handyman of Frisco.
Should You Repair or Replace Your Cabinets?
Before diving into cabinet repair, it's important to decide if you should repair your cabinets in the first place. If you answer "no" to the following questions, then it might be a better option to refinish or paint your cabinets.
Are your cabinets seriously damaged from water?
If your cabinets have light water damage—say you spilled a glass of water in your wood cabinets and they have warped a little—then you may still be able to repair them. However, if your cabinets can't close properly, the wood has started to turn black, or they are bubbling on the inside or outside, we suggest replacing your cabinets instead.
The Overall Function of Your Cabinets is Frustrating
No matter how beautiful your cabinets might be, if the design and flow of your kitchen don't work for your needs, it might be time to replace your cabinets. You might want to consider replacing your cabinets if they are:
Difficult to access
Out of your reach
Open incorrectly or consistently get stuck
Your Cabinets Have Discolored
If you are noticing black, green, or white discoloration around your cabinets it is time to get new ones. This means your cabinets have been damaged beyond repair. Your only choice is to figure out the source of the discoloration and find a way to prevent it from happening again when you install your new cabinets.
Common Cabinet Repairs
The expert technicians at Mr. Handyman Frisco can easily repair slight damage to your cabinets. This prevents you from needing to replace your cabinets. Our skillful team can solve many common cabinet problems:
Replace Latches that No Longer Close Correctly
Most new cabinets have self-closing hinges that keep the doors shut. Some cupboards use magnetic or roller catches. Should any of these latches become damaged, you have two options to fix them:
1. Adjust the latch. Does your cabinet latch seem fine, but the doors are still not closing? You might have to fiddle with the catch a bit until it closes again. Loosen the screws holding the catch in place, move them in or out, and re-tighten the screws. Repeat until the latch works correctly.
2. Replace the latch. If the latch is damaged and needs replacing, purchase a new one at your local hardware store, unscrew the old latch, and screw in the new latch.
Adjust Hinges on Misaligned Doors
If your cabinet doors are not aligned correctly, it's most likely that either the side screw, the depth screw, or a screw that moves the cabinet up or down needs to be adjusted:
The side screws affect whether your cupboard doors are correctly aligned to the left and to the right
The depth screw affects how far back or how far forward your cabinet door is positioned
Some cabinets are built with a screw that moves them up or down, this is handy when trying to adjust doors that are at different heights; other cabinets are adjusted by loosening and tightening the mounting screws
In each of these instances, you need to find the screw that correlates with the alignment problem you're trying to fix. Then, tighten, loosen, and adjust your cupboard doors as you see fit until they are realigned.
Glue Loose Cabinet Knobs
If your cabinet knob is loose even though you've tried tightening the screw, this indicates that the problem is with the screw itself. Before you run to the hardware store to buy new knobs or worry the screw might be scratched, try gluing the knob first. To do this, purchase a thread-locking adhesive and apply a small amount to the screw. Then, slid the knob back onto the screw and let it dry.
If you want to replace your kitchen knobs in the future, the adhesive will break when you use a screwdriver.
Fix Stripped Screw Holes
Stripped screw holes are fairly easy to fix. Remove the screw and the cabinet door knob. Then, dip toothpicks in wood glue and place as many as you can into the hole—it should be stuffed full. Break off the toothpicks and wipe away any excess glue. Then put the knob back into the cabinet by screwing it directly into the toothpicks.
Add Bumpers to Existing Cabinet Doors
This cabinet repair solution is super simple. To prevent cabinets from banging shut, purchase a pack of peel-and-stick door bumpers at your local hardware store. Then clean your cupboard door so the bumper sticks. Finally, apply one bumper at both the top and bottom corners of the cabinet door.
Repair Broken Hinges
Has your hinge snapped off your kitchen cupboard? Your best option is to repair the hole with gap-filling glue. First, remove the hinge from the damaged door. Then, apply petroleum jelly to the moveable parts of the hinge. This will prevent the glue from making them stick.
Next, gently scuff up the part of the hinge that will contact with the glue. This will help make the glue adhere better. Apply the glue to the damaged part of the door and immediately reinstall the hinge and screws. Use clamps or weights to keep the hinge in place while the glue dries.
Touch Up Nicks and Scratches
Unsightly nicks and scratches in your cabinet doors may not warrant refinishing the cupboard entirely but are unsightly. A quick fix is to use a stain-filled touch-up marker to color in the scratches. Dab the marker on the stain and wipe away any excess. Be sure to use a stain that is slightly lighter than your existing cabinets. Since cabinet scratches absorb stain very easily, it's possible the repair may look darker than the rest of your cupboard doors if you do not use a lighter stain.
Clean Rusty Hinges
Cleaning rusty hinges is an easy process. However, it does require patience as it can be a lengthy process. Follow the steps below to repair rusty hinges:
1. Remove the latch and screws.
2. Scrub with steel wool to remove as much rust as possible.
3. Place rusty hardware in a container.
4. Fill the container with cola. Since sodas contain phosphoric and carbonic acids they remove rust.
5. Wait three hours. Then, check to see if the rust has been removed. Repeat every three hours until all signs of rust are gone.
6. Once the rust is gone, clean the hinge in warm, soapy water and dry it completely.
7. Reinstall the hinge into your door.
Other Kinds of Cabinet Repair
Have your cabinets become so damaged or outdated that a quick fix is no longer an option? If this is the case and your cupboards are still structurally sound, painting or refinishing your cabinets could be a better option than replacing them.
Refinishing VS Painting Cabinets
Are your cabinets looking worn or dated? Or maybe you want to change the aesthetic of your kitchen? Two options that are much more cost-effective than replacing your cabinets are to either paint or refinish them. There are different benefits and drawbacks to each renovation:
The Pros and Cons of Refinishing Cabinets
This cabinet repair option takes a fair bit of time, but it can also make your kitchen look new. Consider which is the best option for your cupboard or cabinet needs.
Pros of refinishing your cabinets include:
Creating a traditional, natural look
Easier to wash
Less prone to cracking
DIY mistakes are more forgiving
Hides dirt better than painted cabinets
Lasts longer than painted cabinets
Showcases the natural wood grain of your cabinets
The classic and natural look could benefit the resale value of your home
Supplies will cost you less than painting your cabinets
Cons of refinishing your cabinets include:
Shows dust more than painted cabinets
Harsh cleaners can dull the finish
Stained wood cabinets are less resistant to water than painted cabinets
Harder to remove stains if your refinished cabinets are not cleaned right away
The Pros and Cons of Painting Your Cabinets
Do you prefer a sleek and streamlined aesthetic in your kitchen compared to the more traditional look of staining wood cabinets? Instead of refinishing your cupboards, painting might be a better cabinet repair option for your style.
Pros of Painting Your Cabinets:
Creates a smooth, modern look
Hides dust more than stained cabinets
Can apply a top coat to make cleaning easier
Paint has more color options than staining cabinets
Neutral colors add to the resale value of your home
Cons of Painting Your Cabinets:
It's more difficult to touch-up painted cabinets
Can be more time-consuming
Mistakes show more easily
Paint lasts less than staining
More expensive than staining your cabinets
More prone to cracks and chipping
Bold colors can detract from the resale value of your home
DIY Cabinet Repair: Painting and Refinishing
Follow these steps to paint or refinish your cabinets and give your kitchen cupboards a new lease on life. Painting and staining both follow a similar process.
If you're not much of a DIYer or don't have time for a cabinet repair project, we invite you to call the friendly staff at Mr. Handyman of Frisco. Our technicians are more than happy to paint or refinish your cabinets.
1. Figure out what kind of paint or stain you need. You will need different types of paint depending on what material your cabinets are made out of. Metal and wood are easy to paint over with standard water-based paint. However, plastic and laminate cabinets need special paints. The stain will only work on wooden cabinets. We suggest completing a patch test on your cabinets first to make sure you've chosen the right color and type of paint/stain.
2. Label each cabinet door. Before removing your cupboard doors, label them with masking tape and a Sharpie. This will save you time when you have to put everything back.
2. Remove cabinet doors and hardware. Do not paint your cabinet doors inside. You need a ventilated space as the fumes from paint and stain can be harmful. Move your cabinet doors to a well-ventilated area like your backyard or deck. In colder weather, an open garage will work as well.
3. Clean the cabinets thoroughly. The kitchen is one of the areas of your home that has the most grime build-up due to grease, oils, and food splatters, so it's very important to paint your cabinets on a clean surface.
4. Let your cupboard doors dry completely. Before you sand your cabinet doors, they must be completely dry.
5. Sand the cabinet doors. Gently sanding your cupboard doors will prepare them for painting or staining. This process removes existing paint or stain, smooths out scratches, and ensures the paint/stain bonds properly with the cabinet surface.
6. Wipe away excess. Sanding can be quite messy, and before you apply your paint or primer you will need to wipe down your cabinet doors thoroughly to get rid of any debris from sanding.
If you're painting your cabinet doors:
7. Apply the primer. This step is only for painting cabinets. Applying an even coat of primer will help your paint job remain even. Primer also helps paint bond to the cupboard doors.
8. Paint the cupboard doors. Once the primer has dried, you can start to paint the cabinet doors. Paint carefully and evenly by applying paint in multiple, thin layers until you cover the cabinet doors completely.
9. Let the paint dry completely. Before reinstalling your newly painted cupboard doors, be sure they have completely dried.
If you're staining your cabinet doors:
7. Use a rag to apply the stain. Using a rag will help you work the stain into the grain of the wood. Wipe away any excess stain before applying another level until you reach your desired color and the stain is applied evenly.
8. Apply a polyurethane sealer. This prevents liquids from damaging the wood and will maintain your newly applied stain. Apply two coats of sealer, and let the cabinets dry completely between each coat. Once the final coat has been applied and the cupboard doors are completely dry, they are ready to be reinstalled.
Call the Pros at Mr. Handyman of Frisco
Do your kitchen cupboards desperately need to be repaired? After reading this article, maybe you have the confidence to tackle a DIY cabinet repair job on your own. However, if you're short on time or would prefer the experts at Mr. Handyman or Frisco handle your cabinet repair needs, be sure to give us a call or request Frisco handyman service today!