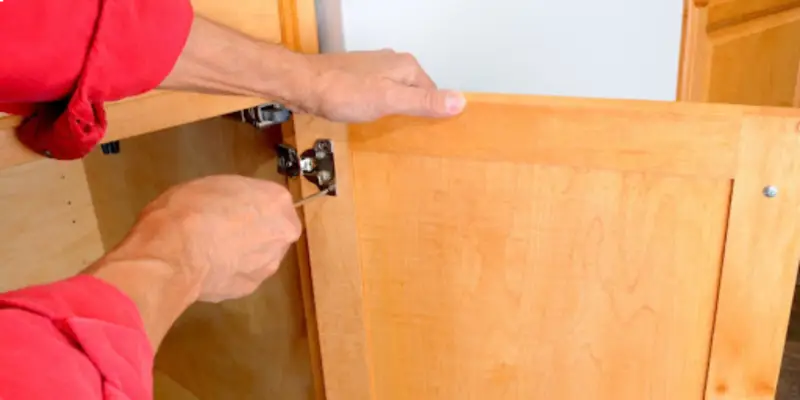 Whether in the kitchen, bathroom, or in a storage area, cabinets take up a lot of space in Frisco homes. Thus, the design, function, and state of your cabinet doors can make a big difference in any space. As the part of cabinets that is most visible, doors are among the most important parts of the structure. So when they're working improperly, squeaking, or simply looking worse for wear, it's important to get help from local experts that repair and replace cabinet doors in Frisco.
But how do you know which solution is best? There are benefits to both replacing and repairing cabinet doors in Frisco. To guide you on your decision, our expert team is here to walk you through what you need to know to fix-up your cabinet doors—whether there is an issue to repair, or you simply want to give them a new lease on life with a little facelift.
Your local Frisco handyman team is always here to help. Read on to discover your options for sprucing up cabinet doors in Frisco, the DIY steps to some common repairs for cabinet doors, and to learn when you need to call a team like Mr. Handyman of Frisco.
How to Spruce Up Your Cabinet Doors
There are many reasons why your storage might need a facelift. Sometimes, your current cabinet doors function correctly but you're tired of their appearance. Perhaps the color is outdated, or you've done other Frisco home remodeling recently and your cupboards look out of place with the rest of your home.
In any case, there are three main ways you can alter the appearance of cabinet doors:
Staining: This is a technique used on wood cupboards. It involves applying a new coat of wood stain to revamp their appearance. You can select a stain for most wood used in Frisco.
Painting: Involves applying a fresh coat of paint. It can be used with a variety of materials, from vinyl to composite material.
Replacement: This final option entails replacing cabinet doors or hardware, while leaving the cabinet boxes as is.
Staining VS Painting in Frisco
Refinishing and painting are more cost-effective alternatives to a refacing project. While either option can be used for unfinished or outdated cabinet doors in Frisco, both strategies offer different benefits and drawbacks.
Pros and Cons of Staining
Refinishing with stain can be time-consuming, especially for Frisco homeowners that try to do it themselves. However, it can also make your kitchen look like new.
Pros:
Lasts longer than painting.
Easier to wash.
Less prone to cracking.
Showcases the natural wood grain.
Creates a traditional, natural look.
Supplies cost less than they do for painting.
DIY mistakes are more forgiving.
Hides dirt better than painting.
The classic and natural look could benefit the resale value of your home.
Cons:
Harsh cleaners can dull the finish.
Harder to remove stains if your refinished cabinet doors are not cleaned right away.
Stained wood is less resistant to water than paint.
Shows dust more than paint.
Pros and Cons of Painting
Maybe you would prefer a sleeker and more streamlined look in your kitchen compared to the more traditional aesthetic of other kitchens in Frisco. Instead of staining, consider painting to get that modern look.
Pros:
Can apply a top coat to make cleaning easier.
Neutral colors add to the resale value of your home.
Creates a smooth, modern look.
More color options than staining.
Hides dust more than stain.
Cons:
More prone to cracking and chipping.
It's more difficult to touch-up painted cabinet doors.
Bold colors can detract from the resale value of your home.
More expensive than staining.
Can be more time-consuming.
Mistakes show more easily.
Paint lasts less than staining.
How to Refinish Your Cabinet Doors
Both painting and staining follow a very similar process, so if you want to boost the appearance of your current storage without replacing it, you can follow these basic steps. However, if DIY projects are not up your alley, then the pros at Mr. Handyman of Frisco are more than happy to help.
Preparation:
Decide what kind of paint or stain you need. Depending on what material your cabinet doors are made out of, you will need different types of paint. For example, metal and wood only need a standard water-based paint. However, plastic and laminate cupboards require special paints. Likewise, it's important to note that stain will only work on wood. Be sure to do a patch test first to ensure you have chosen the right color. If resale value is a concern, you may also want to familiarize yourself with current trends in Frisco or your local community.
Label properly. Before removing them, label each cabinet door to save you time when you have to put everything back.
Remove doors and hardware. We advise that you do not paint your cabinet doors inside. Instead, move them to a well-ventilated area like your backyard or deck.
Clean thoroughly. It's very important to work with a completely clean surface.
Dry completely. Before you proceed to the next step, sanding, everything must be completely dry.
Sand surfaces. Lightly sanding will prepare for painting or staining. Sanding removes older finish, smooths out scratches, and helps your new finish bond properly.
Wipe away residual dust. Sanding can be quite messy, so before you apply your paint or primer you will need to wipe down sanded surfaces thoroughly.
For Painting:
Apply primer. Applying an even coat of primer will help the paint stay even. Additionally, primer helps paint bond better.
Paint carefully. Once the primer has dried, you are ready to paint your cabinet doors. Be sure to apply coats carefully and evenly. The best practice is to apply in multiple thin layers until you have reached your desired coverage.
Dry. Before reinstalling your newly painted cabinet doors, be sure they have completely dried.
For Staining:
Use a rag to apply stain. Using a rag will help you work the stain into the wood's grain. Keep staining until you have reached your desired color and have applied the stain evenly. Wipe away any excess stain.
Apply a polyurethane sealer. This will maintain your newly applied stain and prevent other liquids from damaging the wood. It's best to apply two coats of sealer and allow your cupboards to dry before applying a new coat. Once the final coat has been applied and everything is completely dried, you may reinstall them.
What Options Are Available for Replacing Cabinet Doors in Frisco?
If painting or staining doesn't sound like an option for you, then you can still opt to replace. There is a wide variety of styles and colors for cabinet doors in Frisco. That said, there are essentially three main categories you can choose from. It's helpful to know their basic differences to inform your decision while shopping for new models in Frisco.
Stock: These are the most affordable option, and they are made to order. Available in standard sizes, stock doors can't be altered or adjusted. They are best installed on boxes that are also standard sizes, as their design cannot be altered.
Semi-Custom: A step up from stock designs, this variety is made before you order them but can be adjusted for size and other specifications. Usually, they are higher quality than stock options in Frisco. This means they will likely last longer and wear better as time goes on.
Custom: The most high-end option, custom designs cost the most. However, you also have the most control over the design, so you have the ability to get exactly what you envision. Additionally, custom models are usually made out of the best materials available, providing excellent durability and longevity.
Pro Tip:
Our experts at Mr. Handyman of Frisco are not only highly skilled technicians, but also master carpenters. Our team can work with you to develop completely bespoke cabinet doors in Frisco—or even create the entire structure from scratch.
Common Repairs for Cabinet Doors in Frisco
Sometimes, older cabinet doors in Frisco simply have slight damage that can be easily repaired by either you or our expert technicians at Mr. Handyman Frisco. Repairs help you avoid having to replace them entirely.
Common problems in Frisco that are easily solved by our skillful team or through DIY steps include:
Adjusting Hinges on Misaligned Doors
If your cabinet doors are not aligned correctly, it's most likely that either the side screw, the depth screw, or a screw that moves it up or down needs to be adjusted. To adjust these screws, simply tighten or loosen as you see fit until everything is realigned.
Side screws affect alignment to the left and to the right.
Depth screws impact how far back or how far forward cabinet doors sit.
Some cabinets are built with a screw that moves them up or down. If this is not the case and one of your doors is higher than the other, you will have to adjust it by loosening the mounting screws.
Replacing Latches that No Longer Close Correctly
Most new units have self-closing hinges that keep them shut. However, some cabinets in Frisco still use magnetic or roller catches. Should any of these latches become damaged, you have a couple options to fix them:
Replace the latch. Pay a visit to your local hardware store, buy a new latch, unscrew the old latch, and replace it with the new model.
Adjust the latch. If the latch seems fine but your cabinet doors are still not closing, you might have to fiddle with it a bit until it works again. Loosen the screws holding the catch in place, move it in or out, and retighten the screws. Repeat until it works correctly.
Touching Up Nicks and Scratches
Nicks and scratches are a part of life for all homes—in Frisco and across the United States. Whether you bumped into the cabinet door while cleaning or putting away dishes, one or two little scratches are not too much to worry about. You can use a stain-filled touch-up marker to color in any scratches. Simply dab on the stain and wipe away any excess.
Cleaning Rusty Hinges
Cleaning rusty hinges is an easy process, but it does require a little patience. Follow the steps below to repair rusty hinges:
Remove the latch and screws.
Scrub with steel wool to remove as much rust as possible.
Place rusty hardware in a container.
Fill the container with cola. Sodas contain phosphoric and carbonic acids, which remove rust.
Wait three hours and check to see if the rust has been removed. Continue this process every three hours until all signs of rust are gone.
Clean the hinge in warm, soapy water and dry it off.
Reinstall.
Adding Bumpers
To prevent cabinet doors from banging shut, purchase a pack of peel-and-stick bumpers at your local hardware store. Be sure to clean your cupboards to prepare for adding the bumpers. Place one bumper at both the top and bottom corners of each cabinet door.
Gluing Loose Knobs
Is your knob loose even though you have tried tightening the screw? If so, this means the problem is with the screw itself. But before you get worried that you will have to buy new knobs or that the screw is scratched, try gluing the knob first. To do this, select a thread-locking adhesive and apply a small amount to the screw. Then, slide the knob back onto the screw and let it dry.
Need Help with Cabinet Doors in Frisco? Call the Pros at Mr. Handyman of Frisco!
Have you been thinking it's time to give your current cabinet doors a new lease on life? Perhaps this article has given you the confidence to tackle a DIY project. Or maybe you'd rather leave the task of repairing your cabinet doors to the pros at Mr. Handyman of Frisco.
Should you choose our pro services, you can rest assured that your project is in the best hands. Our team has helped countless homeowners with fixing cabinet doors in Frisco and many nearby areas—from The Colony to Aubrey. We handle all kinds of home improvement projects, big and small!
To learn more about our full range of services, or to book one of our pro technicians today, we invite you to give us a call.