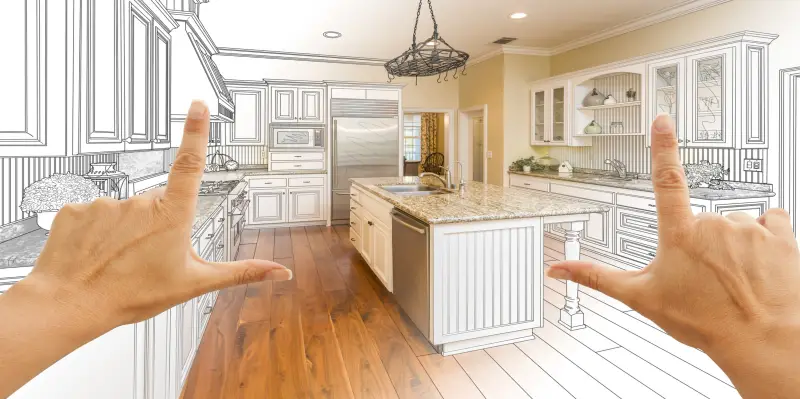 Are you thinking about starting a home remodeling project in Frisco, TX? House remodeling takes a lot of commitment, but the good news is that it is completely worth your time. The home remodeling market is huge and comes with incredible ROIs. Not only will you end up with a better-looking house, but you'll also increase its value if you ever put it on the market.
Your local Frisco handyman professionals are experienced remodeling experts who will ensure an exceptional experience from start to finish. We'll guide you through the process of research, budgeting, time management, choosing high-quality materials, and much more.
All you need to do is figure out which house remodel ideas will give you the best return on your investment — and get started. Don't delay. Read on to learn why taking on a home remodeling project is one of the best decisions you can make!
House Remodel in Frisco: Refresh Your Kitchen
When it comes to house remodel ideas, a kitchen makeover should be at the top of your list. A kitchen is as much a gathering point for your family as it is a place to cook delicious meals. If you can make your kitchen the centerpiece of your home in Frisco, you'll create an inviting space to host anything from Sunday brunches to cocktail hours with friends.
With a price tag ranging from $4,000 to $30,000, you'll want to plan the scope of your kitchen remodel first. You may need to gut the kitchen completely to rebuild it into a more usable space. On the other hand, you could get away with making some simple cosmetic changes that will bring your kitchen into the current decade.
Besides replacing cabinets, you can also look into refacing services by repainting them to refresh the space. Go for clean white or a muted neutral tone for a soothing ambiance. Turn to granite, quartz, or marble for new kitchen counters, or install a fun backsplash for a burst of color.
Add an island as a focal point and station where the chef in your family can get to work. And look into updating the range, exhaust fan, and oven to create a professional-grade space. When it comes time to sell your home down the road, a knockout kitchen can elevate your home above the competition.
Frisco Home Remodeling Ideas Should Include a Better Bathroom
Are you eager to transform a dated bathroom into a luxurious sanctuary? Then it's time to turn your attention to a bathroom remodel. Remodeling your bathroom in Frisco requires understanding how to piece together the right materials and colors in a small space.
Whether updating a master bathroom, going for an all-out bathroom makeover, or making a powder room more attractive, it's worth investing in a better bathroom. You can make simple changes, like swapping in a new mirror, painting the cupboards, or adding brushed metal hardware. Or you can notch up your investment budget to create a truly stunning space.
Add double vanities, particularly if you share the bathroom with a partner and need more space for your morning routines. Why not upgrade to subway tile for a modern look during a shower remodel? Or install new travertine tile on the floor to add patterns and color. Bring in a new commode or vintage style with a bear claw tub for other upgrades.
Address less obvious things like caulking, too. A fresh application of caulk will look better — and it can fend off leaks. While at it, check for any underlying plumbing issues to ensure your refreshed bathroom is good to go.
A few more bathroom remodeling ideas include:
Tub to shower conversion: Want more space in your bathroom? Consider ripping out your outdated bathtub and installing a frameless glass shower.
Install bathroom cabinets: Creating more storage space in your bathroom is always a good idea. Choose a cabinet design that goes with your existing theme, or opt for an entirely new style!
Consider color: Choosing a fun color for your bathroom can breathe new life into the space.
If you need help handling this detail-oriented work or want some bathroom remodeling advice, the pros at Mr. Handyman have the experience to get the job done in no time. We've served homes throughout Frisco. Home remodeling is one of our many specialties. Should your bathroom need some improvement projects, our technicians are skilled in tackling various needs.
Let the Light Shine Through New Windows in Frisco
It's easy to focus on the rooms in your house, but you shouldn't forget about updating the exterior. The exterior of your home is the first thing other people see — and it can impact everything inside. You'll notice a difference if you make adding new windows a part of your house remodeling plan.
You could add a focal point with a new bay window in your living room, or you could try introducing energy-efficient windows. For added light in a darker room, consider trying a skylight. But if you're looking for a simple fix, know that single-hung windows tend to be cheaper than double-hung windows.
Adding new windows during your Frisco home remodel will make your home pop. They'll keep it insulated for those crisp winter nights in Texas. And if you're living in a busier area, you can trust that they'll provide a better noise barrier.
Some benefits of a window replacement to consider:
Increases curb appeal: Those passing by on the street notice the size, color, and design of your home. Windows is one of a home's major design features. Ever remark at home with too-small windows? Replacing a 2-by-2 window with a 4-by-5-foot insulated window can make a big difference in the overall aesthetic of your home.
Increases inside light: Rooms without windows feel like dungeons. Similarly, small windows can make rooms feel small and closed off. Natural light not only improves visibility inside your rooms but can also improve your mood. There's nothing quite like waking up to the sunrise!
Increases property value: A high-end upgrade will certainly add value to your home and make it more appealing to buyers. Whether you are considering selling now or in the future, a simple window replacement may land you a larger offer than you initially thought you could get.
To recap, investing in new windows is an effective way to boost the value of your home and make it feel more comfortable!
Finish Your Basement For More Liveable Square Footage
You can think of an unfinished basement as a blank slate. You may find designing your basement from scratch easier than other rooms in your home. If your home has a basement, consider these basement remodeling tips when planning out your dream design:
If you need ideas for your house remodel in Frisco, set your sights on creating a finished basement. It can add more storage space and an entertainment area. A finished basement provides the perfect escape from the Texas heat on a summer day!
Consider designating part of the space for storage or adding a bar for entertaining. Slap a coat of fresh paint on the walls for an easy fix, or go bold and create a crafting nook for the creative person in your family. Even if your basement is already finished, don't be afraid to give it a proper makeover.
Ditch the old wood paneling in favor of reclaimed barn wood. Or add some plush carpeting instead of sterile concrete floors. Whatever your dream is, you can make it happen by mapping out a plan.
If you need help finding the right vision for an unfinished space, your Frisco handyman team can provide the prompt and professional service you need. Whether you're looking to add custom bookshelves or install an entertainment center, you'll be able to pull together the relaxing and functional basement space you've wanted.
Note: Please note that basements are considered one of the dampest areas in a home. Thus, hiring a licensed plumbing professional for inspection and waterproofing services is essential prior to the finishing service.
Build an Outdoor Living Space
Have you always wanted a deck or patio? Then it's time to add one! Since outdoor activity is a year-round possibility in Frisco, you want your property to take advantage of the opportunity.
Imagine relaxing on a deck with a glass of lemonade in the evening or just sitting and watching the stars at night. With a patio or deck, you gain a designated area to lounge or enjoy time with the people who matter most. Determine where your deck or patio would fit, and start dreaming up a plan.
And if you're hoping to make this outdoor space happen on a tighter budget, a patio probably will be the less expensive option. With a patio, you can stick with gravel or concrete for a budget-friendly option or use stamped concrete for a more textured look.
Popular materials also include brick or pavers, which have an elegant appearance. For any option, you just need a flat space that can be right behind your house or even elsewhere in your yard. Add some exotic plants, seating, and a table with an umbrella, and you'll have the perfect backyard relaxation spot.
With a deck, you can create a warm space that's perfect for entertaining. Choose a wood stain that complements the look of your home, and dress up the area with benches, guardrails, or steps to your backyard.
If you already have a deck or patio, but they've seen better days, your local Frisco home remodelers can breathe new life into these outdoor spaces. We can repair broken boards on a deck or bricks on a patio. And we can power wash your deck before applying a new stain that will make it shine!
Should You Add a Pool?
When the summer heat cranks up in Texas, nothing feels better than taking a dip in a pool. With a pool, you can unwind after a long day at the office and give your kids the perfect activity for a play date. Adding a pool to your backyard is one of the best investments you can make.
In fact, by adding a pool, you can see as much as a 7% increase in the value of your home. And when you live in a hot climate, it only makes sense to carve out space for one in your backyard.
For an in-ground pool, turn to concrete or fiberglass as building materials. To keep costs down, opt for a smaller shape and standard size. For a little flair, add fountains or link your pool to a hot tub.
However, pools require maintenance, so make sure you're prepared to take on those added costs. Maintenance costs include changing the filter, heating the pool, and maintaining the cover. While it might feel like a big investment on the front end, you'll get years — even decades — of use out of a pool in your backyard.
Make Your Living Room the Ideal Entertaining Space
While bathrooms, kitchens, and outdoor spaces are the trendier places to remodel, don't forget about your living room. When you invite a guest over, and it's too hot to sit outside during a Texas summer, you want your guest to feel welcome and comfortable in your living room. With some simple changes, you can create a memorable living room space.
Remove old wallpaper or popcorn ceilings to add an instant upgrade to the living space. Apply warm tones of paint to the walls to create contrast against crown molding or windows. As another upgrade, replace worn carpet or introduce hardwoods for the ultimate classy look.
Use your furniture to create conversation zones within your living room. Place loveseats across each other in a smaller space, or angle some wing chairs on either side of your sofa for an intimate space. And don't forget to add plants and pictures to make your space feel clean and cozy.
If you live in an older home with traditional handiwork, our Frisco home remodeling pros can get your wainscoting back in shape. Or, if you're looking to add more decorative detailing, they can install it — along with plenty of other upgrades. We can help you add custom bookshelves, a new mantle, or some wall pieces to enhance your living room.
Other Important Aspects To Keep in Mind During Your Frisco Home Remodel
As you already know, there are a million and one things to keep in mind while planning your home remodeling project. Having a dedicated, experienced contractor can help you sort through the confusion and create a streamlined plan for your renovation project. Since you're still in the pre-planning stages, now is the time to start thinking about all the possibilities for your project. Doing so will give you a major sense of accomplishment when you see it all come together.
Curb Appeal
Is your renovation happening outside of your home? You may want to consider how it looks from the street. What your neighbors think of your design may be of no consequence to you. But if you are concerned with your home becoming the eyesore of the neighborhood, you may want to forego the neon pink color palette. That's unless you're designing your very own Barbie Dream House.
Finishing Touches
Don't forget to factor in your final design when mapping out your home improvement project. This includes everything from stains and paint colors to decorating aspects such as furniture, accents, and overall color schemes. The design of your deck or kitchen may be dependent on the furniture or accents you wish to fit within it. Already have a chic table and chandelier picked out for your modern kitchen? Tell the team at Mr. Handyman prior to the Frisco home remodeling project so they are aware ahead of time.
Don't Be Afraid to Ask for Help with House Remodeling in Frisco, TX!
A Frisco home remodeling project may seem like a big undertaking, but it doesn't have to be. Figure out where you want to start and don't be afraid to ask for help from the professionals. You'll stand a better chance of getting the results you want when you're willing to reach out for help.
Are you wondering, "How much does it cost to remodel a house in Frisco?" If so, know that the answer depends on what you want to achieve — and how much you're willing to spend. There's not a firm number.
Be clear on your budget before you get started, and understand your options. The choices you make in terms of materials and labor can make a huge difference in your bottom line. You may want to stagger house remodel ideas over a period of several months or years to avoid taking on too much at once.
When in doubt, talk with the pros at Mr. Handyman of Frisco for guidance. We have experience working in Little Elm, The Colony, Aubrey, Lewisville, Prosper, and the surrounding areas. And we can handle anything from repairing drywall to renovating your bathroom.
Get Started with a Home Makeover With Mr. Handyman!
Is it worth it to remodel your house? Yes! Frisco home remodeling is one of the best investments you can make to elevate your quality of life.
Determine what parts of your home need the most work, and make a plan to tackle these spaces. Once you've made the changes, you'll love spending time in your updated home — and your guests will, too!
Are you ready to get started? To realize your Frisco home remodeling vision, contact the professional team at Mr. Handyman of Frisco for help!