Staircases come in many varieties and can serve an assortment of purposes. They can be built and positioned to become the focal feature of an entryway or have a structural feature that stands out on a deck, or they can simply be a safe and secure way to transverse elevations.
Whatever your intentions are for your staircases, there are a few things to keep in mind to ensure they remain safe and secure. Typical Northern Virginia stair repair, upgrade and replacement services our experienced team can deliver include pressure washing, maintenance, baluster replacement, rail replacement, and riser or tread replacement.
Stringer Replacement
Staircases consist of a few basic parts. Stringers are the boards underneath steps that support a staircase. There are typically two to three stringers underneath the structure, but can be more depending on the width of the treads. After years of wear and tear and exposure to a variety of weather conditions, stringers will eventually weaken, rot, or crack and when that happens, it's time to call our team of professional handymen for Northern Virginia stair repair. If the stringers are exposed, they can easily be replaced.
Below is a picture of a stringer replacement project our team completed for a client in Dale City, VA.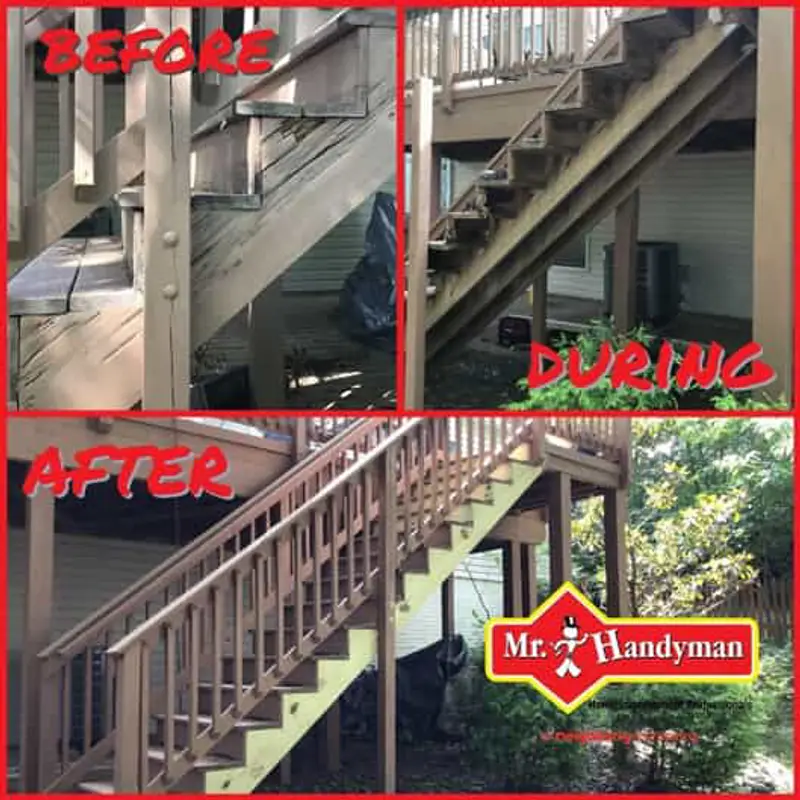 If the staircase is indoors, stringers may be covered with drywall. In this case, the drywall will be removed to gain access to the stringers. The stringers will be replaced and then the drywall will be reinstalled.
Here are some examples of stringers that our Northern Virginia stair repair service professionals replaced for clients in Bristow, VA, Woodbridge, VA and Manassas, VA.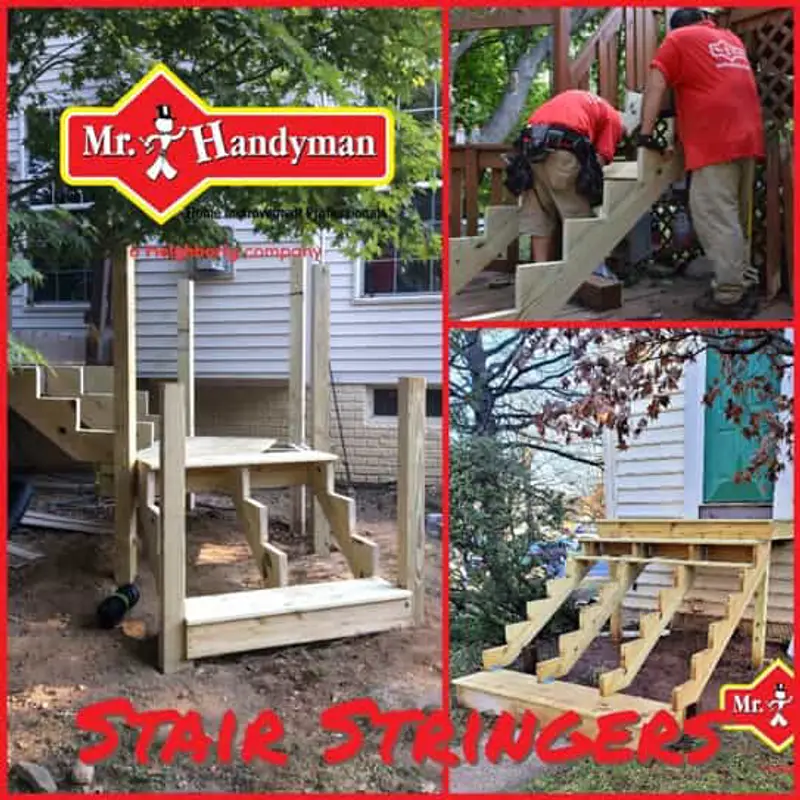 Riser Replacement
Risers are the vertical sections of each step. On some staircases the risers are open. Unfortunately, stairs that have open risers can be considered unsafe in that small children, animals, or items can slip through the risers, but this problem can be corrected by a skilled Northern Virginia stair repair handyman.
Here are some pictures of projects in which our team replaced the risers on exterior and interior stairs for clients in Dale City, VA and Alexandria, VA.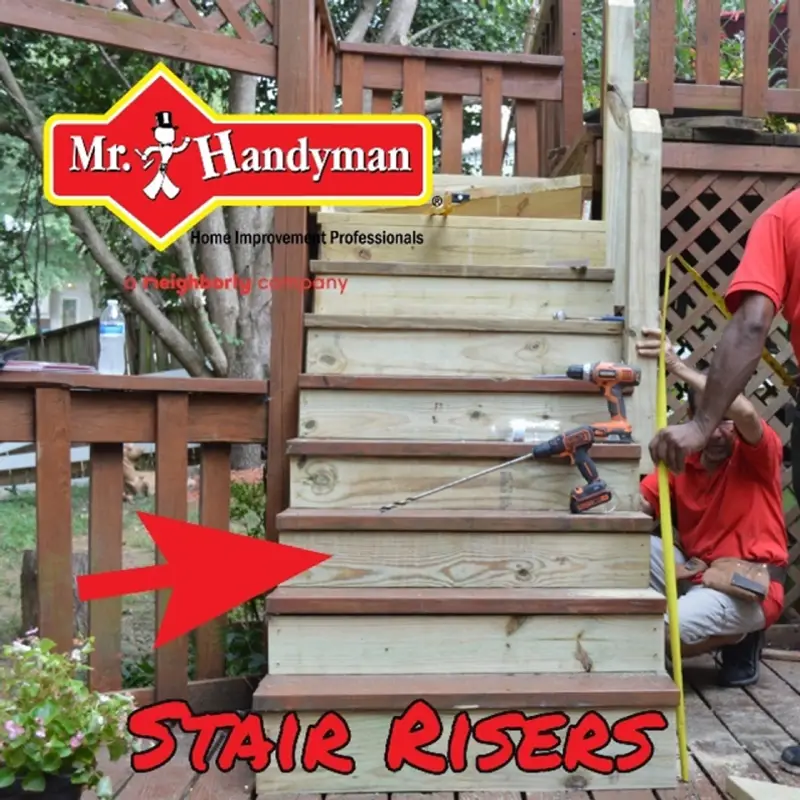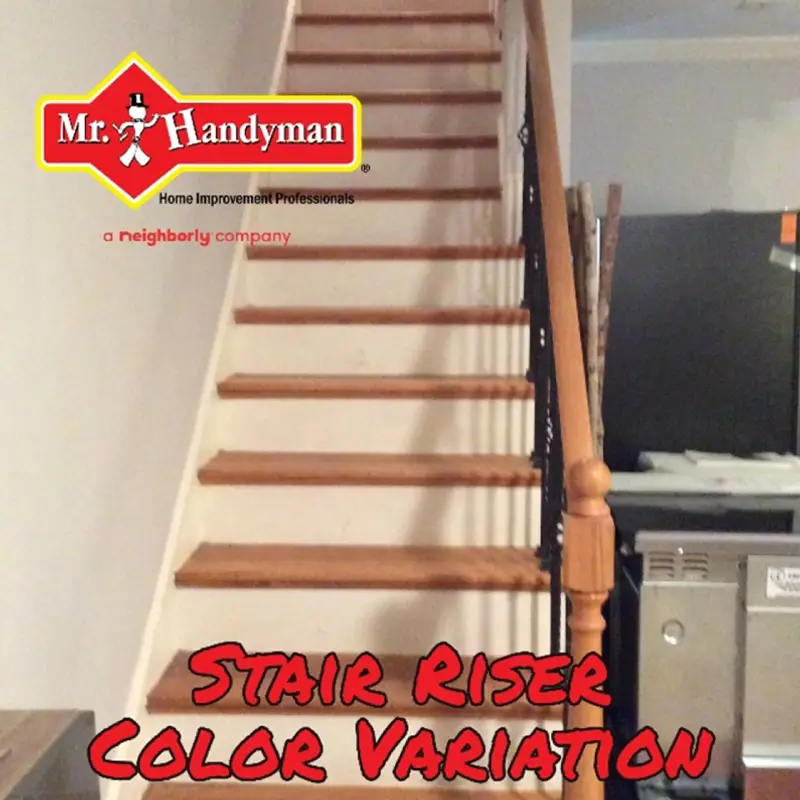 Risers can blend in and remain the same color and texture as the rest of the stairs or they can have a varied surface or color. This variation can be done to assist individuals that have difficulty with depth perception to distinguish the difference more easily between each step. The color variation can also be a way of creating a focal point on the stairs. As you can see on the interior staircase picture above, our professional Northern Virginia stair repair technicians painted the risers white to contrast with the hardwood color of the treads.
Tread Replacement
Treads are the next portion of a staircase. They are the part of a staircase where your foot lands when you're going up or down. Treads come in a variety of sizes and textures, and they can be wood, cement, brick, laminate, carpet and whatever else you can think of to blend in or stand out. Over years of use, treads can become soft or spongy or cause irritating squeaky stairs. Below are pictures of stair projects we completed for clients in Burke, VA and Woodbridge, VA.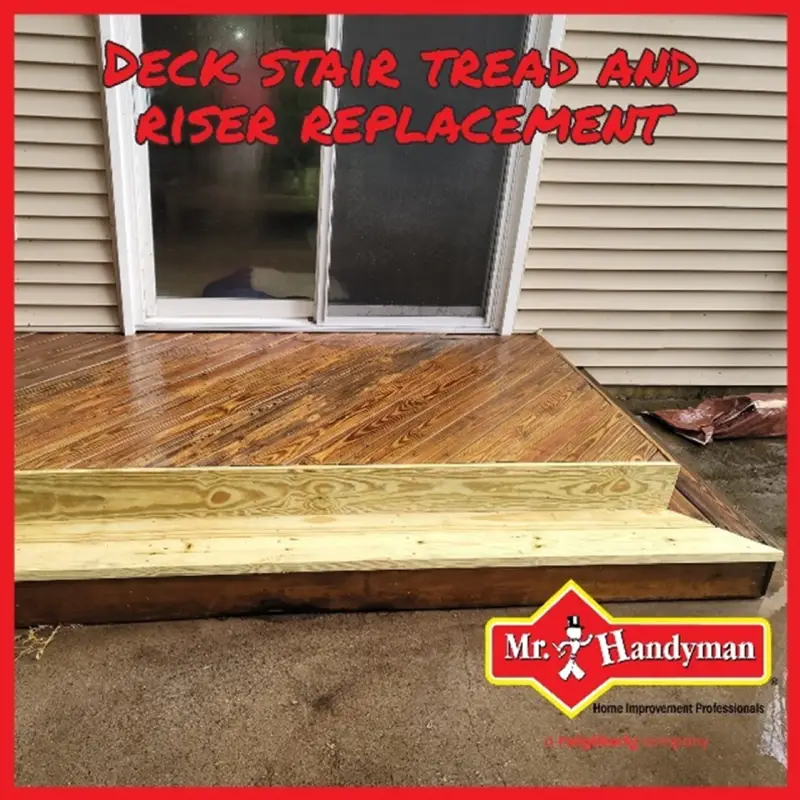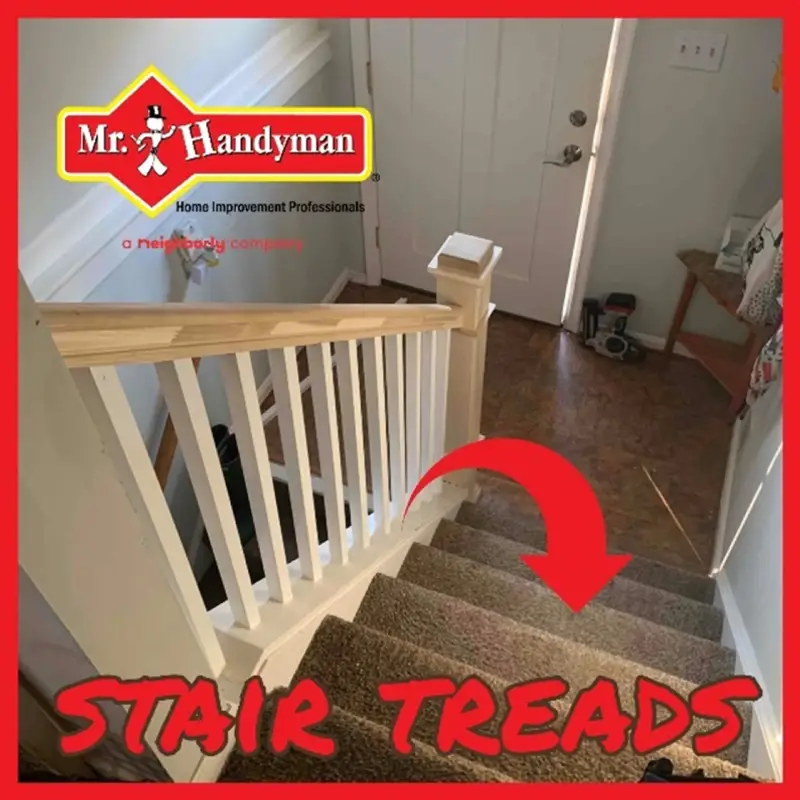 Minor damage such as scratches or peeling wood stain can be resolved with Northern Virginia stair repair strategies, but for more serious damage such as wood rot or broken stair treads, it is best to replace individual treads. In many cases, the treads are the only damaged part of the overall structure because they take the most wear and tear abuse over the years, so you likely won't need to have the entire structure replaced. Your handyman can simply remove and replace the treads to restore your staircase to like-new condition.
Rail Replacement
Banisters and handrails essentially provide a handle to grab to steady or balance yourself when walking up or down the stairs. These railings can become rotted or loose from repeated use, weather exposure, or abuse and cause you to need a new handrail installation.
Here are some examples of banisters that our Northern Virginia stair repair team replaced for clients in Woodbridge, VA and McLean, VA.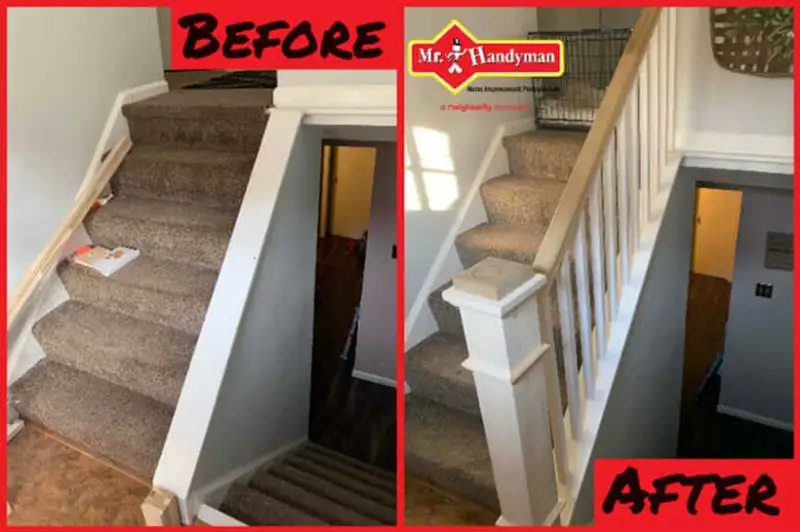 If you grab on to your railing and it shifts or wobbles under your hand, that's a bad sign. It exists to help steady you, and it can't do that if it's not stable and steady itself. Wood rot is a major Northern Virginia stair repair problem for wooden rails on outdoor stairs, because wood rot is a variety of decay that afflicts timber that has an elevated moisture content and outdoor structures are exposed to rain, snow and humidity.
Wood rot causes timber to soften and crumble apart. In this video and the photos below, you can see how badly the front step rail was affected by wood rot at this McLean, VA home. The damage is unattractive, but more importantly, it causes a hazard that could lead to injury. Wood rot can also spread to other parts of your home if it's not removed.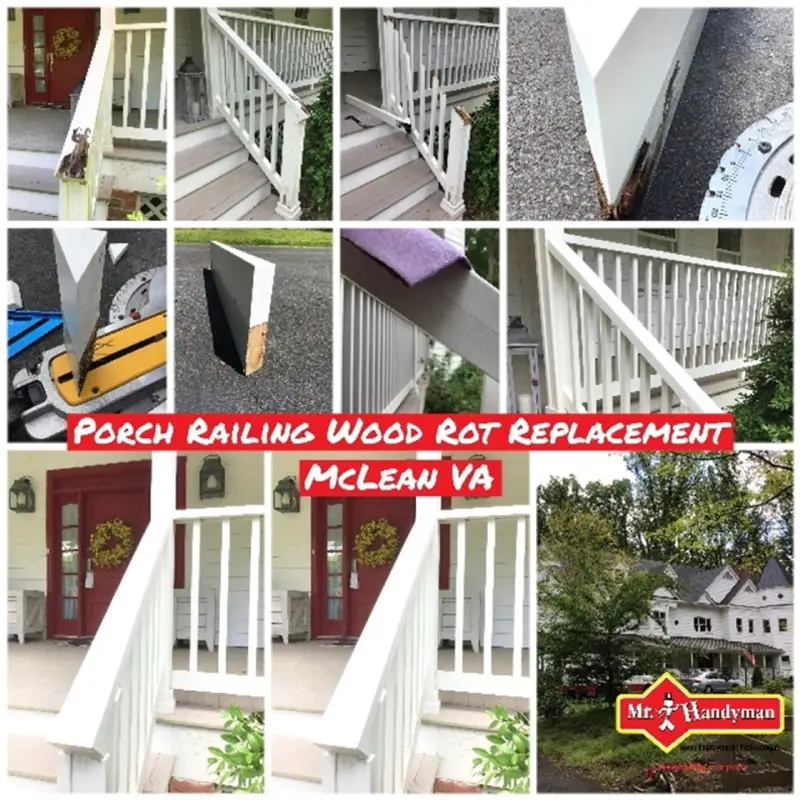 Rail Repair and Installation
Our Northern Virginia stair repair team also receives service requests to re-secure existing handrails or install a second handrail. Our service professionals will typically recommend a second handrail installation for homes where an elderly person with mobility challenges wants to age in place safely and comfortably. Most individuals have a strong arm or hand and a weak arm or hand or are right or left hand dominant. By installing a handrail on both sides of the staircase, this assures that an individual who is traversing up or down the stairs will always be able to hold onto a handrail with their dominant hand.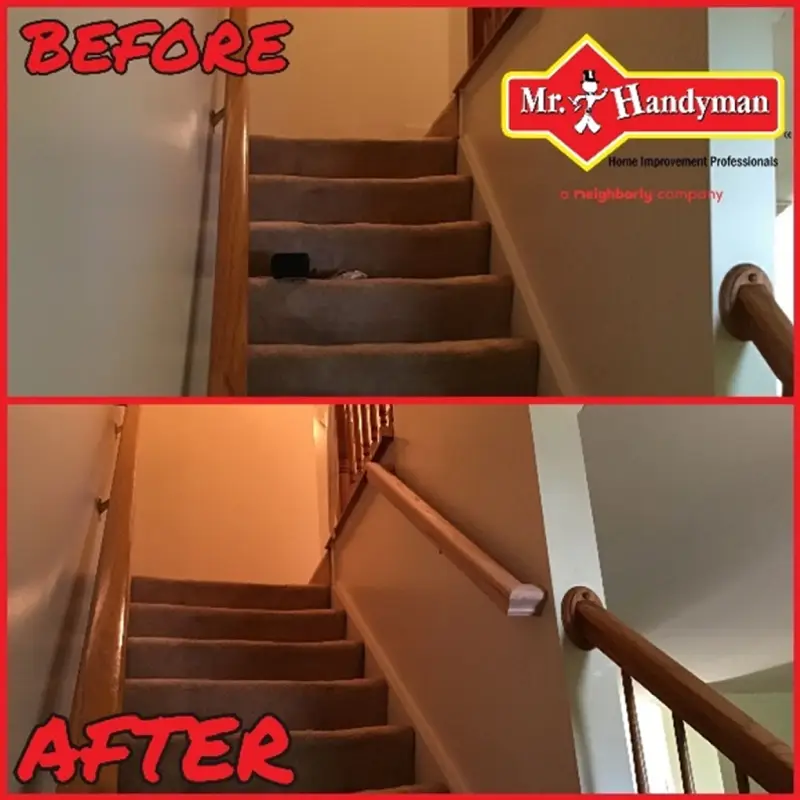 We will also re-secure an existing handrail that has come loose or is no longer attached to the wall. In order to ensure the handrails are secure, our professional service technicians will attach the handrails to the wall stud. If there is not a wall stud located where the handrail attaches, our Northern Virginia stair repair professionals will install blocking in the wall to have wood to secure the handrail instead of drywall. Here is an example of the handrails our Northern Virginia stair repair service technicians have installed for clients in Alexandria, VA and Fairfax Station, VA.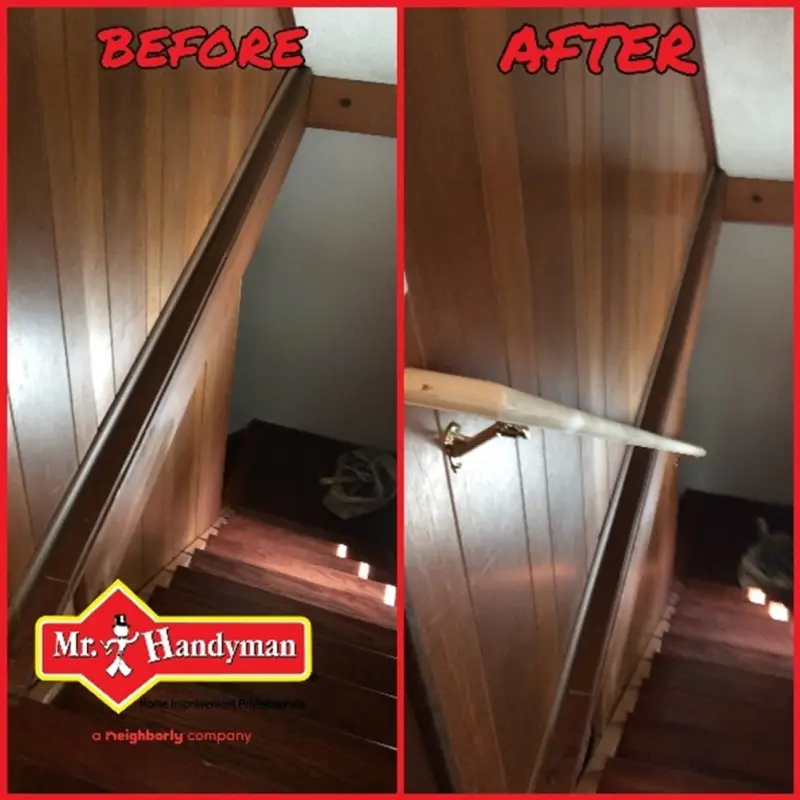 Baluster Replacement
Balusters or spindles are the final section of the staircase. These are the vertical parts of a railing that support the handrail. Balusters rest individually on their own base or plinth, while spindles are supported by a second horizontal rail on the bottom. Usually, spindles and balusters are made of wood or metal and can be plain, have an intricate design or somewhere in between.
Balusters can crack, rot, break or come loose and need stair repair. Northern Virginia homeowners who are dealing with problems such as loose balusters or spindles can have their handyman re-secure or replace them. However, if you are trying to change the look of your staircase, upgrade the look of the handrails to something more modern, or create an amazing focal point as the entrance to your home, changing the balusters will change the entire look of the staircase.
Here is an example of a project that our Northern Virginia stair repair team completed for a client in Woodbridge, VA. For this project, our client requested that we remove all the wooden stair balusters and replace them with simple but elegant black wrought iron balusters.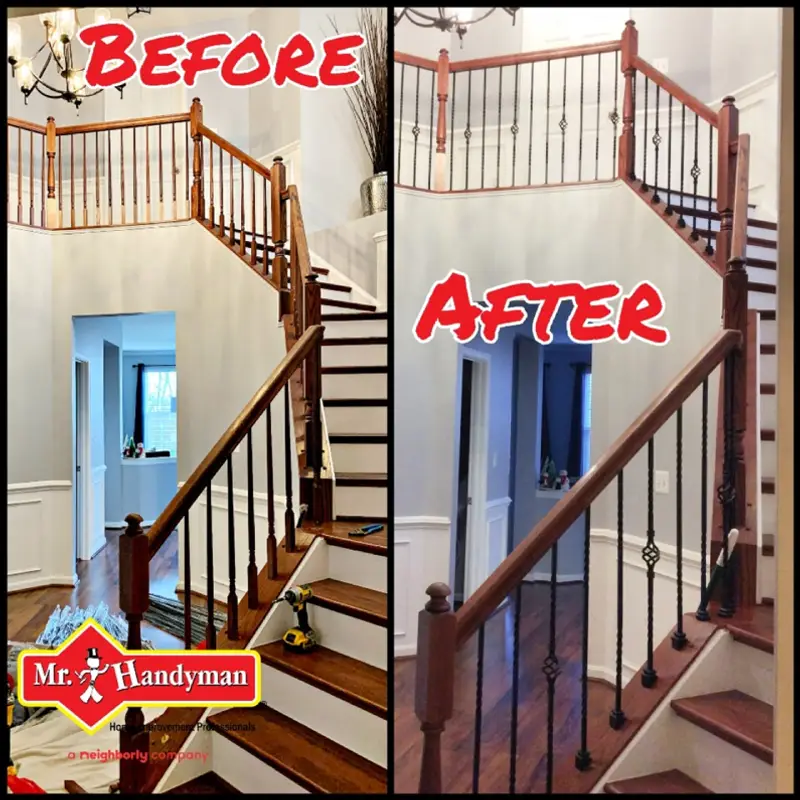 Pressure Washing
Because stairs are primarily used to safely transfer from one level to another, it is extremely important that they are clean, free of debris and structurally sound. Exterior stairs can often attract dirt, grime, and debris. Pressure washing is one of the routine maintenance activities we can take care of for those who need Northern Virginia stair repair and maintenance. Dirt and grime can make staircases slippery and unsafe to walk on. Pressure washing will remove the dirt and grime, leaving your structure clean and restoring the treads to their original safe condition.
Below is a picture of a power washing job that Mr. Handyman of Northern Virginia - Arlington to Haymarket completed for a client in McLean, VA to bring their brick stairs and patio back to life.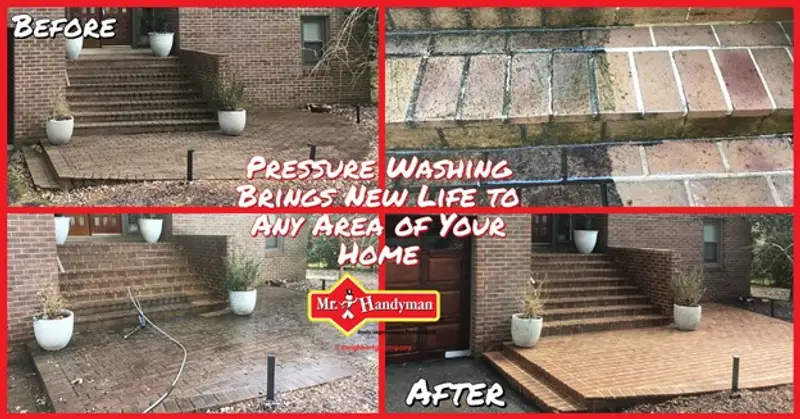 Pressure washers use high pressure jets of water to blast away built-up dirt and grime, along with oil stains, organic growth such as algae or lichen, and other stubborn substances that would take hours of scrubbing to clean off with conventional methods. When it comes to pressure washing as a method of maintenance or stair repair, Northern Virginia homeowners often find that a picture truly is worth a thousand words. Pressure washing really is capable of producing a surprising transformation that can make your stairs and other parts of your home exterior look completely different and much better. In the photos below, you can't even tell the true color of the steps until after they've received a thorough cleaning.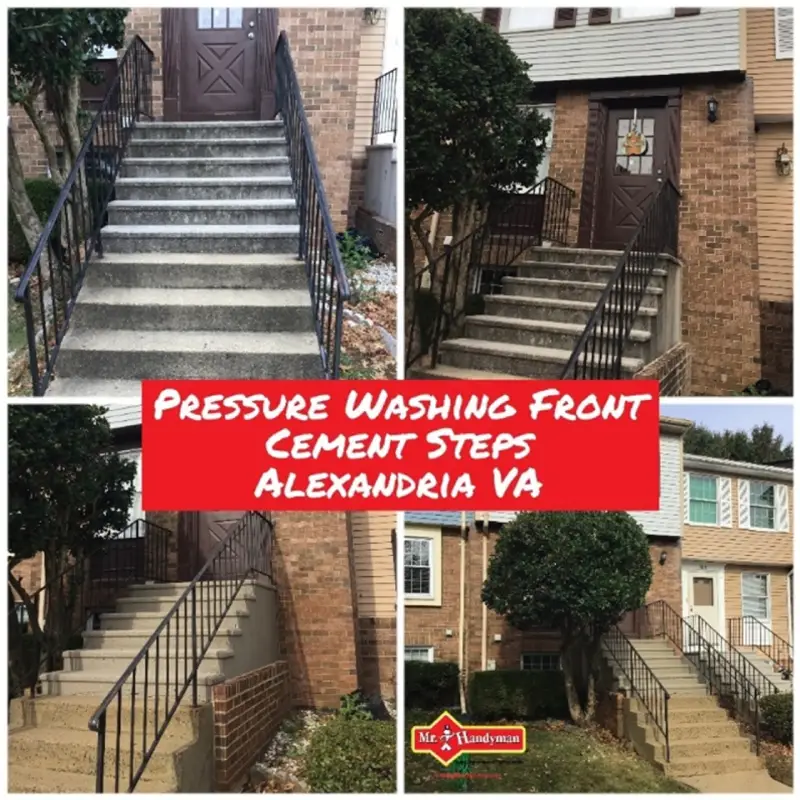 Here is an example of a pressure washing project we completed for a client in Alexandria, VA. Notice that the cement stairs look as good as new once the dirt and grime is removed.
Stair Replacement and Installation
If your stairs are to the point where maintenance requirements feel overwhelming, or you have inherited stairs in which the stair maintenance has not been kept up, it may be quicker and more cost effective to replace the existing stairs rather than attempt Northern Virginia stair repair that may not be sufficient to address the scope of the problems. When considering stair replacement, also consider if you plan on keeping the existing stair design or if you want to add a turn or a platform. If you or a loved one are struggling to get up and down the stairs safely and comfortably, our expert team can also take care of stairlift installation so you can access upper floors without suffering pain or risking a fall.
Stairs can be built to many different specifications and to appeal to many different styles and designs. Here is a project completed for a client in Bristow, VA who was tired of their existing metal deck stairs and thought that their existing stairs were too steep. They requested that our team build a set of wooden deck stairs with a turn and a platform in the middle.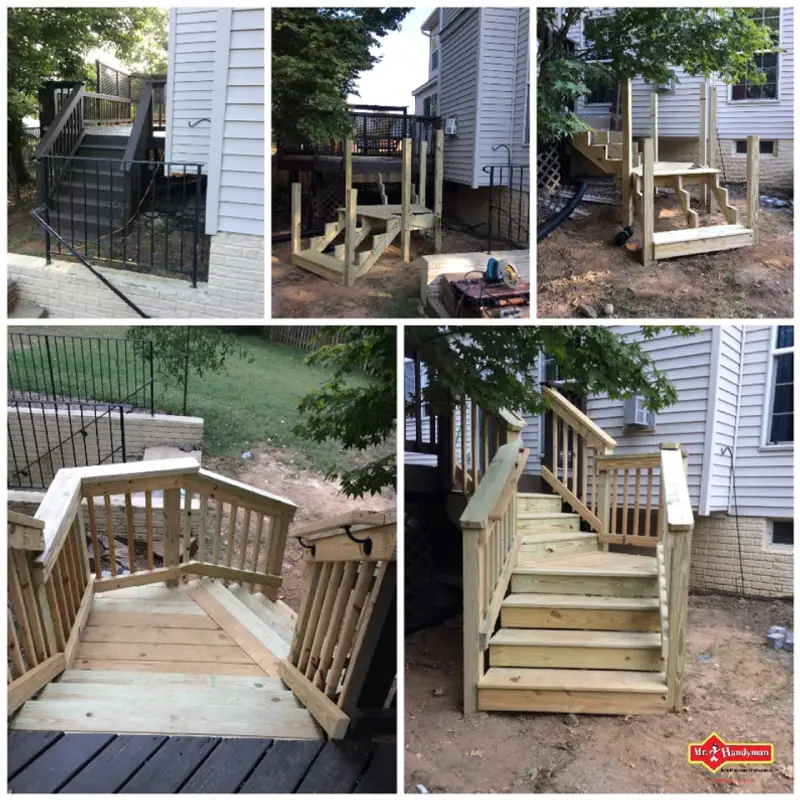 Here is a project that our service professionals completed for a client in Manassas, VA. This client requested that we replace their front stairs.
Warning Signs Your Property Needs Northern Virginia Stair Repair
Steps and stairs take quite a bit of abuse over the years from all those people and pets racing up and down them on a regular basis. As a result, there is a wide range of issues that can occur that require Northern Virginia stair repair. Here are some of the warning signs that indicate it's time to call your local handyman:
Treads that squeak or creak when they're stepped on
Wobbly, loose newel post
Weak railings that shift when you touch them
Patches of softened, crumbling, rotted wood
Flaking, peeling paint or wood stain
Pitted, crumbling concrete
Cracked or broken treads
Broken spindles or balusters
Chewing or scratching damage from pets
Attic stair mechanism has rusted shut
Structure does not meet minimum building code standards
Northern Virginia Stair Repair Vs. Total Replacement
Homeowners and commercial property owners sometimes ask us if Northern Virginia stair repair or replacement is the best option for a damaged step structure. That really depends on the nature and extent of the problem—as we outlined above, there's often no need to do a total replacement when only one or multiple specific parts of the structure are damaged.
For example, we can replace individual treads or a railing while leaving the rest of the structure in place. Or, there may be some superficial damage, such as peeling paint, that can be corrected with basic Northern Virginia stair repair strategies. But if the damage is extensive or there are problems with the way the structure was originally constructed, a total replacement is likely going to be the most cost-effective way to deal with it.
Count On Mr. Handyman for Expert Northern Virginia Stair Repair, Replacement and Upgrades
Whether you live in Springfield, Bull Run, Sudley or another nearby part of Northern Virginia, you can count on the team of expert technicians at Mr. Handyman of Northern Virginia - Arlington to Haymarket. We have the experience and skill to deliver a wide range of high quality, professional handyman services for both residential and commercial buildings.
If you are looking for stair maintenance, stair repair, a stair upgrade or stair replacement, please contact Mr. Handyman of Northern Virginia - Arlington to Haymarket by calling and our team will be happy to assist you. Or, feel free to ask about our wide range of additional handyman services for everything from drywall repair, deck repair and patio repair to brand-new door installation.