Need professional drywall repair? Don't give up your weekend trying to patch drywall yourself — Mr. Handyman of Bentonville, Rogers and Springdale is here to take care of things! And with on-time arrival, a full clean-up job afterward, and our Done Right Promise™, you and your home are in good hands.
We serve Bentonville and nearby communities, including Cave Springs, Centerton, Bella Vista, Tontitown, Lowell, Avoca, Elm Springs, Garfield, Gateway, Pea Ridge, and Hiwasse.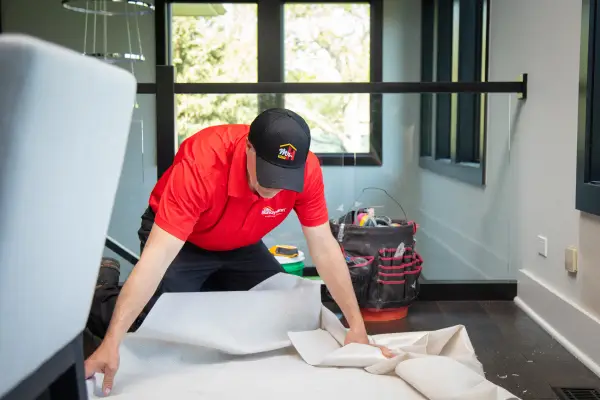 Drywall Repair Services
Whether your drywall is bulging, cracking, or showing signs of water damage, our drywall repair service pros are here to help. And we don't just repair drywall; we assess what's caused the problem and take steps to make sure it doesn't happen again.
Drywall Ceiling Repair


No one wants to spend their free time patching a ceiling! Our drywall pros will turn up in uniform and in a branded van with everything needed to do your drywall ceiling repair on the first visit. We're fully insured, always on time, and leave everything looking as good as new with professional finishing.
Drywall Crack Repair


Cracks can form in drywall for a variety of reasons, including settling or wear and tear. Trust our drywall crack repair service to make your wall structurally sound and attractive again. Whatever type of drywall you have, we can offer advice to help you maintain it.
Drywall Hole Repair


If you've knocked a hole in your drywall, don't worry. Whether you need a small patch or a larger mesh and structural support job, our drywall repair service will fix it. We're experienced in repairing all kinds of drywall, so you can relax and let us take care of it!
Drywall Installation and Finishing


Looking for a trusted pair of hands? Our professionals have an average of ten years of experience on the job! So when you need new drywall installed and finished, you can rely on your local Mr. Handyman to do the job right.
Find out why nearly a million customers have trusted Mr. Handyman to deliver expert home repair and installation services since 1993. One call books your service, so give us a call or request an appointment online!