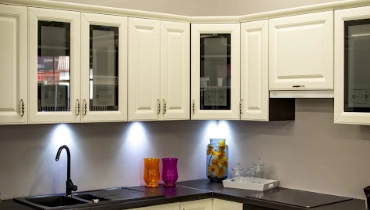 Dallas cabinet installation, whether in kitchens, bathrooms, or other areas, is one of the most important tasks when it comes to revamping Dallas homes. Not only should storage be built at the correct height and be level with the countertop or wall, but it's also paramount that cupboards are secured tightly to the wall, otherwise any glassware, crockery, ceramics, and even appliances the structures hold could come tumbling down—causing not only a huge mess, but also possibly damage your floor or counter.
Suffice it to say, Dallas cabinet installation is best left to the pros—such as our knowledgeable team at Mr. Handyman of Dallas. Our experts have years of experience installing, repairing, and refinishing a range of models. Not to mention, many of our Dallas cabinet installation pros are also highly skilled carpenters. We can even build you a set of cupboards from scratch that are completely unique and perfectly suited to your home.
Even if you are planning on hiring a professional Dallas handyman to handle the installation for you, it's still helpful to understand some basic information. The more you know about the process itself, the more comfortable you'll feel while our pros take care of the project. Luckily, we've got answers to all your questions about Dallas cabinet installation—from basic cupboard measurements to the alternatives that you have for renovating your storage.
How Deep Should Cabinet Boxes Be?
For standard Dallas cabinet installation, upper cabinets are generally built around 12-inches deep. Their counterparts, base cabinets, are usually around 24-inches deep for additional, easy-to-reach storage. It's possible to get cupboards that are even deeper if you want additional space. Likewise, should you need a structure that has to fit an odd-shaped space, our talented carpenters are able to build custom designs.
What's a Good Cupboard Width?
You may be tempted to install wider cupboards so you have more storage space in your bathroom or kitchen. However, what many homeowners fail to think about is that the wider the box is, the bigger the door is too. When open, doors will take up quite a lot of space. So before settling on the ideal width, think about how much room is in your kitchen or bathroom area. Typically, most cupboards have either one 24-inch door, or two 12-inch doors—which are ideal if you're installing cupboards in a narrow space.
Pro Tip!
If you really don't have a lot of space, or you don't want to crowd up the room when cooking, grabbing toiletries, or putting away storage items, consider adding cupboard doors that hinge at the top, rather than open at the side. These designs are ideal for small rooms.
What's a Good Height for Base Cabinets?
When establishing a good height for lower cupboards, it's important to also factor in the countertop and toe kick. The toe kick is the small strip of space that runs beneath cabinets, separating them from the floor. Including these two elements, the standard height for base cabinets is around 36-inches. Cabinet frames are around 30-inches, toe kicks are a max of 5-inches and counters are a max of 1-inch.
What's the Difference Between Framed and Frameless Cupboards?
Did you know that some cupboards have a frame, and others don't? What's key to know is that frameless models usually give you a little more storage space. So, when you're shopping for models to use for Dallas cabinet installation—or if you are planning on having a custom design built—opt for frameless for more room.
How High Should Wall Models be Hung Above the Counter?
There are a couple considerations for Dallas cabinet installation height. First is access. Your own height, ease of access, and comfort level are key considerations when establishing where to hang wall cupboards.
Second is style. Traditional cupboards are placed roughly 18-inches above the countertop, but certain styles may offer more room. For instance, a Scandinavian aesthetic usually installs cupboards at 24-inches above the counter.
What Gets Installed First: Cupboards or Countertop?
Cupboard installation is always completed before the countertop goes in. If you're replacing both, it's incredibly important that the handyman professional you hire has considered the width of your countertop when providing Dallas cabinet installation service.
What Gets Installed First: Uppers or Lowers?
Different Dallas cabinet installation professionals have different methods when it comes to installing upper or lower cupboards first. There are benefits to each installation process. Installing uppers first allows for better access for lifting cabinets in place. However, installing lowers first can be beneficial—especially if a room's floors are uneven. Uneven floors may create issues with spacing if the uppers go in first, so in this situation it's best to put base cupboards in first.
What Gets Installed First: Flooring or Cupboards?
In most cases, Dallas cabinet installation is completed before flooring is put in. We're talking about the flooring finish, or the surface you walk on, and not the subfloor or underlayment, which must be installed first. Generally, flooring will be cut to size afterward so that it's flush with your new storage. Any gaps will be covered by baseboard or molding.
Should Cabinets Connect with the Ceiling?
Whether or not the models you use for Dallas cabinet installation reach your ceiling largely depends on your ideal aesthetic. For instance, it is becoming trendier for cabinets in Dallas to connect with the ceiling. This makes your ceiling appear higher than it is, provides additional storage space, and offers a clean look. Additionally, it gets rid of the tough-to-reach space on top of cabinet boxes—which often collects dust. That said, more traditional rooms don't have cabinets that reach the ceiling, so the choice is really up to you.
How Long Does Dallas Cabinet Installation Take?
Typically, professional Dallas cabinet installation takes around 1 to 2 hours per unit. So, how long an entire project lasts largely depends on how many cupboards you need outfitted. To that end, large projects like kitchen cabinet installation usually take up to 35 hours (or roughly one week).
How Long Should They Last?
How long your cupboards last largely depends on how well you take care of them, and what material they are made of. For instance, wood is a more classic material to choose over something like vinyl, but it may need to be refinished or repainted from time to time. Moisture is also a concern with wood cabinets in Dallas, as it may cause them to warp, rot, or mold. By maintaining clean, dry cupboards, you give them a good chance at lasting a lifetime.
When it comes to aesthetics, styles do change overtime. If you're planning on hiring Dallas cabinet installation services to revamp your kitchen or bathroom for the long-haul, then you may want a more classic, timeless style you know you'll enjoy for years to come. Wood is beneficial in this situation, because it can be easily stained or painted to create a new look.
What Options Are Available for Dallas Cabinet Installation?
There are three main varieties of cabinet models, and each is available in Dallas. It's helpful to know their basic differences to inform your decision while shopping for new models:
Stock: These are the most affordable option. They are made to order as standard sized units that can't be altered or adjusted. Usually the most budget friendly option, stock cupboards are best installed in spaces that have ample room and are not shaped oddly as the design cannot be changed.
Semi-Custom: A step up from stock designs, this variety is made before you order them but can be adjusted for size and other specifications. Usually, they are higher quality than stock models used for Dallas cabinet installation—meaning they will likely last longer and wear better through the years.
Custom: The most high-end option, custom designs cost more. However, you have complete control over the design and the ability to get exactly what you want done. Additionally, custom models are usually made out of the best materials available, providing the highest durability and longevity.
Are There Alternatives to Dallas Cabinet Installation for Storage Makeovers?
If your cupboards are looking a little worse for wear, but you're not completely sold on hiring installation services, there are still other options available to you. We know at least three ways you can revamp the appearance of your cupboards without replacing them. If you ever have questions about restoring your bathroom or kitchen cabinets, we're also more than happy to answer them anytime.
Painting
A fresh coat of paint can do absolute wonders in any space and on any surface in Dallas—and that includes cabinetry. Painting offers the opportunity to create a sleek and modern aesthetic, and it's another one of the simpler Dallas home improvements.
Pros of Painting:
Paint has more color options than stain
Neutral colors add to the resale value of your home
Creates a smooth, modern look
Hides dust more than stain
Can apply a top coat to make cleaning easier
Cons of Painting:
More expensive than stain
More prone to cracks and chipping
It's more difficult to touch-up paint
Can be more time-consuming
Mistakes show more easily
Paint lasts less than staining
Bold colors can detract from the resale value of your home
Refinishing
While staining or refinishing cupboards is limited to models made out of wood, it is a great alternative to Dallas cabinet installation. Staining also provides a more classic and traditional aesthetic, while still boosting the appeal of any room.
Pros of Refinishing:
The classic and natural look could benefit the resale value of your home
Supplies will cost you less than painting
Creates a traditional, natural look
Easier to wash
Less prone to cracking
DIY mistakes are more forgiving
Hides dirt better than paint
Lasts longer than paint
Showcases natural wood grain
Cons of Refinishing:
Stained wood is less resistant to water than painted wood
Harder to remove stains that are not cleaned right away
Shows dust more than paint
Harsh cleaners can dull the finish
Refacing
Lastly, refacing cupboards is the last option to give them a boost without having to install new ones. This is essentially the best option if the interiors of the cupboards are still structurally sound, and you don't like the look of the doors. Refacing is basically replacing old doors and handles with new ones.
Its main benefit is that it saves you a significant amount of time—swapping out doors and handles is much faster than painting or staining. It also enables you to get exactly the look you're going for. The main drawback of refacing cupboards is that it is less budget friendly than staining or painting—but it's still more cost-effective than full replacement.
Hire the Experts at Mr. Handyman of Dallas Today!
Are you ready to start your next Dallas cabinet installation project? Or maybe you need help painting or staining your existing cupboards? In any case, our professional service technicians at Mr. Handyman of Dallas are happy to help. Each of our team members is highly skilled, and also is guaranteed to provide outstanding work and customer service. We treat all our clients with the utmost respect and courtesy.
When you invite one of our technicians into your home, you can rest assured that we'll leave it looking even better than we found it. We help homeowners throughout the Dallas area with all their home improvement needs—from providing Dallas cabinet installation or replacement service to completing a full-blown kitchen renovation or shower remodel. We're honored to serve all communities near Dallas too, including Richardson, Farmers Branch, and more.
To get started today, we invite you to reach out to our friendly office staff. We're here to answer your questions and book an appointment with one of our talented technicians. Our team can be reached over the phone. We're looking forward to helping make your home improvement goals a reality!