An intricately designed deck will not only look aesthetically pleasing but readily boost your home's curb appeal and property value. Those that are keen on preventative maintenance will slim to none find they require a deck repair. Denton, TX residents who outrightly ignore any deck repairs whatsoever will find that by compromising the structural integrity of their deck they have put their safety and security in jeopardy. Lately, if you've noticed loose boards, peeling, or discoloration from water damage or hairline cracks or fractures these are all telltale signs of a deteriorating deck.
Some Denton homeowners become complacent and procrastinate for a Denton deck repair, haphazardly assuming that their deck can withstand weather conditions especially if it's made of wood as it's an organic product. And so they overlook crumbling rotting wood, chipped paint, sagging spots, and consistently squeaky steps from loose joists, and railings. And your wake-up call shouldn't be after a termite infestation or when someone gets seriously injured from a damaged deck.
The Mr. Handyman Differance: Our Dedicated Denton Deck Repair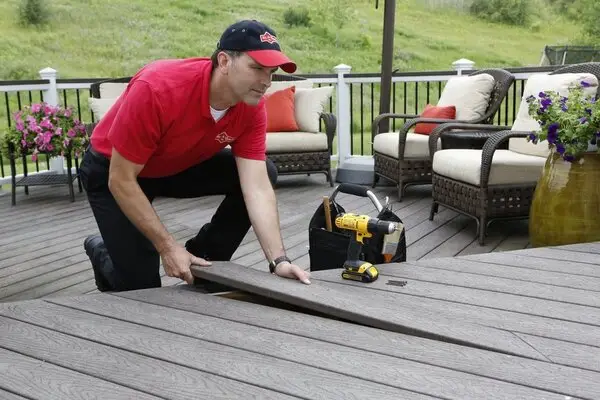 At Mr. Handyman Flower Mound, Lewisville, and Denton we showcase a notable track record of nearly 17 years and counting having served nearby areas of Ponder, Highland Village, and Argyle offering superior products and services, quality craftsmanship, and outstanding customer satisfaction across the divide. Our professional handyman is well-adept with the skillset, tactic, and know-how for Denton deck repair as we honestly listen to our client's pain points to conjure up accurate and long-lasting solutions. We know that a deck repair can boost your lifestyle but if you're still indecisive feel free to book a no-obligation consultation in which we customize a solution based on your personal preferences and budget for your deck repair. Denton, TX property owners should note we also offer transparent, upfront pricing alongside a one-year parts and labor guarantee so we will return to make the proper adjustments necessary no questions asked. Our trustworthy team members will show up uniformed and prompt and even align with your busy on-the-go schedule as we understand a deck repair can happen at the most inconvenient moments. Unlike some shady contractors out there, we always clean up after ourselves after each work shift and discard any rubbish at the proper facilities, and will never leave a mess behind.
In relying on our experienced handyman team members for deck repair, Denton, TX clients can expect them to remedy their deck by removing any dirty, loose, or sagging areas so the structure itself is upheld. Through preventative maintenance including regular cleaning, staining, and painting your deck you can preserve its condition for many years to come reducing the likelihood of a Denton deck repair. Denton, TX clients should not delay and ask for assistance before their deck begins to buck and eventually collapse on you.
Our Established Deck Repair Process
TYPE OF DECK MATERIALS
Mostly wood is the most common deck material type. Also, just as a reminder, most Denton homeowners don't have to commit to just one material as they can mix and match from a wide range of materials. For example, you may opt for wood for your front deck which is more of a porch style, and fiberglass for your backdoor deck. Regardless of which type of material you go for it will indicate how much effort you have to expand for routine maintenance and a Denton deck repair.
Wood/Pressure-Treated Wood: Pressure-treated wood is one of the popular requests as it resists wood rot decay and outlasts organic or untreated wood so it's more cost-effective. It's also a natural pesticide as it wards off insects plus is resistant to moisture, fungus, and fire compared to generic wood. The only drawback is that it is more vulnerable to sun damage including direct sunlight exposure to UVA and UVB rays. So if you skip out on maintenance you will quickly find that it will change in color, crack, or warp plus be exposed to mold and mildew growth.
Cedar Wood: If you're looking for more of a rustic appeal cedar wood is great because it is durable, bodes well in fluctuating temperatures, isn't prone to moisture damage, won't warp or split, doesn't have to be stained as it is naturally resistant to wood rot and insects and overall requires less maintenance. The only drawback is that it's more expensive to install as a superior wood product and fades to a pale gray over the years.
Redwood: This is another durable material that is resistant to insects and decay and doesn't warp or split up easily. It gives a warm ambiance with this warm and reddish tone and doesn't need to be stained and lasts up to 20 years with proper upkeep. The only downside is that you have to be keen about maintaining redwood to keep the rich red color from going drab and being washed out. Whilst you're repairing and cleaning redwood decking you also have to be careful not to damage the wood as it can dent under heavy amounts of high pressure. But buyers should beware they may require a Denton deck repair, as redwood's softer and pliable materials mean that it does scuff up easily.
Aluminum: Although wood is the most commonly used for decks in Denton, sometimes homeowners want to change things up with other materials. Aluminum is sturdy, doesn't crack, warp, or rust, and is mold-resistant. As a lightweight and durable material, it's a good swap out for wood but one downside is that it's sensitive to heavy foot traffic in terms of noise pollution and gets incredibly slippery during the winter months.
Steel: Again, unusually uncommon but also a doable material. Steel is quite durable, bodes well in moist environments, and can handle fluctuating temperatures and pressure including being resistant to fire. The only downside is that you have to put up with doing extra chores as it does require the occasional power washing service to get rid of all the built-up dirt and debris as outrightly ignoring this means it will rust. Corrosion on a deck occurs if it's exposed to water moisture, oxygen, and extreme temperatures for a long time. If you notice discolored rust don't be surprised to see leakages on your deck too.
Fiberglass: This classy material is becoming a favorite option on the backside of houses as it's lightweight, waterproof, has lighting, and has minimal maintenance costs. Plus who doesn't love the luxe appeal that glass offers? The only drawback is that if any hairline cracks or fractures appear they are difficult to mend and can't easily be fixed let alone at all.
Vinyl: Plastic is a safe choice as it doesn't warp or fade in fluctuating temperatures or pressure and can be customized with different colors and designs. For example, a wood-grain palette copycats real wood. But it comes with an expensive price tag and since it's not an organic material like wood or metal like steel it can't be refinished easily for deck repairs. For example, your handyman will have to be careful to pick up and discard any plastic rubble so as not to cause pollution and let it decompose in the environment.
Why We Are The Delightful Choice For Denton Deck Repair
Our professional handyman can deck out your home with expert deck repair. Denton, TX is best advised to ask an accredited contractor like us for a credible deck repair handyman who will do the correct job the first time around. Let all the world of your backyard from your blooming garden to your pets and scurrying furry critters be but a performance for you to enjoy daily as you admire from atop your stage.
Frequently Asked Questions Denton Deck Repair
WHEN SHOULD YOU REPAIR A WOOD DECK?
Here are some red flags that indicate it's about time for a deck repair:
Changing in texture including crumbling wood
Loose floorboards
Wobbly railing
Decaying posts
Terminate or insect damage
Peeling paint
Hairline cracks or fractures
Faded look or discoloration from rust
Mold and mildew growth
CAN YOU REPAIR THE ROTTEN DECKING?
Yes–for minor damages like nail holes to a major area of rot you can use a wood-based filler product. But please note it's much better to prevent rot than to deal with the aftermath of damaged wood rot as you won't risk having to replace the entire deck. Ideally rotted boards are replaced with new pressure-treated varieties.
HOW OFTEN DO DECKS NEED TO BE REPLACED?
An average wood deck can last from 15 to 40 years with proper routine maintenance but this of course also depends on the material type and the method of deck installation. But if your deck is over two decades old and beginning to look shabby it may be about time for a deck repair or replacement.
You Deserve A Beautiful Balcony To Relax On–Ask Mr. Handyman For A Refurbished Toady!
Impress your neighbors and guests during their next visit by getting a Denton deck repair. Denton, TX homeowners will get overwhelmed with the number of compliments they receive and wonder why they didn't ask us sooner for a touch-up. Whether you're in Justin,
Lewisville, or Ponder reach out to our courteous customer service representatives for both residential and commercial deck repair, installation, and maintenance services as we will gladly address your curious questions or concerns.