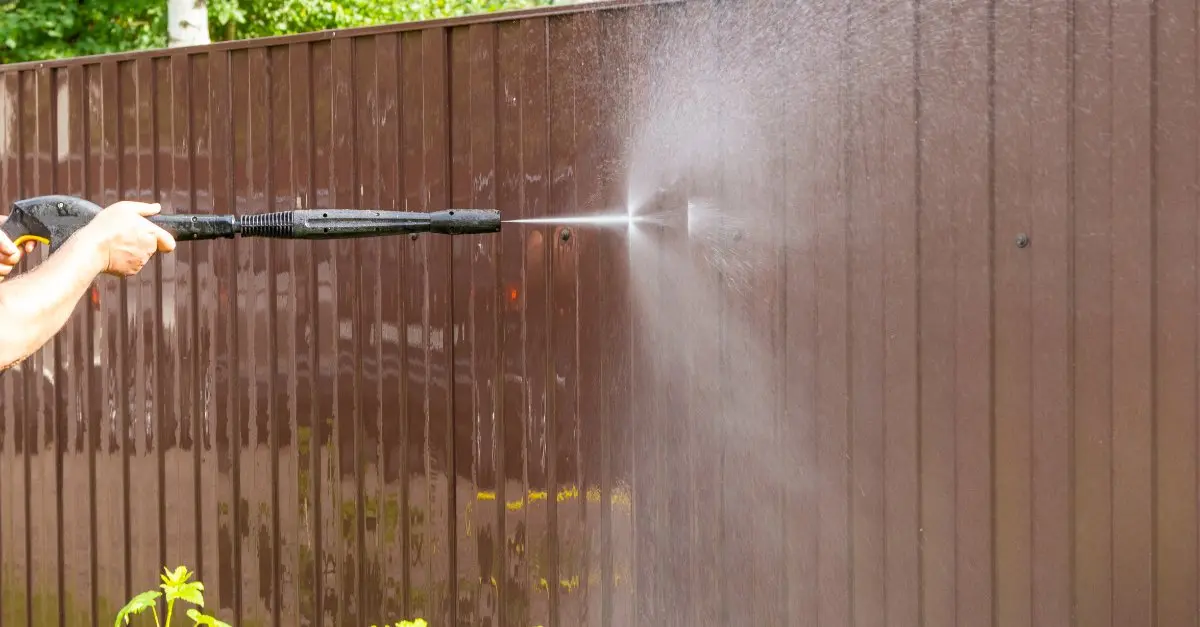 Is it time for expert pressure washing? Denton TX residents may have their new favorite handyman service in the community and for a good reason. Or should we say for several reasons? You wash your vehicle every few weeks (or know you should) not only to make it sparkle and shine but also to prevent dirt, debris, and road pollution from damaging the paint finish. Though many homeowners don't realize it, this same dirt and debris can damage your home's exterior as well. With the help of our Denton handyman team, you can get rid of those unsightly black streaks on your home's siding and boost your curb appeal, eliminate tough grease stains on your driveway, and blast peeling paint off your deck to prepare the surface for refinishing.
You can book your Denton pressure washing service today by calling us or filling out our online contact form. Not sure whether pressure washing is right for you? Learn everything you need to know about our Denton pressure washing service below to help you make your decision.
About Our Services for Pressure Washing, Denton TX
Some of our customers ask why they should hire us for professional pressure washing in Denton, TX instead of renting a pressure washer and doing the job on their own. We have a few responses to this.
Pressure washers aren't as simple to use as they seem. Many homeowners assume that the process is as easy as turning the machine on and pointing it at the surface that requires cleaning. While this is what it may look like to the average passerby, there's actually a lot of training that goes into learning how to use a pressure washer effectively, efficiently, and safely.
Depending on the surface being washed, there is a particular PSI that needs to be set to ensure that the surface is thoroughly cleaned without damaging your property. In addition to knowing what PSI to use, our service technicians are also experienced enough to know at exactly what distance they should hold the wand away from the surface, as well as its proper angle.
Though it may seem fairly harmless, pressure washers can actually cause serious injury and even death. Fatal accidents are admittedly rare, but severe injuries are all too common. Our professional handyman team is not only well-equipped with advanced equipment and the right accessories for different jobs but also with the safety training that is needed to protect you, your home, and your loved ones.
The Science Behind Pressure Washing | Denton, TX
All property owners, whether residential homeowners or commercial business owners, have likely heard about some of the benefits of pressure washing. Denton, TX service technicians will say that as far as exterior cleaning techniques go, pressure washing is undoubtedly one of the best. There is a wide range of messes that our residential and commercial pressure washing services can thoroughly clean up and eliminate. We tackle all sorts of cleaning projects, including:
Concrete cleaning
House siding cleaning
Patio and deck cleaning
Sidewalk cleaning
Patio furniture cleaning
Fence cleaning
Gutter cleaning
Roof cleaning
And more!
As its name suggests, pressure washing essentially works by using high-pressure water to blast dirt from surfaces. When water molecules hit the contaminant particles clinging to the surface of your driveway or siding, the force knocks them off. This makes pressure washing perfect for dirt, grime, and mildew that just won't budge no matter how hard you scrub.
Pressure washing machines are composed of a few different parts:
A water inlet that connects the machine to a water line
An electric or gas-powered motor
A high-speed water pump
A high-pressure hose capable of handling high water pressure created by the pump
Valves and cleaning attachments connected to the end of the hose
Electric-powered machines are the least powerful type of washer and are capable of producing a water pressure between 1,300 and 1,800 PSI (pounds-force per square inch). To put this into perspective, the water pressure at your local car wash is probably somewhere between 1,000 and 1,200 PSI. Gas-powered residential machines are one step above electric-powered models and can produce up to 3,000 PSI. For heavy-duty jobs, gas-powered commercial-grade equipment can produce a shocking 4,000 PSI or greater.
Pressure Washing Denton TX Residential Properties
On the morning of your Denton pressure washing service, we'll show up on time and ready to work with all the necessary tools and equipment in the back of our branded vehicle. We'll go over your expectations for the service to ensure we're on the same page, and we'll discuss any cleaning options available to you. If you have concerns about the type of detergent we plan on using, this is a great opportunity to raise those matters. We may be able to use biodegradable and eco-friendly cleaners to protect your yard and wider ecosystem without compromising on the quality of our service.
Once we've cleaned the desired area of your home, we'll show you the results, address any concerns you may have, and then thoroughly clean up after ourselves before departing.
Pressure Washing Denton TX Commercial Buildings
With professional pressure washing, Denton, TX business owners have the perfect commercial cleaning solution. The cleaning process largely follows the same steps as our residential service, but commercial property owners tend to use our services for different purposes. Some of the areas of your commercial property you may need Denton pressure washing for include:
Graffiti removal
Gum removal
Parking lot cleaning
Paint removal
And more!
Why Choose Mr. Handyman For Pressure Washing, Denton TX?
Unlike a standard Denton pressure washing company, we employ experts with extensive hands-on experience in a wide range of handyman and carpentry jobs. Instead of having to hire multiple contractors for a project, you only have to hire one—us! For example, many of our Denton customers hire us to not just pressure wash their decks, but to sand, stain, and seal them as well. All of this can be done by a single technician. Why hire both an independent pressure washing contractor and our handyman experts to refinish your deck when all you have to do is make a single phone call?
Our professional cleaning service also comes with the benefit of our workmanship warranty. As evidenced by the high number of positive customer reviews written by our fantastic clients, we're committed to providing unbeatable customer service. We aim to achieve total customer satisfaction through our quality workmanship guarantee; if you're not satisfied with the quality of service you received, give us a shout, and we'll make it right.
FAQs About Pressure Washing Denton, TX
What's The Difference Between A Pressure Washer And A Power Washer?
The terms 'pressure' and 'power' washing are often misunderstood. Many people assume that they're simply two terms for the same thing, and they're mostly right. The main difference is that power washing uses heated water while pressure washing does not. This makes power washing essentially hot water pressure washing. Denton, TX homeowners who have done their fair share of dishes know that hot water cleans more thoroughly than cold water. This means that power washing tends to be more effective, but that doesn't necessarily mean that this service is right for you. It's important to protect the integrity of your exterior surfaces, and for some materials, power washing is simply too much.
Should I Use Soap When Pressure Washing?
Denton, TX technicians at Mr. Handyman recommend using a biodegradable detergent on residential premises. On the other hand, commercial spaces may benefit more from using chemical cleaners. But if you don't want us to use any detergent during your service, simply let us know, and we'll leave it out. Going back to the dishes example, you probably use dish soap to clean your dinnerware rather than just hot water. Soaps and detergents not only help to break down hard-to-remove debris and stains, but they also disinfect.
How Do I Remove Paint With A Pressure Washer?
Paint can be removed using a pressure washer in the same way that dirt and grime are removed. The trick lies in using the correct pressure to strip the paint without damaging the surface underneath.
This can be challenging when the surface in question is a soft wood, such as cedar. Generally, it's best to stick below 600 PSI to clean this material. A PSI of up to 1,500 can be used on harder woods. However, if your goal is to refinish your wood surface, it may not be a huge deal if the wood's surface is minimally damaged. After your Denton pressure washing service, your technician can simply sand down and stain the surface.
Which Surfaces Should Not Be Pressure Washed?
While there are many outdoor surfaces that can safely be cleaned using high PSI water, this method is too harsh for some materials. It's important to know what type of surface pressure washing can be used on before booking your service.
Concrete surfaces shouldn't be a problem, but if you require driveway cleaning for a non-concrete surface, you may need to reevaluate your plans. Cobblestone driveways may be strong enough to withstand pressure washing. Denton, TX technicians will discuss this before setting up an appointment. Likewise, vinyl siding can be pressure washed but wooden siding should be treated with caution.
Some other areas to be mindful of include:
Asphalt roofs (roof washing may be possible with other materials)
Brick patios and siding that are in poor condition
Windows and other glass surfaces
Gutters
What Is Soft Washing vs. Pressure Washing?
Denton, TX residents A great alternative to power washing and pressure washing is soft washing. Soft washing services follow the same steps as pressure washing, except that soft washing uses about 500 PSI or less. This makes it safe for use on softer surfaces that cannot withstand a high PSI. Although less effective than pressure washing, soft washing is still more effective than grabbing a bucket of hot soapy water and a rag and doing the whole project by hand. Soft washing is ideal for exterior window cleaning.
The same machinery is used for this service, but a special tip that reduces PSI is used. This tip dramatically widens the area that the stream of water covers, thereby dispersing the pressure across a greater distance and lowering the overall pressure.
How Long Does Denton Pressure Washing Take?
The length of all of our pressure washing services varies according to our customers' cleaning needs and the square footage of the surface. Typically, the service lasts somewhere between 30 minutes and 3 hours, but it can take longer for large-scale jobs such as cleaning a high-rise building.
At the beginning of your service appointment, your handyman specialist will provide you with an estimated time of completion. If anything changes, they'll inform you right away.
How Much Does Pressure Washing in Denton, TX Cost?
The cost of pressure washing in Denton, TX will depend on the job you need to be done. The longer the job takes, the more it will cost. That being said, this is one of the most affordable services you can get done for your Denton home.
By the time you've rented a pressure washing machine and paid for a container of detergent, you're looking at a cost similar to that of hiring a professional to do the job in the first place. Choosing a professional service will also allow you to spend your time on a project or activity that's more worth your while.
We understand that most Denton homeowners have a budget, which is why we offer free, no-obligation on-site consultations to help you make your decision before committing.
Contact Mr. Handyman of Flower Mound, Lewisville and Denton for Pressure Washing Today!
Mr. Handyman of Flower Mound, Lewisville, and Denton is a leading choice for pressure washing. Denton, TX clients can depend on our high standards, friendly service, and reputation as experts in the home services industry. As a locally owned and operated franchise, we're proud to serve residents in and around the Denton area.
Don't waste your time using the garden hose; instead, book your Denton pressure washing service today! Feel free to give us a call and speak with our customer service staff.
Too busy to discuss specifics right now but eager to get the ball rolling? You can also fill out our online contact form, and we'll review your job specifications and get back to you as soon as possible. We look forward to hearing from you!