Once you have made the call, your handyman will arrive in their marked company van and uniform to your scheduled appointment and inspect the area that needs service. Inspection is an important part of our job because it allows us to check for any underlying issues that may be difficult to detect. Therefore, being there in person helps us to better evaluate the overall job and communicate with you any issues that you want to be eliminated. Or perhaps we detect something that needs to be addressed right away before we start on the initial requested job.
CHOOSE YOUR DRYWALL
There are different-sized sheets of drywall available for your home's interior. Standard sheets are often referred to as whiteboards and are commonly used for ceilings and walls. Plasterboards and cement boards have a waxed surface to resist moisture; therefore, they are best used as backer boards in bathrooms. The best thickness to use is 1/2 inch for walls and 5/8 inch for ceilings.
AREA PREPARATION
Before the initial installation, there are a few preparatory tasks your expert Flower Mound handyman needs to complete. Sometimes, demolition is required if you seek to replace the old panel. That's an additional step that requires a few hours to complete and includes waste removal and cleaning.
Otherwise, if we're only dealing with an empty space, we have to watch for any electrical, plumbing, and insulation systems before we install a new sheet of drywall. If we install an interior wall that is in close contact with your siding, it's important that we check the wall cavities to ensure you have efficient insulation. It may be necessary to do a drill and fill where our service technicians will drill holes to access the cavities and blow in a new layer of loose-fill cellulose insulation.
DRYWALL INSTALLATION
Flower Mound, TX service professionals at Mr. Handyman will have their tools and materials ready for the installation. They will also plan ahead which drywall panels need to be cut to appropriately fit windows, doors, and outlets. So you may see us snap drywall sheets accordingly to fit a specific space. The cutting and sanding process is only the beginning!
Ceiling Installation:
Since thicker material is recommended for ceilings, our handyman team usually brings a drywall lift to put the pieces of drywall in place. The next steps involve taking the sheets to the ceiling joists.
Hanging Drywall:
During the wall installation process, it's important to push the wall sheets tightly against the ceiling installation and then fasten them with drywall nails.
Before you get concerned about the sturdiness of nails, they're merely the first step of fastening panels to the joists. Next, we use a drywall screw gun to properly fasten them. The screws typically go beneath the paper surface but not into the gypsum core. Every screw should sit neatly in place without protruding.
FINISHING PROCESS
After drywall installation, Flower Mound, TX property owners may choose how they'd like us to finish it. The hardest part is done, but what about the joint areas that show the different size panels? They need to go.
The finishing process involves applying a joint compound to hide screw heads and joint areas. Any excess compound will be scraped off so that we can apply strips of paper tape on the fresh coat of compound. As we smoothen out the tape, we will apply a layer of compound over the tape. The same process occurs on the inside corner. For that, we usually use fiberglass tape to ensure the corners are sharp and smooth.
Then we allow the compound to dry for a while before we sand and apply a fill coat. That also needs to dry and be lightly sanded before the final finish coat.
Why Choose Mr. Handyman For Drywall Installation in Flower Mound, TX?
As your local experts in the home service industry, we handle drywall installation regularly and know all the little details that most people miss during an installation. We're a versatile team that can handle multiple types of work. Certified Handyman offers a lot more than just maintenance and repairs: they also help customers with various home improvement and remodeling services that involve more details than just drywall installation.
Flower Mound, TX property owners want their floors to be done, countertops to be installed and much more! With our dependable handyman services, they'll get peace of mind knowing that it will all be done properly and efficiently.
Further benefits include:
Saving Time: Would you rather spend over a week working on your Flower Mound drywall installation by yourself or have your local team of experts complete it within a day or two? You'll be positively surprised by our cost estimates and how much time and money we could help you save.
Increased Safety: When acquiring a building permit during drywall installation, Flower Mound, TX homeowners may need to prove their insurance status, as handling large drywall panels can pose a safety hazard. By hiring Mr. Handyman, you can rest easy knowing that our service technicians are fully insured, and you won't have to put yourself at any risk.
Required Tools: If this is only going to be a one-off project, gathering the required tools for your Flower Mound drywall installation project may not be worthwhile and adds to the cost. On the other hand, our team is always geared up with those tools and familiar with those tools' best uses.
Did We Mention We Also Clean Up? We understand how stressed homeowners get when strangers enter their homes and create a mess. But it's through the mess that something beautiful comes into existence! We clean up after ourselves and always have. There won't be any dust or compound on the floor. Everything will be spotless, and any unnecessary items will be removed until nothing remains except for your brand-new drywall.
Flower Mound Drywall Installation—FAQs
WHAT EXACTLY IS DRYWALL?
The baby boomer era marks the beginning of drywall's commercial success. Though already in use in the early 1900s under the name "Sackett board," drywall installations weren't yet widely accepted. Plaster walls were still in use during the 1940s, but people were gravitating toward something more cost-effective and less labor-intensive. Nowadays, we can't imagine equipping a home's interior without this wonderful invention.
Drywall is made of gypsum, paper, bonding agents, and resin. Other ingredients also include wood pulp and plywood. These panels are then squeezed between two thick paper sheets to create the finished structure. Gypsum is known to be non-combustible and light, which means gypsum boards don't catch fire and are easier to install. These qualities also make it cheaper to hire someone for fast and efficient drywall installation.
Flower Mound, TX property owners typically hire their local handyman for this job during a bathroom remodel or kitchen remodel, during which we inspect the walls behind old appliances and fixtures to determine if they need to be replaced. You can also hire drywall installation services for projects like room additions and other larger Flower Mound home improvement projects.
CAN I DO MY OWN DRYWALL INSTALLATION?
Flower Mound, TX has many DIY experts. There is no doubt about that. Besides planning and choosing your type of wall, it's crucial to have a dedicated team that understands your needs and knows the exact step-by-step procedure, so nothing is missed in the process.
Even though whiteboards are deemed light, you still need a hand or two to successfully install a new wall. It's always great to start installing small panels or acquaint yourself with some small drywall repair projects first. This way, you'll know in advance what larger projects might be like.
HOW DOES DRYWALL GET DAMAGED?
Other than the regular wear and tear, they are also prone to accidents, such as moving furniture. Minor to large holes can be fixed with patching and installing replacement panels.
In other cases, they are poorly installed, and you might experience popping nails or screws that came off the wall studs. These are easy fixes that require you to install new screws.
More severe situations include water damage caused by leaking pipes. Although half-inch whiteboards and some other thicker panels are water-resistant, they are not waterproof and once affected by damage, they need to be replaced.
Lastly, beware of damage caused by your home settling, during which foundation cracks are common on the exterior and interior of your walls. Before you repair these cracks, your Flower Mound drywall installation technician recommends contacting a foundation specialist to ensure your home's foundation is safe.
DO YOU PAINT AFTER DRYWALL INSTALLATION AND FINISHING?
We certainly can complete that job for you. Our Flower Mound drywall installation team is happy to complete the finishing touches of a drywall installation by painting the newly installed walls or ceilings using whichever color you prefer.
DOES FLOWER MOUND DRYWALL INSTALLATION HELP WITH INSULATION?
It certainly helps keep designated areas and rooms warm, but since it's only designed for interior use, it's not an insulating material. In fact, you do need to insulate behind your drywall, whether you use fiberglass batts, blown-in cellulose, or spray foam. Having sufficient insulation will help protect the panels and improve your home's overall energy efficiency.
WHAT IS SYNTHETIC GYPSUM?
Synthetic gypsum has gone through industrial processing and is a byproduct of itself combined with what's known as pre-consumer recycled content, which is, in fact, unrecycled waste material that's not environmentally friendly.
Natural gypsum is obtained from mining and quarrying, which means that it's taken from the earth. But there is also a way to select drywall material that's made from post-consumer recycled (PCR) content, which means it's made from materials that consumers recycle on a daily basis. This way, you help reduce greenhouse gas emissions.
WHAT SAFETY PRECAUTIONS DO I NEED TO TAKE DURING A DIY FLOWER MOUND DRYWALL INSTALLATION PROJECT?
If you are planning to do this kind of work yourself, you need to invest in protective equipment like safety glasses (or goggles), and respiratory masks because you will be dealing with lots of dust and strong compound smells. In order not to hurt your back, we also recommend practicing lifting techniques, during which you need to remember to always keep your legs spread and back straight. Never be over-ambitious and work on your own. Always grab a partner!
Looking for Professional Drywall Installation? Flower Mound, TX Homeowners Can Choose Mr. Handyman!
Walls are magical, and we need them to feel safe and at peace within our homes. Our handyman service professionals in Flower Mound have helped multiple property owners install new ceilings and walls and made a huge difference in our community.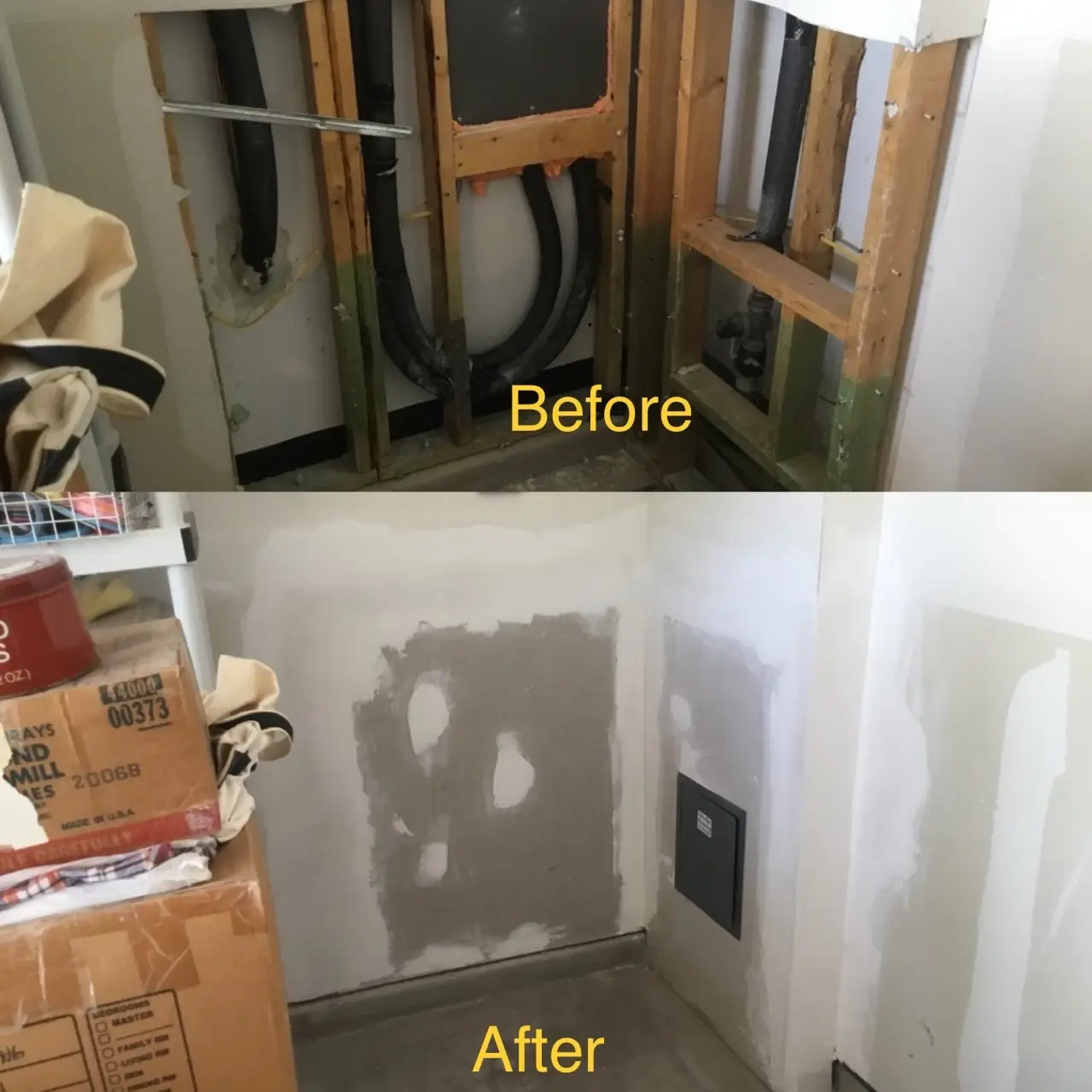 Are you in Flower Mound or a nearby community such as Lewisville, Denton, or Argyle and want results like what you see above for your drywall installation project? Contact our friendly office team to schedule an appointment for drywall installation or other drywall services, or to find out more about our trusted handyman services, from bathroom remodeling and kitchen remodels to simpler home repairs.