Whether you absolutely adore your house or you're overwhelmed by the very long list of things that need to be done to make it more comfortable and suitable for your family, your local, experienced Lewisville handyman can make both minor and major improvements with the right strategy for home remodeling. Lewisville homeowners can trust the team of experts at Mr. Handyman of Flower Mound, Lewisville and Denton to deliver outstanding craftsmanship and customer service that goes the extra mile.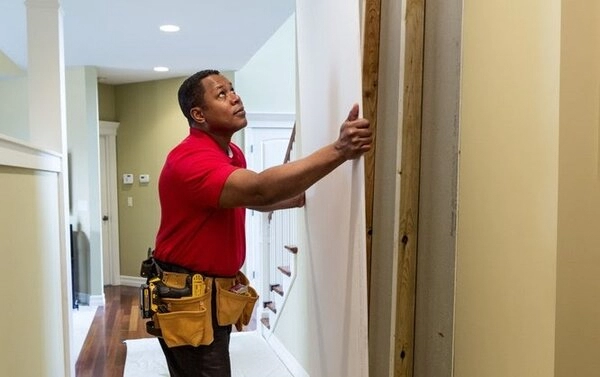 Our Trusted Lewisville Home Remodeling Services
When they're thinking about home remodeling, Lewisville homeowners typically consider a kitchen remodel or bathroom remodel first. It makes a lot of sense to focus on those particular home remodeling projects, because the kitchen and bathroom are both practical, utilitarian spaces with a lot of large appliances and built-in components.
There's certainly nothing wrong with focusing on those rooms, but they're also not the only parts of your house that can really benefit from our Lewisville home remodeling services. We can also enhance other rooms such as the living room, bedrooms, family room and study with projects that increase function and perfectly complement your interior design aesthetic.
Of course, the exterior of your house can also benefit from home remodeling projects that improve curb appeal and may even be able to make your home more energy efficient so you don't have to pay as much on your monthly utility bills.
INTERIOR HOME REMODELING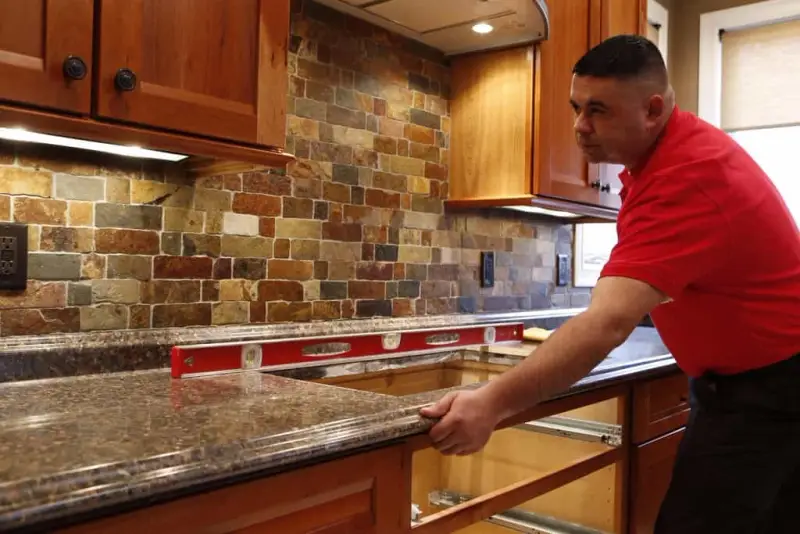 Your home should be your personal haven of relaxation and rejuvenation, which means it needs to be perfectly tailored to meet the needs of your unique household. If it's not quite at that level yet, we can help get it there with expert home remodeling. Lewisville homeowners may want to consider interior projects such as:
Kitchen remodeling
Installing attic insulation
Countertop installation
Hardwood floor installation and repair
Vinyl and laminate flooring installation
Baby proofing
TV wall mounting
Window frame repair
Installing custom wall cabinets
Installing entertainment walls
Door installation and repair
Installing pet doors
Ceiling repair
Accessibility modifications
Hanging drapes, blinds and curtains
Picture hanging
Shelving installation
EXTERIOR HOME REMODELING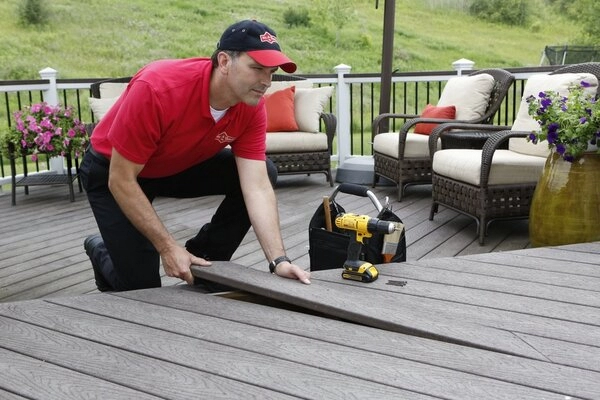 From appearance to energy efficiency, there are plenty of reasons to consider exterior home remodeling. Lewisville homeowners take pride in their properties and like to keep them in great shape, and we can help accomplish that by improving your outdoor space with services such as:
Patio, porch and deck repair
Porch and deck refinishing
Installing a covered patio or enclosed porch
Fence installation and repair
Stucco repair
Exterior siding repair
Fascia and soffit board repair
Exterior siding repair
Pick Mr. Handyman for Expert Home Remodeling in Lewisville, TX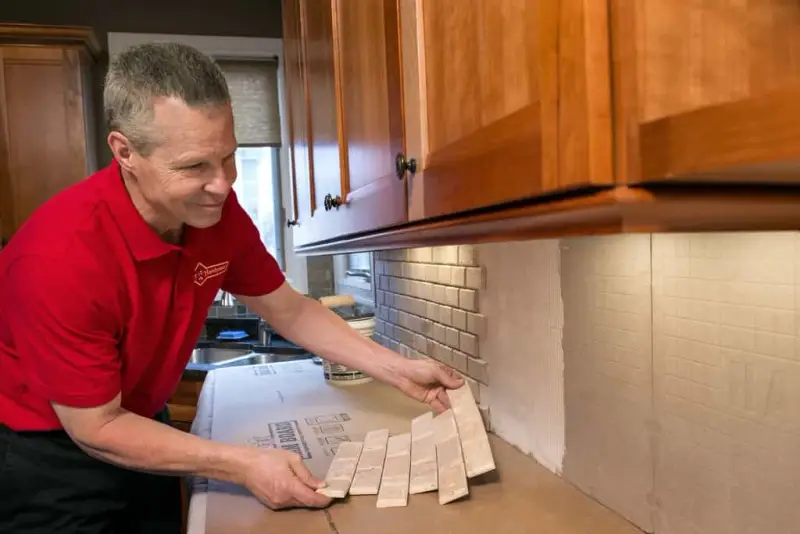 If you want the very best customer care combined with meticulous home remodel and repair services, the expert team at Mr. Handyman of Flower Mound, Lewisville and Denton are here for you. We consider it our mission to deliver 100% customer satisfaction on every job, along with a friendly attitude, clear communication and top-quality workmanship.
Frequently Asked Lewisville Home Remodel Questions
HOW DO I CHOOSE THE RIGHT MATERIALS FOR A LEWISVILLE HOME REMODEL?
When it comes to home remodeling, Lewisville residents often tell us that choosing the ideal materials is the most difficult part. There are so many great options available to select from, so it can feel like a huge challenge to narrow down a solid selection of quality materials and products. In our professional experience, there are a few questions you can ask yourself that will make it easier to choose the right materials for a home remodel, such as:
What style will best match my current interior design aesthetic? (For example, elegant, minimalist, modern, old-fashioned, rustic, bohemian, etc.)
What color palette do I like best? (If you're not sure how many colors you need, try the 60-30-10 rule. That means around 60% is your primary color choice, 30% is a secondary color that complements the primary one, and 10% is a contrasting color for accents.)
Are performance and durability most important, or would I prefer to optimize design and appearance? (You can have both beauty and function, but it's good to know what your key priorities are so you can make decisions accordingly.)
IS IT NECESSARY TO GET A PERMIT FOR HOME REMODELING IN LEWISVILLE OR NEARBY AREAS?
For home remodeling, Lewisville municipal regulations do require permits to carry out projects such as replacing doors and windows, building decks and much more. However, that's not something you as the homeowner need to worry about too much. Our team has many years of remodeling experience under our tool belts, so we are very familiar with the projects that require permits and we know how to get them pulled quickly and efficiently. We'll take care of that entire process so you don't have to deal with filing the paperwork. We also take the utmost care to always meet or exceed state and municipal regulations for every job we do.
DO I NEED TO HIRE SOMEONE TO CLEAN UP CONSTRUCTION MESS AFTER YOU LEAVE?
Home remodel projects can get quite messy, with sawdust, drywall dust and other materials flying around. Someone's going to have to deal with that mess, and it certainly shouldn't be you. When our experts are on the job for home remodeling, Lewisville residents never have to worry about the clean up. We'll make sure to tidy up after ourselves before we go so you can get straight to enjoying your newly remodeled house.
Ready to Get Started On Home Remodeling in Lewisville, TX or a Nearby Area? Call Our Expert Team Today!
Are you looking for reliable, capable home remodeling in Lewisville, Texas or a nearby part of the North Dallas area such as Denton or Argyle? Look no further than the team of professionals at Mr. Handyman of Flower Mound, Lewisville and Denton.
Our friendly customer service staff can be reached to schedule an appointment for service or to answer your questions about our dependable handyman services.