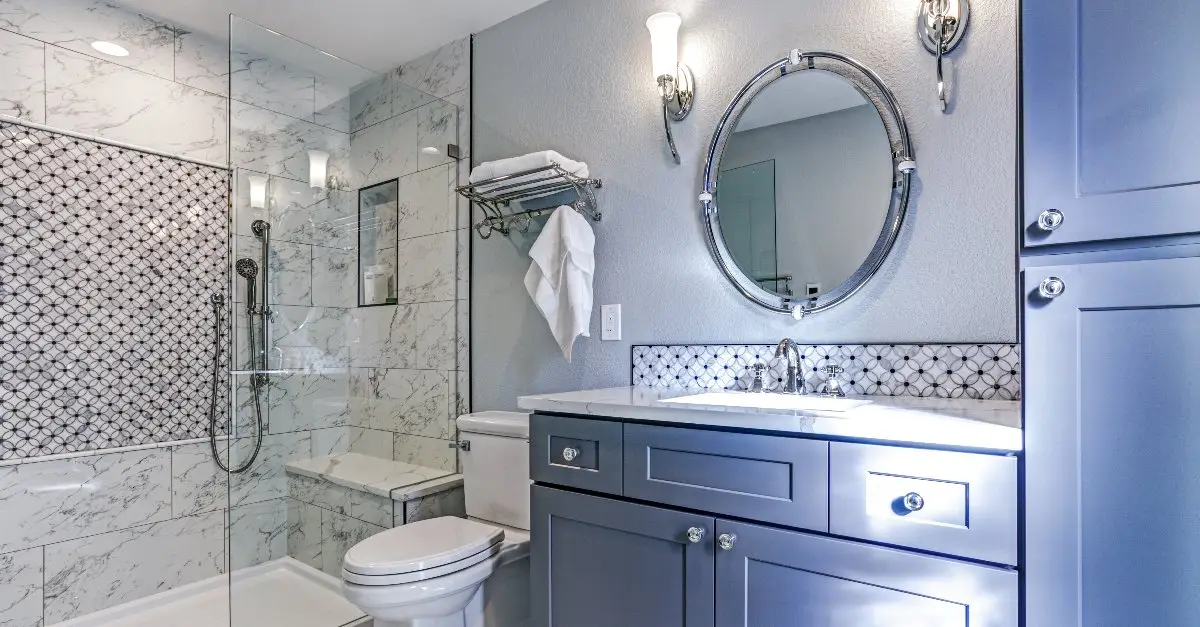 Has your outdated bathroom been weighing on your mind? Do you regularly watch home remodeling shows to brainstorm ideas about changes you could make to your own home? If taking on this particular project seems like a poor use of your money, but you can't get it out of your mind, we're here to tell you that it could be one of the best investments you make in your home and yourself. And naturally, many questions can come up in regard to a bathroom remodel in Denton, TX. Though bathroom remodeling projects can feel daunting, you don't have to go at it alone.
An experienced Denton handyman from Mr. Handyman of Flower Mound, Lewisville, and Denton can help you out with your remodeling project every step of the way. Whether you want to trade out that peeling linoleum flooring for stunning marble tile or you need custom shelving for a small storage space solution, our team is ready and willing to help.
Want to learn more about our services for your perfect bathroom remodel in Denton, TX? Keep reading, or give our customer service team a call today.
Our Denton Bathroom Remodeling Services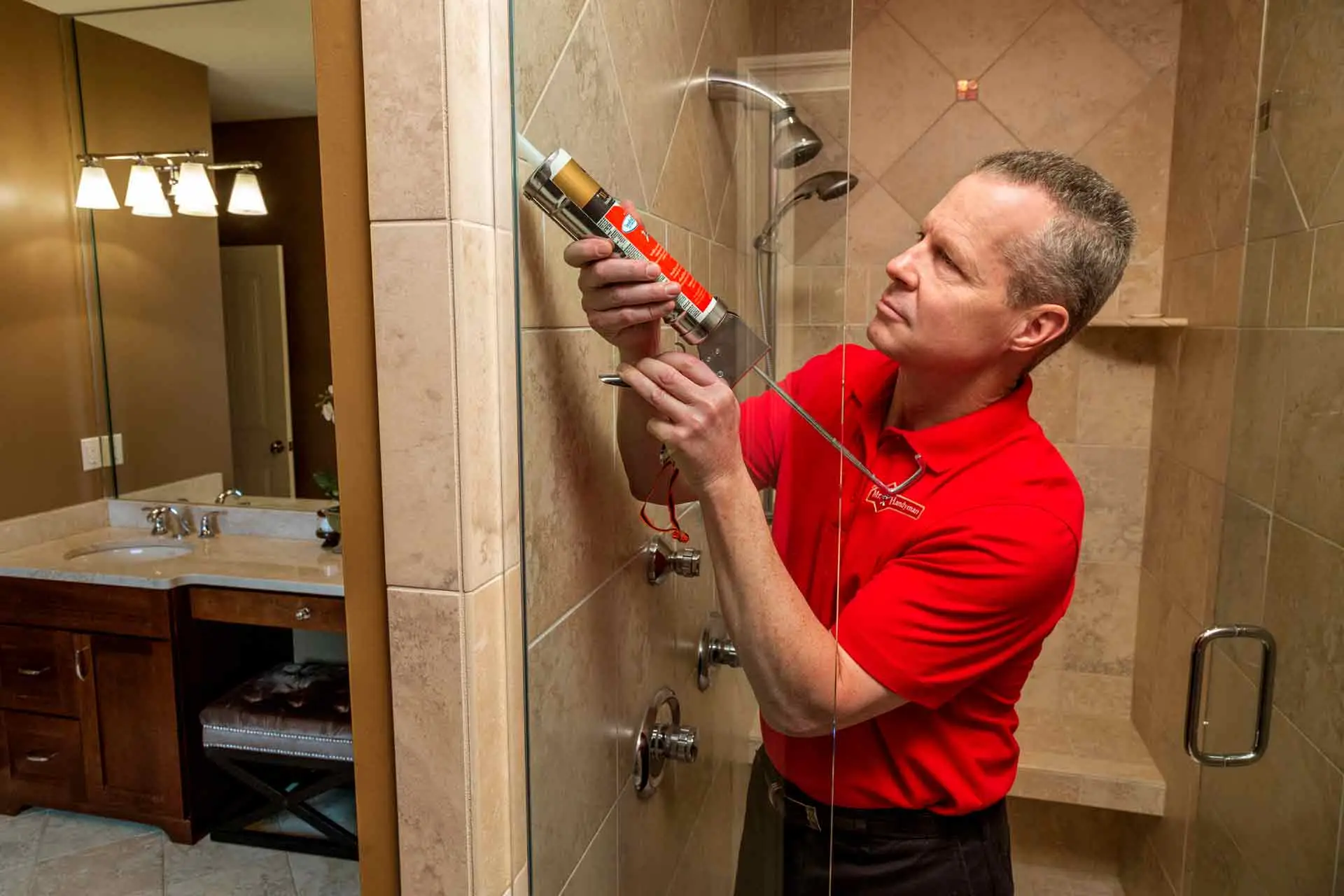 Bathroom remodeling encompasses a myriad of different services. Some of our most popular services for Denton bathroom remodeling include:
Tile installation and replacement
Flooring installation and replacement
Door replacement
Bathroom fan installation
Caulking
Ceiling Repair
Drywall repair/drywall finishing
Ceiling fan installation
Crown molding installation
Mirror and picture hanging
Cabinet installation
Aging-in-place modifications (grab bar installation, accessible showers, etc.)
And more!
While some of these services, such as picture hanging and caulking, are fairly straightforward, others are more complex and require professional service to help you meet your bathroom remodeling goals. These more complex projects include:
Tile floor installation
Shower Remodeling
Shower pan and shower door installation
Crown molding installation
Cabinet installation
Tile Floor Installation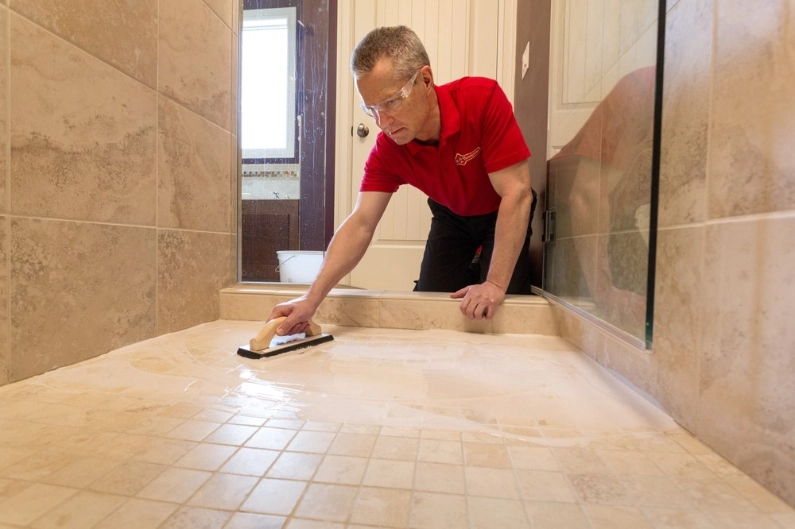 Of all the changes you can make during a bathroom remodel in Denton County, tile repair or a flooring upgrade offers the greatest ROI, hands down. The average ROI for bathroom flooring upgrades is a whopping 107 percent. With a return like this, there's no reason not to upgrade worn and outdated flooring.
Tile flooring is one of the best flooring materials for a bathroom remodel in Denton, TX. Our handyman experts have experience installing many different types of tile, including:
Ceramic tile flooring
Porcelain tile flooring
Marble tile flooring
Laminate tile flooring
Slate tile flooring
Cork tile flooring
And more!
Door Installation
If you're remodeling a small bathroom, you're probably aiming to maximize space as much as possible. A traditional hinged door can take up way more space than necessary. As an alternative, some homeowners choose to install pocket doors or barn doors.
Pocket doors are a cleverly designed door that slides into the wall when opened. Barn doors work in much the same way, except they are attached to a bracket above the doorway and slide in front of the opening. Thus, they take up a little more space and require a bare wall to function.
Our door repair and installation technicians have the expertise to install these space-saving doors, as well as more traditional door designs.
Shower Remodeling
Whether doing a guest or second-floor master bathroom remodel, sprucing up your shower is always a good idea. Shower remodels can include everything from storage niche installation to tile wall replacement and installation. It can also involve tile replacement as well as replacing shower doors. Let's see what's possible in terms of all of these modifications that help make the area a more functional space.
Shower door replacement: What condition is your current shower door in? Is the glass looking more murky than frosted? Are the hinges broken and squeak every time you open the door? Are you just tired of your old style and want a new one? All of these reasons are great reasons to replace your shower door.
Storage niche installation: Showers don't usually come with built-in space for your shampoo and soap. Left to leave them on the floor or get a bulky storage rack, you're totally inconvenienced one way or the other. That's where a storage niche comes in. We can build one into the wall of your shower to give you easy access to your products. Opt for a simple design or go all out with backlit shower niches.
Tile replacement: If there is one thing you should do to improve the look of your shower, it's to replace the old tile. Similar to installing backsplash in your kitchen, replacing old, cracked, and outdated tile with a new color or mosaic tile will give your bathroom an entirely new look.
Shower Pan And Shower Door Installation
Shower pans, also known as shower floors, are essential for collecting and directing water down the drain. Proper installation and sealing of a shower pan are important to ensure that water doesn't end up where it shouldn't and subsequently cause expensive water damage. Likewise, shower doors must be installed correctly to ensure they don't let any moisture escape.
By hiring our expert team of bathroom remodelers to install your new shower pan and door, you're backed by our workmanship guarantee. We promise the job will be done right, giving you peace of mind that your bathroom will remain water damage-free.
Crown Molding Installation
A type of trim, or crown molding, is installed around the top of your walls where they connect to the ceiling. But unlike trim, molding is completely for looks, and because of this, it is often created custom for homes or has an attractive pattern. The feature is often made from wood, but you'll also find it made from the following materials:
Plaster
MDF
PVC
Polystyrene
Installing crown molding is an excellent choice for your bathroom if you'd like to give it a sophisticated look. It will be installed around the perimeter of the room and can be painted to match the color of your walls or any other that fits your fancy.
Cabinet Installation
If you're short on space, installing cabinets is a smart way to make the most of a small bathroom. We can help you install cabinets to the side of your sink or behind it. The cabinets you install depend on the amount of space available on your wall. During your initial design consultation, we can help you see what's possible for your bathroom after taking measurements.
Cabinets can sometimes overcrowd a too-small bathroom, and if that's the case, we may recommend a shallower design. There are many different options when it comes to picking the right cabinets for your bathroom, and we'll walk you through your options (including custom cabinets and cabinet paint) to ensure you get a design that works for your needs, budget, and space.
Why Choose Mr. Handyman For Your Bathroom Remodel in Denton, TX?
Mr. Handyman of Flower Mound, Lewisville, and Denton is the locals' top choice for your dream bathroom remodeling project. Why? Not only is our crew highly experienced, with an average of 10 years experience among them, but they are skilled in a wide range of services that allow them to expertly tackle your project efficiently and correctly.
We always aim for complete customer satisfaction. With us, you can guarantee we'll get the job done right the first time—just ask our customers! Check out our customer reviews, and when you're ready to bring your vision to life, don't hesitate to get in touch with our exceptional customer service team.
Frequently Asked Questions About Bathroom Remodeling In Denton, TX
What Are The Top Reasons for a Bathroom Remodel in Denton, TX?
If you've been considering doing a professional bathroom remodel and are on the fence about it, we're about to change your mind. A bathroom remodel is one of the most beneficial home improvement projects you can take on. Not only can it update your space and make it more enjoyable for you to relax and unwind in, but it can also put more money in your pocket and improve the quality of life of you and your closest family members.
If you've ever wondered which home improvements boost property value and energy efficiency in Denton, bathroom remodeling and renovation are at the top of the list. At the time of writing, the national average cost estimate of a bathroom remodel is right around the $11,000 mark. It's this upfront aggressive cost that causes homeowners to hesitate, but you can recoup most, if not all, of these costs.
The typical return on investment (ROI) for a bathroom remodel is nearly 70 percent. On top of that, by making energy-efficient changes to your bathroom, you can save money on utility bills. Additionally, by adding a roll-in shower conversion, you or your elderly family members will be able to stay in your home longer, thereby saving you from spending exorbitant nursing home or assisted living costs.
How Can I Update My Bathroom On A Budget?
While bathroom remodels can give you a high ROI, not everyone has the cash flow to shell out ten grand or more at one time. Plus, by making changes that will offer you the greatest ROI while keeping your bathroom remodel cost down, you can increase the overall ROI for your project past the 70 percent mark.
Remodeling a bathroom on a budget is easier when the room is small, such as a tiny master bathroom, as opposed to a larger project.
There are a few different ways you can update your bathroom on a budget. Because of the high ROI, installing tile flooring should always be the first step if it is within your budget. Otherwise, if you have no plans of selling soon and would like to spruce up your bathroom floor while you save for real tile, peel-and-stick tiles are an option. These are also renter-friendly!
Upgrading your bathroom's accents, such as towel hangers, and painting your walls is also a great way to modernize a bathroom without spending too much. Whether you dream of a retro green or gold bathroom or have any other stylish bathroom vision, it's entirely possible on a budget.
Wondering how to make a Denton bathroom remodel plan on a budget? Start by setting out your budget, leaving a little room for unexpected costs. Then, list all the changes you would like to make. Don't worry about the cost—just list them out. Next, order your list from most important to least important, and brainstorm realistic ways to save cost on each change. Finally, contact your Denton handyman for a service estimate and select all the top-priority changes that fit into your budget.
Bonus Tip: It's not always in your best interest to cut corners. Though quality products cost more upfront, they can pay for themselves by significantly outliving cheaper products.
How Do I Choose A Design For My Bathroom Remodel in Denton, TX?
Planning a bathroom design is exciting, but it can also feel daunting. Because you're investing a lot of your time and money into making your bathroom beautiful and functional, you want to be happy with the result for years to come.
If you're planning to live in your home long-term, take time to research different bathroom layouts and design styles, and take note of what interests you. Sometimes it can be difficult to think outside of the box when it comes to your own space and by only looking at your existing bathroom. By looking up bathroom transformations, you'll have a good chance of coming across a 'before' photo that looks similar to your own bathroom. Looking at the 'after' photo will open your mind to all the possibilities out there for your dream bathroom.
If you're planning to sell your home in the near future, look for design options that are timeless and widely appealing. Homebuyers like neutral palettes because it makes it easier for them to decorate according to their style.
How Much Does It Cost To Tile A Bathroom?
At the time of publication, the national estimate for the average tile flooring installation cost is between $10 and $15 per square foot. Keep in mind that this number varies significantly according to the material used and supply chain shortages at the time of service. Marble tends to cost the most, while ceramic tile generally costs the least.
What Costs The Most in A Bathroom Remodel in Denton, TX?
Because there is such a wide range of options for all components involved in a bathroom remodel, it is difficult to say what type of change will cost the most. In general, entire bathroom conversions, shower and bath installations, quartz or granite countertop installations, and flooring installations will cost the most, while shelving, painting, and decorating will cost the least.
Which Type Of Tile Is Best For A Bathroom?
The great thing about tile is how versatile it is. Tile has been used on flooring and walls for thousands of years due to its durability and aesthetic appeal. There are several great options for the floor tile in your bathroom, from budget-friendly to high-quality materials, so it comes down to personal preference and budget. That being said, it's important to pick a material that is durable and water-resistant. This includes:
Ceramic tile
Porcelain tile
Vinyl tile
And natural stone tiles
Ceramic and porcelain tiles remain the most popular options for bathroom floors today. It's a misconception that porcelain is 'better' than ceramic due to its high density and higher price. While porcelain is fired for longer than ceramic and is made from a lower porosity clay, ceramic tile isn't far behind. You can trust ceramic tile to provide exceptional durability and water resistance at a lower price point than porcelain.
An additional possibility for your bathroom floor tile is cork. While cork is not water-resistant, it can be made so by applying a sealant to it. Cork adds a touch of style and warmth to bathrooms while also providing a comfortable surface to walk on.
What Are The Biggest Bathroom Remodel Mistakes?
The bathroom remodeling process is complex. With so many different things to think about, it can be difficult to avoid mistakes—especially if you've never taken on a home improvement project before.
While many errors are fixable, some you'll want to try to avoid at all costs. These include:
Forgetting to incorporate storage: Clever storage solutions are key, especially if you have a small bathroom. Getting too caught up in the overall aesthetics of your bathroom could mean that you forget to plan for storage, resulting in a room that looks nice but isn't overly functional. Adding a cabinet or shelves can make a big difference.
Making style choices as you go: Sometimes, people head into a bathroom remodel project without a solid plan. They pick out their tile first, then their cabinets, then their shower, and by the end of the entire process, they're left with a bathroom that looks like a mash-up of a bunch of different styles.
Tackling a DIY project without experience: Although tiling looks like fun, we don't encourage you to give it a shot for the first time in your own home. Doing so could result in an uneven floor that lacks appropriate protection from water. If you make a mistake like this, you'll need to rip the whole thing up and start again. Hiring a professional handyman will ensure that it gets done properly the first time.
What Should I Do First During My Bathroom Remodel in Denton, TX?
The key to a successful bathroom remodel is to start with a comprehensive plan. Many people think they can wing it, but the only times this works out for someone is when they're exceptionally lucky.
By taking the time to do lots of research, outline your budget, and consider all the design options before you, you can almost guarantee that your project will go off without a hitch.
One Step Closer to Your Dream Bath! Contact Us Today To Get Started On Your Bathroom Remodel in Denton, TX!
Your local handyman experts from Mr. Handyman of Flower Mound, Lewisville, and Denton can help you bring your vision to life for your bathroom remodel in Denton, TX. Also serving Ponder, Highland Village, and Hickory Creek, our bathroom remodelers have an average of 10 years of experience behind them, making them true experts at what they do. Our team is also fully background-checked and insured, so you can rest assured that our uniformed service technicians are true professionals.
Are you ready for your one-of-a-kind bathroom experience? To discuss your bathroom remodeling needs, feel free to call or use the online form, and one of our knowledgeable representatives will be happy to chat and answer any questions you may have. We look forward to serving you!