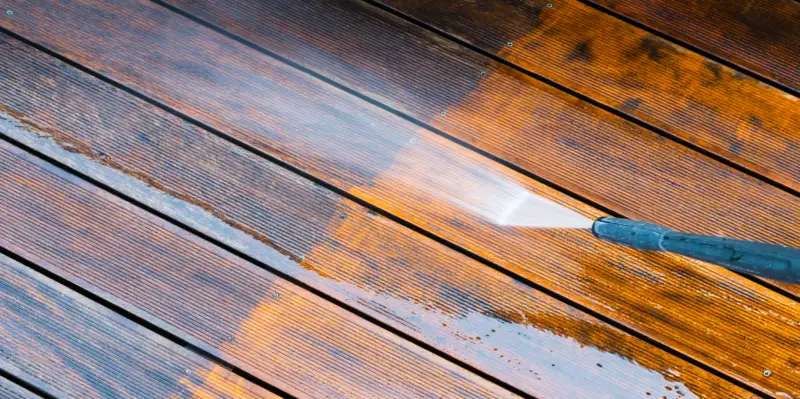 You can maintain the curb appeal of your Frisco, Texas home and stay on top of maintenance issues by hiring a power washing service.
You do a lot to care for your home. However, if you're not satisfied with the appearance of your residence, you may need to call in a pressure wash service for help. A pressure washing service can breathe new life into your driveway, fencing, siding, and walkways.
Alternatively, you may have considered renting pressure washing equipment. However, this is a tricky proposition. If you don't know what you're doing, it might make more sense to leave the job to a pro.
To learn the top tips and advice for hiring a pressure wash service, read on.
Why You Should Pressure Wash Your Home
A top-quality pressure washer can cost thousands of dollars. After spending a significant amount of coin for the best equipment, you may only use it a handful of times each year. Still, if it breaks, you have to pay to fix it.
If you decide to make pressure washing your home a do-it-yourself project, you also need to learn how to work the equipment properly. For example, you'll need to learn what each setting does before you use it. If you overlook this step, you can cause severe damage.
You also need to test out the equipment on each part of your home to make sure that you don't damage your exterior or walkways. Also, you need to learn different techniques to achieve different finishes.
Pressure Washing Is a Lot of Responsibility
If you make a mistake, you'll have to pay for it. As an example, if you use the wrong technique on a painted surface, you'll strip off the paint. As a consequence, you'd have to pay to have that area repainted. It's especially easy to damage the paint job on older homes.
You must also purchase the right cleaning chemicals. Additionally, you'll need to buy various soaps and disinfectants if required.
For example, you'll need a particular bleach solution if you need to remove mold. For other pressure washing services, however, you need a less abrasive mixture.
You must also know the right amount of pressure to use around windows, lights and other delicate fixtures. A pressure washer can easily tear these items apart if you don't know what you're doing.
You also need to use special equipment. For example, you need to know how to pressure wash using a ladder to reach high areas safely.
Professional pressure washing services can do all of these things. They could also provide you with bonuses such as cleaning mailboxes, outdoor furniture, and kid's outdoor play areas. The pros are experienced and know their tools well.
DIY Power Washing: Is That the Best Choice?
Pressure washing can transform your deck, driveway, or carport into the best version of itself in an instant. If you're going to pressure wash your home, however, you must know how to do it correctly and safely.
Even a low-end pressure washer can cause serious physical harm to inexperienced hands. An inexperienced do-it-yourselfer can also do some pretty severe property damage.
All it takes is the wrong setting or the wrong cleaning solution to turn a small cleanup into a significant and costly repair. Even worse, you could end up putting someone that you care about in the hospital.
If you're going to do a DIY pressure washing project, the first thing to understand is that preparation is a big part of the job. Before you begin, you should remove all debris. Loose debris creates an impact hazard that can cause physical harm or property damage.
Also, cover all doors and close all windows before you begin the project. You also need to remove any outdoor furniture from the work area.
Some of this work may involve using a ladder or climbing on the roof. Unless you already know how to work on roofs, doing this part of the job yourself is not advised.
The More You Know About Pressure Washing, the Better
Next, you need to know the technical aspects of power washing. For instance, you need to know the pounds per square inch, gallons per minute, and cleaning solutions that you can use safely on all surfaces.
You must also consider personal safety. For instance, you should wear protective goggles, clothing, and gloves at all times.
You must also understand all the safety protocols of working with your equipment, such as the pressure washer, ladders, and other gear. For instance, you should never use the power washer near other people or pets.
If you work on the roof, you should wear a harness. It's also important to know how to use a harness properly.
Pressure Washing and Power Washing: They're Not the Same Thing
People often use the terms pressure washing and power washing to describe the same thing. Still, they're two different animals, although they're close cousins.
Initially, it might appear as though they are the same thing. However, you'll see that there are some differences after closer observation.
Despite semantics, pressure washing, and power washing are important services. They give contractors the ability to deep clean large areas where the elements have stained badly. With pressurized water, contractors can effectively remove debris, such as:
Chewing gum
Dirt
Dust
Grease
Grime
Mold
Mud
Salt
Stains
The difference between a pressure washer and a power washer is that a power washer uses heat. The powerful, abrasive stream of a pressure washer removes tough stains. However, a power washer combines pressure and heat to remove even the toughest stains.
Still, power washing is not ideal for every surface. For instance, concrete can withstand the combined forces of heat and pressure. However, your painted surfaces won't stand up to a power washer as well as concrete.
Heat makes it easier to clean tough stains. For example, a contractor may choose to power wash to remove tough grime, mold mildew or grease.
A pressure washer is the most effective and cost-effective way to give your property a makeover. An occasional pressure cleaning about two to three times a year will keep your home looking its best. More importantly, regular pressure washing will help you maintain the curb appeal and value of your home.
Figuring Out When and How Often to Pressure Wash Your Home
It's important to understand that you shouldn't pressure wash your home too often. If you were to do it twice a month, for instance, it will wear away the various surfaces around your house. Yet, it's helpful to maintain a consistent pressure washing schedule to keep your home clean.
In most cases, it's a good idea to have your home pressure washed on a sunny day. On a clear day, the sun will dry your house thoroughly.
As a general guide, you can schedule a cleaning before each season. By having your home pressure washed before the start of each season, you can go into each new quarter with a fresh start.
But, truth be told, each property is different with unique needs. Without first examining a property, it is difficult to set an accurate cleaning schedule.
In many instances, you can simply inspect your façade to estimate when you need pressure washing. For example, run your fingers across your siding. If you feel grit on your fingertips, then it's time to call the contractor for a pressure washing service.
More Scheduling Tips
There are other things, however, that can help you decide how often to schedule a cleaning. For example, if you live near a dirt road, you may want to schedule more frequent cleanings.
If your property has dense foliage such as trees, you'll want to keep an eye out for sap buildup and schedule cleanings accordingly. You may also want to consider pressure washing after a big storm. Storms and high winds stir up dirt and debris that can make your home dirty.
You may also want to schedule a pressure cleaning service after frequent rain. After frequent precipitation, it's typically hot and humid.
This kind of environment promotes the growth of mold and mildew. Watch for signs of both and schedule pressure washing accordingly. Also, rain carries dirt, which it typically deposits on the exterior of your home, making it look dull and unclean.
A Professional Pressure Washing Service Can Do the Job Right
Today, a growing number of people are embracing the idea of fixing things themselves, like many generations before them. Many homeowners now take on do-it-yourself projects with considerable success.
However, it's better for professionals to do some jobs. Pressure washing is one of those jobs.
There are several benefits to hiring a residential pressure washing company. You could buy a pressure washer from a local big box store. However, the best consumer product pales in comparison to commercial-grade equipment.
Most likely, a DIY pressure wash won't restore surfaces as desired. Resultantly, you'll end up wasting time, money, and sweat. You can avoid this frustration by hiring a pressure-washing contractor.
A contractor has the latest equipment that will deliver the best possible results. They also learn how to use the latest cleaners and techniques to make your home look bright and new.
Pressure washing professionals spend a lot of time learning the best ways to clean any area of your home. They also have experience in removing stubborn stains.
Moreover, a professional pressure washer knows how to give your home that extra sparkle. They're trained and experienced in different techniques and approaches for pressure washing.
It takes a lot of time and practice to learn how to restore various surfaces to like-new conditions. Learning how to use a pressure washer can use up a lot of your weekends, especially since a residential power washer isn't as powerful as a commercial one.
Ultimately, you can save time and money by hiring a pressure washing service. Instead of learning how to use a pressure washer, you can spend that time with your friends and family members and do the things that you love.
Finding a Great Pressure Wash Service
Pressure washing is a dangerous job. Accordingly, you must choose a pressure wash service wisely.
It takes work, research, and intuition to find the right contractor. However, once you find an excellent contractor, you can count on that individual to help you keep your home looking its best.
Begin by browsing the listings for pressure washers in your area. Next, search for reviews about various local pressure washing contractors online. You can also check the Better Business Bureau for reports about a particular pressure washing contractor.
Also, visit your state licensing website. Make sure that any pressure washing contractor that you're thinking about hiring is licensed and insured.
Make sure that you check on more than one contractor. Interview two or three contractors and ask relevant questions. For instance, find out how many similar properties a potential power washer contractor has cleaned.
You can also ask more detailed questions. For example, you can ask the contractor what type of chemicals they'll use on different surfaces and why they'll use those products. You can also ask if they will pressure wash or power wash since you did your homework and you know the difference.
You should also find out if a potential contractor is eco-friendly. When you contact them, feel free to ask if they use eco-friendly products when pressure washing.
Let Us Make Your Home Look Like New!
If you want your home to look its best, hire a professional Frisco pressure washing service. A professional pressure wash service can make your exterior features – such as your siding, deck, driveway, walkway, and other areas – look like new.
All it takes is one call to Mr. Handyman of Frisco to schedule a power washing that will make your Frisco, Texas home look great. Contact us today to take the first step toward making your home look like new again.